A Guide to Sport Touring Tail Bags
A place for everything and everything in its place, right? No truer words were spoken then those when preparing for a touring ride. Motorcycle luggage capacity is always at a premium. Side cases are meant for overnight stuff. Top cases add room for extra riding gear like spare gloves, a helmet visor, rain gear, and maybe tools like an air pump or siphon hose. But then what about personal items? The things you need quick access to; for example, a wallet, park pass, phone charger, earphones or ear plugs, the GoPro, and on and on. Adding a tail bag provides plenty of storage for all of that and more. Here's what to look for in a tail bag that will best match your riding needs.
Ditch The Tank Bag
We all have a natural tendency to over-pack for a touring ride. Every bit of space fills with things we imagine are essential. A tank bag and tail bag look like two simple ways to add capacity. But in reality, and with experience, one realizes there's such a thing as too much gear. After all, we're talking about sport touring, not a cross country family vacation.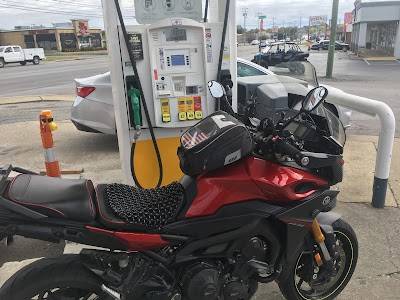 Either a tail bag or a tank bag, but not both, is more than sufficient for the extras that fit somewhere between a jacket pocket and a side case. The choice is an easy one to make. Here's why.
First, a tank bag covers the fuel cap and that means it's in the way at every fuel stop. Second, because the bag sits up front, it has to be low enough and narrow enough not to get in the way of the rider. That limits shape and capacity options. And finally, let's face it, a tank bag can be an eyesore on an otherwise sleek sport touring motorcycle.
Tail bags on the other hand have none of these problems. They come in many shapes and sizes to accommodate whatever accessories one needs. Some are tall, some wide, and still others both wide and tall. Regardless of size or shape, a tail bag is never in the way. It's simply conveniently in reach at every stop. Now to be fair some tail bags are wide and tall and do as much damage to the look of a sport tourer as any tank bag. But odds are far better that a tail bag will accent the contour of a sport tourer and still deliver ample in-reach capacity.
Resist the urge to over-pack. Keep the weight down and the lines clean. Find a tail bag that complements your style. And ditch the tank bag.
advertisement
Two Basic Tail Bag Styles
Tail bags are designed in one of two styles – as a rigid container or as a soft dry bag. Both attach to the motorcycle tail rack or pillion seat using nylon straps and buckles.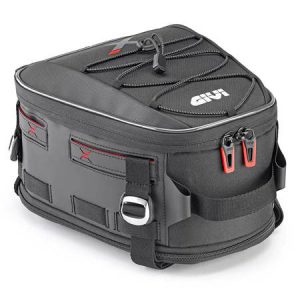 Rigid Tail Bag Pros and Cons
Rigid tail bags feature a zippered trunk-like top cover. Items are easier to pack, organize, and find. Often the underside of the cover will have a zippered pocket or multiple pocket organizer which nicely holds paper items and maybe a pen.
Importantly, a rigid bag holds its shape and looks the same even when empty. Some rigid bags are waterproof, but most are only water-resistant and include a lightweight cover for 100% protection in the rain.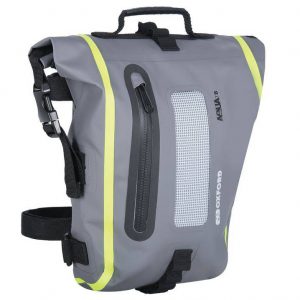 Dry Bag Style Pros and Cons
A dry bag style tail bag can be a simple roll-up affair or incorporate more elaborate features including outside pockets. Dry bags offer flexibility to pack odd-shaped items while using the least amount of space to do so. They easily shrink or expand their footprint on the bike when needed. The real advantage of a dry bag however is that as the name implies, they are 100% waterproof by default and in most cases designed for rugged use.
A Word About Size
Picking the right size bag is a personal choice, driven by a balance between needed capacity and space available on the bike. And of course, appearance. The right bag will look like it belongs on the bike.
In terms of dimensions, try to match bag length and width to fit within the available surface space on your bike's tail rack or pillion seat. Ideally, the width will be within an inch or two of the actual dimensions. Don't let the bag sag off the sides. Bags that sag are difficult to securely attach. The length of the bag should not extend beyond the tail rack.
Start by selecting the smallest bag that meets your needs for most rides, whether long, short or in-between. If it looks like extra capacity is needed from time to time then consider an expandable bag. Which brings us to a corollary of Parkinson's Law about work, that is a rider's gear will always expand to fill available luggage space. Smaller bags will force disciplined trade-offs and reduce clutter. Again, aim for the smallest tank bag that accommodates what you really need on the ride.
advertisement
Qualities to Look For in a Tail Bag
After style and size are decided, next take a look at the qualities that matter most in a serviceable tail bag.
High-quality Fabric
The outer shell of most tail bags are made from the same polyester or nylon fabric commonly used to make luggage or backpacks. The weight of the fabric is an important indicator of how well the bag will hold up over time. Fabric weight is measured in deniers (defined on Wikipedia). Heavier weights are better. Specifically, good tail bags use anywhere from 600 denier to 1680 denier or better for the outer shell. To get a feel for fabric weight, consider that a good quality motorcycle covers is made with 300 denier fabric.
Rigid tail bags have a separate inner fabric liner that helps protect items from scratches. This is usually a brightly colored lightweight polyester fabric or felt. Some have a waterproof inner lining.
Rain Protection is a Must
The majority of rigid tail bags are at best water-resistant but not waterproof. A rain cover is included to provide 100% protection. Cortech bags are designed with an extra outside pocket to carry the included rain cover. Covers work well, but unfortunately like rain gear when it looks like rain ahead a stop is required. That said, rain covers are only needed in a steady rain; a light sprinkle or short burst of rain won't get inside a water resistant bag.
Most rain covers are black, but some are brightly colored for extra visibility in bad weather.
Shock cord or MOLLE Panel
Not everything belongs inside a tail bag. For example a jacket liner, a visor towel, or wet gloves. When there's no space for a cargo net, then a tail bag with shock cord webbing or a MOLLE panel on top can fill in nicely.
A Handful of Worthwhile Extras
Organizer pockets – There are times when it's convenient to have easy access to important papers such as an identification card, a park pass, or a credit card. An organizer solves that problem. Most rigid bags include an organizer in the underside of the lid. Dry bags, from Kriega for example, may have an externally accessible side pocket.
Expandable storage – The storage capacity of many rigid tail bags can be expanded by as much as 50%. This is a good option for anyone who only occasionally needs extra room. However, it's important to note that the expanded area lacks rigid side walls and won't hold its shape. Consequently, those who anticipate frequently using the extra space are better off selecting a larger bag.
Reflective piping – It's a small thing, but adding more reflective surfaces to an otherwise black bag can only help the rider to be seen in lowlight situations. And if a few stylish accents save a life, well then that's one high-value bag.
Removable shoulder strap – Tail bags aren't for runway models, but for riders every convenience matters. Shoulder straps make carrying multiple pieces of luggage easier and that means fewer trips in and out of hotels. In a dicey location, a shoulder strap can make it more comfortable to bring the bag along on at a tour stop rather than taking a chance leaving it behind.
High-quality zippers – If the bag is made with high quality fabric odds are the zippers are good quality too. Well-designed zippers use glove friendly pulls and will tuck into a cover of some kind when closed for extra protection from the weather.
Warranty – The best brands offer a lifetime warranty, but all should offer at least a one year warranty.
How Much to Spend
Tail bags are priced to fit almost any budget. A small 8 liter bag from Givi that can expand to 11 liters and includes many of the important features highlighted above retails for less than $70. At the other end, for just under $350 Givi sells a massive 35 liter tail bag that can handle a weekend get-away without side cases.
Somewhere between those extremes, one can expect to spend between $110 and $180 for a good quality bag where the difference in price is a function of quality, size, and features. Bags in this price range come with all the important qualities and a mix of extras.
How to Attach a Tail Bag
Tail bags are a universal mount accessory; a bike-specific tail bag may exist somewhere but we haven't found it yet. That's not to say every universal fit bag will look good on every bike. As mentioned earlier, it's important to check that the pillion seat or tail rack are large enough to fully support the surface area of the bag.
The typical method for attaching a tail bag involves looping nylon straps around a frame member or the tail rack itself and securing with side release buckles or S-clips. Alternatively, the straps can reach across the underside of the pillion seat allowing the seat itself to secure the bag. The best approach depends on the bike and the size and weight of the bag.

For those who don't often ride two-up, attaching to the pillion seat is ideal. It leaves the tail rack (if one exists) free for other gear such as a motorcycle cover.
advertisement
A Note About Tail Bag Theft
A tail bag by itself is not at all secure. It might be possible to use a luggage lock on the zippers to discourage casual theft. But a determined thief, won't have a problem with luggage locks and certainly won't struggle to unclip the bag itself. One might conclude that tail bags are high-risk. Perhaps. The probability really depends on the neighborhood and plain old luck.
To help reduce risk, first assess your surroundings, then decide if one of the following actions are appropriate.
Use the rain cover to hide the bag when off the bike for short breaks.
Take the bag along using the shoulder strap on longer breaks.
Use your motorcycle cover to hide the entire bike and tail bag overnight, (yes we leave the tail bag on overnight).
To learn more about motorcycle security read Practical Motorcycle Security for Touring Rides.
Top Brands to Choose From
We selected products from four manufacturers based on reputation, product quality, design, and affordability. Each is a motorcycle-first company. A bag from one of these four is bound to work well. But of course, there are many product choices out there. Ecommerce sites like Revzilla are a convenient one-stop-shop to browse through the widest wide range of options.

American Sport Touring makes product recommendations independently based solely on product quality and value. American Sport Touring does not accept compensation of any kind in exchange for product recommendations.

Cortech is a Helmet House brand, which unlike its sister brand Tour Master, creates products designed for sport riders. This is evident in the sleek teardrop shape of the Cortech Super 2.0 tail bag. These bags, available in two sizes, are sure to look good on any sport touring motorcycle.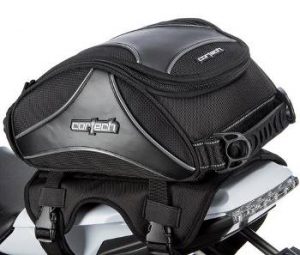 The smaller 14 liter model does not expand nor does it have side pockets. It does however have an underlid organizer with several pockets and bright red interior felt lining to make finding small items a little easier.
The larger 24 liter option comes with the same underlid organizer and red interior but adds side pockets and will expand horizontally side-to-side. Keep that last point in mind because on some bikes when expanded this bag may interfere with the side cases.
All Cortech bags use sturdy 1680 denier fabric with reinforced sides to hold their shape even when empty. The bags are water-resistant and come with a rain cover. Expect to spend between $100 and $130 depending on size. Helmet House offers a two year warranty on all Cortech luggage. Learn more about Cortech at Helmet House.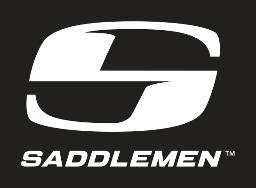 Saddlemen built its reputation on high-quality luggage for cruisers. More recently, Saddlemen expanded their product line to meet the needs of sport-minded riders.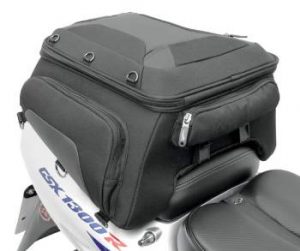 The innovative Tunnel Bag series is designed to wrap-around pillion seats that are up to 9 inches wide; (tip – check your bike's dimensions to ensure the side pockets do not interfere with or scratch hard cases). This bag comes in a tactical model and sport model, each with two size options: 23.8 liter or 26.5 liter, both made with 1200 denier fabric. The tactical all-black version includes a MOLLE panel on top with three D-rings on each side for extra gear. The sport model omits the MOLLE panel but keeps the D-rings and adds contrasting side panels. Both include a rain cover.
[image 08S: Saddlemen TS1450R Tunnel Bag. ]
Saddlemen tail bags run from $154 to $163 depending on model and capacity and include a one year limited warranty. Find a full list of tail bag products and pricing at Saddlemen.com.

We have high regard for Nelson-Rigg motorcycle covers, so naturally we took a closer look at their tail bags. We found the same quality materials and craftsmanship that are hallmarks of Nelson-Rigg products.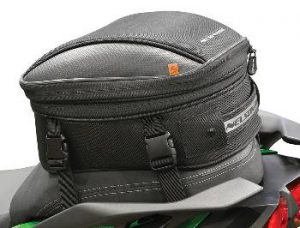 We focused on the sport-touring oriented Nelson-Rigg Commuter Series rather than their Trails End adventure line. Each of the three models in the series include essential features and expand vertically adding 21% to 30% more capacity. The durable 1680 denier UltraMax fabric shell maintains its shape and is water resistant. A 100% waterproof rain cover is included.
The interior compartment features a basic under-lid mesh pocket and self-fastening straps to keep contents from shifting.
Prices range between $120 and $140 depending on size. Nelson-Rigg offers a lifetime warranty. More details are available directly from Nelson-Rigg.

If one of the traditional rigid tail bags we've talked about so far isn't what you need, then take a look at the US Drypack line from Kriega. Founded in 2000 by motorcycle enthusiasts in the United Kingdom, with a US distribution center in Philadelphia, Kriega makes stylish and rugged accessories for adventure riders that look equally good on sport bikes.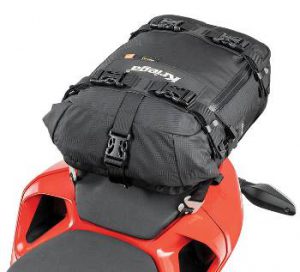 The US Drypack line, available in sizes ranging from 5 to 30 liters, uses 100% waterproof 420 denier Cordura fabric. The strap mounts are reinforced with Hypalon, and accessory hooks are made from aircraft grade aluminum. All US Drypacks feature a water resistant zippered outside pocket as well as a mesh pocket. This level of quality is hard to find in other tail bags.
The single compartment interior features a removable liner for easy cleaning. The roll-top closure promises 100% waterproof all-weather protection, no rain cover required.
Prices fall between $105 and $205 depending on size. The company offers a 10 year warranty. Get the whole story from Kriega.
Essential Sport Touring Gear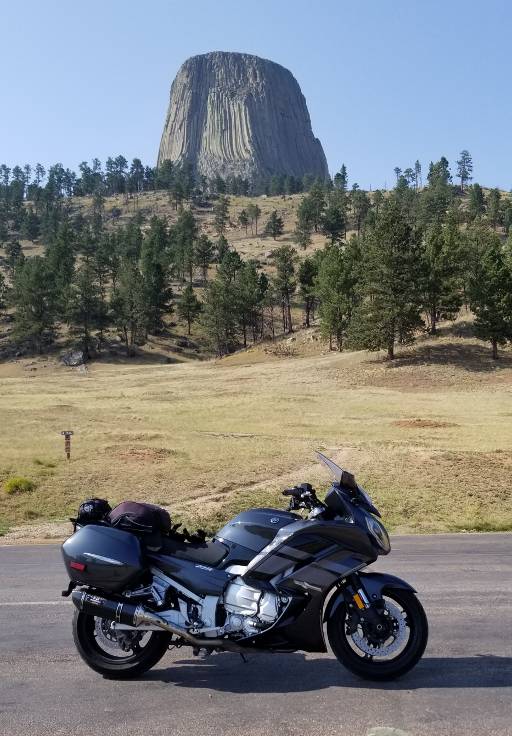 For sport touring riders, a tail bag is pretty much essential gear. Keep ID in a jacket pocket, but don't get weighed down with everything else. Tail bags provide convenient and secure storage for all those things that might go in a pocket or hide in a side case. And unlike a tank bag, without getting in the way at gas stops or while making the most of a twisty ribbon of road.
Click the Thumbs Up or Thumbs Down button to email your feedback.
Your questions and comments help improve American Sport Touring. Your email is not used for any other purpose. Please read our Privacy Policy.