Garmin Zumo 595LM Motorcycle GPS Reviewed
What's New For The Garmin Zumo 595LM in 2022?
Well, actually nothing. Garmin discontinued the Zumo 595LM years ago. But for anyone still using the product or considering a used one…
The 595LM is no longer offered directly from Garmin, although a few on-line stores carry new and used devices at surprisingly high prices that are not far off the original $699.99 selling price.
Garmin continues to offer lifetime map updates for the 595LM.
Software and Firmware updates, as well as map updates, are downloadable free of charge using Garmin Express.
The most interesting 595LM accessories, like the Vibe action camera and Garmin TPMS, were also discontinued; however, they may be available from third-party resellers.
The 595LM was state-of-the-art in its day but has since been surpassed by the Zumo XT's combination of features and low price. See why the Zumo XT is the new standard for motorcycle GPS devices.
Read about the new and improved next generation zumo XT2 in our first-look article Garmin Announces Second Generation zumo XT.

Reviews published on American Sport Touring are conducted independently and without bias. American Sport Touring does not accept compensation of any kind in exchange for product reviews.
Meet the Zumo 595LM
Have you experienced this? "This ride is awesome! No wait – I missed a turn somewhere – I'm lost! Hold on wait, what's that you say? Recalculating? I'm saved!" GPS to the rescue. For all of us who have taken the wrong turn, misread the map, underestimated our fuel range, or simply want to feel like we have a friend in unfamiliar territory, then the Garmin 595LM should be sitting right between the bars on your moto. Dollar for dollar we can't think of another add-on that gives greater peace of mind.
The Garmin Zumo 595LM is arguably the very best integrated motorcycle GPS on the market. You'll find less expensive, less feature-rich devices, including the less costly Zumo 395LM, but our recommendation is to spend the extra dollars for the 595. Let's take a look.
A large weatherproof screen and absolute best-in-class maps make the Zumo 595LM the one to beat.
Start with the display. When you're riding your eyes are up, except to periodically check the gauges. Glancing at a GPS shouldn't cause any great distraction either. With its large 5″ sunlight-friendly screen, checking directions or map references on the Zumo is never a problem; not even in a rainstorm, or at night, or on a pitch-black road – it's good in virtually all conditions. In many ways you can think of the Garmin as the functional equivalent of the touchscreen in your car. We have a hunch Garmin will continue to find new ways to make the Zumo an essential part of the overall motorcycling experience.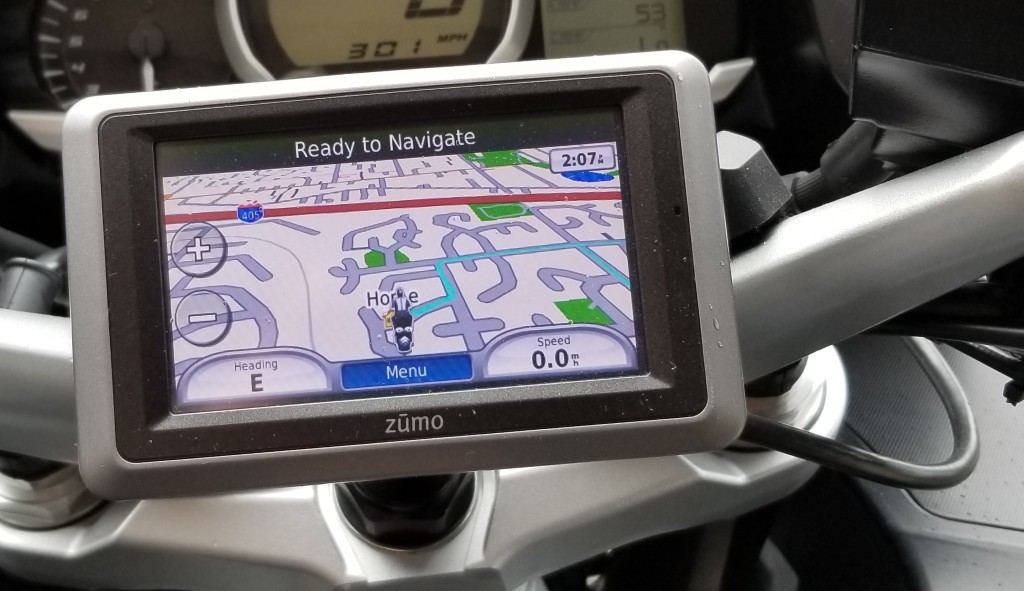 Using a Garmin is pretty intuitive. The device does a great job guiding you through the steps to create a route or find a destination. The home screen presents two simple and clearly labeled options – "Where to?" and "View Map". Start by tapping the big "Where to?" button, enter an address or destination name, and the system immediately calculates a route and displays a map. Zumo gives you many other options to search for points of interest of all kinds ranging from restaurants, to gas stations, to lodging, and everything in between. With years and years of experience the folks at Garmin know you count on accurate and up-to-date local data. From our own personal experience working with major map data companies we can say with confidence that you won't find better "points of interest" data in an off-line accessible format on any other GPS today.
advertisement
The most useful 595LM features are the ones you use while riding.
Beyond the basics, the 595LM offers a few features that really differentiate it from the field. Let's take a closer look at three we found most useful.
Lifetime Map updates. This is the "LM" in 595LM. Garmin gathers and updates map data on a regular basis. That includes new roads, changes to existing roads, and of course updated points of interest containing the latest on food, gas, lodging and many other locations you may want to visit on a ride. In effect, your investment in the device gets you a free subscription to the data that makes the whole thing truly useful. Updates are easy; just install Garmin Express on your PC (a free web download), connect your device to the computer using a USB cable and follow the simple prompts.
A routing mode that Sport Touring riders will love. Garmin knows American Sport Touring riders look for twisty roads and hills while avoiding highways. The Zumo Adventurous Routing™ feature tells the routing algorithm to prioritize curvy and hilly roads and avoid highways when calculating a route. This is a handy feature if you aren't familiar with the area and don't have time to otherwise research and plan your ride. When the route calculator is set to Adventurous Routing the system also alerts riders to upcoming sharp turns, road hazards, and even helmet laws. Although you carefully plan your route these features can fine tune the ride in real-time and keep you safe along the way. Just set the device to "motorcycle" mode and the route calculation mode to Adventurous Routing.
Bluetooth connectivity. The 595LM connects with Smartphones and other Bluetooth devices such as earbuds and music players. Connecting the Zumo to your smartphone with the Garmin Smartphone Link app (a free download for iPhone and Android devices) adds real-time data feeds for traffic and weather as well as interesting messaging scenarios. However, if all you need is turn-by-turn instructions and riding alerts (like curve ahead), then you only need to pair the device with your in-helmet headset. Pairing with the Cardo PACKTALK and Sena systems for example is straightforward.
There are a few other Zumo features we found interesting.
VIRB camera integration. If you like taking video when you ride and you're not already over-invested in GoPro equipment then you might find the Garmin VIRB camera integration pretty useful. The VIRB camera itself is comparable to the GoPro, but because its integrated with the 595LM you can easily start and stop video and snap photos as you ride. GoPro offers a remote but it's still not right there in front of you when you're riding. With the Zumo connected you can safely take video and photographs any time without the hassle of fumbling for a remote or pulling over.
The "Up Ahead" feature. This feature lets you set location categories or create your own custom categories and then receive on-screen alerts as those locations come into range. Built in categories spot gas stations and restaurants, but with custom categories you can receive alerts for specific sub-categories or brands.
Zumo Live Track. Live Track uses your smartphone data service to send periodic email updates to contacts you select. While not billed as a safety feature, we see value in sending contacts who know your planned route regular updates just in case they need to send help.
advertisement
The 595LM is feature rich, but not every feature is a must-have.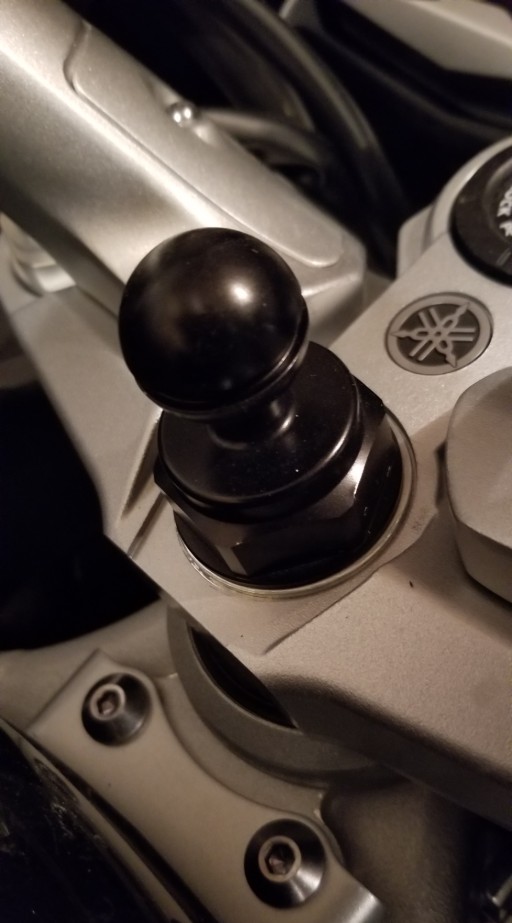 There are many more features designed into the 595LM that enhance the overall usefulness and value of the device. You may not care about some and find others to be the best feature of all. For us, features that track service history are low value, while routing functions that support multiple waypoints, construction and traffic detouring, and trip planning and scheduling offer the highest value. Makes sense right – the navigation features have to be first rate.
If we had 30 minutes with the product design team at Garmin we would ask for the following:
Design a better mounting bracket. The handlebar and clutch/brake mounts place the device too far left or right with no option to mount in the center for optimal viewing. There are third-party Ram mounts available that fit into the center bolt or replace the center bolt altogether. If they can't include a center mount, Garmin should at least offer one as an extra.
While installation is pretty easy, the battery hook-up is challenging. This step and varies in complexity by battery location. It would be nice if Garmin offered a 12v DC power connector so those with a handy power outlet can avoid routing wires to the battery itself.
Add fuzzy matching capability to the points of interest. The search feature as delivered is pretty basic and expects a lot from the user. Adding "fuzzy match" capability would take users off the hook to use precise terms and correct spelling.
Punch-up the user manual. For example, better explain mapping concepts like "simulated location". What is it and why do we care? Explain mapping and location concepts from the perspective of a motorcycle rider without assuming we are geo-spatial mapping engineers.
Garmin motorcycle GPS gets top marks.
Indeed, GPS is one of the most useful and most used accessories you will add to any sport touring motorcycle. The extra confidence and security of knowing you are never truly lost is invaluable. The Garmin Zumo 595LM offers all the mapping features you will ever need, regular free map updates, and lots of smart device integrations and features that are hard to find in any other device. Learn more from Garmin directly.
Take a look at our review of the newer Garmin Zumo XT for comparison.
Would you recommend the Garmin? Or perhaps another brand like the TomTom Rider. Let us know what you think.


Did we hit the mark?
Click the Thumbs Up or Thumbs Down button to email your feedback.
Feedback helps improve American Sport Touring and is never used for other purposes.
Please read our Privacy Policy.