Zumo XT Review – The Latest in Motorcycle GPS
Read about the new and improved next generation zumo XT2 in our first-look article Garmin Announces Second Generation zumo XT.
Motorcycle sport touring can be one of the most relaxing and unfettered ways to explore and discover overlooked backroads. A quality GPS unit takes the worry out of getting lost. Just punch in a destination, maybe add a few waypoints to shape the route to cover particular roads or points of interest, and that's it. Let the GPS watch for the next turn, check your speed, and a whole lot more. The latest Zumo motorcycle GPS from Garmin offers features that put It at the center of the rider experience.
What's New for 2022?
Garmin offers the Zumo XT made-for-motorcycling GPS with the same features at the same price as when first introduced a few years ago. While Garmin marketing promotes the XT for adventure riding, it should not be overlooked as an exceptional on-road GPS.
Feature highlights…
Free lifetime map updates downloadable over WiFi
Integrated smartphone and comms connectivity using free Garmin Drive app
Easy mounting and wiring options that work for virtually any bike
Intuitive user interface and operation that's quick for users to learn
Affordable

Reviews published on American Sport Touring are conducted independently and without bias. American Sport Touring does not accept compensation of any kind in exchange for product reviews.
Meet The Garmin Zumo XT
Garmin makes regular updates to their motorcycle GPS line, adding new products and retiring older units. The Zumo XT is the latest product offering. It is a feature-rich purpose-built motorcycle GPS. That's evident from both the device construction and by the thoughtfully designed features.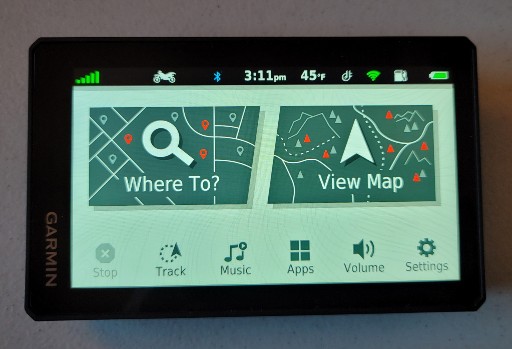 To begin with the unit is perfectly happy in the worst rainstorms thanks to its IPX7 waterproof rating. Garmin maps are of the highest quality with special routing options that motorcyclists will appreciate. Add features that enable the Zumo XT to integrate a mobile phone, music player, and helmet comm system, plus a host of messaging and information services and its clear Garmin delivered the most comprehensive and integrated unit yet. So much so that it comes close to replicating on a motorcycle the infotainment systems found in most cars today.
advertisement
What We Like Most
The user interface is our favorite among available motorcycle GPS units. The Zumo XT features a 5.5 inch HD full color glove-friendly touch screen backed by a simple, intuitive, and responsive UI. The two most common tasks are front and center on the start-up screen – "Where To?" and "View Map". Other useful features are equally easy to access using the navigation bar on the lower edge of the screen. The clarity of the UI and smart design highlight why using a mobile phone for navigation and services is simply a sub-par riding experience.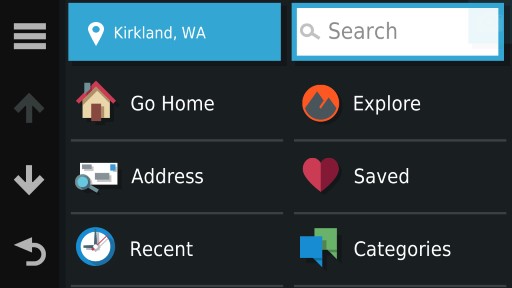 WIFI connectivity means no more excuses for outdated maps and anything but the most current software updates. Unlike competing devices, the Zumo can connect to WIFI and download updates directly without the need for a PC in the middle. This may seem like a small convenience but it's enough to take down barriers to having current maps (and therefore accurate routing options) at your fingertips.
Bluetooth connectivity smartly integrates multiple devices and services. That last part is important – services. While most GPS units support a Bluetooth connection to a phone or music player and a headset, Garmin took it a step further by integrating smartphone services like traffic, weather, and messaging over the same Bluetooth channel.
Simplified Installation
Garmin packs everything needed to mount and wire-up the Zumo in the box. That includes a basic handlebar bracket and RAM mount which should work on virtually any motorcycle. While functional, better mounting options are available.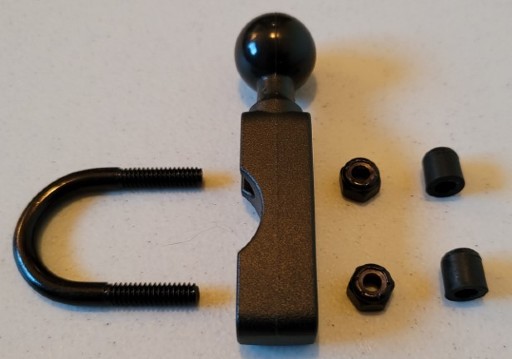 We like the GPS unit sitting between the bars for better glance-ability and frankly because it just looks better. Several companies make a RAM mount that attaches to, or replaces, the steering head nut. Check the RAM Mounts site for options or search for "steering head nut ram mounts"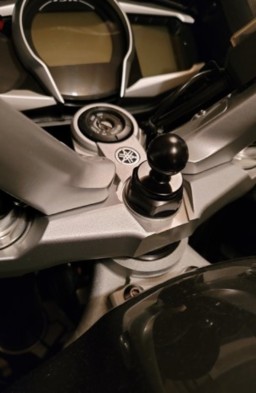 Wiring the unit can be either easy or easier. The easy option is to run the included power cable straight to the battery for a direct "always on" connection. While easy, this option means the device has to be turned off when the bike is parked and even then will continue to draw power. The easier option, and we suggest better option, is to use a cigarette lighter plug to connect the Zumo to a power outlet if one is available. Vetco Electronics offers an inexpensive and easy to use plug with convenient binding posts for the simplest wiring possible. Check it out here.
advertisement
Make it Your GPS
Garmin configures every feature at the factory with the most common setting, but every rider will want to walk-through the menus to further personalize the device. There are two settings we always update straight away. First, the vehicle icon that shows your location on the map. Pick a motorcycle that most closely matches who you are. And second, chose a Voice Language that sounds good to you. The other settings are worth a look but can be adjusted over time as you get used to the system. One good example is deciding in what order to display the app tiles on the App Menu (you can drag and drop tiles to arrange the display to your liking). Typically we want the most useful apps on the first page but those may not become known until we get some experience riding with the Zumo.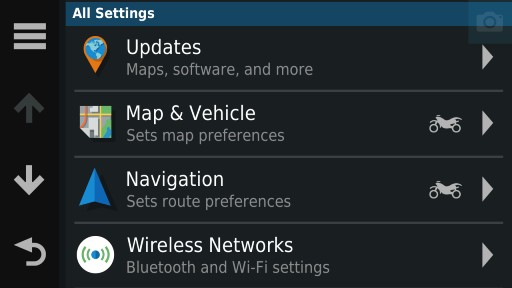 Next connect the GPS to WIFI and download the latest software and maps. Odds are Garmin will have made updates since the time the product left the factory. Once updated, remember to connect to WIFI periodically thereafter to keep everything up to date.
And finally, perhaps most importantly, review the Privacy Settings found under Device Settings to confirm or decline to share device and location information with Garmin. We trust Garmin to do the right thing with this data and we recognize that feedback on real-world usage is critical to make product improvements. Since we want better products we're OK sharing, but it's your choice.
Connect Those Devices
As we said, the Zumo XT is in effect an in-dash screen for motorcycles. But to be useful in that capacity it has to be connected to the devices around it and to the world beyond that. This is where Garmin took things to the next level by capitalizing on the Bluetooth connection to put the Zumo at the center of the motorcycle riding experience.
There are several ways to connect multiple devices in a usable configuration that will reliably route information between devices. Our preference is to follow a hub-and-spoke model which simply means everything connects to the Zumo allowing it to act as the hub, and each device becomes a spoke. Just connect each device in turn starting with the helmet comm, then the phone, and finally a music player if using a separate device for music.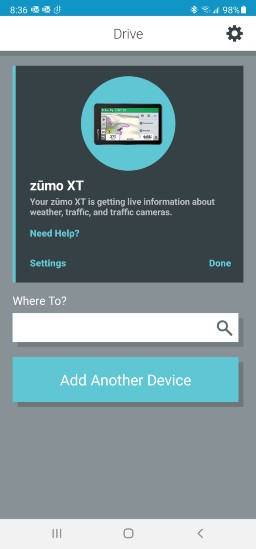 Lastly, install the Garmin Drive mobile app. The Drive app is essential. It delivers useful services to the Zumo including live traffic, traffic cams, weather, and messaging (what Garmin calls Smart Notifications). Review the settings page in the app to decide which messages to deliver to the Zumo and when to alert the rider. Remember to check the "prefer mobile data" option to allow the app to use the cellular network to retrieve traffic and weather data.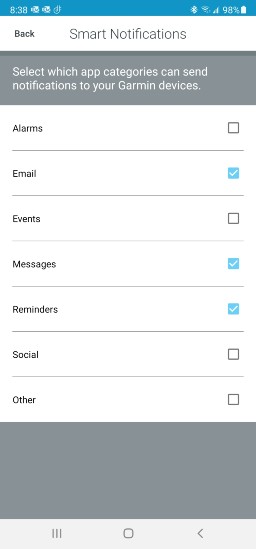 advertisement
Three Top Features and One Gripe
Our top favorite has to be the Trip Planner. It makes creating, viewing, and editing routes incredibly easy. While most of us will still plan rides on a big screen, this feature makes it easy to enter a route into the GPS and then retrieve it later. In fact, we load the route for each day, complete with waypoints, before we set out, save it with a name like "Day 1 Route to the North Rim" and then pull it up when we start out.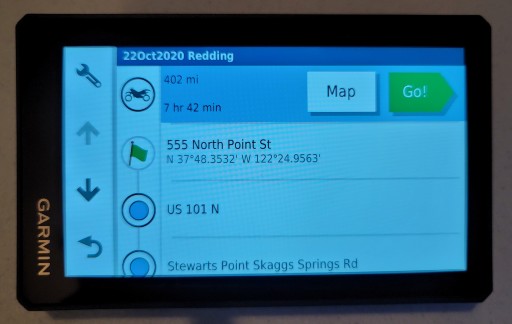 Which takes us to our second favorite feature – Share Routes. Not everyone on a group ride needs to take time entering the trip details. One rider can do that on their Zumo and then use the Share Routes feature to send the route data to other compatible devices as a GPX file (an open standard for exchanging GPS information) using email or any messaging app that can handle a file attachment or alternatively send route details directly from Zumo to Zumo using Bluetooth. Simple on-screen instructions guide users through each step.
The Music Player rounds out our top three features. The music app is nicely integrated into the overall GPS experience. Riders can opt to show album art and music player controls in a panel to the right of the map. Controls to start, stop, and skip tracks are a touch away without leaving the primary navigation experience.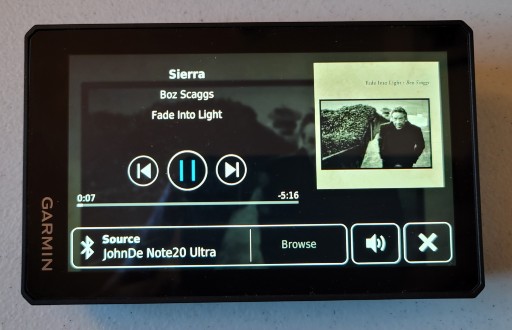 One more bonus feature worth mentioning is Map Tools. Map Tools are a convenient way to access information while still keeping the navigation map displayed. Simply tap the button that looks like a stack of periods in the lower right of the map view to open a menu of information choices. The selected information is then displayed in a panel to the right of the map. Genius.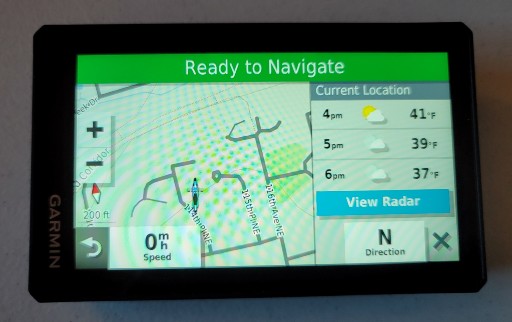 Finding something we don't like about the Zumo XT was hard. The device itself is top notch, but we were disappointed that Garmin didn't include a case for the device. It's just good anti-theft practice to stow a GPS out of sight when the bike is parked. A case would be handy to protect it when tossed into a side bag. It seems Garmin may realize that because they do offer a case for about $25 bucks. We know. A small gripe.
Zumo XT is the State of the Art in Motorcycle GPS
If it sounds like we're selling Garmin devices, rest assured we are not. Our superlatives are genuine and based solely on the quality and feature breadth of this device. The Garmin Zumo XT is a feature rich GPS perfect for any sport touring rider (actually any motorcycle rider). The large bright screen, weather resistant construction, and ability to integrate multiple devices into one easy to use interface is remarkable. On top of that the Zumo is priced below earlier, less capable, GPS units from Garmin.
Click the Thumbs Up or Thumbs Down button to email your feedback.
Your questions and comments help improve American Sport Touring. Your email is not used for any other purpose. Please read our Privacy Policy.