Garmin Announces Second Generation zūmo XT
Today, April 19th, Garmin announced availability of the zūmo XT2,the next generation motorcycle navigator in the zūmo series. The XT2 builds on innovations found on the initial zūmo XT and adds several new features including a large ultrabright 6-inch display, once again affirming why Garmin is the leader in purpose-built navigation devices.
zūmo XT2 Feature Highlights
We're looking forward to a hands-on review in the next few weeks; but for now, here's what Garmin tells us to expect in this next-gen product.
Route Planning
Planning a ride can be both exciting and tedious at the same time as one investigates new roads in unexplored areas. Garmin BaseCamp software remains a popular desktop (and laptop) routing tool, and now zūmo XT2, paired with the Tread mobile app, makes route planning nearly as convenient from remote locations.
Visual Planning – Using the smartphone app, riders can visually choose routes using either standard road maps or the included (subscription-free and annually updated) Birdseye Direct satellite imagery. Route planning functions also identify paved and unpaved roads.
Preferred Routes – Riders can select routes from those preferred by other riders, helping to both find high-confidence routes and discover new route options.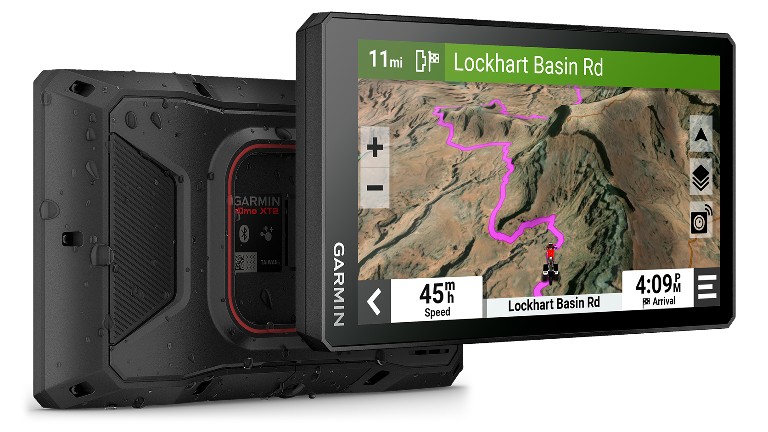 Adventurous Riding Preferences – Beyond the usual choices like fastest route, XT2 Adventurous Routing optimizes for hills, curves, and sights. Riders can customize adventurous routes by selecting one of four skill levels.
advertisement
Route Intelligence
Beyond navigation prompts while enroute, the XT2 tracks and displays a host of other information that sport touring riders are sure to find useful.
Weather and Traffic – Once paired with the Tread mobile app, riders can choose to display weather or traffic information on the XT2 screen. The weather updates are particularly useful because they are forward looking; that is, the XT2 and your paired smartphone work together to show conditions up ahead using estimated arrival times. In effect, the device shows expected weather conditions where you will be not where you are in the moment.
We're confident that the larger and brighter zūmo XT2 will quickly become a favorite companion for motorcycle adventures. It gives riders who enjoy the thrill of gripping their handlebars, feeling the road beneath their tires and finding scenery off the beaten path, the freedom to explore with peace of mind.

Dan Bartel, Garmin Vice President of Global Consumer Sales
Riding Performance Data – New with the XT2, sport tourers can review ride details showing how they performed on a route segment. Data include speed, g-force, acceleration, deceleration, elevation changes, and more. This data can help riders compare and improve over time. The Ride Details feature is only enabled when using the Tread mobile app.
Road Aware – The XT2 alerts riders to upcoming sharp turns, speed limit changes, and even red light and speed camera locations. This is something the earlier generation XT also offered, but merits mention here to round out this useful route intelligence feature set.
About Garmin Mobile Apps – Garmin offers two smartphone applications for the zūmo XT series. The Drive app is designed for the original zūmo XT while the new Tread mobile app is intended for use with the latest zūmo XT2. Riders with a first-gen XT should stick with the Drive app. Garmin directs zumo XT2 owners to the Tread app for access to all the features in the new device. Both apps are free and available for download on Google Play and the Apple App Store.
advertisement
Device Integration
The XT2 works well all by itself; but in reality, truly shines when paired with an in-helmet communicator and smartphone. The zūmo XT2 functions as an integrated display and control hub for smartphones and communicators extending its utility well beyond route navigation. These device integration features were available on the previous zūmo XT, but once again they are worth knowing about when considering the product.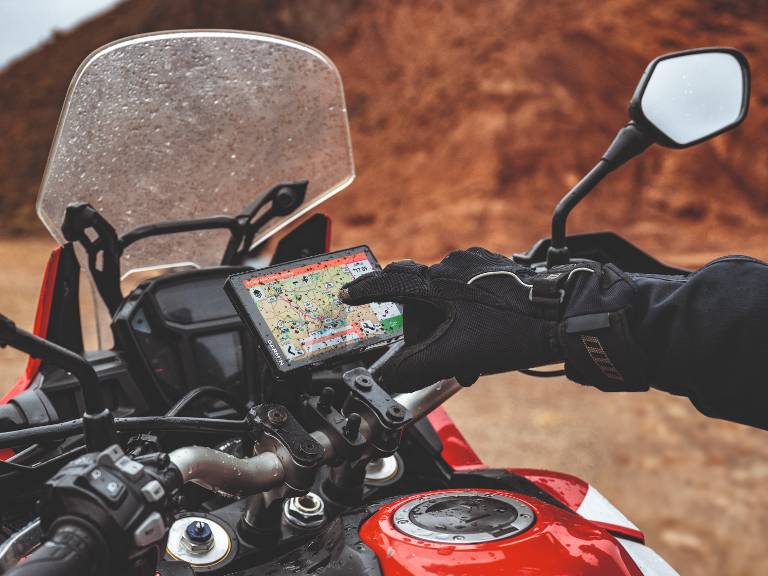 Text and Email Notifications – Speaking responsibly, no one should browse through their text messages and emails while riding, but who wants to miss an important message? The XT2 can help by displaying user-configurable short notifications to alert riders when text messages and incoming email arrive. After that, if the message is important enough pull over.
Music Streaming – Music streaming from a mobile phone is better with album art, song titles, and artist names displayed on the XT2 screen. More importantly, the XT2 lets riders control playback using convenient on-screen buttons rather than reaching for their helmet-mounted communicator.
Group Riding
Garmin added Group Riding features to the XT2 that work with the Tread product line and Tread mobile application. These capabilities may be useful for adventure riders, but sport touring riders will prefer using a Sena or Cardo for group comms.
Track Other Riders – The new XT2, paired with a smartphone running the Garmin Tread mobile app, can display the location of up to 20 riders in a group – provided all 20 are running the Tread app and have cellular service available.
Comms Without Cell Service – The XT2 is compatible with Garmin Group Ride Radio which allows others with the same device to talk over shortwave radio without the need for cellular service. Unfortunately, the hand-held mic makes the entire system impractical to use while riding.
More Than Before
The zūmo XT2 is the latest device from Garmin showcasing decades of excellence in map optimization, efficient routing algorithms, and verified points of interest, to say nothing of the Garmin best-in-class user interface.
Even as an increasing number of sport touring motorcycles feature TFT instrument panels with built-in navigation, we believe sport touring riders will find real value in a stand-alone unit. And that's why we're excited to see Garmin come out with the new zūmo XT2.
Look for more details and insights from our team after we run real-world tests on the zūmo XT2. In the meantime, for more on Garmin zūmo navigators, please read our hands-on review of the first generation zūmo XT.
Click the Thumbs Up or Thumbs Down button to email your feedback.
Your questions and comments help improve American Sport Touring. Your email is not used for any other purpose. Please read our Privacy Policy.