Warm Up to Gerbing's 12V Heated Jacket Liner 2.0
Whether on a touring ride or a short trip around town, some days are just plain cold – but that shouldn't get in the way. A heated jacket liner makes riding in any weather so much more pleasant that you could find yourself on the bike all year round. Indeed, you need a heated jacket liner. But which one is best? And why? With so many choices, we decided to review products from the leading brands to help you decide.
This installment takes a detailed look at the Gerbing 12V Heated Jacket Liner 2.0. Gerbing is a recognized leader in heated clothing. In fact, the company more or less created the industry almost 50 years ago and continues to innovate to this day.
For additional background on heated gear read The Ins and Outs of Heated Motorcycle Gear where we dive into the technology and important considerations. We explain why first-timers should start with a jacket liner and then add other heated gear as their riding dictates. Most will discover that a jacket liner is all the heated gear they need. You might also want to read reviews of the Tourmaster Synergy BT Pro Plus heated jacket and California Heat heated jacket liner.
About Gerbing
Gerbing is widely credited with inventing heated gear in Seattle, a place where cold morning rides to the Boeing plant led Gordon Gerbing to fashion a crude heated liner from an electric blanket. After nearly a half century of product innovation and refinement, the Gerbing company remains a global leader in heated clothing.
A privately owned company, Gerbing headquarters are in Philadelphia where they design and manufacture a full line of heated clothing. Products include a sturdy armored motorcycle jacket, head-to-toe liners, and an assortment of accessories.

Reviews published on American Sport Touring are conducted independently and without bias. American Sport Touring does not accept compensation of any kind in exchange for product reviews.
advertisement
Jacket Liner 2.0 Features
The latest jacket liner from Gerbing, the 12V Heated Jacket Liner 2.0, takes a stylistic step back to its bomber jacket roots. Unlike the less expensive Gerbing 12V Heated Jacket Liner, the 2.0 liner makes a passable around town jacket featuring hemmed elastic cuffs, front pockets, and a removable rain hood.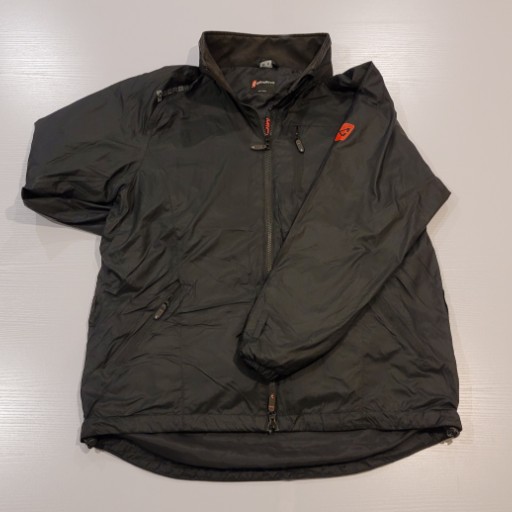 Well Crafted Casual Style
The jacket's outer shell is made from light but sturdy water and wind resistant ripstop nylon. The inner collar is lined with peached (meaning softened) polyester. A smooth inner nylon lining provides the structure needed to keep the heat panels in place. Overall, the jacket feels like a well-made nylon wind breaker.
The jacket has plenty of pockets. There are 3 front pockets, all with zipper closures and one zippered breast pocket on the inside. The zippers are all premium quality from YKK, including the large 2-way front zipper.
Gerbing put a large self-stowing pocket across the back. With a little practice, one can pretty quickly roll the jacket into the pocket. But we suspect most riders won't take the extra time and instead will roll it up in a side case or tail bag. Of the major jacket liners we looked at, only Gerbing and Tourmaster have this feature.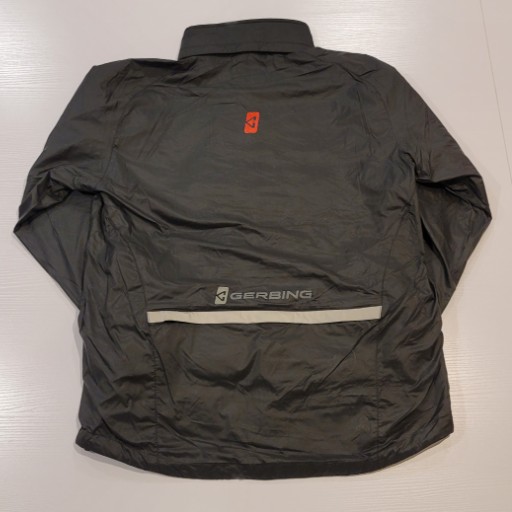 Power and accessory connectors at the cuffs and inside hem tuck out of the way in zippered pockets when not in use, helping to make this a usable jacket to wear between rides.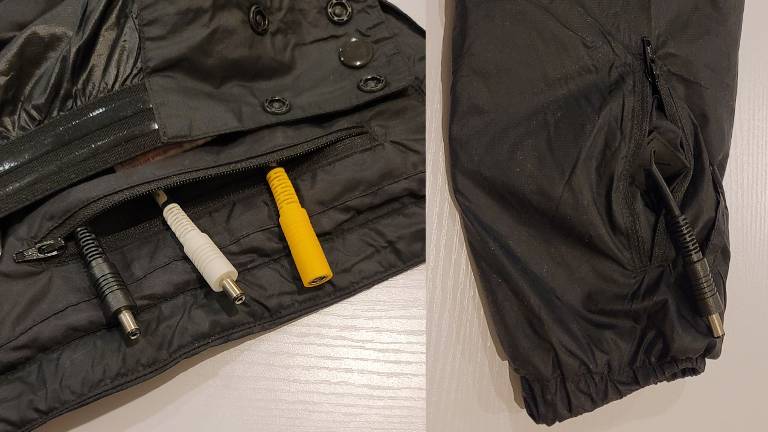 There are two features that we've only seen in the Gerbing 2.0 liner. The first is a powder skirt around the inside of the jacket above the waist that snaps together in front. This feature is more common on snow gear and may be intended for customers who use the liner when snowmobiling or the like. Motorcycle riders who don't need the skirt can easily keep it out of the way by snapping the ends to the inside of the liner. The second unique feature is four discreetly placed fabric loops on the outside of the liner. There's one above each cuff and one on each hip. They appear to be intended to secure the liner to the inside a jacket. Fortunately the loops blend in so well they probably won't get noticed.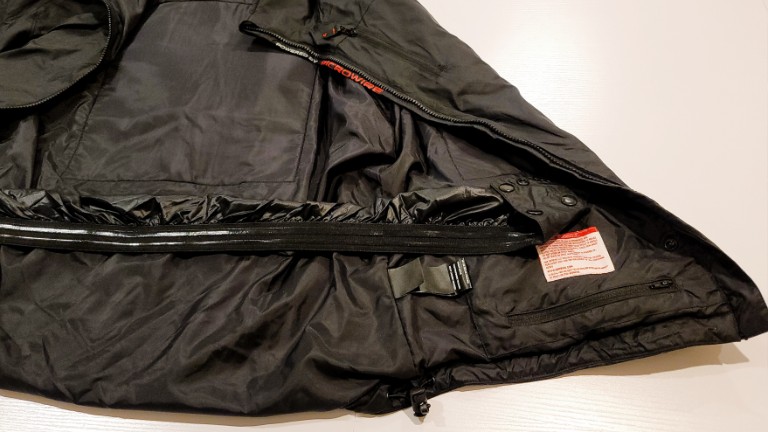 Rapid Warming
Gerbing jacket liners boast 7 heat zones. Each sleeve has a heat panel running from below the shoulder to just above the wrist. The back features a large 11×12 inch heat panel in the center of the jacket (which Gerbing counts as two heat zones). The chest kept warm by two 5×12 inch panels on either side of the front zipper. And finally, Gerbing adds a heat zone around the neck which together with the peached collar feels absolutely cozy on a cold day.
advertisement
But how much heat do all these panels really generate? To find out we pulled out the temperature gun and plugged the liner into a Gerbing single zone controller and Gerbing wiring harness on our test motorcycle.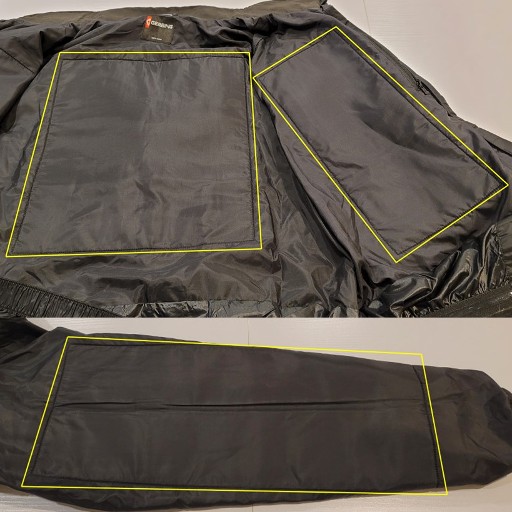 Tests showed that the actual heated surface matches the inside area outlined by the stitching inside the jacket. Gerbing trademarked Microwire panels heat up and cool down almost instantly. The temperature gun picked up measurable degrees of warmth within 3 to 5 seconds, and a steady increase all the way to the set temperature. Some areas within a heat zone were slightly warmer than others, all within 5° of each other. No hot spots were found. And if it gets too warm, the panels cool down just as quickly.
What about durability? Well, Gerbing knows riders will make quick roadside stops to shed gear as the day warms up. They know that rolling and stuffing the liner in a side case ride after ride puts stress on the heating elements. So it's no surprise Gerbing designed Microwire with that in mind and confidently backs all the wiring and other electrical components with a lifetime warranty.
Powering the System
Heated gear needs both a power source and a temperature controller. Gerbing offers two options.
The first option is to wire-up directly to the motorcycle battery. The Gerbing 12V wiring harness with a built in fuse sells for $12. The wiring harness delivers power to the temperature controller and jacket. Gerbing temperature controllers are priced from $50 and to $70 depending on features. Dual zone dial controllers are the most popular option. A wireless remote is available for another $25 making it easy to place the temperature knobs in any convenient and safe location. The remote only works with dual zone controllers.
Gerbing offers a portable 12V battery option as well. But this option is primarily intended for off-bike use or for short (very short) rides. The rechargeable battery plugs directly into the jacket liner and includes a small 3 button remote temperature controller. The heat setting for each button is configurable. The battery will keep the heat coming for about an hour; maybe enough time to get through the coldest part of the day. The portable battery option goes for $140.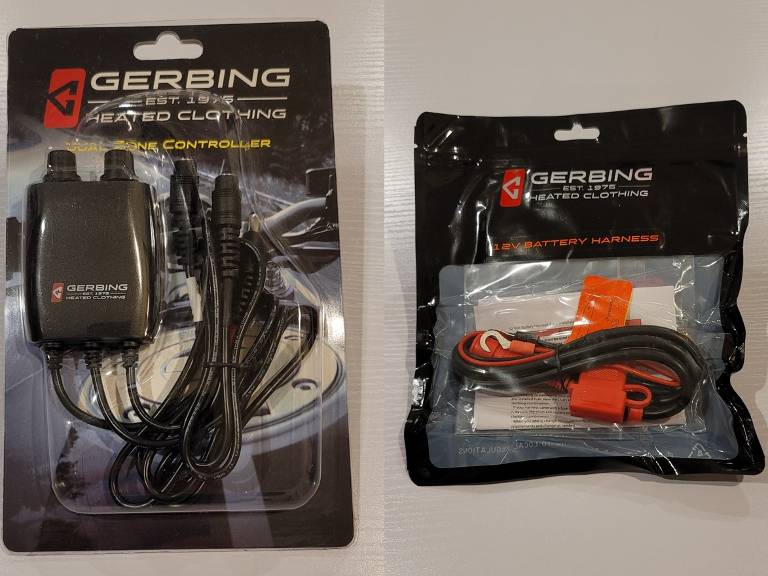 For our money, based on riding many chilly miles, wiring directly to the motorcycle battery is the most convenient and reliable option. This is particularly true if you plan to expand your heated wardrobe to include gloves, pants, or socks.
No Bluetooth Controller Option
A lot of brands have added Bluetooth temperature controllers to their product line-up. While Gerbing offers a wireless remote for dual zone controllers, they do not at this time offer a Bluetooth enabled temperature controller and phone app. Gerbing told us "We tested Bluetooth controls a few years back and the customer feedback was that it was too inconvenient to use while riding". It became clear to the Gerbing product team that at least for now, customers prefer traditional dial and button controllers. That could change if motorcycle manufacturers, or even third parties like Garmin, add Apple Car Play or Android Auto to their screens.
Astute readers may notice that Gerbing has an app on the Google Play Store, (it's called "Gerbing Heated Clothing – Thermogauge"). That app was part of early product testing and is no longer supported.
advertisement
Make It A Snug Fit
Gerbing will tell you to find a size that fits snuggly without restricting movement. That's because heated clothing works best against a thin base layer. Additionally, a snug liner won't bulk-up under a motorcycle jacket.
Use the Gerbing size chart to understand how they expect you to take measurements, then ask a friend to help. Of all the major brands, Gerbing is the only one who recommends measuring with your riding position in mind. That's an important point for a good fit in the sleeves and back.
Select the size that comes closest to your measurements. If you fall between sizes its best to go up one to avoid a restrictive fit or sleeves that are too short. Essentially, the jacket liner should fit comfortably when fully zipped and still feel good when worn around town between rides.
Strong Warranty and a Fair Price
Gerbing jacket liners come with a lifetime warranty on the electrical components and a one year warranty on everything else. That's in line with the industry.
According to Gerbing, the most frequent cause of a warranty claim is wear and tear on the connectors. They encourage customers to avoid sharp bends near the connectors. Warranty repair turnaround time is typically 10 business days or less.
A high quality heated jacket liner typically costs between $200 and $300 dollars. The Gerbing 12V Heated Jacket Liner 2.0 that we reviewed comes in priced at the upper end of that range. Riders already invested in Gerbing products appreciate the value for the money, new heated gear customers may have to trust that the Gerbing reputation for quality and durability merit a few extra dollars.
A Smart Choice
Heated jacket liners from Gerbing do a superb job delivering warmth without restricting movement. The wind and water resistant ripstop nylon moves easily under a riding jacket. Heat panels are large and well placed, warming quickly and evenly across all temperature settings.
Three things we like most about Gerbing and the Heated Jacket Liner 2.0:
Quality & know-how – Gerbing has been in this game longer than anyone and that experience shows through in thoughtful design features and high quality construction.
Warranty – A lifetime warranty on electronics is exceptionally rare so it's easy to like Gerbing for protecting their customer's investment with strong customer support.
Heating performance – Ultimately a heated jacket liner has one job, to keep the rider warm. The Jacket Liner 2.0 delivers reliable heat across large panels that cover the entire upper body.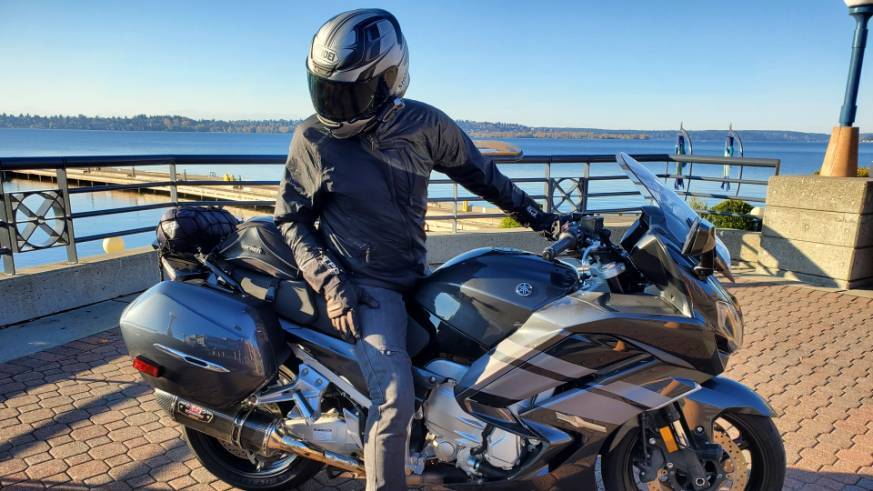 Riders who prioritize heating performance over style will do well to consider the Heated Jacket Liner 2.0 from Gerbing. This product is designed as a heated jacket liner first, and a passable after-ride jacket second. While its style mimics a bomber jacket, the shell material and trim are more characteristic of a liner than an outer jacket. Even so, in a pinch the jacket liner nicely doubles as an after ride jacket.
Gerbing stands out as a trusted global leader in heated clothing and a top pick for heated jacket liners. You can find a complete product catalog with current prices on the Gerbing web site (www.gerbing.com). All prices quoted in this article were taken from Gerbing's web site on the date of publication.
Click the Thumbs Up or Thumbs Down button to email your feedback.
Your questions and comments help improve American Sport Touring. Your email is not used for any other purpose. Please read our Privacy Policy.