A Look At The Synergy BT Pro Plus Heated Jacket
Cold weather, no matter the time of year, can take the fun out of a motorcycle ride. So why wait for conditions to improve when there's a perfectly good solution – heated gear.
This fall, Tourmaster launched an all new Synergy BT Pro Plus Heated Jacket with innovative features including a Bluetooth connected phone app. We got our hands on one and took it out for a 900 mile ride in a mix of fall weather before sharing our thoughts here.
This article is one in a series on heated gear. For additional background read The Ins and Outs of Heated Motorcycle Gear where we dive into the technology and important considerations for first-time buyers. You might also want to read reviews of the Gerbing heated jacket liner and the California Heat jacket liner.
About Tourmaster
Tourmaster is one of several brands owned by Helmet House, a Calabasas California company that has been dedicated to providing motorcyclists with premium helmets and riding gear for over 50 years. The Tourmaster brand focuses on riding apparel. Whether you are a commuter, tourer, or adventure rider, Tourmaster heated gear will keep you warm from head to toe.

Reviews published on American Sport Touring are conducted independently and without bias. American Sport Touring does not accept compensation of any kind in exchange for product reviews.
Synergy BT Pro Plus Features
The first thing to point out about the Tourmaster Synergy Pro Plus is that the company describes it as a jacket rather than a liner. Unlike similar products from Gerbing and California Heat (see our separate review on each), Tourmaster used heavier material and distinct styling to bring together the best of both a heated liner and a knock-around jacket. Worn under a riding jacket, the Synergy Pro Plus feels somewhat bulkier than a pure jacket liner, but with a proper fit it won't interfere with rider movement.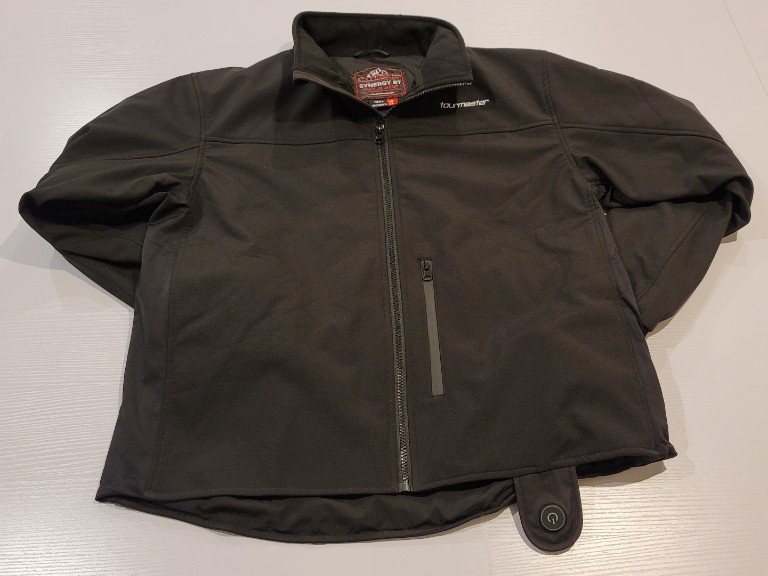 Aside from a heated vest, this jacket is the closest thing to a liner that Tourmaster offers.
advertisement
Top Marks for Style
Let's start with the outer shell. Tourmaster uses wind and water resistant soft-shell polyester to give the jacket a casual look that closely resembles a bomber jacket. Lycra panels sewn in between the front and back add an extra touch of style and provide stretch for a comfortable fit. The Synergy Pro Plus does not have an elastic waist band or cinch cord, which makes finding a proper fit so important. More on that below. Tourmaster offers the jacket in one color – black.
The jacket is lined with nylon making it easy to put on and allowing frictionless movement. Microfleece around the collar creates a soft and comfortable neck closure, while rib-knit polyester cuffs cap each sleeve.
Heat panels, outlined by the stitching that holds them in place, blend into the lining as do zippered pockets that hide glove connectors on the sleeves and the main power cord found inside the jacket.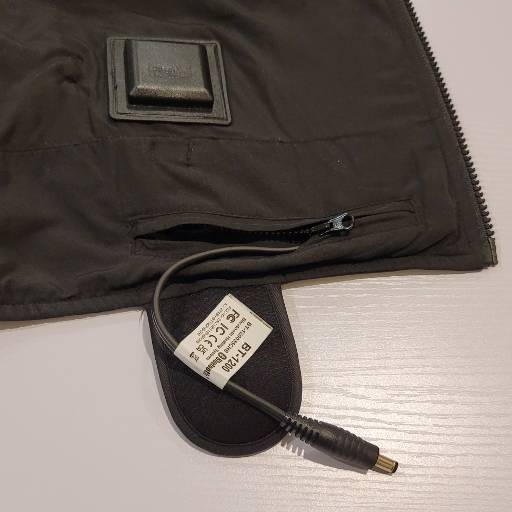 With all that style, few are likely to realize you are wearing a heated motorcycle jacket. But there is one subtle give-away – the controller button. The Synergy Pro Plus comes with a built-in heat controller sewn into a tab that matches the jacket and extends below the left side. We see it as a design feature that adds a distinct look to the jacket.
Let's talk pockets; there are exactly two. Both are zippered. Tourmaster designed the front pocket for use with the portable battery option. A small pass-thru allows the power cord from the jacket to reach the battery. A second pocket across the back is designed to stow the jacket. With so few pockets the Synergy Pro Plus has a crisp functional look, but we'd still like two front pockets. And ideally an inside breast pocket.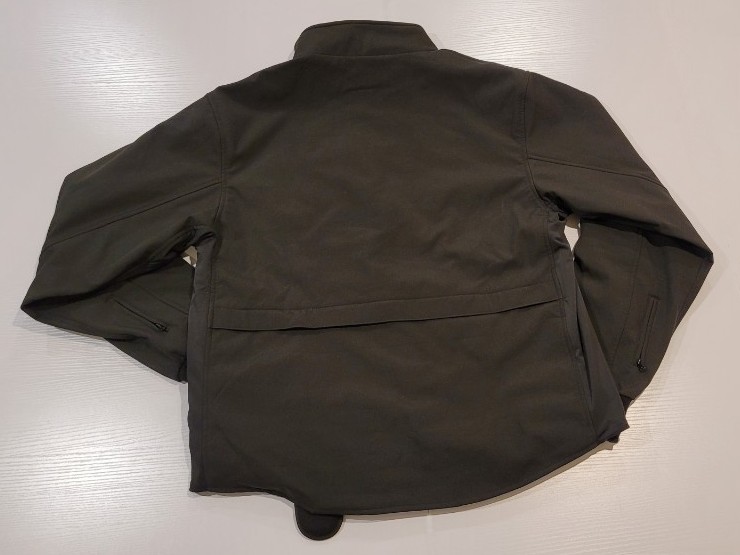 Rapid Warming
The Synergy Pro Plus features 6 generously sized heat zones covering the chest, back, arms, and collar. The back heat pad measures 7×16 inches and extends down the center of the back starting 4 inches below the collar to 6 inches above the hem. Two 5×12 inch heat panels, one on either side of the front zipper, put plenty of heat on the chest. Each sleeve contains a 5×12 inch panel positioned 2 inches below the shoulder to keep the upper arms warm. And finally, heat elements under the microfleece collar deliver luxurious heat for the rider's neck.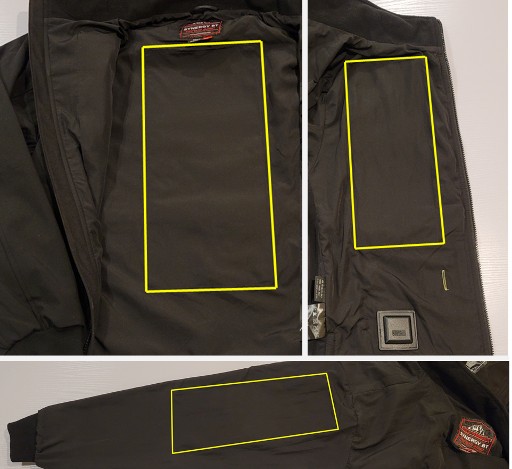 The built-in pushbutton controller on the Synergy Pro Plus gets top marks for design and function. Tourmaster thoughtfully located the controller below the left hem of the jacket so that riders can safely reach it without taking a hand off the throttle or an eye off the road. This one button controller powers up the jacket and toggles between low, medium, and temperature settings very much like heated car seats. Tourmaster sets temperature levels at the factory; low is set at 100°, medium at 113°, and the highest at 126°. Customers cannot change the factory settings.
advertisement
The Synergy BT Pro Plus also comes with a built-in Bluetooth controller which together with the free Tourmaster AddHeat phone app lets riders remotely power on and off the jacket and choose between 10 temperature levels. App set-up is straightforward, and the intuitive user interface is uncluttered. We installed and tested the app, but when riding strongly preferred the simplicity and easy access of the built-in controller button.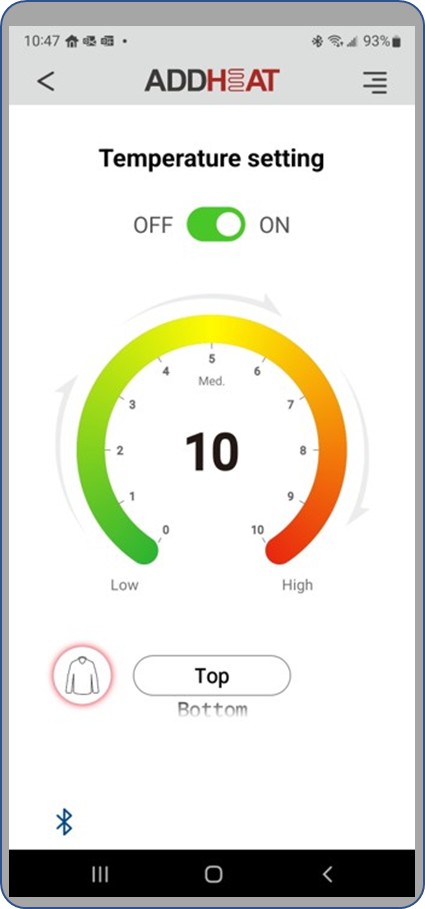 So how much heat do all these panels generate? To find out we connected the Synergy Pro Plus to our test motorcycle and took some readings with an infrared temperature gauge.
As expected, the heated area matches the outline stitched inside the jacket. The Tourmaster carbon fiber heating elements warm and cool quickly. We measured steady temperature increases, in 2 or 3 degree increments, within 3 to 5 seconds of powering on the jacket. All the heat zones showed even temperatures with the greatest heat concentrated in the back and chest. The collar was warm but noticeably cooler than the other heat zones. We didn't see any hot spots.
The carbon fiber heat elements and internal connectors are designed to stand-up to the kind of rough folding and packing expected on touring rides.
Powering the System
The Synergy BT Pro Plus comes with a 12V battery harness that connects motorcycle power to the jacket. And with both a built-in temperature controller and Bluetooth connected phone app, there's no need to buy a separate temperature controlled. Everything comes with the jacket.
Wiring up the included battery harness to the motorcycle takes less than an hour depending on the motorcycle. A shop mechanic can probably do it in less time. Either way, using the wiring harness offers reliable power for the longest rides.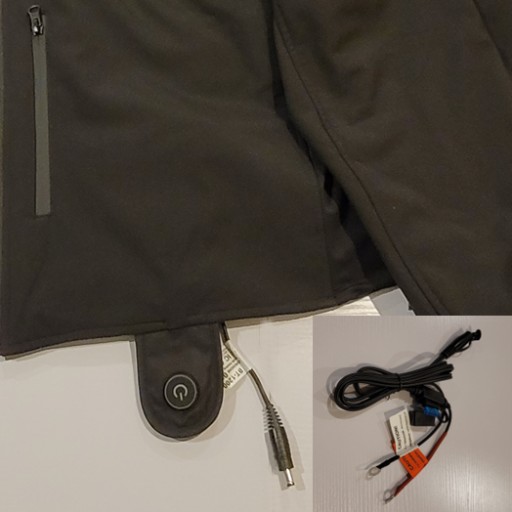 Tourmaster designed the Synergy Pro Plus with a second power option. A 12V lithium battery (sold separately for $80 from Tourmaster) fits in the front pocket and then connects to the power cord through a small port.
The battery option is useful when wearing the jacket off the bike, or when riding for short periods in cold weather. Tourmaster tells us the lithium battery can power a Synergy Pro Plus for 5 hours at the low temperature setting, 2.5 hours at medium, and 1.5 hours at high. That may be enough for some rides, but why take the chance? Hard wiring to the bike works mile after mile and delivers enough juice to power other heated gear such as gloves and pants.
Look For a Snug Fit
Heated apparel manufactures give one consistent piece of advice when it comes to fit – make it snug over a thin base layer for the best heating performance. Wearing a bulky base layer is like putting insulation between you and the heat. Form-fitting heated gear works best by design.
Tourmaster sizing instructions are limited at best. Other manufacturers, Gerbing for example, provide better guidance. We'd suggest referring to one of them to understand how to take measurements and then come back to the Tourmaster site to pick a size.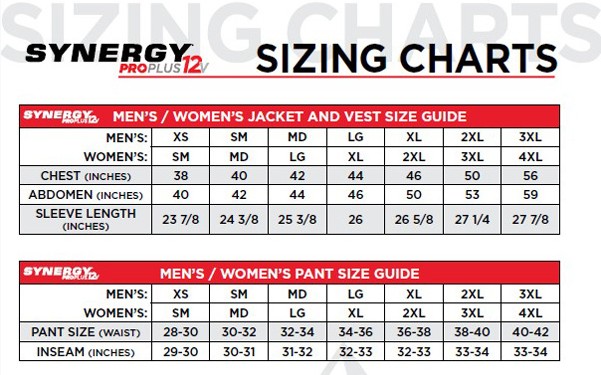 As always, select a size from the chart that comes closest to your actual chest or abdomen measurements (whichever is bigger) without going over. For example, if your chest measures 41, select a medium size (42). A smaller size (40) may restrict riding movement. With regard to sleeves, confirm that your actual sleeve length does not exceed the length shown for your size in the sizing chart. Sleeve measurements are taken from the top of the shoulder to the wrist. For most people the standard sleeve length for a particular size works well, but if in doubt call Tourmaster for help.
advertisement
Reasonable Warranty and Competitive Price
The Synergy BT Pro is well made and performed flawlessly in our testing. Which makes us wonder why Tourmaster offers only a 1 year warranty. Other leading heated apparel makers, specifically Gerbing and California Heat, give customers a lifetime warranty on the heating elements and electrical components and a 1 year warranty on the rest of the garment.
Tourmaster sells the Synergy BT Pro Plus for $250 which is right in line with comparable jackets from leading competitors. But in fact, the Synergy Pro Plus is actually less expensive when you consider that everything is in the box, including the heat controller. This jacket offers great value for the money.
Great Style and Performance
The Synergy BT Pro Plus is a great choice for riders who want the comfort of high performance heat when riding and a stylish jacket to wear around town at the end of the day. This jacket does it all.
Three highlights stand out:
Style – Tourmaster created a heated jacket with finishes that are as good as any casual jacket, heated or not. The side stretch panels help ensure a good fit under a riding jacket and give the Synergy Pro Plus a trim cut for anytime use.
Built-in temperature controller – Thoughtfully designed and positioned on the left below the rider's waist, using this simple push button controller is no more distracting than operating heated seats in the family car. The Bluetooth connected app works but it's not convenient to use (and potentially unsafe) while riding.
Solid heating – The reason to buy heated gear, after all, is to keep warm. The Synergy BT Pro Plus does just that by draping the entire upper body in six zones of cold weather defying heat.
The Tourmaster Synergy BT Pro Plus is a solid choice for motorcyclists who want a jacket with great style to wear off the bike but one that delivers plenty of warmth for riding on cool and cold days. The Synergy BT Pro Plus does both better than any heated jacket or liner we've tested so far.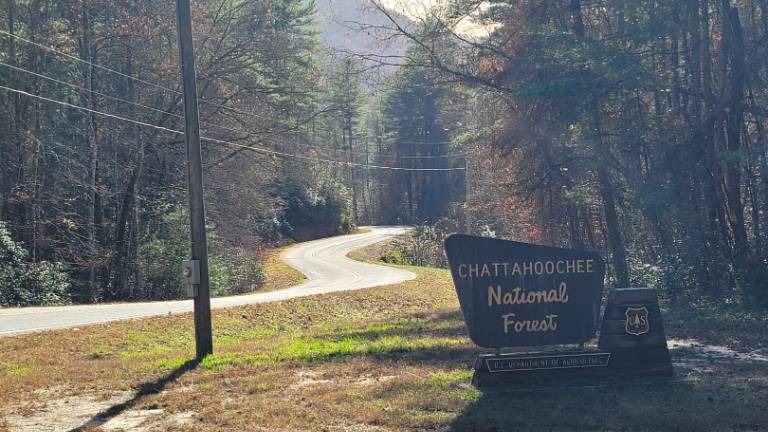 Tourmaster is a well-established brand offering quality apparel that motorcyclists have trusted for decades. Browse the Tourmaster website for a complete list of products and pricing (helmethouse.com/tourmaster).
Click the Thumbs Up or Thumbs Down button to email your feedback.
Your questions and comments help improve American Sport Touring. Your email is not used for any other purpose. Please read our Privacy Policy.