Motorcycle Earbuds That Do Double Duty
Motorcycle riding is inherently noisy. And that noise over time will lead to hearing loss. Earplugs are the most effective solution – but they also make it virtually impossible to enjoy hi-fidelity music using in-helmet speakers. Ordinary earbuds offer a better listening experience and some noise reduction – but they are incredibly hard to keep in place while putting on a helmet. Why not bring together the best features of earplugs and earbuds in one product? Well, a few companies did just that.
Finding earplugs that double as earbuds is not hard, there are many to choose from. The hard part is figuring out which are worth your hard earned money. To provide some guidance we tested two pairs of earbuds. A low-cost set from Mipeace and a premium set from PlugUp.com.
What We Tested
We selected the S Plug earbuds from PlugUp.com and the Mipeace Work earbuds.  Both are designed to fit inside the ear canal and reduce noise; however, S plugs are priced significantly higher than Mipeace earbuds. Testing these two products helped show how well price correlates with quality.  After all, a pair of earbuds that sell for over 7 times as much should be significantly better right?
| Features as tested | S Plug | Mipeace |
| --- | --- | --- |
| Cost (at time of publication) | $129.95 single driver model tested, a dual driver model (two speakers per ear) is also available for an additional $100. | $17.99 single driver, no option for a dual driver. |
| Noise Reduction | 27db | 29db |
| Ear tip design | Silicon double-flange | Silicon triple-flange |
| Multiple ear tip sizes | No | No |
| Replaceable ear tips | Yes | No |
| Connector | 3.5mm audio jack | 3.5mm audio jack |
| Cable length | 48" cable as tested; options to purchase 22", 42" or 54" cable | 56" cable, no option for other cable lengths |
| Carrying case included? | Yes | Yes, with carabiner clip |
| Warranty | 1 year, 30 day trial | 1 year, no expressed trial period |
How We Tested

Reviews published on American Sport Touring are conducted independently and without bias. American Sport Touring does not accept compensation of any kind in exchange for product reviews.
We took both pairs of earbuds on a 2200 mile sport touring ride across eastern Oregon, Nevada, and California hitting a variety of roads from urban to insane (California Highway 49).
In both cases, the earbuds were connected to a Cardo Packtalk comms system using a wired 3.5MM input jack. We prefer wired headphones over Bluetooth simply to avoid the need to charge one more device at the end of the riding day.
Our test ride took us through a variety of environmental conditions. We rode high altitude mountain roads and low lying river canyons. We pushed through rain and heavy cross winds. The combination of weather and road provided practical insight on how each product holds up in the real world.
advertisement
What We Found
Fit & Comfort
A correctly fitted earbud, especially for use under a helmet, has to seat snuggly inside the ear canal. A simple tug on the speaker wire should meet resistance and create a slight suction sensation inside the ear. These earplug/earbud style headphones achieve their noise cancelling effect by simply sealing out sound, unlike electronic noise cancelling found on high end headphones. Consequently, a good fit is important to eliminate excess wind noise. Secondly, a snug fit ensures the earbuds won't pull out when putting on a helmet.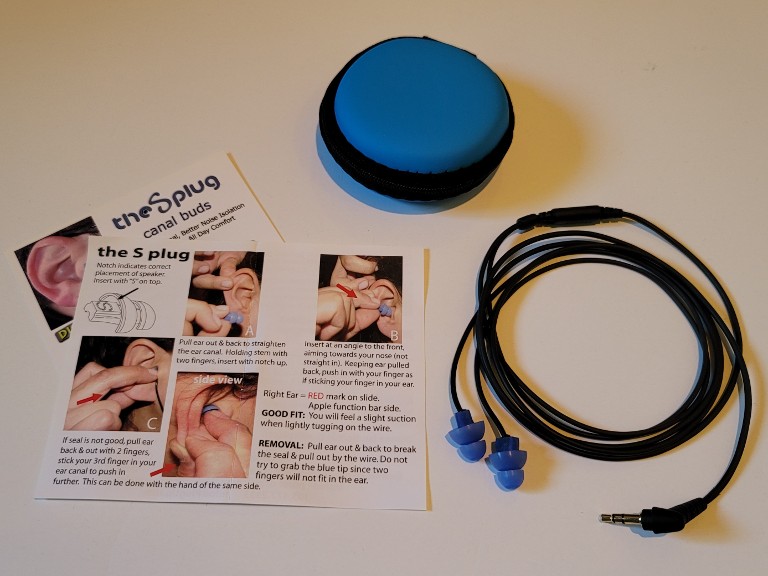 The silicon tip size (the actual earplug) is an important consideration. Both S Plug and Mipeace ship with one set of medium size silicon ear tips which work well for the majority of customers. Neither company offers an option to order other tip sizes. S Plug tips are replaceable however. Mipeace earplugs on the other hand cannot be removed and replaced. Riders who customarily wear earbuds with small tips may prefer S Plugs as their medium size is both narrower and shorter.
Once fitted correctly, both products are equally comfortable to wear all day. Because the earbuds are almost entirely in the ear canal, they are immune to helmet pressure. The silicon rings may even feel loose after hours on the road, but even then they do a remarkable job reducing road noise while delivering clear and bright audio.
Some earplug/earbud products use foam ear tips. We've tried those too, specifically the product from Plugfones. Foam tips are as comfortable as silicon, but unfortunately tend to close up around the speaker hole when squeezed into the ear canal. Plugfones seems to acknowledge that problem as they ship with silicon tips as well.
Sound Quality
The difference in sound quality between low cost Mipeace earbuds and high priced S Plugs is very hard to discern. After repeatedly listening to a variety of music genres at low and high volume it became apparent that S Plugs deliver a somewhat richer and more full sound. Music playback is a little brighter and the distinct sound of each instrument is easier to pick out.
Voice playback, whether navigation instructions, phone calls, or comms with other riders, come through loud and clear with no appreciable difference between the tested products.
advertisement
Wearing a Helmet
Perhaps the biggest frustration with earbuds, and earplugs for that matter, is keeping them in place when putting on a helmet. The neck roll easily catches on anything that extends beyond the earlobe causing the sound insulating seal to break free from the ear canal.
The S Plug earbud fits almost entirely inside the ear canal leaving only the lead wire at risk of snagging. Over the entire 2200 mile test ride, S Plug earbuds stayed securely in place every time we geared up.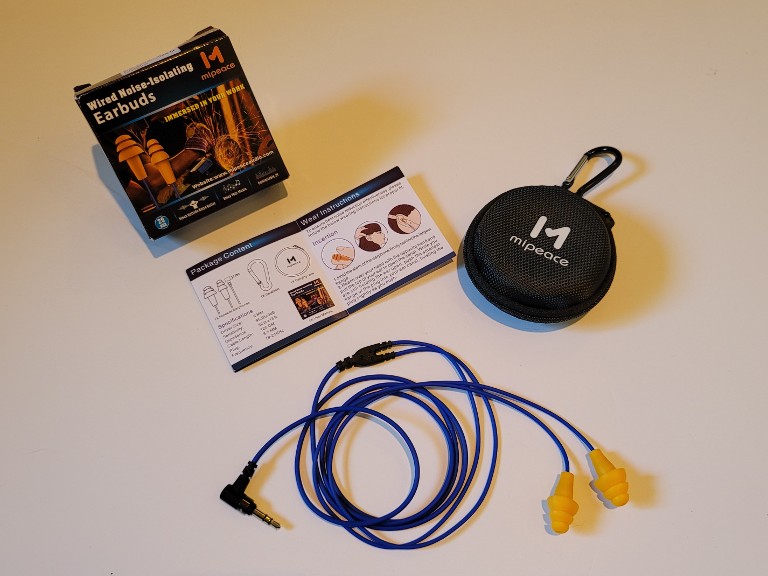 The Mipeace earbuds are longer than the S Plug leaving a small portion of the earbud outside the ear canal but not extending beyond the earlobe. During testing there were a few instances when the earbud snagged on the neck roll. But that seemed to happen when we were in a hurry and not paying attention.
A quick comment on cable length. It may be tempting to choose a short cable, but short cables complicate things. It's important to choose a length of about 36" so one can set the helmet on the motorcycle and use both hands to insert the earplugs without the need to disconnect the Cardo or other headset.
Accessories
Earbuds don't really need accessories, but a carrying case to protect the earbuds when not in use is handy. Both S Plug and Mipeace include a clamshell case. The case included with Mipeace earbuds features a sturdy hardshell and includes a carabiner-style clip. The S Plug case is softshell with a comparatively inexpensive feel and no clip. Both cases have a small storage pouch inside and include clips to manage the lead wire.
The S Plug also includes two plastic toothpicks to clean the earplug tips.
As mentioned earlier, neither includes replaceable ear tips.
advertisement
Ease of Use
These earbuds are dead-simple to use. The tested products do not have an inline microphone or inline music controller. That was a deliberate choice on our part given we intend to use these earbuds with a comms system that provides both a microphone and easy to use music controls.
The earbuds on both products will fit in either ear. S Plug marks the right channel with a red dot on the wire yoke, Mipeace does not mark either channel.
Bottom Line
If you are on a budget or just love a deal, want good sound quality, but don't necessarily need audiophile quality playback then the choice is easy. Go with the Mipeace earbuds. The sound is full, they effectively block wind noise, and are comfortable to wear all day. The carrying case with carabiner is a plus. And it's hard to beat the price.
Those who can appreciate richer sound and don't mind spending over 7 times more than what Mipeace earbuds cost, should go with the S Plug.
Ultimately purchasing earbuds is a coin toss. Manufacturers rarely share technical specs, for example frequency response and sensitivity, that provide objective measures to distinguish one from the other. Instead, buyers are left to make a leap of faith. That being the case, it makes sense to start with the least expensive option that meets one's requirements and trade up from there if needed. Using that logic, Mipeace is a smart buy.
Click the Thumbs Up or Thumbs Down button to email your feedback.
Your questions and comments help improve American Sport Touring. Your email is not used for any other purpose. Please read our Privacy Policy.