A Close Look at the California Heat Jacket Liner
Riding seasons sometimes are cut short by early winters and late springs when crisp morning chills hang in the air late into the day. But for many motorcyclists chilly mornings and cooler days are as enjoyable as any mid-summer day. Those riders discovered the cold-weather comfort of riding with heated gear.
A little more than a year ago we dug into The Ins and Outs of Heated Motorcycle Gear. In that article we make the case why heated jacket liners should be the only mid-layer a rider wears. For those new to heated gear, we also recommend starting with a heated jacket liner and later adding more heated gear (for example heated gloves) after riding with the liner alone. Most people agree that a jacket liner is enough to take the chill off on those cold mornings.
With that in mind, we spoke with the product team at California Heat to learn more about their latest heated jacket liner. Keep reading to find out what we heard.
This article is one in a series on heated gear. You might also want to read reviews of the Gerbing heated jacket liner and the Tourmaster Synergy BT Pro Plus heated jacket.

Reviews published on American Sport Touring are conducted independently and without bias. American Sport Touring does not accept compensation of any kind in exchange for product reviews.
About California Heat
California Heat is a family owned business focused on designing and manufacturing a full line of heated clothing for motorcycle riders. The company, formed in 2014, continues to build a trusted brand centered on quality and affordability.
Headquartered in Maryland (ironically), California Heat products are sold in motorcycle retailer and e-tailer outlets around the country and can be purchased directly on the company website.
Products from California Heat follow traditional design patterns and incorporate tried-and-true technology resulting in durable products that work reliably for years and years.
advertisement
Jacket Liner Features
This review focuses on the California Heat 12 volt Jacket Liner. We did not look at 7 volt battery powered products. On long riding days, the trouble-free go-all-day nature of systems hardwired to the bike's power supply just makes sense.
Heat Panel Technology
Naturally the reason to invest in heated gear is to stay warm. Which makes placement and construction of the heat panels so important. California Heat jacket liners contain panels in the chest, back, arms, and collar. The heating elements themselves are made with trademarked Finewire material.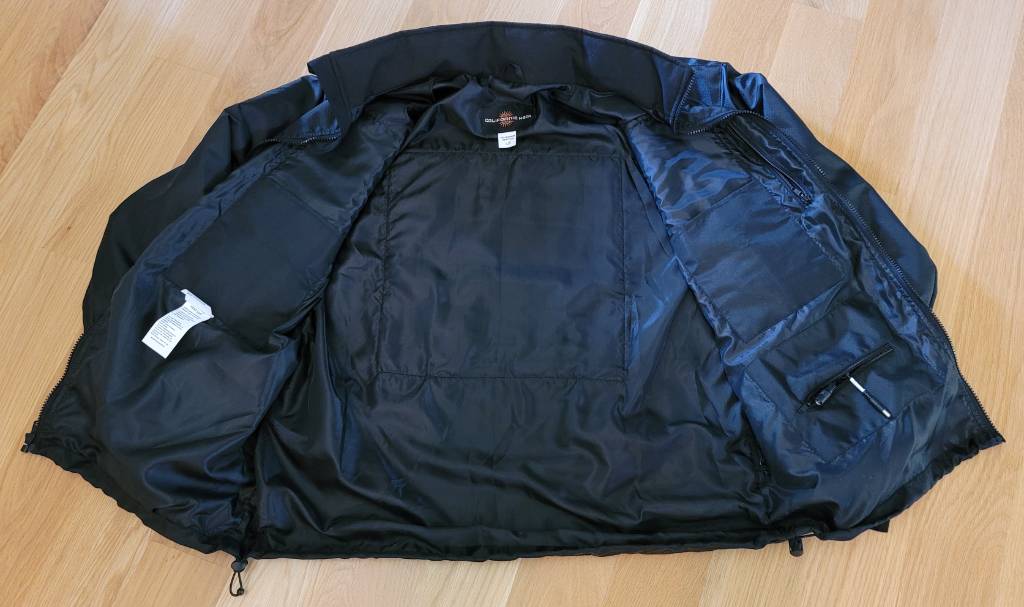 The distinction between heating elements used by other manufacturers is hard to appreciate given the material is completely hidden inside the jacket. But there are two important questions to ask. First, how quickly and evenly do the heating elements warm-up; and second, are the elements durable?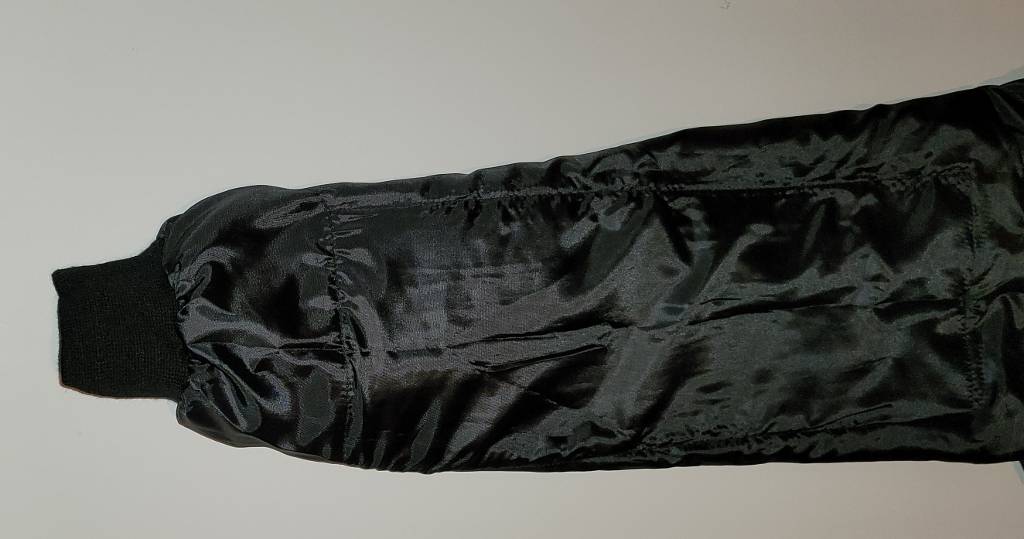 Using an infrared temperature gauge, we found that the heat elements come to life almost instantly. There was measurable heat after only 2 to 3 seconds, and a steady increase up to the mid-level temperature setting over the next 30 seconds. Once at the set temperature, (which is determined in a relative fashion across the dial from low to high), the heat level remained constant and showed no indication of hot spots.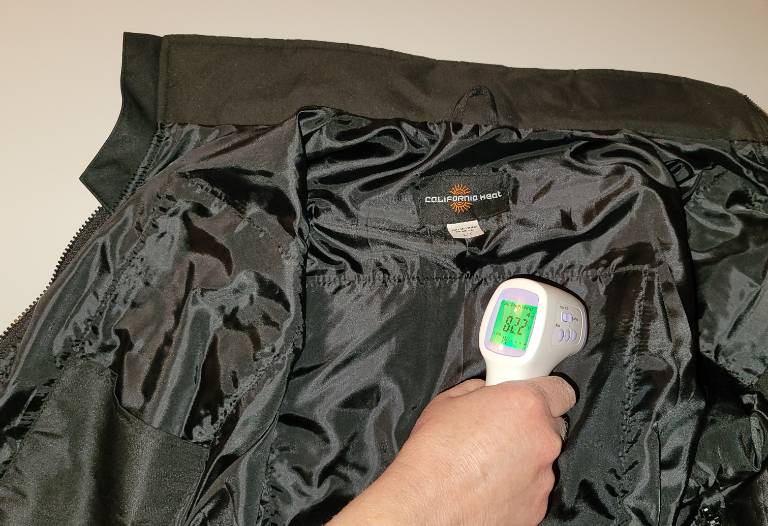 The heat panels in California Heat jacket liners are inherently durable simply because the wire elements are bundled and coated and then woven into fabric. They hold up even after the jacket is repeatedly rolled up and squeezed into a tail bag or side case.
Powering the Heat Panels
As mentioned earlier, this review focuses on the 12 volt jacket liner. Two accessories are needed to wire-up the jacket to the motorcycle power supply. First, the battery harness included with the jacket liner, and second a separately purchased temperature controller. The easily installed battery harness delivers 12 volt power from the motorcycle battery to a power connector positioned near the rider. The temperature controller connects first to the power supply and then to the jacket.
Check your motorcycle Owner's Manual for available 12 volt power wattage to ensure adding heated gear won't overload the system. The jacket liner we tested draws 77 watts, but we recommend double checking before purchasing as specs can change from time to time.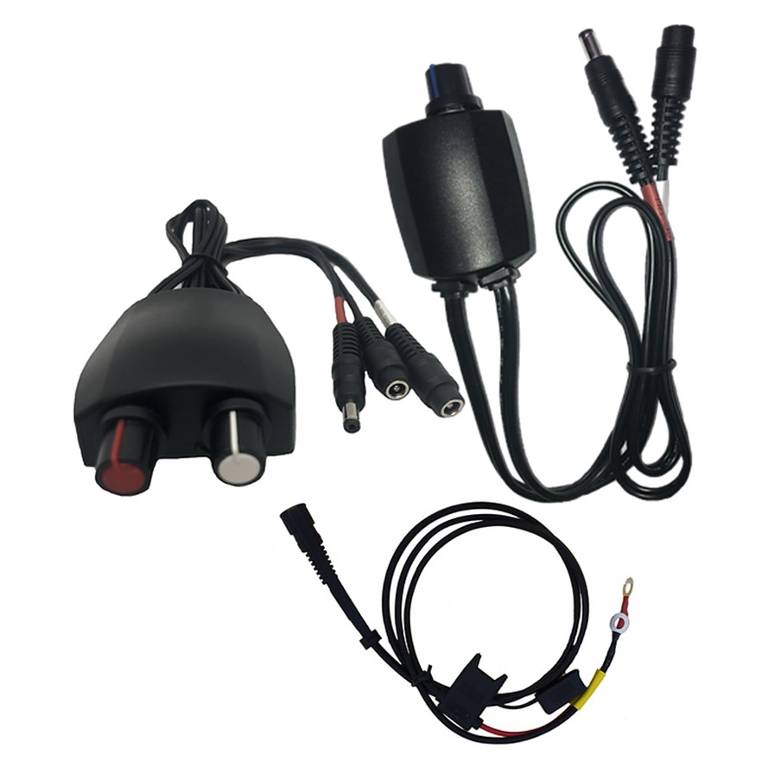 California Heat offers a variety of temperature controllers with different features all of which perform the same basic tasks – they turn the heat on and off and they set the desired temperature. Customers can choose the controller that works best for them. For example, some riders may want a dual temperature controller to separately adjust their heated jacket and heated pants, others may prefer the digital controller's push-button interface. By not including a controller with the jacket liner, California Heat can offer the jacket liner at a lower price and give customer greater choice.
Gear from California Heat uses industry standard power connectors. Customers are free to mix-and-match accessories and gear from other manufacturers as they like.
advertisement
Jacket Style and Construction
The jacket liner from California Heat is fashioned like a bomber jacket with knit cuffs, neatly hemmed front pockets, and a rolled softshell collar. The cut of the jacket is tailored to fit snuggly, but not tightly, under a traditional outer riding jacket. An elastic cinch around the hem helps keep cold air from entering under the jacket liner.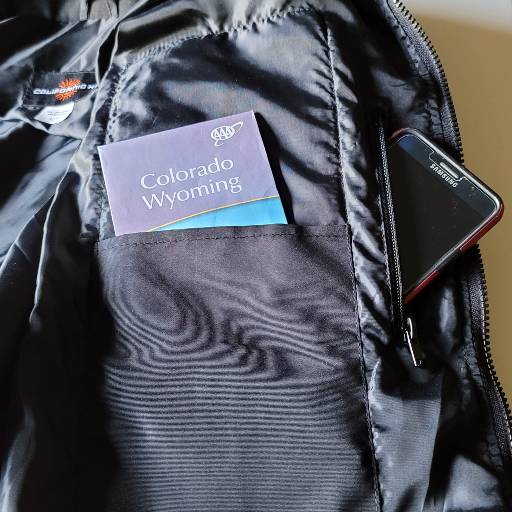 The outer shell of the jacket is made from wind resistant and water repellent ripstop nylon with a matte finish. It feels and looks like nylon. The inner liner is also nylon.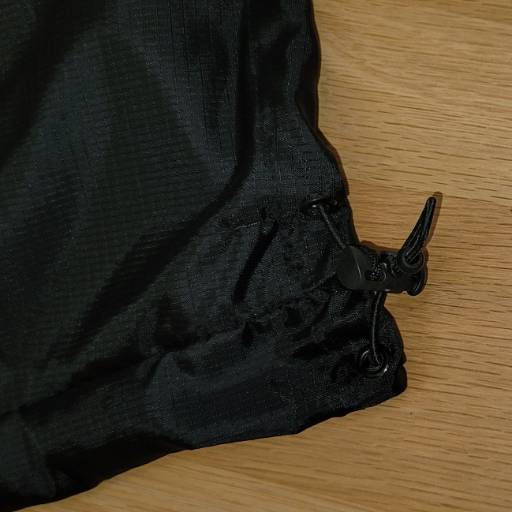 Jackets need pockets and this one comes with plenty. In addition to the two front pockets, California Heat put a zippered waterproof pocket on the inside left chest, just right for a phone or wallet. Two additional, larger but open, inside pockets are useful for lightweight items, for example a map.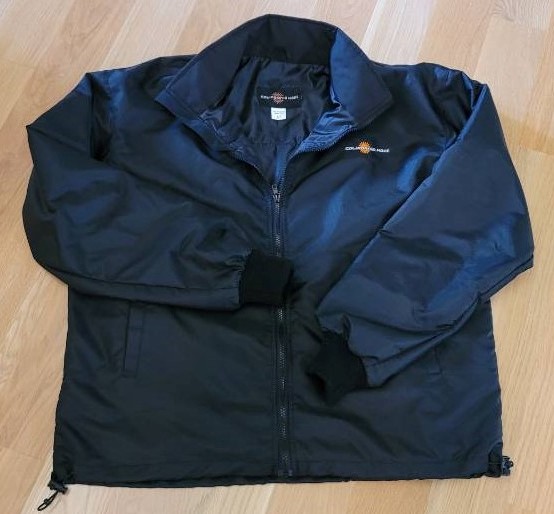 Other zippered pockets appear on the sleeves and inside to conceal power connectors when not in use. One of these inside zippers is for California Heat service technicians to access the heat elements if repairs are needed.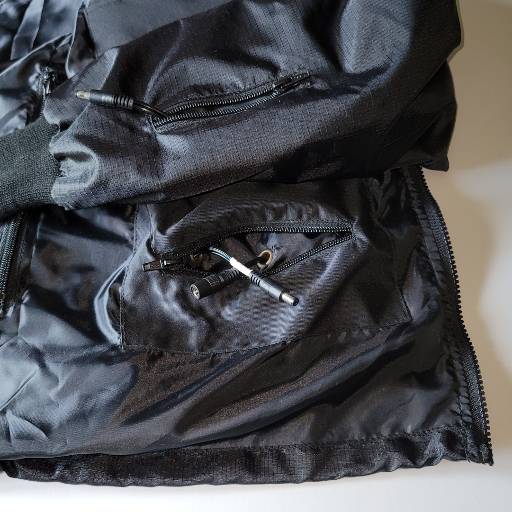 For a little flair, California Heat embroidered their stylish logo on the upper left of the chest, adding a little color to this otherwise all black jacket.
Finding the Right Size
The folks at California Heat gave us some advice on choosing the best size. First, they recommend using the sizing chart to pick a size (small, medium, large, etc.) that corresponds to your chest measurements (e.g. a 41 inch chest). They told us to trust the ranges – if a chest measurement lands on the low end of the range, choose the size for that range. It's a little trickier when the measurement lands on the upper end of the range. Larger builds at the upper end, may want to choose the next size up to ensure plenty of room for unrestricted movement.
Sleeve lengths are a secondary consideration. Sleeve length usually lines up with chest size, but for those with longer arms, California Heat is the only manufacturer that offers jacket liners in tall sizes.
About Bluetooth Technology
Unlike other heated gear makers, California Heat has resisted the urge to add technology without clear proof of value-add for the customer. The company is not yet convinced that riders want Bluetooth connectivity on the one hand; and on the other, they point out that using a phone app to control heat settings is not as convenient as a simple dial.
There's merit to that last point. One day a tech company like Google, together with innovative motorcycle manufacturers, may come out with a version of Car Play specifically for motorcycles that will make using Bluetooth devices while riding safe and convenient. But that day is not yet in sight.
To be clear, don't read the lack of Bluetooth to mean that California Heat is out of touch. Product innovation is driven by customer feedback. If enough customers ask for Bluetooth controllers, or any other product improvement for that matter, the team at California Heat will listen.
advertisement
Pricing and Warranty
As of this writing, the list price for a California Heat jacket liner is $230. That buys the jacket and a battery harness. Controllers and specialty connectors are sold separately.
Anyone getting into heated gear for the first time will need a controller. A 12 volt single dial controller runs $60, while a dual dial unit (to separately control two pieces of heated gear) costs $100. Refer to the California Heat website to browse their full line of controllers.
For comparison, California Heat jacket liners are priced roughly $20 below competing products. However, their temperature controllers cost between $10 and $20 more than those from other manufacturers.
California Heat jacket liners come with a multiple-part warranty. The heating elements and connectors are warrantied for life to the original purchaser. The jacket shell and other components carry a 1 year warranty.
California Heat points out that heating element warranty claims are infrequent and most often due to broken internal wiring connections. That usually happens, they tell us, when a jacket gets stretched beyond the size it was made for (i.e. someone purchased a size too small). Just a reminder to carefully pick the right size.
California Heat handles their own customer support and warranty work. Repairs are typically turned around in a few business days, well under the 2 week promised time.
Final Thoughts and Recommendations
We rode comfortably over mountain passes in 45° weather with nothing but this jacket between a base layer (a T-shirt) and an ordinary motorcycle jacket. The ripstop nylon shell worked so well that having the heat on was a luxury which was infrequently needed. The jacket fits like a medium weight mid-layer without adding bulk or impairing movement.
Off the bike, whether at lunch or walking the town after a day of riding, the bomber-style jacket looks as good as any summer jacket. Just hide the power connectors in their pockets and the only thing that says "motorcycle jacket" is the embroidered California Heat logo.
Three things stand out most about the California Heat Jacket Liner:
Style and fit – The jacket looks and wears like a jacket, eliminating the need to pack an extra off-the-bike jacket for touring rides, freeing space for other gear.
Heat coverage – Large and effective heat zones, including around the collar, warm-up fast and heat evenly.
Warranty – The most vulnerable part of the product, the heating components, are fully covered by a lifetime warranty that is backed by excellent customer service.

California Heat jacket liners are well made, heat effectively, and are stylish to wear even stand-alone off the bike. Sport touring riders can confidently expect great value for the money from this product. To learn more about California Heat jacket liners visit the California Heat company website.
Click the Thumbs Up or Thumbs Down button to email your feedback.
Your questions and comments help improve American Sport Touring. Your email is not used for any other purpose. Please read our Privacy Policy.