The Truth About Modular Helmets
Motorcycle riding is both dangerous and risky. But how much danger and how much risk are for the rider to decide. Each chooses where and how to ride, and hence accepts the level of danger they are willing to tolerate. Likewise, riders improve with training, commitment to practice, and wear a helmet and protective gear to further reduce risk – or said simply, to lower the probability of a serious crash and resulting injury.
The choice of helmet can literally be a life or death decision. When looking over an assortment of choices, it's not uncommon to wonder if a modular helmet with all its conveniences provides the same protection as a full face helmet. To be sure, there are many opinions and getting to the facts takes some digging. So, we spoke with major helmet manufacturers and representatives from standards organizations to come to a conclusion supported by objective data.
A Brief Look At Helmet Anatomy
Before talking about the relative strengths and weaknesses of full face and modular helmets, it may help to take a quick look at helmet styles and how helmets are made.
Choice of Helmet Style
Four helmet styles are available, each giving the rider a different degree of confidence they will survive a crash.
| | |
| --- | --- |
| | Covers the whole head above the base of the skull with an integrated fixed chin bar for face protection. |
| | Same coverage as a full face helmet, however the chin bar is attached with a hinge mechanism allowing it to swing up above the forehead. |
| | Protects the head above the base of the skull and forward to the temples but provides no protection for the face and chin; some models include a snap-on visor. |
| | Provides minimal protection covering only the head above the ears with no protection for the lower skull and chin area; riders often use goggles or sunglasses for eye protection. |
Street-use motorcycle helmet styles available in the United States.
[table caption] Street-use motorcycle helmet styles available for sale in the United States.
Objective data are hard to come by, but it's safe to suggest that the majority of sport touring riders prefer full face or modular helmets judging by the mix of products on store shelfs and seen on riders across the country.
advertisement
Compare Modular and Full Face Construction
Helmet construction starts with the outer shell. The outer shell acts like an exoskeleton. Made from composite materials, it is constructed to hold its shape, reduce rotational forces, and keep objects from penetrating in a crash. Each manufacturer follows a little different process, but generally the premium makers laminate fiberglass with Kevlar or carbon fiber using proprietary resins.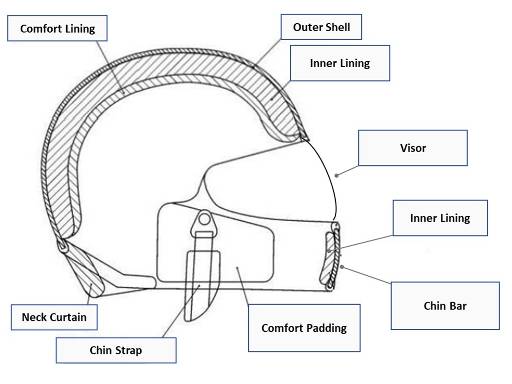 A layer of impact-absorbing expanded polystyrene foam, referred to as EPS, makes up the inner lining of the helmet. Whereas the outer shell keeps objects from penetrating the helmet, the inner liner cushions the head during an impact, acting to absorb energy. Each helmet design is different, but designers attempt to strike a balance between the physical shape and thickness of the liner and the resulting protection and rider comfort.
A set of removable pads add a final comfort layer between the inner lining and rider.
Full face and modular helmets include an integrated flip-up visor also called a shield system. The visor itself is made from polycarbonate and coated to resist scratching. Like a car windshield, small rocks will leave dings in the visor. The visor hinge mechanism in most cases is built into recesses formed in the outer shell below the temples. Arai however, mounts the mechanism outside the shell to avoid reducing the density of the inner liner.
And finally, no helmet is complete without a sturdy chin strap. Many state-of-the-art helmets have moved on from D-rings to more convenient quick release buckles.
Understand Helmet Safety Standards
Helmets are first and foremost intended to reduce the risk of injury. To that end, governments around the world have adopted or defined standards for helmets sold in their market. In turn, they hold manufacturers accountable for demonstrating through testing that their products meet those standards.
It's important to remember that a helmet that meets the criteria for a particular standard doesn't promise anything more than that. It simply means that the helmet is of sufficient quality to withstand a battery of tests that simulate the potential forces in various crash scenarios.
advertisement
DOT and ECE Government Standards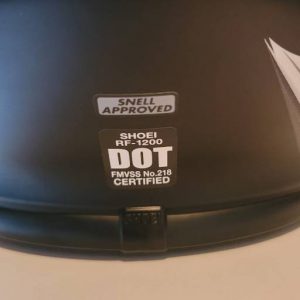 All helmets sold in the United States must meet the Department of Transportation safety standard and label their products with the ubiquitous "DOT sticker". Likewise, helmets sold in Europe are required to meet the standards set by the Economic Commission for Europe (ECE). Governments in other markets, for example Canada, may create their own standard but often allow sales of helmets that meet either the DOT or ECE standard.
DOT and ECE test standards are similar; however, the latest ECE standard no longer requires a penetration test. As a result, helmets designed for sale in the European market may use a thinner and lighter outer shell.
Modular helmets commonly pass DOT and ECE test criteria.
Unfortunately, due to the way DOT and ECE standards are administer, neither agency maintains a list of certified helmets. Detailed test procedure information for the DOT FMVSS-218 Helmet Standard and the current ECE 22.06 Standard are available online.
Snell Memorial Foundation

The Snell Memorial Foundation provides an independent helmet safety standard and performs its own in-house testing. Dedicated to "research, education, testing and development of helmet safety standards", Snell continues to maintain the industry's most rigorous standards and test methodology as it has since it was founded in 1957. Snell works with DOT and ECE to improve standards but lacks enforcement power of its own.
Manufacturers are not required to obtain Snell certification. Instead, they voluntarily submit products for testing. Snell certification is evidence that the helmet manufacturer is committed to meeting the highest standards for rider protection.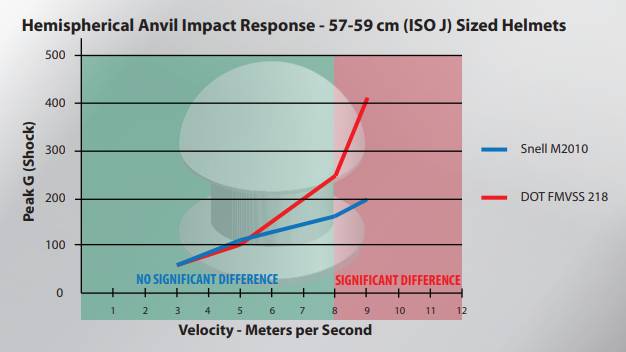 To date, no modular helmet has obtained Snell certification.
Read the 2020 Snell Motorcycle Standard for Protective Headgear for complete details, and use the list of Snell Certified Helmets for guidance on available products.
The chart above shows the relative test performance of a Snell/DOT certified helmet compared to DOT only. In higher severity tests, Snell certified helmets transmit significantly less shock energy to the rider's head.
Application of Standards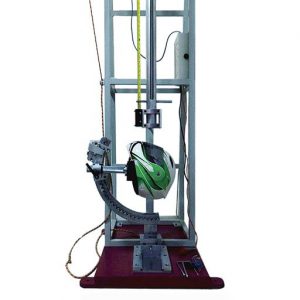 Each standards organization – DOT, ECE, and Snell – is free to establish the number of tests, test methodology, and success criteria for their certification program. Consequently, and importantly, a given helmet may meet the certification requirements for one standard while not for another.
Although test methodologies differ, all three standards treat full face and modular helmets the same. That is, the same tests required for certification by a given standard are applied equally to both styles and with the same success criteria.
Manufacturers decide which certification to seek based on the market in which they intend to sell their products. Looked at differently, they have the option to create product variants that allow them to better compete in a particular market. For example, a manufacturer may offer a helmet in Europe built to meet ECE criteria, while at the same time selling a variant of that same model, incorporating changes to meet DOT standards, in the US. This is why customers are strongly advised to purchase only helmets offered for sale in their market.
No matter the standard, it's unrealistic to say one or the other necessarily guarantees greater protection against injury – a real-world crash presents too many variables. What can be said however, is that the more rigorous the standard the higher the probability of survival.
advertisement
Why Full Face Beats Modular
Even though a modular may look a lot like a full face helmet, they are not the same. A look beneath the surface reveals important weaknesses that affect how a modular helmet is likely to perform in a crash.
Take a close look at the chin bar assembly on a modular helmet. Notice first that it's made with polystyrene plastic rather than the same fiberglass composite as the outer shell. While hard to see, the release mechanism also cuts into the impact-absorbing inner liner around the chin. As a consequence, modular helmets (as they exist today) are unable to pass the stringent Snell certification impact tests although many modulars meet DOT or ECE standards.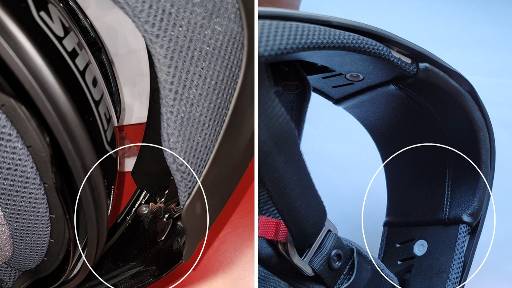 Next consider the hinge mechanism used to attach the chin bar to the helmet shell. It's actually two hinges. One attaching the visor to the chin bar, and the other attaching the chin bar to the outer shell. The hinge is therefore necessarily bigger than the visor only hinge on a full face helmet. Consequently, manufacturers recess the mechanism inside the outer shell and in doing so reduce the inner liner. The end result is that modular helmets are unable to pass Snell side impact tests. DOT and ECE standards do not have an equivalent side impact test.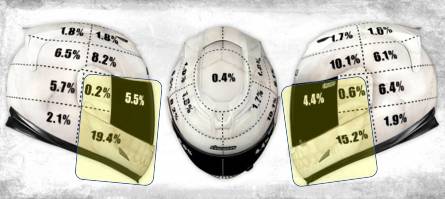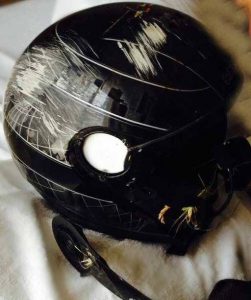 A third area of concern for modular helmets is the latch mechanism. DOT, ECE, and Snell all perform test to confirm that the chin bar will not open in a crash. This is an important requirement since analysis shows that a significant number of crashes involve impact to the chin and face. The fact that modulars are on the market with DOT and ECE labels shows they have successfully passed chin bar impact tests. However, lab tests aside there's plenty of real-world evidence showing that modular chin bars do sometimes open or completely detach in a crash. The bottom line is that riders wearing a modular helmet have a higher probability of chin and face injuries than those wearing a full face helmet.
Lastly, related to rider comfort, wind noise is a bigger problem with modular helmets than full face. Higher end modulars may be quieter than less expensive alternatives, but the best modular is still noisier than a comparable full face helmet. On a long day, that extra noise can mean increased rider fatigue.
Make The Choice That's Right For You
So where does all that leave us? Are modulars as safe as full face helmets? The straight-up answer is no. But that doesn't mean modulars are ineffective or dangerous either. Absolutely not.
Modulars have convenience working in their favor. With the chin bar raised, modulars take less effort to put on. And they won't dislodge earbuds. Conversation at gas stops is easier, not to mention grabbing a quick drink or snack.
But Snell testing convincingly shows that a full face helmet offers a higher level of impact protection around the temples and for the chin and face. Additionally, road tests demonstrate that a premium quality full face helmet creates less wind noise than a comparable modular.
Of course, tests are just that – tests. And while important, other considerations matter as well.
Start by considering your personal tolerance for risk. A good way to gauge that is by looking at what you ride, the roads you ride, and most importantly how well you ride. The more daring the combination, perhaps the greater one's appetite for risk. And the stronger argument for a full face helmet.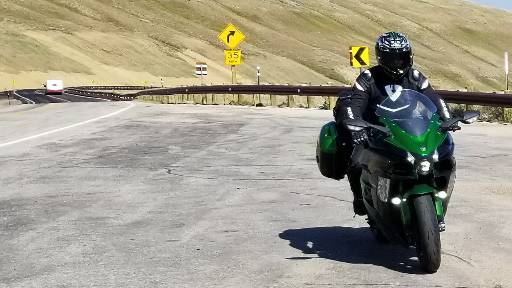 The bottom line is this. Two findings consistently standout from all the helmet safety research out there. First, helmets save lives so wear one. And secondly, no helmet promises to completely protect the rider, but meeting DOT standards and better still obtaining Snell certification increases the odds. Choose a comfortable full or modular helmet that lines up with your riding style and then ride responsibly.
Click the Thumbs Up or Thumbs Down button to email your feedback.
Your questions and comments help improve American Sport Touring. Your email is not used for any other purpose. Please read our Privacy Policy.
Resources