Favorite Gifts for Sport Touring Riders
Whether you have a dedicated motorcyclist in your life or you are a rider yourself, American Sport Touring is delighted to share gift suggestions that are sure to delight that special person.
Sport Touring motorcyclists share a common love for adventure and the challenge of mastering America's most seductive roads. Whether tracing a river deep in a canyon or leaning around the edge of a high mountain road, sport touring riders will appreciate all of these gifts.
We've scoured the landscape, consulted experts, and sifted through an array of products to curate a small selection that covers everything from reading about riding to staying safe on the journey.
For Readers Who Ride
Let's start with a few book suggestions.  After all, for most of us the winter weather is less than ideal for riding.  But a good book might be just the thing to feed that passion to ride and get us through.
Jupiter's Travels by Ted Simon
This highly regarded travelogue by Ted Simon is an exhilarating motorcycle journey around the world that encapsulates the essence of adventure and self-discovery. Ted Simon embarks on a four-year odyssey, circumnavigating the globe on his trusty Triumph Tiger motorcycle. The voyage, chronicled in Jupiter's Travels, takes him through diverse landscapes, cultures, and experiences, offering a remarkable tapestry of human connection and exploration that is the essence of motorcycle sport touring.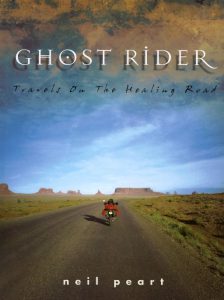 Ghost Rider: Travels on the Healing Road by Neil Peart
Ghost Rider: Travels on the Healing Road is a poignant memoir by Neil Peart, the legendary drummer of the rock band Rush. The book chronicles his soul-searching motorcycle journey across North America after enduring a series of devastating personal tragedies, including the loss of his daughter and wife within a year. Peart embarks on this healing odyssey to cope with grief and find solace on the open road. Through lyrical prose and introspective storytelling, he explores themes of loss, recovery, and self-discovery, while also delving into his passion for motorcycling and the vast landscapes he encounters. It's a heartfelt tale of one man's quest for healing and renewal.
Long Way Round: Chasing Shadows Across the World by Ewan McGregor and Charley Boorman
This gripping memoir by Ewan McGregor and Charley Boorman chronicles their remarkable motorcycle journey around the world, spanning over 20,000 miles through challenging terrains, diverse cultures, and unexpected encounters. As they ride through Europe, Asia, and North America, the authors share their personal reflections, detailing the physical and emotional challenges they face. Along the way, they confront deserts, rivers, and the infamous Road of Bones in Siberia. The book captures the essence of adventure and the human spirit as McGregor and Boorman chase shadows across the globe, creating lasting memories and profound connections.
For more book ideas read Three Motorcycle Books Worth a Read.
advertisement
For the DIY'er
If that special rider in your life spends time tinkering with their motorcycle, then these DIY garage gifts are sure to please.
Electric Tire Pump & Tire Pressure Gauge
An electric tire pump and tire gauge are perhaps the most useful tools in any motorcyclist's garage. Keeping tires properly inflated for the current weather, roads, and style of riding is important for both safety and riding performance. Riders should check their tires before every ride and keep them properly inflated at all times.
Most stores offering automotive parts are likely to carry efficient electric tire pumps suitable for motorcycles. When selecting a pump, it's essential to ensure it comes with a hose long enough to comfortably reach the tire valve, particularly the front tire valve which may take some dexterity to reach between the front discs. This same concern applies to choosing a tire pressure gauge.
The article How to Pick the Right Tire Gauge explains what to look for in a tire pressure gauge.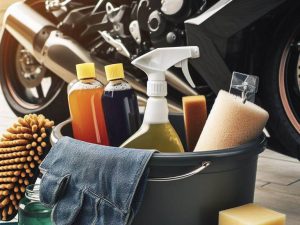 Versatile Cleaning Kit
A motorcycle cleaning kit is a useful tool for the motorcycle enthusiast who takes pride in keeping their bike looking sharp. Pre-assembled kits are available, but it's just as easy and more personal to build one yourself. Start with a sturdy storage box or canvas bag to hold the cleaning supplies. An inexpensive tool cady works great for this. Then pick up some cleaning supplies. The basics include a good car wash and polish. For good measure throw in some bug and tar remover. Top off the kit with a wash mitt and some polishing rags. Find good quality wash supplies at most auto parts stores, no need to seek out a motorcycle shop.
Essential Tool Kit
Just like a motorcycle needs to be washed from time to time, they also need regular maintenance. Many of those routine tasks are easily done by the do-it-yourselfer. They just need a few essential tools and some know-how. Pick up a lightweight tool bag and then add the most useful tools first and continue adding more until you run out of budget or tools to add – whichever comes first.
Every DIYer will need a set of wrenches (most often metric), a set hex wrenches (also metric), a socket set (again metric) with ratchets and extensions, a set of screwdrivers containing small and large standard and Phillips heads, pliers, needle nose pliers, and wire cutters. Those are the essentials. Dress up the kit with extras like a flashlight to help look into crevices behind the fairings or a handy pocketknife.
Other tools that your home mechanic might like include a torque wrench used to ensure nuts and bolts are tightened to manufacturers specification. And a motorcycle service manual that contains all those specifications and other helpful repair information.
advertisement
Electronics for the Road
Add comfort and convenience with modern electronics to make any ride more fun and memorable too. These gifts will keep your rider entertained, connected, and in control on any adventure.
Earbuds
Motorcycling is an inherently noisy sport. So much so that without ear protection, a rider is at risk of damaged hearing. Earplugs for motorcyclists have come a long way over the years and today many have built-in speakers that deliver excellent sound. A good quality pair will fit comfortably under a helmet without becoming dislodged. Importantly, these earplugs should let the rider hear surrounding traffic even while they listen to music or follow turn-by-turn navigation instructions.
For more details read the article Motorcycle Earbuds That Do Double Duty.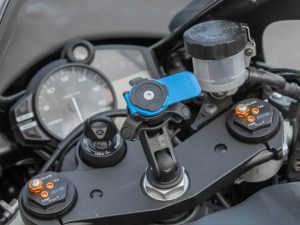 Smartphone mount
Smartphones are an indispensable tool in our everyday life.  It's no surprise they have are now an almost essential aid on long motorcycle rides as well.  As more riding accessories depend on a smartphone app to access and control their settings, the smartphone screen has become as important as the instrument panel itself.  A smartphone motorcycle mount lets riders securely attach their phone to the handlebars or other mounting point for convenient access while on the road.  There are a number of popular phone mounts on the market.  Products from Quad Lock and Ram Mounts are well reviewed and available to work with most motorcycles.
Emergency Beacon
Solo riding is the ultimate expression of freedom and independence.  It's also the riskiest way to experience sport touring.  If something goes wrong, it can take hours or more for help to arrive.  A Personal Locator Beacon (PLB) is an inexpensive device that can summon help anywhere in the world with or without cell phone service.   The ability to quickly call for help can be the difference between life and death for those who go it alone.  High quality locator beacons are available from Ocean Signal, ACR Electronics, and Garmin. 
Learn more in the article Personal Locator Beacons Explained.
Stylish Attire On and Off the Bike
Day rides are fine, but the best rides are the long ones. Saddle up with these gifts to add an extra layer of comfort to every mile.
Heated Jacket Liner
Keep riding even when the weather turns cold. A heated jacket liner takes the chill off those cool days and can keep the riding season going deep into the fall or get it started earlier in the spring. This versatile piece of motorcycle apparel utilizes micro-wire heat pads and a controller to keep riders comfortable no matter the weather. Heated jacket liners are lightweight and designed to be worn under a traditional motorcycle jacket. Riders don't have to give up protection for comfort.
The article The Ins and Outs of Heated Motorcycle Gear goes into more detail on this gift idea. We also reviewed heated jacket lines from Tourmaster, Gerbing, and California Heat.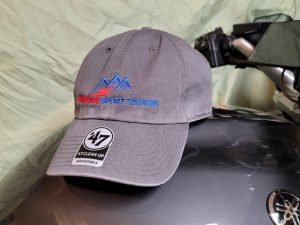 After-ride Baseball Cap
Baseball caps are a versatile gift that conveniently solves more than one problem. Start with helmet hair – easily covered. Then the problem of sun in the eyes – the visor takes care of that. And finally, looking sharp – baseball hats come in several styles and colors and feature logos to match your favorite rider's tastes. The unstructured cap style is easy to tuck in a tail bag or tank bag and always come out looking good. Find caps featuring your favorite motorcycle brands at the motorcycle maker's web site or at major motorcycle equipment retailers.
Riding T-shirts
No matter the weather, a comfortable riding t-shirt is a must. While they don't provide extra protection, or much warmth for that matter, a quality t-shirt is an excellent year-round base layer to wear under a riding jacket or heated jacket liner. For sport touring rides, a close fitting cotton or polyester t-shirt does the trick. And looks good off the bike too. Choose a shirt that features a favorite motorcycle brand, favorite track, or even a national park or destination. Let the shirt tell a story.
Riders who enjoy track days or wear full leather riding suits will want a base layer shirt made with breathable polyester and spandex and designed to wick moisture. This type of shirt is available from motorcycle apparel makers.
advertisement
Safety and Security
These gifts will give the motorcyclist in your life an extra measure of confidence on the road.
Skills classes
A gift certificate for a motorcycle rider training course is something every rider, no matter how many miles on the odometer, will find useful. There's always room to improve in this sport. For some it may be slow speed maneuvers, others may want to get better at braking, and nearly everyone wants to be faster in the corners.
Motorcycle training classes and workshops are available across the country specializing in one or more areas of skills development.  Experienced riders will enjoy a track school where they can focus on learning without worrying about traffic, road conditions, or speed limits.  Others may enjoy less intense skills workshops conducted in closed areas such as an airfield or large parking area.  Two top-rated track schools are California Superbike School and Champ School (also known as Yamaha Champions Riding School).  Try a Total Control Motorcycle Training course for riders who might not want to strengthen their core bike control skills.
Read the article Top Track Schools for Sport Touring Riders to learn more about the track school experience.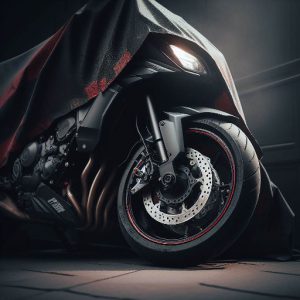 Bike Cover
Think of a motorcycle cover as a pop-up garage.  Carried along on the tail rack or a side case, it's ready to do double duty at the end of a ride.  First, it keeps the bike dry and out of the weather.  And second, a cover helps deter theft.  A good quality cover takes up very little room making it easy to pack along.  With a little practice they are easy to put on and fold up as well.  Top brands to look at are Nelson-Rigg and Dowco Powersports.  
Learn more about how to select a motorcycle cover in the article How to Pick the Right Motorcycle Cover.
Helmet lock
A helmet lock is a must-have accessory on every sport touring ride. This simple device allows a motorcycle rider to secure their helmet to the bike between rides. No need to carry it along at lunch stops or other destinations. This tool conveniently and effectively prevents theft and pretty much eliminates the chance that a passerby will accidentally bump the helmet off the bike. Helmet locks are available in various shapes and sizes and use either a cable or a clasp to secure the helmet to the bike. Cable locks are sure to work with any bike and require no installation unlike a clasp style lock. Find more information about helmet locks at motorcycle equipment retailers like Revzilla and Sportbike Track Gear.
Read Motorcycle Security for Sport Touring Riders for more insights.
Happy Gifting
Finding the perfect gift for the motorcycle rider in your life is all about celebrating their passion for the open road and enhancing their riding experience. We are sure the gifts described here will hit the spot and bring an appreciative smile to the face of your favorite motorcycle rider.
Click the Thumbs Up or Thumbs Down button to email your feedback.
Your questions and comments help improve American Sport Touring. Your email is not used for any other purpose. Please read our Privacy Policy.