Gifts Every Sport Touring Rider Will Love
Gift giving is about the art of the possible – that is the possibility of bringing a smile to a friend or loved one who loves motorcycling. Motorcyclists may know what they want, but what they might need is something else altogether. Finding and satisfying that need is the "possible" we want to help you achieve.
We've assembled 10 great gift ideas that any motorcyclist will love, and sport touring riders in particular actually need. In fact, you may prefer our list as a personal shopping guide and that's okay too.
Idea #1 Books About Motorcycling
Sometimes the next best thing to riding is reading about riding. The number of books on motorcycling cover everything from riding skills to adventure stories. Here are two recommendations.
For the person who enjoys an adventure tale with historical significance, consider The Motorcycle Diaries by Ernesto Che Guevara, first published in 1993 and chronicling a nine month period in the early 1950's when the author and a friend doubled up on an old Norton motorcycle to explore South America.
For riders who are looking for tips to ride better, take a look at A Twist of the Wrist by Keith Code, now in its second edition. While the cover illustration and subtext suggest the material is for aspiring racers, in fact any street rider will ride safer, more confidently, and ultimately faster by developing the skills Keith explains.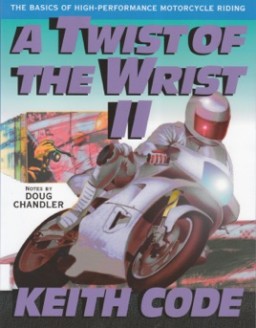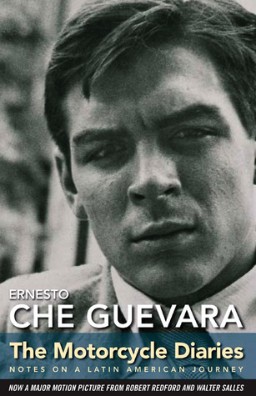 For more about books on motorcycling read Books on Riding
advertisement
Idea #2 Tire Repair Kit
A flat tire will spoil any day on the road, but for motorcyclists it's the worst. Without a spare, and often far from services, riders have to be self-reliant. A tire repair kit can make all the difference between a long walk and a quick fix to get to a shop for a permanent repair. Motorcycle tire repair kits are designed for use on tubeless tires, which virtually every motorcycle sold in the last 40 years rides on. Repair steps are straightforward: a) find the leak; b) clean out the leak; c) insert a plug; and, d) reinflate the tire. Everything needed comes in the better kits.
Read more about motorcycle tire repair in How to Repair a Motorcycle Flat Tire
Idea #3 Motorcycle GPS
Better than a best friend riding shotgun, the calm and confident voice coming from a GPS navigator will reassure any motorcyclist in unfamiliar surroundings. Paraphrasing an early advertisement from Garmin, a leader in portable GPS navigation, "with GPS you're never lost". That's a good starting point covering the fundamental purpose of GPS; but a more current way to think about GPS devices is similar to the screen found in cars today. That is, the GPS puts the world around the motorcycle in front of the rider, including personal devices like phones, music, and communicators. GPS choices that work on a motorcycle are limited but the few choices are quite good. Specifically, the Garmin Zumo XT is state of the art and worth a close look.
For a review of the Garmin Zumo 595LM take a look at Garmin Zumo 595LM Motorcycle GPS Reviewed
advertisement
Idea #4 Rider Communication System
On the one hand, riding with on-board GPS gives the illusion of having a friend along, but it's certainly not the same as actually chatting. An in-helmet communication system, from Sena or Cardo for example, is like having friends on the ride. And more than that, comms systems can add live radio, and the ability to connect with music players and GPS audio. Ultimately comms puts you "in the room" with friends while staying fully connected to the devices that make the ride enjoyable and safer too. Two stand-out blue-tooth headsets are worth a look. First the Sena 20S EVO contains the latest technology for reliable connections over extended distances. Our second, equally good, selection is the Cardo Packtalk Bold. Bluetooth technology allows seamless connections between riders in what Cardo calls "dynamic mesh technology" allowing any device to connect with any other device in the group. It's pretty slick. Both the Sena and Cardo are about the same size and shape, mount outside the helmet, and use a combination of buttons and wheels to select features. Either will take several hours of practice to use instinctively but they have functionally equivalent interfaces.
Read our review of the Packtalk Bold Cardo PACKTALK Motorcycle Intercom Review
Idea #5 Motorcycle Earplugs
Let's face it, no matter what the helmet maker says there's no such thing as a quiet ride at or above highway speeds. It's just plain gets noisy. So much so that between the sound of the wind and engine, it becomes virtually impossible to hear much less understand GPS instructions, music, and just about everything else coming out of your helmet speakers. Worse, data show that as noise levels increase so does stress. Riding should be about de-stressing, and for that earplugs are a must. Disposable earplugs certainly work, but they tend to indiscriminately blur or muffle both the sound you want and those you don't. Two great choices in reusable earplugs are Eargasm and Loop. Both use filtering technology to lower noise by about 20 decibels while still letting what you want to hear come though clearly.
Read our review of Eargasm earplugs Eargasm Motorcycle Earplugs Reviewed
Idea #6 Helmet Lock
For all the features manufacturers build into their sport touring models, surprisingly a secure place for your helmet is not one of them. And yet, everyone at some point finds themselves weighing the risk of leaving their helmet on the bike against the inconvenience of carrying it along. A helmet lock tilts the scale in favor of leaving the helmet behind. Locks come in many designs but follow two common patterns. The first uses a cable looped through the helmet and a suitable point on the bike. The other employs a lockable clip attached to the bike frame. Helmet locks provide value in two important ways. Most importantly, locks help ensure no one casually walks off with your helmet. And secondly, they ensure passers-by don't accidently bump your helmet off the bike. Master Lock offers a good cable lock, while Kuryakyn offers a frame mounted lock. Which works best depends on personal preference and motorcycle frame design.
advertisement
Idea #7 Battery Trickle Charger
Few things are as disappointing after a long winter as a dead battery just before the first ride of the season. Your motorcycle may look like nothing's going on during those idle months, but in fact the battery keeps on powering simple background systems like the clock. Over time the accumulation of these so called "parasitic draws" will drain the battery. A trickle charger functions in the opposite direction, by continuously delivering a low-level charge that ensures the battery is always topped up and ready to go. There are several trickle chargers designed for use on a motorcycle. The most popular choice comes from Battery Tender with a solid runner up from Foval. Both are reasonably priced and include everything needed for convenient use on most any motorcycle.
Idea #8 Cold Weather Gloves
Oddly, hands don't shiver but cold hands do make operating a motorcycle just a little harder and that in turn makes riding a little less enjoyable. Cold fingers have a hard time finding turn signal buttons and reaching for clutch and brake controls. A good pair of cold weather gloves are essential during rides on cooler days. The right choice of course is a matter of taste. For sport touring riders, gauntlet style gloves and cuff length gloves are most popular. A gauntlet style covers the wrist area offering a bit more warmth and wind protection, while cuff length gloves are easier to tuck under a jacket sleeve helping to keep rain from running inside the glove. Other considerations to think about include use of waterproof material, level of insulation for warmth, and screen-friendly fingertips. Here's an option in each style from two leaders in riding apparel that combine the best of these features.
Idea #9 Motorcycle Cleaning Kit
To paraphrase the lyrics from a Timbuk 3 song, "The bike's so bright, I gotta wear shades". OK, except for adventure bikes, just about every other bike looks best when it's clean. But washing and waxing a motorcycle can be surprisingly tedious with so many surfaces, and nooks and crannies. The fastest and easiest approach is to take the bike to a local self-serve car wash for a power washing. Unfortunately the results are usually disappointing. Two options that promise better results are spray-on rinse-off cleaners and good old-fashioned hand washing products. Meguiar's Motorcycle EZ Clean Spray & Rinse gets high marks for working well to remove bug splats and the typical road grim that accumulate after hundreds of riding miles. While the results are usually good, spray-on rinse-off products are intended as a fast and easy way to clean up a bike, and are not necessarily safe on all surfaces. Always test the product on an inconspicuous surface before going to town on the whole bike. In the end, nothing beats a careful hand wash for best results. For that, a good car wash soap works just fine. To make the job easier use a wash mitt and brush for hard-to-reach places.
Idea #10 Take Along Toolkit
Motorcycle toolkits are like an insurance policy you hope to never use. Fortunately, modern motorcycle quality and durability has significantly reduced the chances that a rider finds him or herself stranded for mechanical reasons. Instead, tools are more often used to make ad-hoc fixes to self-induced problems such as a broken mirror. A high quality multi-tool together with the tools that come with most motorcycles will handle most roadside repairs. Add an assortment of zip-ties and a roll of Racers Tape to complete the kit.
It's the Thought That Counts
There you have it. 10 great gift ideas for any motorcycle rider. Everything from books about motorcycling, to useful gear for a touring ride, to supplies to clean-up afterwards. We're always looking for interesting new gear to try and share with our readers. Let us know if you have ideas or come across new products that we should review.