How to Pick the Right Motorcycle Cover
A motorcycle cover may not be the most exciting accessory to shop for, but it's essential gear on a touring ride. Covering your motorcycle protects it from the weather and reduces the risk of theft. Choosing the right cover makes putting it on and taking it off easy, saving time and frustration at the start of the riding day and at the end when a cold drink is waiting on the other side.
Picking a good cover, one that fits, protects, and lasts, is easier when you know what to look for. This article dives into the details to help you pick a cover that works best for you and your motorcycle.
Why Use a Cover
Before going on, let's agree that it's a good idea to pack a cover on any ride where your motorcycle will be left outside overnight. Covers provide protection from the weather and just as importantly deter opportunistic theft. Without a cover, theft-aware riders are likely to unload detachable gear like tank bags for safekeeping in their hotel room. But with a cover, the odds that someone will take advantage of these targets go down dramatically, making it reasonably safe to leave them on the bike overnight.
Don't get us wrong – in some neighborhoods even the strongest cover won't prevent a determined thief. Always assess your surroundings and act accordingly. For more about motorcycle security read Practical Motorcycle Security for Touring Rides.
advertisement
Full Covers Are Best For Touring
Covers are made in two basic designs – full and half. The names are self-explanatory. Riders who want to cover their motorcycle from the wheels up should choose a full cover; those who only need the seat and everything above that covered will opt for a half-cover.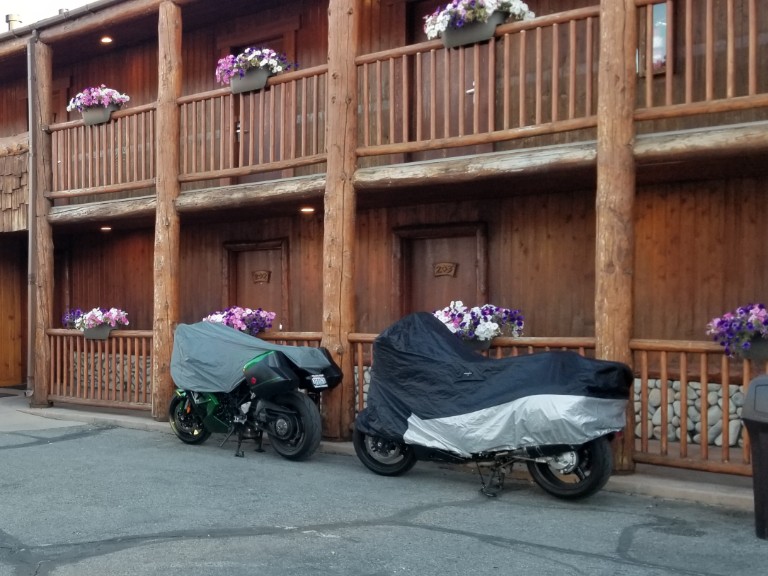 Half covers, because they are smaller, are easier to put on and re-pack. But they don't hide the bike and may not completely hide accessories left on the bike overnight. A full cover conceals everything including the motorcycle make and model. Thieves are likely to roll right by a covered bike as they hunt for more obvious targets. Full covers are the best choice even if they take a little extra effort to use.
Universal Fit versus Bike Specific
Most manufacturers make covers in a few standard sizes designed to fit motorcycles ranging from small sport bikes to the largest cruisers. Model-specific covers are rare and often sold as accessories by the motorcycle manufacturer. Yamaha for example sells a cover specifically made for the FJR.
In practice, universal covers give shoppers the widest set of choices with no meaningful compromise on fit. But finding the best fit in a universal cover depends on matching your motorcycle measurements to the cover manufacturer's actual cover dimensions and not relying solely on generic sizes (e.g. medium, large, extra-large).
advertisement
Finding the Right Fit
Getting a good fit is perhaps the most important step in purchasing a motorcycle cover. It can also be the most confusing. Spending the time to get it right pays dividends that are measured in time saved putting on and re-packing the cover during a touring ride.
The Generic Size Conundrum
While cover sizes are typically described as medium, large, extra-large, and extra extra-large, actual sizes will vary by manufacturer. That said, as a general rule of thumb medium covers are designed for sport bikes, large and extra-large covers fit sport touring and small cruisers, and the extra extra-large covers will drape the largest Goldwing-style cruisers. Covers for smaller bikes, below 250cc, are harder to find although Bilt offers one.
The conundrum here is deciding which generic cover size applies to your specific motorcycle make and model. In the few cases where a manufacturer provides cover measurements, pick one that comes as close to the motorcycle dimensions as possible without going under. All three cover measures – length, width, and height – should be greater than the corresponding dimensions of the motorcycle.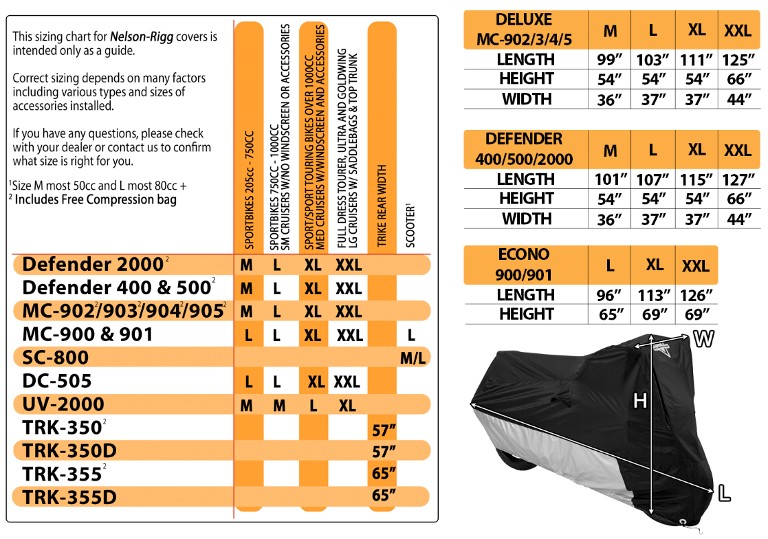 In most cases however, cover measurements are not available. Consequently, buyers are left to rely on the manufacturer's approximate size guidelines. For example, Nelson-Rigg size guidelines say an extra-large Deluxe All-Season Cover "fits: 1000+cc Sport/Sport Touring Bikes and medium Cruisers with windshield and accessories". So, visualize that type of bike and ask yourself "does that look like my bike?" If so, you probably found the right cover.
What a Good Fit Looks Like
In practice, a snug fit beats a loose fit. A snug fit forms a stretched tent-like area extending from the top of the windshield to the back of the seat or tail rack. The tension combined with waterproof fabric will keep rainwater from pooling. A snug fitting cover will also stay put in gusty winds. And lastly, a right-size cover leaves no extra material to spend time packing.
The lower edge of the cover should come just below the frame, roughly covering the upper two thirds of the tires. Leave at least six inches of ground clearance to ensure good air circulation and less condensation under the cover.
Exchange a Bad Fit
Every cover maker and retailer we spoke with understands that not everyone will get the right size on the first try. They know bikes with custom accessories like a top box or aftermarket side cases make sizing more difficult. So they all offer an exchange policy, although on-line customers are asked to pay a small return shipping fee.
When in doubt, it's best to visit your local motorcycle shop or call your favorite online retailer. Odds are they already helped someone else find a proper fitting cover for the same bike you ride.
advertisement
Features and Qualities to Look For
Beyond style and size, covers incorporate a variety of features and qualities that affect how well they work and how long they last. Here are the most important things to consider when making a purchase decision.
Quality Fabric
Motorcycle covers are most commonly made with polyester fabric that has been waterproofed and treated for UV protection. Don't be confused by proprietary fabric brands such as Tri-Max and UltraMax. They are still polyester, but use proprietary UV protection and waterproofing techniques.
The weight of the fabric is denoted in denier units, which is a measure of individual fiber thickness. Fabrics made with thicker fibers, i.e. higher denier fibers, are heavier, sturdier, and more durable. Good quality motorcycle covers use 300 denier polyester, (for comparison a human hair is 20 denier). Lightweight covers may use a much lower denier, for example some Dowco Ultralite covers are made with 70 denier polyester.
UV Protection and Waterproof
All covers claim to provide protection from the elements. The cover material itself will naturally block most UV rays. The leading manufacturers add an extra coating on the inside of the cover to further stop UV rays from reaching the motorcycle.
Polyester fabric is water-resistant but not waterproof. On its own, polyester will keep a light rain off your motorcycle, but not a long or heavy rain. To ensure a dry motorcycle, the fabric must be treated with a sealer. Look for covers that promise 100% waterproofing over those that are merely water-resistant.
And since covers are sewn together from multiple fabric panels, look for covers with electronically taped and sealed seams for reliable waterproofing and durability.
Secure
A cover that blows away in the night isn't much good. Which is why virtually all covers come with simple tie-down straps and an elastic hem to ensure a snug fit. Most also include gromets at the front to secure the cover and motorcycle with a cable or chain lock.
And while we're talking about security, it's worth mentioning again that while a cover won't stop a determined thief, it is a deterrent. A review of police reports confirms that would-be thieves won't take the time to peak under covers instead moving on to readily visible targets.
This also seems like a good time to mention that a cover should have some reflective accents or patches in key places to help motorists see the bike in a dark parking lot. If necessary, add reflective tape on the sides and at the front and rear to increase nighttime visibility.
Easy to Use
For our purposes, motorcycle covers come out at the end of a riding day and get packed away the following morning. A good cover unpacks and rolls out from windscreen to tail rack so a tired rider can quickly slip it over the bike and strap it down. Likewise, the next morning it should slip off and fold easily, roll-up, and fit into a compression bag in minutes.
The packability of a cover depends on the fabric. Avoid economy covers made from PVC on a touring ride. For best results, nothing folders easier than a polyester cover with a simple elastic hem. Once folded and rolled, a compression bag is the most space-efficient way to carry the cover.
Warranty
Weather takes a toll on a motorcycle cover. Between wind and rain, direct sunlight, and sometimes a hot engine, the cover fabric begins to fray and seams can break apart. Of course, manufacturers work hard to design covers that stand-up to years of regular use. The better manufacturers back-up their products with warranties that range from one year to lifetime. Not surprisingly, the more expensive the cover, the better the warranty.
How Much to Spend
Expect to spend between $110 and $140 for a good quality cover. Covers in this price range are made with 300 denier polyester, offer UV protection, are 100% waterproof, come with a compression bag for storage, and among top brands include a generous warranty policy.
Recommended Cover Manufacturers
The following manufactures offer high quality universal fit covers that meet our minimum requirements including a reasonable price. However, before shopping for a universal fit cover take a moment to check with your motorcycle manufacturer to see if a cover for your model is available.

American Sport Touring makes product recommendations independently based solely on product quality and value. American Sport Touring does not accept compensation of any kind in exchange for product recommendations.

Nelson-Rigg has been making motorcycle apparel, luggage, and covers since 1972. The company is located in Santa Ana California. Nelson-Rigg covers are made with UltraMax and Tri-Max polyester, both fabrics designed to be waterproof and resist UV rays. The top-of-the-line Nelson-Rigg Extreme covers are priced between $110 and $112 with a lifetime warranty. The Extreme line of covers, as well as Deluxe and Standard covers are highly rated. These covers offer great value for the money.

Dowco Powersports, based in Manitowoc Wisconsin, sells Guardian WeatherAll Plus covers. These covers are made from 300 denier polyester fabric. They are UV resistant and 100% waterproof with all the expected features talked about earlier including a lifetime warranty. Dowco covers have a unique interior pocket designed to hold a cover alarm (sold separately by Dowco). Expect to spend between $120 and $150 depending on size. Customer feedback is strongly positive, rating Dowco 4.5 stars overall. Dowco and Nelson-Rigg top the charts for quality and value in motorcycle covers.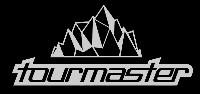 Tourmaster, a Helmet House brand, offers two cover lines to consider – the Elite line and the Select line. Elite covers use quality materials and meet all the important selection criteria we've talked about. They are priced between $69 and $96. We do not recommend the lower priced Select line which uses lighter weight 150 denier polyester. All covers from Tourmaster come with a 2 year limited warranty. Tourmaster products are well rated but rank slightly below Nelson-Rigg and Dowco.

Cycle Gear offers covers under the Bilt brand. While Bilt sells a standard cover for about $30, it's not suitable for touring use. The Bilt Deluxe cover, priced at $65, however is an acceptable budget-minded choice. The Deluxe cover is made with polyurethane-coated nylon rather than polyester, but otherwise features the expected inner soft-panels to protect the windshield and heat-resistant lower panels. Unfortunately, while this cover is waterproof, it lacks UV protection to minimize sun damage. That may not be a deal breaker on touring rides where covers are typically used from dusk to dawn.

Oxford, based in Oxfordshire England, has been in business since 1973 and today is a popular source for motorcycle accessories in Europe and beyond. Oxford offers two choices in motorcycle covers. At the premium end is the Protext cover. Priced between $144 and $180 it is the most expensive cover we could find. Under that, the Stormex line comes in between $112 and $154. Unfortunately neither cover is a good option for touring. The covers are large and extend to the ground which makes for an unnecessarily big and sometimes messy cover to fold up in the morning. Oh, and speaking of packing the cover, Oxford doesn't include a compression bag. These covers are best for year-round riders who leave their bike parked outside.
A Must For Touring Rides
This article focused on helping sport touring riders select a motorcycle cover for overnight use on touring rides. The kind of situation where protection from the weather and reducing the risk of theft are most important. That said, the same considerations described here are equally important to anyone who regularly parks their motorcycle outside or in a public garage.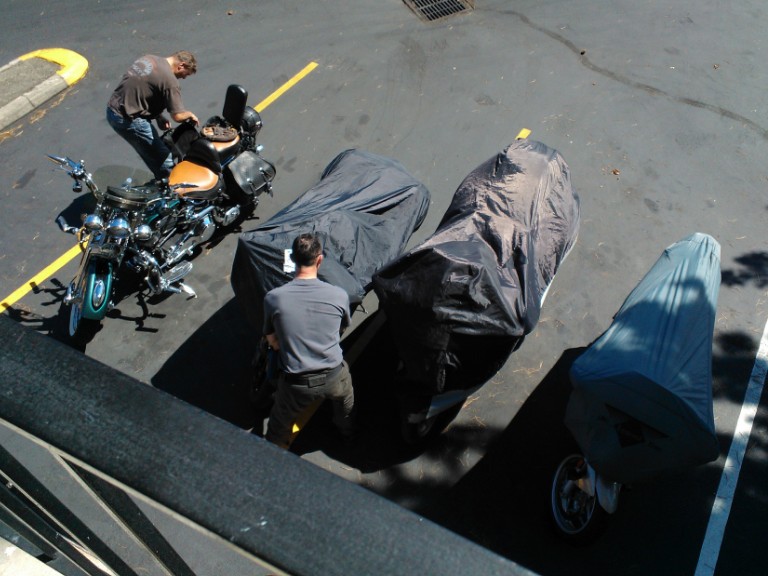 Covers are an inexpensive way to preserve the appearance of your motorcycle and help extend its operating life. Buying the right cover may seem straightforward, but it's worth the extra time to select a cover that fits your motorcycle and the kind of riding you do.
Click the Thumbs Up or Thumbs Down button to email your feedback.
Your questions and comments help improve American Sport Touring. Your email is not used for any other purpose. Please read our Privacy Policy.
Resources