Top Track Schools for Sport Touring Riders
You are an experienced sport touring rider who has taken on many of the country's most challenging backroads. But still you ask yourself, "how good is my riding? Am I getting everything I can out of the road, my motorcycle, and myself?" Those questions and a desire for meaningful improvement lead many to sign-up for track school. But which school?
There are dozens of good schools scattered across the nation. Some cater to beginners looking for help obtaining their endorsement while others concentrate on basic control skills. Many schools teach advanced riding techniques tailored to the interests of hardcore track day enthusiasts and aspiring racers. It can be hard to decide which one delivers the best return on investment for a sport touring rider?
Qualities That Matter For Sport Touring Riders
Let's start with what makes one track school better than another. To help us with that, we created a prototypical rider profile to use as a guide.
Our imaginary sport touring rider is in good physical condition with years of experience. This rider looks for tours organized around the twistiest, most technical roads. And when there, finds it hard to hold back. Speeds creep up along with risk, and sometimes unconsciously cross the threshold of good judgement.
Which brings us to the track school qualities that matter most for sport touring riders…
Teach at top racetracks around the country where students focus on learning without worrying about traffic and unpredictable pavement.
Employ skilled instructors who bring deep street riding and racing experience to the job; they can spot improper technique and then explain and coach for improvement.
Offer a balanced curriculum built on racing experience to explain and impart motorcycle control and handling skills to street riders.
Utilize a teaching format that combines equal amounts of lecture and track time, giving students an opportunity to practice what they learn while receiving coaching and feedback throughout the day.
With these expectations in mind, here are the two top recommended track schools to consider.
advertisement

American Sport Touring makes product recommendations independently based solely on product quality and value. American Sport Touring does not accept compensation of any kind in exchange for product recommendations.
California Superbike School
Naming California Superbike School as a top pick may look like lazy journalism. To be sure, it was an easy choice. California Superbike School (CSS) is one of two schools against which all others are compared. Established in 1976 by Keith Code and built around his racing experience, the CSS curriculum focuses on teaching motorcycle control techniques.
Instruction is grouped into four levels, each covering a distinct set of technical skills. Level I focuses on common riding errors. Level II concentrates on rider vision. Students at Level III are learning advanced body position and motorcycle control techniques. And finally, Level IV is entirely shaped by the needs and interest of each student. Think of Level IV as a finishing school of sorts. Course levels, as well as the lessons within a course, build on each other. Students are constantly challenged to find the edge of their comfort zone.
Course levels can be scheduled individually as one-day sessions or combined into 2-day camps. Tuition for a single day course is $625 or $675 depending on the track, while a 2-day camp is either $2,795 or $2,995. Plan to spend another $200 to use one of the school's track-ready BMW S 1000 RRs rather than your own bike – you won't regret it.
Two day camps are more expensive on a per day basis than single day courses. That's because student-to-coach ratios at a two day camp are 2-to-1 while the ratio for a one day course is 3-to-1 (which is still comparatively low). On top of that, two day camp students have two additional classroom and track sessions each day (a total of 7 per day rather than 5). Students at some tracks may also have access to novel training aids including a lean bike, braking bike, and body positioning bike.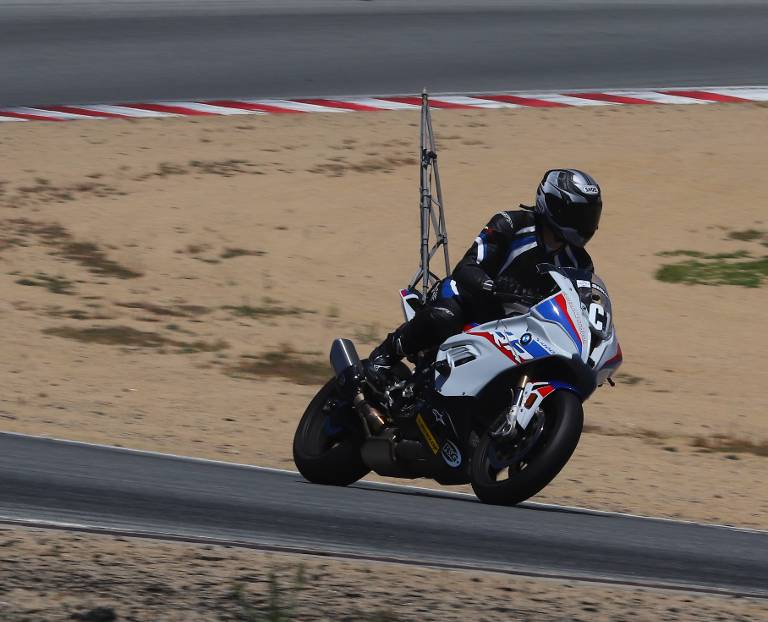 Another unique CSS training aid that comes with the two day camp is the video bike, an S 1000 RR outfitted with a video camera mounted above and behind the rider. Students take one of these bikes out several times during the program creating a visual record of their riding technique. Later, a coach critiques the video with the student and then leaves them with a copy to take home.
California Superbike School focuses on helping experienced riders get better on the track and on the street. They do not offer beginner programs. Learn more online at California Superbike School (superbikeschool.com).
advertisement
Yamaha Champions Riding School
Commonly known as Yamaha Champions Riding School, former racer Nick Ienatsch founded Champions Riding School in 2008. Like California Superbike School, Champions Riding School derives its curriculum from race-proven experience. The school uses the phrase "it's not what you ride but how you ride" to sum up their student-first philosophy. Champions Riding School is the second quality benchmark for advanced rider training programs.
Unlike California Superbike School, Champions Riding School accepts riders with minimal experience. In fact, they find newer riders are often easier to teach having developed fewer bad habits to undo. Sport Touring riders who align with our prototypical rider should focus on the ChampSchool program. This two day course, offered at racetracks around the country, is somewhat comparable to attending a Level I and II California Superbike School two day camp, although ChampSchool covers topics at all four CSS Levels and tailors the material according to student capability to avoid re-teaching what is already well understood.
Our straightforward approach is this: Bikes are designed by expert riders, so let's ride them with the same inputs as experts. This has nothing to do with speed, all to do with consistency…at whatever speed you choose. Our goal is to create joy-filled life-long riders, and that comes via understanding the effects of rider inputs on motorcycle performance.

Nick Ienatsch, Founder of Yamaha Champions Riding School
ChampSchool curriculum focuses on important motorcycle control skills using a combination of classroom lecture, on-track practice, and direct feedback and coaching. ChampSchool instructors, at a student-coach ratio of 4:1, will tailor the material to the needs and skill level of each student. This flexible teaching approach is important given a typical class may include riders at different levels. By tailoring, each student gets useful training throughout the course.
Two things about the Champions Riding School stand out. To begin with, on the first day of the two day program, students ride two-up on track with a race-experienced instructor where they can see proper lines in real time, feel braking zones, and gain a real appreciation for motorcycle tire grip. The second distinction is that during that same first day, instructors ride behind each student collecting video taken from a "proper line" perspective. That evening, students gather for a group dinner and review and critique the film. No hurt feelings here – just everyone sharing and learning from each other, finding skills to work on during day two.
And finally, while other schools suggest students read a book on riding technique before coming to class, Champions does that one better. Every ChampSchool student receives lifetime access to Champ U, an online rider education resource, at no extra cost. Students will find training on every conceivable skill area, each with video lessons, practice drills, and quizzes. Champ U even provides certificates of completion that students can use to plead for lower insurance rates. Champ U by itself, separate from participating in ChampSchool, is a good value at less than $100. For those who like books, the school recommends students read Sport Riding Techniques by Nick Ienatsch.
Tuition costs for the two day ChampSchool fall between $2,195 and $3,695 depending on the track. That price includes meals during the day and a school-sponsored group dinner the first evening. For an additional $500 to $700 (again based on track) students have their choice of a Yamaha R series sport bike, an MT sport touring bike, or a TracerGT adventure bike. For reference, the tuition cost for the one-day ChampStreet course is substantially less ($350-$600).
ChampSchool is an excellent pick for students who want to be faster and safer street riders more than becoming track day or racing wizards. Learn more online at Champions Riding School (ridelikeachampion.com).
advertisement
More Options
We've talked about the two top track schools in the country for sport touring riders. But we understand these schools aren't for everyone. Some riders want more aggressive training hoping for a future in racing perhaps, while others simply want to master the basic techniques of motorcycle control.
Total Control
Schools like Total Control (www.totalcontroltraining.net), organized by former motorcycle racer Lee Parks over 20 years ago, provide a full menu of basic, intermediate, and advanced motorcycle training courses. Most courses are taught on a riding range (aka large parking lot or paddock area) but the advanced track clinic is held at a racetrack. Total Control is a good option for beginner to intermediate level riders and anyone looking to sharpen core motorcycle control skills.
N2 Track Days & JP43 Training
On the other end of the spectrum, schools like N2 Track Days (www.n2td.org) and JP43 Training (jp43training.com) specialize in high-performance track riding. Both offer 1-on-1 coaching from experienced racers at racetracks in California. These classes, even at the intro level, are for students with at least a year of street riding experience. Each student is responsible for preparing their motorcycle for the track. That can include removing mirrors, taping lights, and other track safety procedures. Students are also required to wear full leathers. Schools like these are best for track day riders and aspiring racers.
More Satisfying Rides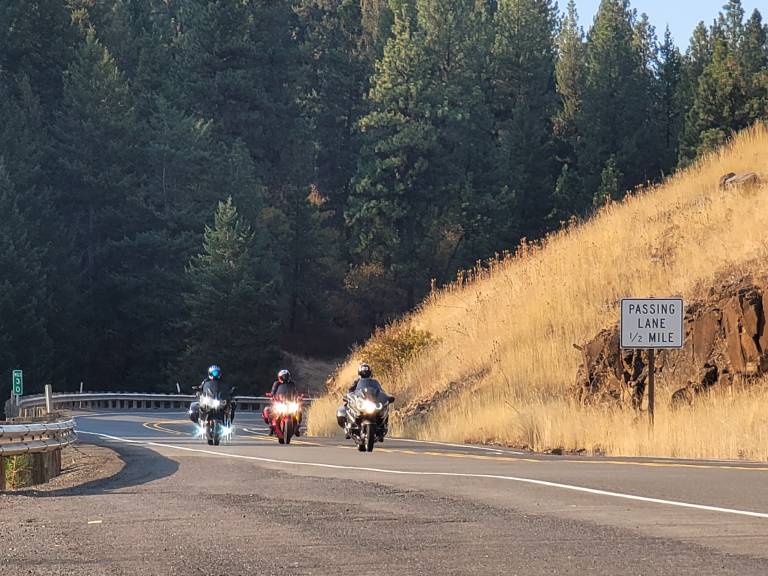 Getting back to our prototypical rider; these track schools will dramatically accelerate sport touring skills development and help make every corner a more satisfying experience. They coach away bad riding habits, teach fresh ways of thinking, and impart new techniques. Students are sent back on the road with a newfound confidence and the tools to continue learning and improving long after class ends.
For more on Rider Training Programs read Yes Rider Training Programs Are Worth It.
Click the Thumbs Up or Thumbs Down button to email your feedback.
Your questions and comments help improve American Sport Touring. Your email is not used for any other purpose. Please read our Privacy Policy.