Get The Right Motorcycle Seat for Sport Touring
Motorcycle sport touring is all about seeking adventure on America's hidden backroads. But more often than not, reaching the very best roads means covering mile upon mile of arrow-straight two laners. It's during those long interludes that we truly appreciate the comfort of a well-fitted seat. And riders atop a factory seat feel the shortcomings and resolve to look for something better.
An aftermarket or custom motorcycle seat is a popular upgrade for touring and sport touring riders alike. Why? Because most factory seats come with unacceptable compromises that only become apparent on high mileage days. Here's what to look for when considering an aftermarket seat.
Motorcycle Seat Anatomy
Motorcycle seats, like automobile seats, follow a common design pattern.
The foundation of the seat, the part that attaches to the motorcycle frame, is called the seat pan. Factory seat pans are typically made from injection-molded plastic. Aftermarket pans are constructed with plastic or fiberglass.
A layer of padding is then fitted to the seat pan. Seat padding is shaped from dense foam, memory foam, and gel pads, always in some combination determined by the seat maker. Simple foam padding is the most common approach on factory seats.
To complete the package the padding is covered with vinyl or leather. Some seat makers may add decorative stitching along the seams or piping, properly known as welts, to add a further accent.
advertisement
About Stock Motorcycle Seats
The thing to recognize about factory seats is that engineers design them for the most likely characteristics of those they expect to actually ride the motorcycle. Consequently, the resulting seat represents a series of design compromises intended to work best for a mythical rider. And in reality, that rider is probably not one of us. In short – one size, fits none.
Hence, riders quickly understand that the factory seat is less comfortable than one designed specifically for their height, weight, and preferred riding position. Some common complaints include seat angle. Engineers work to accommodate different rider heights by angle the seat forward. Taller riders are then constantly pushing back to reposition themselves. Seat width is another problem area. A wide saddle can cause uncomfortable pressure points on a rider's leg while a narrow saddle lacks sufficient support.
Given that riders come in all shapes and sizes, it's not surprising that a stock seat is less than ideal. Just ask yourself this; how can the same factory seat let one rider with long arms take an optimal riding position while doing the very same for one with shorter arms? It simply can't.
Why Get a Custom Seat
When all is said and done, there are four compelling reasons to consider an aftermarket seat.
Hot Spots – Stock seats can create pressure points that are unlikely to show themselves on short rides but make long riding days uncomfortable.
Padding – It's a rare stock seat that has the right amount of padding for every shape and size. An aftermarket seat remedies the problem with premium padding built in.
Position – Unlike the seat in your car, a motorcycle seat is not adjustable. Where it puts you – forward or back, high or low – is where you ride. And many stock seats are angled forward to accommodate both short and tall riders, which pushes taller riders toward the tank.
Style – Let's face it, aftermarket seats just look better. They offer a range of colors and color combinations, stitching patterns, and even custom embroidery.
What to Look for In a Replacement Seat
Aftermarket seat makers start by building seat pans that closely match original manufacturer specifications. Next, they improve the padding shape and thickness based on rider feedback and their own analysis and experience. They top it all off with custom covers in a variety of colors and stitch patterns. These aftermarket seats, like factory seats, are designed to work well for that mythical rider. So, while not tailored to any one rider's requirements, they are a significant improvement over the factory seat in terms of comfort, appearance, and performance.
Custom seats are at the high-end of the market. Purchasing a custom seat is akin to having a suit tailor made. But unlike aftermarket products, custom seats start with the original factory pan which itself is rarely an area for improvement.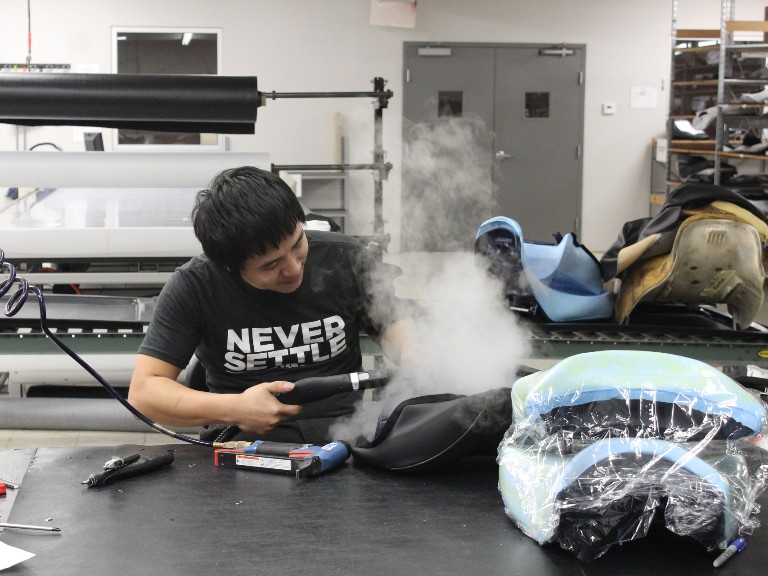 Custom seat makers start by gathering details about the rider's physique and ask questions to learn their riding style and concerns. While they focus on the seat, their real goal is to make riders more comfortable. In some cases, they may suggest bar risers rather than recommending changes to the seat. A rider's position on the bike – forward or back, upright or leaned over – are a function of more than just the seat. An experienced motorcycle seat maker understands how to work with all these dimensions to find what works best for the rider.
Factory seat covers are almost always made with some type of vinyl. Likewise, most aftermarket seats are finished with a marine-grade vinyl cover. That means the cover is durable and resists weather and UV damage. However, vinyl does not breathe particularly well and consequently can become less comfortable on long hot rides. That's why leather, with its excellent breathability and wear-ability, is the first choice for custom seat makers. Vinyl and leather are available in multiple colors and textures.
Aftermarket and custom seats can include optional extras like heat, backrests, and in some cases hidden storage compartments.  If your bike doesn't already have a heated seat, it's worth considering when going custom. Installation is a relatively easy DIY project.
advertisement
The Replacement Seat Buying Process
Purchasing an aftermarket seat can be as simple as placing an order online for a pre-made replacement seat, or as involved as working one-on-one with a custom maker. Both paths lead to greater comfort and rideability, although a custom seat generally costs 30% more than an aftermarket seat.
Aftermarket seats from the larger suppliers are an excellent upgrade and easy to purchase. Browse the manufacturer's site to find your make and model, then choose a seat style and pick your customizations. Choices include seat material, color, and accents such as stitching color, separate material and color for the side panels, or a welt to trim the outer edge of the seat.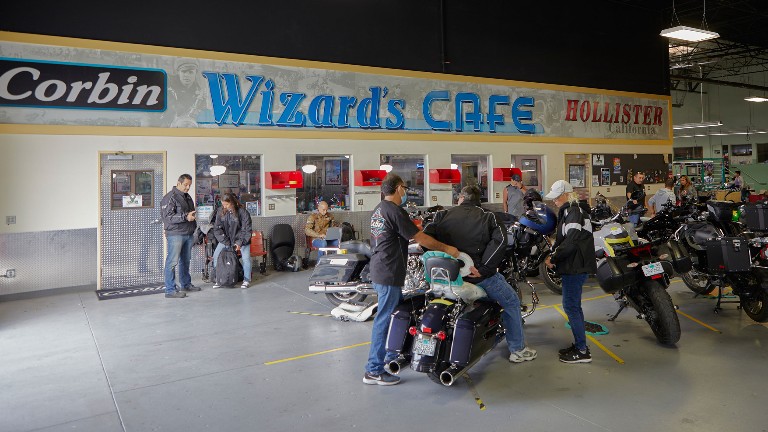 Purchasing a seat from a full-on custom seat maker is a little more involved. But the result is a seat built and shaped entirely to your measurements. Riders may choose to discuss their preferences by phone or make a ride of it to visit the shop in person. Either way, the custom maker will ask about your height and weight. They also want to see how you sit on your bike, where your feet touch the ground, and if you experience any "hot spots" or areas of discomfort when riding.
Getting a custom seat just right typically takes multiple attempts. Feedback from each test ride helps the maker adjust the seat in small ways until the rider has the ideal shape for their riding style. For ride-in customers the process can take a couple of days. Mail-in customers follow a similar iterative pattern, it just takes longer.
advertisement
Custom and Aftermarket Seat Maker Resources

American Sport Touring makes product recommendations independently based solely on product quality and value. American Sport Touring does not accept compensation of any kind in exchange for product recommendations.
Rich's Custom Seats
A leader in motorcycle seats located in the Pacific Northwest, Rich's Custom Seats has been making bespoke motorcycle seats for over 30 years. We spoke with the founder, Rich OConnor, who himself is an avid motorcyclist with a deep understanding of motorcycle rider positioning and comfort. Their facility in Kingston Washington offers cabins and campground space for motorcyclists to ride in and spend the day while having a seat made to their exact specifications.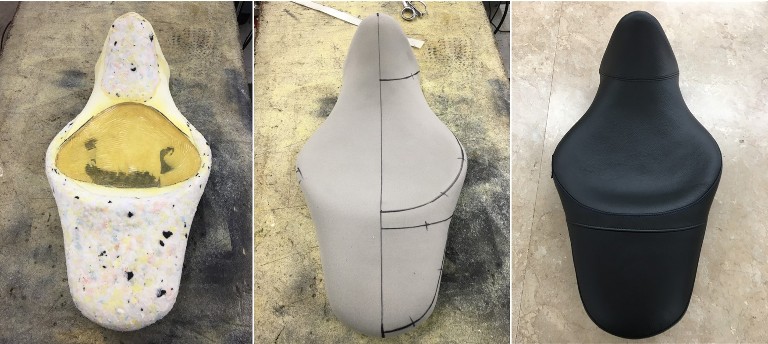 Regardless of whether one rides in or purchases online, the team at Rich's works one-on-one with each rider to fully understand their riding concerns and physical measurements. They then set about tailor making the ideal. The customer's selected material is cut by hand, machine stitched, and hand installed. No two seats are alike. Learn more online at Rich's Custom Seats.
Corbin
Corbin has been manufacturing replacement motorcycle seats for over 60 years. Greg Hurley at Corbin told us "Sport touring riders are our bread and butter." And that's clear in the product offerings on their web site. Whether you ride an Aprilia or the latest Zero electric, Corbin has a seat that is sure to make riding more enjoyable.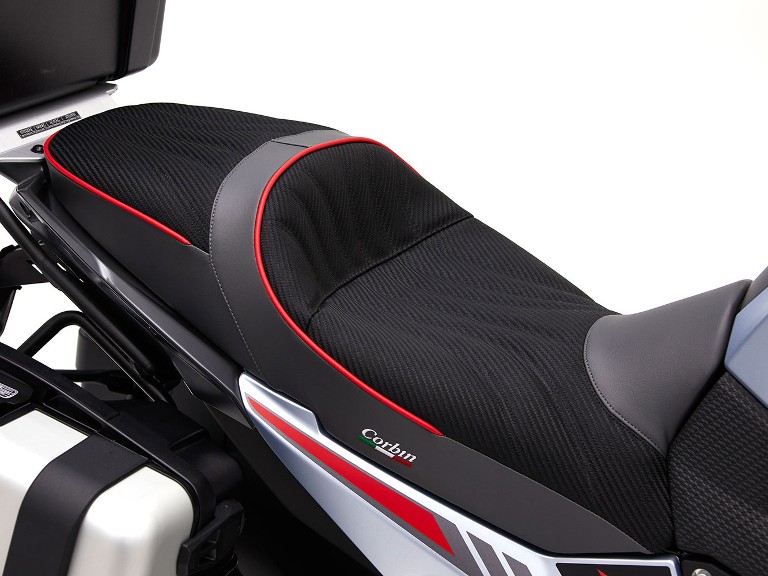 Corbin is headquartered in Hollister California among some of the state's best motorcycle roads. While one can purchase a Corbin seat online, and most do, those who choose to ride-in get to spend a day knocking around the small town of Hollister or at Corbin's on-site café while the Corbin team builds a seat to their specifications. And best of all, ride-in customers can test the seat before the finishing touches are added. Mail in customers can test and ask for changes too – it just takes longer. Learn more online at Corbin.
Sargent Cycle Products
We talked motorcycle seats at length with Mark Todd, President and R&D Director at Sargent.  Since the 1980's Sargent has been on a mission to make motorcycling more comfortable and today they sell replacement seats to customers all over the world.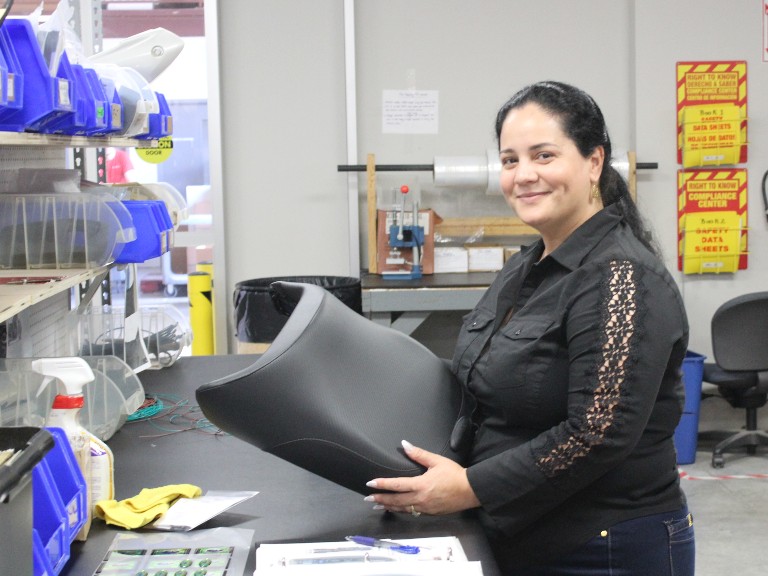 Sargent builds seats for all popular sport touring bikes. Their seats use custom seat pans and a proprietary foam padding technique that sets Sargent apart. Unlike Corbin and Rich's, you won't find a ride-in service or customized seats. Instead, customers purchase products from dealers or online direct from Sargent. Mark tells us Sargent seats work well for over 90% of customers right off the shelf; but when needed, they can make small modifications to fine tune the fit. Learn more online at Sargent Motorcycle Products.
You Deserve a Comfortable Ride
You've mastered the art of riding like a pro, invested in the perfect bike – now, take your comfort to the next level. Upgrade to a custom aftermarket seat and elevate every adventure!
Click the Thumbs Up or Thumbs Down button to email your feedback.
Your questions and comments help improve American Sport Touring. Your email is not used for any other purpose. Please read our Privacy Policy.