Yes Rider Training Programs Are Worth It
Motorcycling is a sport. That's true even when riders commute or run errands on two wheels. The art of riding, like any sport, requires physical exertion and continuously practiced technique to ascend the skill ladder toward ever higher levels of performance. First learn what to do – then work on doing it well.
Unfortunately, not enough riders start with good techniques that will make them both faster and safer at the same time. Instead, they practice without real understanding, hoping to get better and become frustrated when they don't. Or worse, ride well beyond their capability putting themselves and others at risk.
Committed riders, riders who want to master the sport of motorcycle riding, should sign-up for a professionally instructed training program. There's no better way to break through to the next level.
Why Take Training?
Before we talk about schools, can we agree that professional training is a good investment? Motorcycling is not a cheap sport. Good quality riding gear, the latest electronic accessories, aftermarket and custom add-ons, not to mention the motorcycle itself all add up to big money. So why not invest a little in yourself to get the most out of all that potential?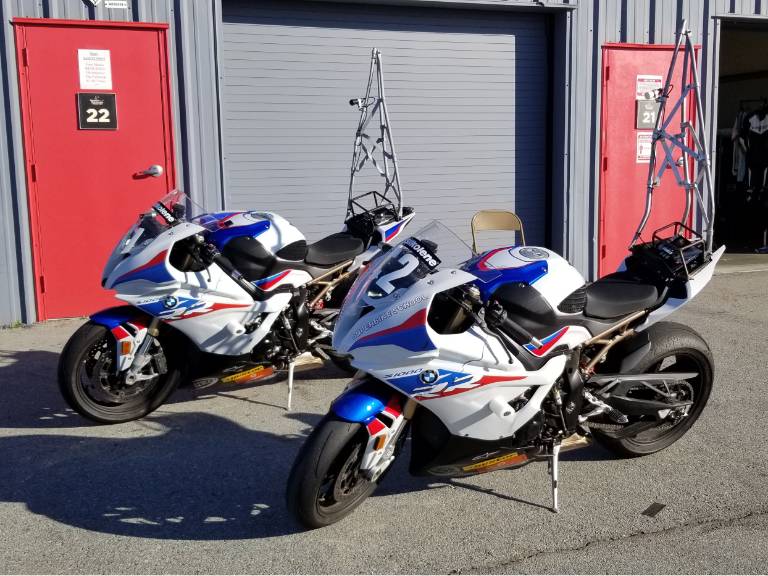 Too many riders start on the wrong foot. Friends with riding experience pass on tips. They get inspired by the quickness and seemingly effortless consistency of MotoGP riders. And eventually new riders get comfortable with what seems to work for them. A rider is born.
True learning achievement is when a rider does precisely what's needed in the moment.

Dylan Code, California Superbike School
But gaps in understanding are everywhere and those gaps show up at the worst time. It's common knowledge that most motorcycle crashes involve only the motorcycle and rider. No one else. And more often than not the cause is rider error. To be blunt, a lot of motorcycle crashes are caused by poor riding technique and insufficient skill.
Which takes us back to the question why attend a professional training program, or riding school? Simple, because schools teach riding technique with plenty of time to practice and turn knowledge into real riding skill. They give new and experienced riders ways to see better, brake better, and turn better to name a few. These techniques combined with practice are the key to becoming a proficient rider.
advertisement
Two Types of Training Program
Motorcycle rider training programs falls into one of two buckets – clinics and riding schools.
Clinics Focus on Technique
Riding clinics are the most accessible, and lowest cost option. These courses demonstrate and practice important techniques at highway speed or below. They are typically taught in large parking lots using cones to mark the course.
Clinics are an excellent way to learn and refresh core riding techniques, such as braking, U-turns, and vision. The Motorcycle Safety Foundation offers programs that follow this format, as do regional and a few national schools. Clinics are a good choice for beginner riders who want to get more comfortable with motorcycle control.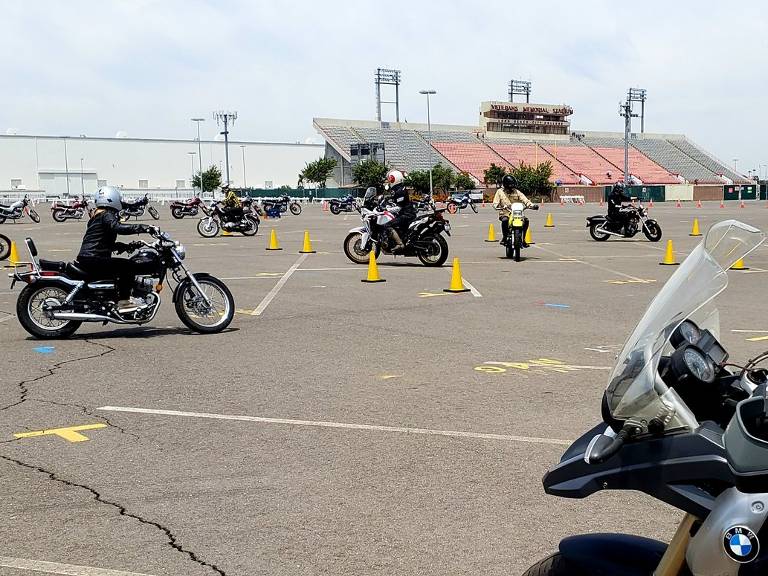 Riding School Develops Skills
Riding schools on the other hand are designed for experienced riders although students don't need prior track experience. The curriculum assumes students have a good handle on motorcycle control and foundational riding skills. Riding schools are not the place for new riders to learn the basics. Instead, riding schools will help a rider take their existing skills to the next level practicing on a closed course at whatever speed the student is comfortable riding safely.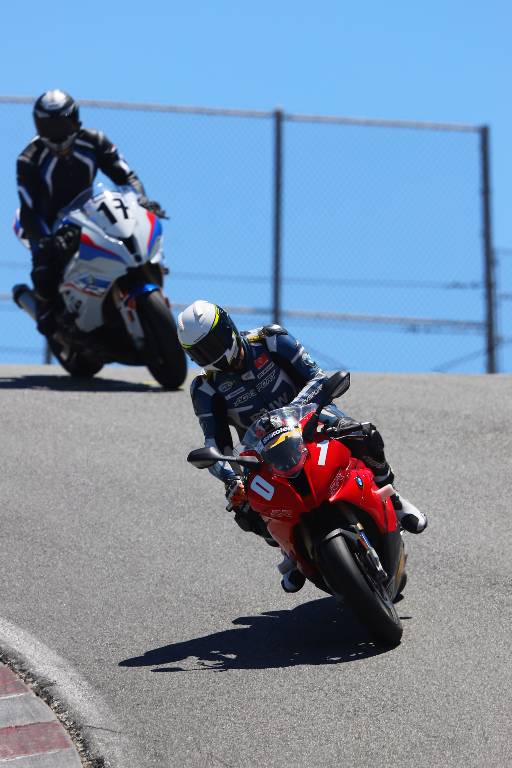 Attending a riding school represents a significant investment in money and time. Students who attend are therefore serious about learning and improving which elevates the performance of the entire class.
Do Both If You Can
Deciding which is right is personal choice. Most riders benefit from periodically attending a riding clinic. Getting fresh feedback that reinforces best riding practices is well worth the relatively small investment. On the other hand, riding school takes motorcycling to the next level and is something curious and committed motorcyclists should try.
Clinics are recommended for everyone, while track programs are encouraged for those who want coaching at or above highway speed.
What to Expect At Riding School
Unlike riding clinics, riding schools give riders the opportunity to practice techniques and develop riding skills at speed. Slow speed drills are not part of the program. Instead expect to learn and practice corner entry, braking, vision, and the like. The idea is to enable a rider to handle any road at any (responsible) speed with confidence.
No Pressure
First and most importantly, show up relaxed and ready to enjoy the day. It's natural to be a little nervous and apprehensive. The first time on an open track with a group of unknown and equally excited riders can be a bit intimidating.
There's no pressure to push beyond one's limits, but somehow magically on a closed course, with ever watchful instructors, students relax and find themselves doing more than they thought possible.
Student Groups and Coaches
Students arrive at the track early, spend a little time getting to know one another and the instructors, and are then assigned to a rider group and coach for the duration of the program. Coaches get to know their students and can follow their progress.
Some schools provide a track-ready motorcycle. Students may be surprised to find that the school spends no time at all orienting them to these track bikes. They are modified street bikes so orientation shouldn't really be needed. Moreover, the school expects students to have experience and know their way around a motorcycle.
advertisement
Classroom and On Track
A day at riding school is filled with alternating periods in the classroom and on the track. Instructors use classroom time to explain motorcycle theory and introduce techniques with plenty of time for questions. Even the most experienced rider will pick-up something new or re-think their approach. Everyone benefits and newer riders in particular learn from the questions other students ask. Naturally students are anxious to ride, but lessons taught in the classroom provide purpose for track time, and that is to practice.
Track sessions are the highlight of the program. Students can use their own (track-safe) motorcycle or at some schools a track-ready school bike. California Superbike School supplies BMW S1000RRs, while Champ School students can choose a Yamaha R6, R7 or an MT-07.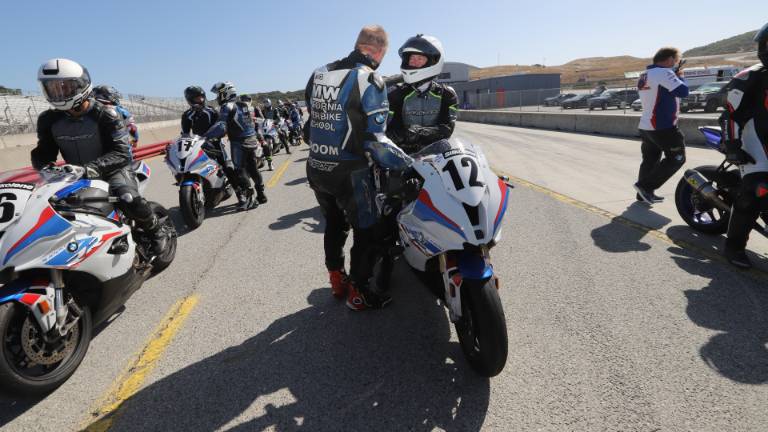 Students take to the track with their assigned group and coaches. Depending on the school, coaches ride with their students or position themselves around the track to observe and collect feedback. On-track coaches sometimes ride behind their student to observe, and other times jump in front to demonstrate a technique in realtime.
Track sessions end with a one-on-one debrief during which the coach highlights what went well and suggests techniques to practice next time out. Coaches also listen to student observations and provide useful perspective and comment. The debrief is an vital element in learning to be a better rider.
Safety
Safety is a top priority for everyone concerned. Plenty of precautions are taken to avoid serious accidents.
Students are expected to ride responsibly and cooperate with each other and the instructors. Ambulances and EMTs are stationed at the track in case of the rare injury. Turn workers are posted around the track to radio in any problems and to flag riders when needed. The turns themselves have wide obstacle-free run-offs to make mistakes less costly.
Quite simply, there is no safer place to learn than on a racetrack under the operation of an experienced rider training school.
Leave Inspired
The program typically ends with a group session during which instructors and coaches offer broad observations and encouragement. On the one hand students feel good about what they accomplished but at the same time a bit sad to see it all end so quickly. Without a doubt, students leave with greater confidence and improved skills to be safe, consistent, and fast.
Perspective from California Superbike School
For another point of view on the merits of rider training we spoke with Dylan Code, Director of the California Superbike School. California Superbike School (www.superbikeschool.com) is one of the most well respected schools in the business. Founded in 1980 by Dylan's father Keith Code, California Superbike School has trained over 150,000 students in over 33 countries around the world. Over 100 graduates have gone on to win racing championships.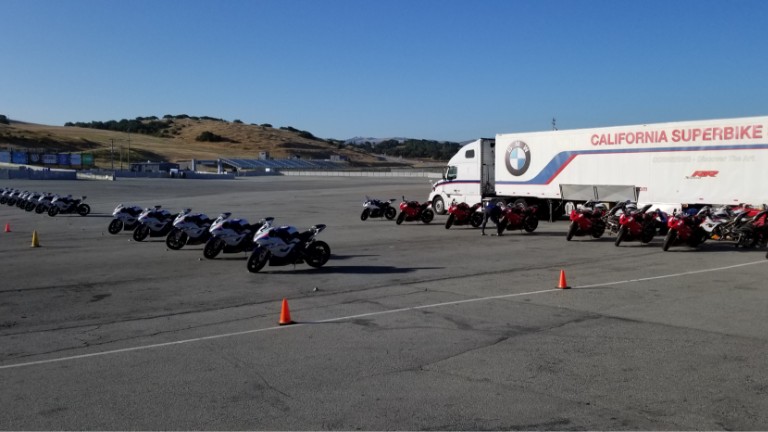 Focus on Control
Every rider falls into patterns, or habits, that take away from the fun of motorcycling according to Dylan. Schools Like California Superbike School are there to undo those bad habits. By observing students on the track at speed, a place where bad technique can't hide, instructors are able to help students make changes. For the instructors there's no bigger thrill than helping a student get out of a rut.
Skill as Dylan sees it, is the ability to consistently apply technical understanding and technique to control the motorcycle. Unpacking that a bit, riders first need to know why a motorcycle works as it does and how to control it, and then develop the ability to consistently apply that knowledge while riding. That in a nutshell is the essence of rider skill.
Dylan believes California Superbike School has achieved its mission when a student "uses the minimum necessary controls, no more than needed in the moment."
More Smiles per Mile
Riding has to be fun. Moving up the learning curve is part of the fun. Riding schools like California Superbike School, in Dylan's view, exist to help students no
advertisement
The Choice is Yours
Indeed, there are many riding schools out there, and we will write about more of them in future articles. But no matter which school one attends, it's worthwhile to consider Dylan's comments when deciding.
Ask yourself, does the school mission align with your riding goals and training needs? Do they have well trained and experienced instructors and coaches? Do they have the equipment to deliver the training experience you want, for example a lean bike? How each school brings these pieces together is key to their effectiveness and your degree of improvement.
Commit to Your Potential
Motorcycling is your passion, why not indulge it with new techniques and coaching that will add greater enjoyment to every ride? Professional rider training at a respected school is one of the most assured ways all of us can take our skills and confidence to the next level.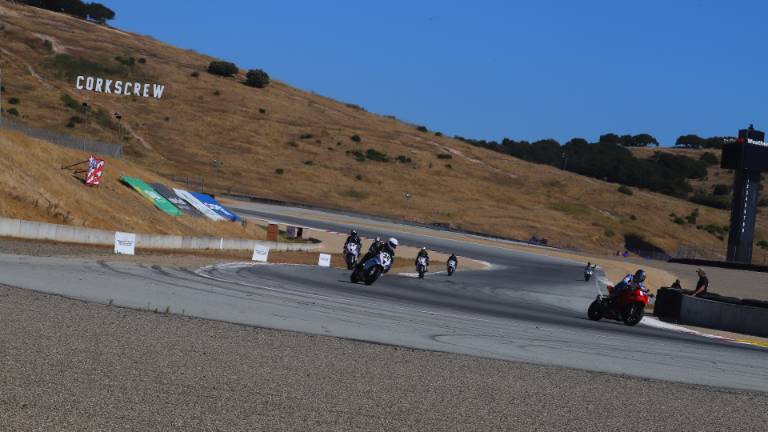 Look for more articles coming soon on riding clinics and riding schools across the country.


Did we hit the mark?
Click the Thumbs Up or Thumbs Down button to email your feedback.
Feedback helps improve American Sport Touring and is never used for other purposes.
Please read our Privacy Policy.