A Suzuki Crossover With Sport Touring Appeal
Sport Touring riders may find themselves at a crossroads when considering their next bike. As sport bikes and adventure bikes evolve the number of good choices has widened considerably. Riders are left to ask themselves Just how much sport capability to trade-away for all-around sport touring comfort? Well, Suzuki is making that decision a lot easier with the introduction of the 2024 GSX-S1000GX+. This bike combines the best of the GSX-S1000GT+ with the adventure chops of the V-STROM. That's one powerfully versatile love-child.
Features Sport Touring Riders Will Love
Here are just a few of the stand-out features that Suzuki baked into the GX+.
An engine and frame shared with the GSX-S1000GT+ lend confident sport riding manners to this bike.
Suzuki Advanced Electronic Suspension featuring three preset and one user-configurable setting giving the rider options to match handling to current road conditions. The electronic suspension is integrated with the updated Suzuki Intelligent Ride System (S.I.R.S.) as well.
Suzuki Intelligent Ride System, updated for the GSX-S1000GX+, includes a suite of advanced electronic rider aids such as the Suzuki Drive Mode Selector Alpha (S.D.M.S.-α) system, multi-mode Traction Control, rider-adjustable ABS with two levels of sensitivity, and the convenient Easy Start and Low RPM Assist systems.
Touring conveniences like Smart Cruise Control, large 6.5 inch full-color TFTR instrumentation integrated with Suzuki MySPIN for smartphone connectivity, a three position adjustable windscreen (too bad its not electronically adjustable), and a center stand for more stable overnight parking.
Look for the GSX_S1000-GX+ in dealer showrooms this Spring 2024 with an MSRP of $18,499.
advertisement
Press Release from Suzuki
Brea, CA (November 7, 2023) – Suzuki Motor USA (Suzuki), continues its impressive run of new 2024 models, with two more electrifying and important new products – the GSX-8R sportbike and the GSX-S1000GX+ sport crossover. Each model plays an important role in the Suzuki product line, both specifically positioned to inspire and engage riders with new thinking, precise engineering, and rider-driven features to make them leaders in their respective classes.
GSX-S1000GX+ – Supreme Sport Crossover – Bred from the best attributes of the GSX-S1000GT+ and V-STROM 1050, the all-new GSX-S1000GX+ bridges the gap between segments and offers a comfortable ride while delivering aggressive superbike performance and sporty looks. The GSX-S1000GX+ takes the crossover segment by storm with new technology never before seen on a Suzuki. The GX+ introduces a whole new level of suspension performance by introducing Suzuki Advance Electronic Suspension (SAES) – Suzuki's first electronic suspension – and by adopting Suzuki's original new Suzuki Road Adaptive Stabilization (SRAS) system. Coupled with included side cases and center stand, the GX+ is positioned to be the sport crossover motorcycle that shatters expectations on how thrilling and versatile one bike can be.
2024 GSX-S1000GX+
The new GSX-S1000GX+ achieves a new level of suspension performance by introducing Suzuki Advanced Electronic Suspension (SAES) — the Suzuki motorcycle line's first electronic suspension —integrated with the Suzuki Intelligent Ride System (S.I.R.S.) These systems combine to make the GX+ comfortable and confidence-inspiring on road surfaces ranging from urban asphalt or worn highways, and uneven surfaces like cobblestones to paved country or mountain roads.
The result is an exciting new sport crossover motorcycle positioned comfortably between sport tourers and adventure tourers. While delivering the aggressive performance and sporty looks that distinguish the GSX-S series, the GSX-S1000GX+ provides long-distance touring comfort with its upright ergonomics and advanced features.

Key GSX-S1000GX+ Features
The 2024 GSX-S1000GX+ shares its engine and frame with the sport touring GSX-S1000GT+, but uses upright ergonomics and a taller stance to position the GX+ as Suzuki's Sport Crossover model.
The GSX-S1000GX+'s long-stroke suspension achieves enhanced performance through the introduction of the Suzuki Advanced Electronic Suspension (SAES) and by adopting the new Suzuki Road Adaptive Stabilization (SRAS) system. These technologies make the GX+ more comfortable and manageable on urban streets, concrete highways, and uneven, winding mountain roads.
The GSX-S1000GX+'s updated Suzuki Intelligent Ride System (S.I.R.S.) is a full collection of advanced electronic rider aids. The GX+ is the first GSX-S motorcycle to adopt the Suzuki Drive Mode Selector Alpha (SDMS-α.)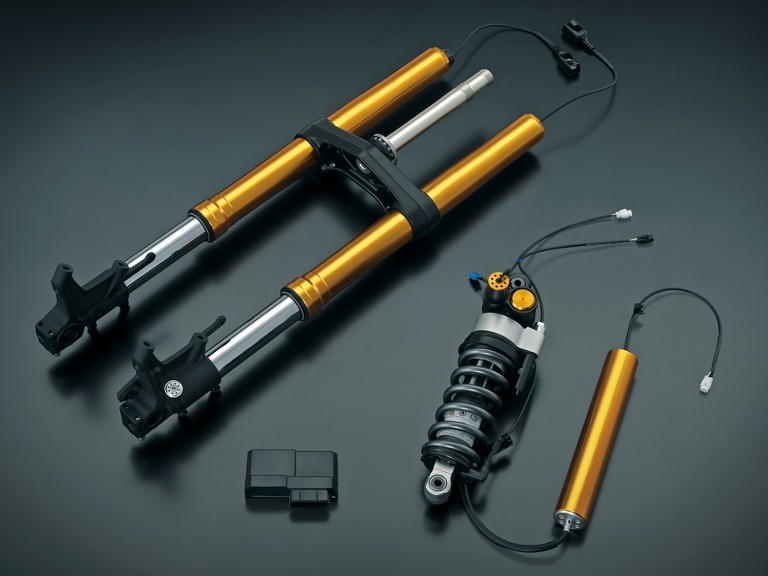 Smart TLR Control utilizes the Suzuki Traction Control System with Lift Limiter and Roll Torque Control, aiding performance under diverse and varying conditions.
Active Damping Control offers four electronically-controlled damping settings – Hard, Medium, Soft, and a customizable User setting – to best match the SDMS-α riding modes or the rider's preference.
Electronic Rear Suspension Preload Settings offer a choice of four modes to tune the shock absorber to the GX+'s current load requirements.
Suzuki Road Adaptive Stabilization activates automatically when riding on uneven surfaces to provide a smoother ride with a soft, controllable throttle response.
Smart Cruise Control continues to operate when using the Bi-directional Quick Shift system's clutch-free shifting, making the GX+ easier to handle on long rides.
With over ten S.I.R.S. features, many of which are new or updated specifically for the GSX-1000GX+, riders select the settings that best suit their skill level and experience, the passenger or cargo load, and road conditions.
The GSX-S1000GX+ has a 6.5-inch full-color TFT instrument panel. Using the panel, the rider may easily tune the GX+'s S.I.R.S. settings.
The TFT panel also controls Suzuki's mySPINTM smartphone connectivity application to display maps, phone calls, contacts, and the rider's music library.
A high-performance 999cc, DOHC, liquid-cooled, in-line four-cylinder engine based on Suzuki's championship-winning GSX-R architecture powers the GSX-S1000GX+.
The GSX-S1000GX+ uses an aluminum, twin-spar frame and swingarm derived from GSX-R technology.
The GSX-S1000GX+ comes standard with a 3-position adjustable windscreen and large-capacity 25.7L (0.9 Cu. Ft.) side cases that each hold most full-face helmets.
A sturdy center stand simplifies maintenance while offering another parking option.
The GSX-S100GX+'s MSRP is $18,499. It will arrive in early Spring 2024.
The 2024 Suzuki GSX-S1000GX+ combines Suzuki's first fully electronically-controlled suspension, a full suite of electronic rider aids, aggressive styling, and a GSX-R-derived foundation.
The GX+ is offered in Pearl Matte Shadow Green.
2024 Suzuki GSX-S1000GX+
MSRP $18,499
Additional Features
A wide selection of Genuine Suzuki Accessories is available for the GSX-8R and the GSX-S1000GX+. Review the Suzuki Genuine Accessory catalog for information on the full range of genuine accessories specific to each of these new models.
Both the GSX-8R and GSX-S1000GX+ come w
Find the full press release here on the Suzuki website.
Click the Thumbs Up or Thumbs Down button to email your feedback.
Your questions and comments help improve American Sport Touring. Your email is not used for any other purpose. Please read our Privacy Policy.