Cardo Packtalk Edge Essentials
Tired of riding with only the sound of the wind for company? The Packtalk family of communication devices from Cardo Systems are designed to keep Sport Touring riders in touch with each other, with their music, and those at home. But Cardo offers so many different, yet seemingly the same, products that choosing one is harder than it ought to be.
To help cut through the clutter we put together this Cardo Packtalk Edge essentials review to help you make an informed buying decision.
Who is Cardo?
Cardo has been making motorcycle communication devices since 2004. Today they are co-leaders in the market, sharing top honors with Sena Technologies, founded 6 years earlier in 1998. Products from both companies offer virtually the same capabilities but differ on their underlying technical implementation and the nature of their user controls.
First introduced in August 2021, the Packtalk Edge is Cardo's top of the line motorcycle communication system. It embodies years of product evolution and today is capable of connecting up to 15 riders in a seamless chat session spread out at distances of up to 1 mile. All while playing audio from a connected GPS, phone, or music device.
advertisement
Sorting Through Cardo Products
The Cardo website shows an assortment of products and product packaging options. The key to unscramble the confusion is to keep these four points in mind:
The Packtalk family of products are designed for groups of up to 15 riders, while Freecom and Spirit products are intended for 2 to 4 riders. Packtalk is the best choice for riders who ride with others. And it works just as well with two riders as with 15.
Only the Packtalk family of products use second generation Cardo Dynamic Mesh Communication technology (DMC) to enable a seamless rider-to-rider experience. The other products rely solely on direct Bluetooth connections. The mesh concept means riders stay connected with each other even when some group members drops in or out of range. They just become a smaller group until rejoining the others.
All of these products, Packtalk, Freecom, and Sprit come with the same JBL speakers, both a boom and wired microphone, and all the necessary mounting hardware.
When it comes to important technical specs, all Packtalk products are identical except for the warranty. The Edge is covered by a 3 year warranty, while other Packtalk products come with only a 2 year warranty.
Packaging options may also add to the product confusion. In an effort to help customers get the optimal combination of communication units and mounting hardware at a good price, Cardo created product bundles labeled with the word "Duo". These bundles are aimed at two-up riders.
Some products are intended for non-riders. For example the Packtalk ORV product is a ruggedized device aimed at off-road vehicle users. Motorcycle riders can also ignore the Packtalk White. It is designed for snowsports and has only half the range of other units.

Reviews published on American Sport Touring are conducted independently and without bias. American Sport Touring does not accept compensation of any kind in exchange for product reviews.
Why Choose The Packtalk Edge
Whether riding alone or with a group, everyone wants to enjoy the ride and each other's company. Packtalk Edge technology makes group riding even better, letting everyone share exciting moments – as they happen in the moment.
Easy to Set-up
Everything needed to install the PackTalk on a full face, modular, or three-quarter helmet is in the box. Attach the base using either the clip-on bracket (fits around the helmet shell and under the neck roll) or the glue plate (uses 3M adhesive to directly attach the base to the outside of the helmet). Position the speakers and one of the two included microphones. All Packtalks come with a boom mic for use with modular and three-quarter helmets, and a wired button-mic designed for full face helmets.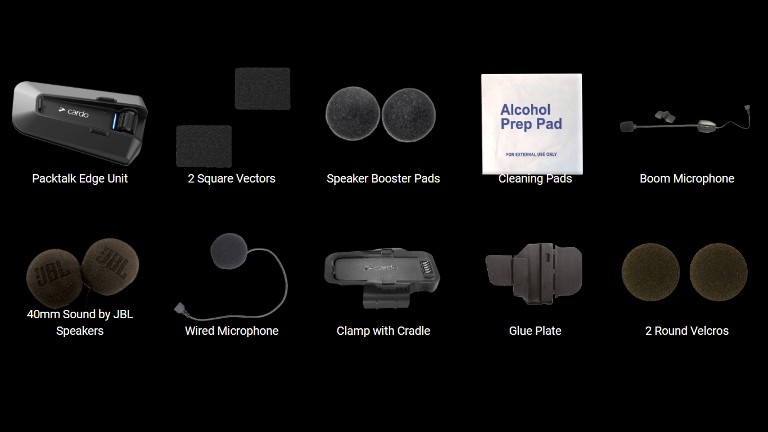 Download the Cardo Connect app to your mobile phone, pair the phone and Packtalk, and then check for any device software updates. Most riders will pair their Edge with a GPS or with their motorcycle information system. Up to two Bluetooth devices can connect to the Edge.
That's it for set-up. Now comes the not-so-simple matter of learning how to use all those features.
advertisement
Harder to Operate
Its fair to say operating the Packtalk takes practice. Download the quick start guide to your mobile phone for handy reference on the road. Some riders may see a logical pattern in the way Cardo set-up the controls, and sometimes a pattern emerges but somehow always seems to slip away. It's probably not fair to expect that a feature-rich device with only a few buttons would be easy to use.
Group pairing is a ritual that may take a try or two. But once everyone is paired up, the Cardo DMC system remembers group members and automatically rejoins everyone as they come into range.
Fortunately, the most common tasks are easy to perform. The roller wheel adjusts volume and the forward Media button starts and stops playback as well as advances tracks. And most importantly, conversation with group riding buddies just happens – as if everyone were in the same room.
Cardo highlights their voice control technology but take that with a grain of salt. Wind and road noise can easily confuse the system. And when that happens instead of the Edge recognizing "Hey Cardo, Radio On", everyone in your group is needlessly interrupted by your voice command. Not surprisingly, a respected industry study shows we have a long way to go before everyone fully embraces voice input technology; (read the PWC study) .
A fully charged Packtalk will go all day, about 8 hours, even when riding with a chatty group.
Excellent Range
Cardo claims that the Edge will support group communications across a distance of up to 1 mile. Our testing showed consistently good communication among a group of six riders that stretched over a mile and a half front to back. But that was in wide open desert.
In practice range varies with the terrain. The technology work best when riders are within sight of each other which means canyons and corners can disrupt connections. However, disconnected riders are gracefully rejoin the group without any action required from the rider once they are within range of another member of the group.
That raises an important point. Dynamic Mesh Communication technology means every rider in a group is connected to every other rider in the group. This is different than earlier hub-and-spoke systems where one rider's device is responsible for keeping everyone else connected. With DMC, if two riders move out of range, those two remain joined and can continue to chat. As soon as others are in range, the system automatically reforms the larger group. It's no different than stepping in and out of a room.
One more point about connectivity. While Cardo claims the Packtalk can interoperate with other Bluetooth communicators, in reality these connections are unreliable. Non-Cardo devices have limited group functions and are not compatible with the DMC technology. Groups that plan to ride together regularly should mutually agree on a specific comms platform.
advertisement
Reasonably Priced
The Packtalk Edge is the all-around best Packtalk communicator but also the most expensive. The Edge is priced at $389.95 (as of this writing) while the almost identical Neo comes in at $349.95. The Packtalk Slim offers a more economical third choice at $254.96 (yes an odd price point), but comes with a much different control interface.
No-Regret Choice
When the top priority is reliable group communications, choose the state-of-the-art Packtalk Edge from Cardo.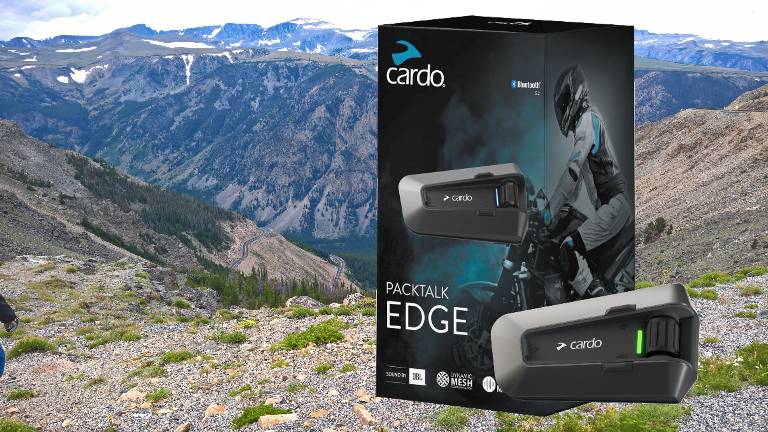 The Packtalk Neo is a good second choice at a slightly lower price. Aside from a click-in helmet mounting plate vs magnetic and a 2 year warranty rather than 3, the Neo and Edge are the same product.
Other Cardo communicators, such as the Freecom, are best for solo and two-up riders who don't intend to join a riding group.
Click the Thumbs Up or Thumbs Down button to email your feedback.
Your questions and comments help improve American Sport Touring. Your email is not used for any other purpose. Please read our Privacy Policy.