BMW US Riding Academy Riders Advance
BMW Motorrad USA and the BMW U.S. Rider Academy have revealed the five riders who will advance to the next round of the BMW International GS Trophy. Emily Wiggs, Jessica Hofherr, Kirk Graydon, Billy De Wet, and Scott Acheson emerged victorious in the U.S. qualifiers, surpassing 71 competitors in the largest-ever GS Qualifier in the U.S. The challenging event at the BMW Performance Center in Greer, SC, featured 21 tests evaluating problem-solving, technical riding, endurance, and perseverance. Skills every rider continues to build one mile at a time.
About the BMW Riding Academy
The BMW U.S. Rider Academy, located in Greer South Carolina, offers custom BMW Motorrad tours, riding classes – on and off-road – and the chance to try the latest BMW motorcycles. The Academy employs a team of team of highly experienced instructors who work with riders at all levels, from beginner to expert. Training courses cover the basics, street survival, advanced on-road training, a USRA Authority course, and even women's on and off-road classes. Find all the details at the BMW US Rider Academy website.
advertisement
BMW Press Release
Woodcliff Lake, NJ – October 31, 2023…BMW Motorrad USA and the BMW U.S. Rider Academy are proud to announce the five riders who have made it to the next round of the BMW International GS Trophy. The U.S. qualifiers were held Oct. 12-14 at the BMW Performance Center, home of the BMW U.S. Rider Academy, in Greer, SC.
Emily Wiggs (FL), Jessica Hofherr (CO), Kirk Graydon (SC), Billy De Wet (TX) and Scott Acheson (FL) came out on top against seventy-one very talented and determined GS Trophy Qualifier USA competitors, the largest number of participants in U.S. GS Qualifier history.
The BMW U.S. Rider Academy hosted the event at the BMW Performance Center in Greer, South Carolina. The event consisted of twenty-one team and individual challenges that tested every rider's problem-solving abilities and technical-riding skills. Twenty riders made the cut to compete against each other in the timed, 8-minute semi-final round which tested not only their riding ability, but their endurance, perseverance, and desire. Ten riders went on to the final, technical, low-speed 7-minute final round where the five winners were selected. Competitors rode their own BMW GS motorcycles throughout the competition except for the final round, where equally prepared BMW R 1250 GS models from BMW U.S. Rider Academy were used by all.
[Image 02- "Left to right – Billy De Wet, Scott Acheson, Emily Wiggs, Kirk Graydon, Jessica Hofherr." ]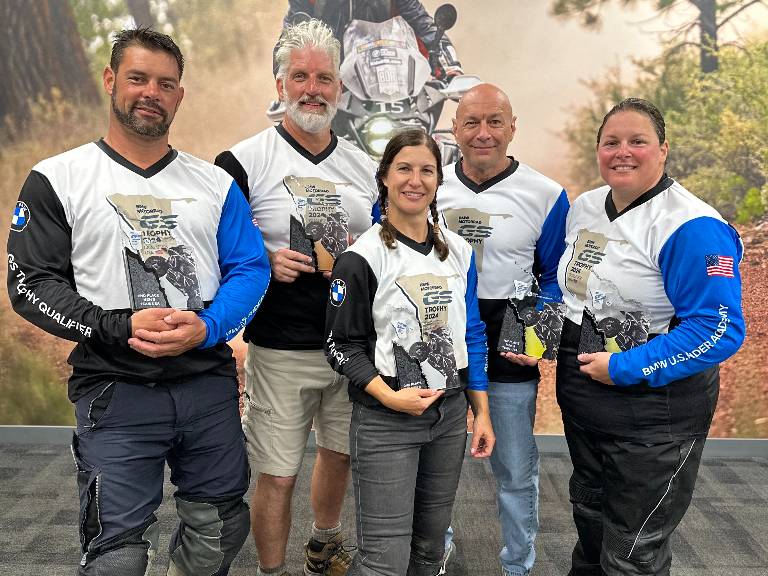 "Everyone at BMW Motorrad USA and at the BMW U.S. Rider Academy would like to congratulate all seventy-one participants for giving it their all during the U.S. Qualifiers" said Luciana Francisco, Head of Marketing and Product, BMW Motorrad USA. "Nothing was held back, and each participant left absolutely everything they had on that red Carolina clay. The Spirit of GS was alive and well at this year's event and the closeness of the Adventure riding community was on full display with competitors encouraging each other. We will cheer on Emily and Jessica, who move on to compete in Spain for a spot on one of the six International women's teams and for Billy, Scott and Kirk who will compete against the 15 international men's teams. See you in Namibia!"
"On behalf of the U.S. Rider Academy and the BMW Performance Center, we congratulate this year's winners and everyone who competed." said Aaron Rankin, Chief Motorcycle Instructor, BMW Performance Center. "We hosted the largest GS Trophy qualifier in history, with 71 competitors from 27 states, all pushing the limits of their bodies and motorcycles. I want to thank our volunteers and staff for their dedication and hard work in making the event a success. We had 58 volunteers and staff from 16 states dedicate their time to guide, judge, and score. The motorcycle community's family bond and the Spirit of GS were present throughout the event. Good luck to Team USA and the Ladies moving on to the International Qualifier."
Finalists Quotes
Emily Wiggs: "I had a fabulous time at the GS Trophy Qualifier. The entire competition was well organized, and the course was challenging. It was awesome meeting new friends with the same interests and passion for motorcycling as me. I am honored to represent Team USA and look forward to competing in Spain!"
Jessica Hofherr: "I am incredibly grateful that I had the opportunity to compete at the GS Trophy National Qualifiers amongst such fierce, friendly competitors. The Qualifier was incredibly challenging, and I really pushed my R 1200 GS to the limits of performance, from a deep water crossing to gravel and sand pits to brake-sliding down a muddy log pile. I am honored that I earned one of the women's finalist positions on Team USA and will continue competing in Spain, following in the footsteps of remarkable female ambassadors in the adventure motorcycling world. Thank you to the Colorado GS Girls and coaches for the push to compete, my Sendit teammate for the support, and finally thank you to the BMW Motorrad folks for running such an amazing event. Send it!"
Kirk Graydon: "I thought it was a coincidence all the past Trophy qualifiers were so humble, but it's impossible not to be, after receiving the awe-inspiring support from the GS family. My goal is to compete solidly, but most of all I represent the USA respectfully on and off the bike. I'm so thankful for the opportunity to travel to Namibia and visit – Friends I Just Haven't Met Yet".
Billy De Wet: "The BMW GS Trophy is the ultimate test of skill, nerves, and camaraderie for adventure motorcyclists. It brings together riders from around the USA, united by their shared love for exploration and the iconic BMW GS motorcycles. The spirit of adventure is what defines the GS Trophy."
Scott Acheson: "Training for and earning a spot on the 2024 US GS Trophy Team has been one of the most humbling and gratifying experiences of my life. I am excited to be part of the GS Trophy family and look forward what the next year has in store. Hats off to the staff at BMW Riding academy for putting on a first-class event that brought out some of the best GS riders in the country. Next stop Namibia!!"
2024 BMW Motorrad International GS Trophy Namibia
In 2024, the International GS Trophy returns to where it all began in 2008 – Africa.
There are 15 regional qualifying events and one international qualifying round, giving skilled endurance riders the opportunities to demonstrate their capabilities. In order secure a place on one of the 22 national teams, participants are required to perform GPS navigation exercises, off-road rides, and technical tests. The women's teams from the regional competitions travel to the international female qualifying round in Spain, where a total of six women's teams will be selected, along with 16 men's teams.
The BMW Motorrad International GS Trophy is an event that celebrates the spirit of the legendary BMW Motorrad GS models. It encompasses everything that a BMW GS stands for: riding fun, adventure, and personal challenges.
The BMW Motorrad International GS Trophy 2024 Namibia is the ninth edition of the event. Previous editions were held in Southeastern Europe (Albania) in 2022, Oceania (New Zealand) in 2020, Central Asia (Mongolia) in 2018, Southeast Asia (Thailand) in 2016, North America (Canada) in 2014, South America (Chile, Argentina) in 2012, South Africa (South Africa, Swaziland, Mozambique) in 2010 and North Africa (Tunisia) in 2008. The current event will involve 22 teams from all over the world with a total of 60 riders. Others involved include; the GS Trophy marshals, media representatives, doctors, sponsors and a photo and film crew.
The BMW Motorrad International GS Trophy is a team competition in which an international contingent of off-road enthusiasts compete against each other in various special tests. Not all of these involve just motorcycling, skills and teamwork are essential, too. Since competitors are together for a lot of the time, also spending the night in bivouacs, this is an adventure that promotes a sense of togetherness, too. People, cultures, and motorcyclists from all over the world come together, and it is not uncommon for friendships to be made for life.
Read more in the complete BMW Press Release.
Click the Thumbs Up or Thumbs Down button to email your feedback.
Your questions and comments help improve American Sport Touring. Your email is not used for any other purpose. Please read our Privacy Policy.