Three Motorcycle Books Worth a Read
There's no substitute for riding but reading a good story about motorcycling can nicely fill the time between rides. Books cover everything from adventure stories, to riding skills, to explaining the mechanical and physical aspects of motorcycling. It's surprising how many books are available in each category, which of course is all the better for us. So much variety to choose from.
Motorcycle Adventure Stories
For those wanting to live vicariously through others, we picked out a few travelogues that are likely to spark a sense of adventure and shed new insight on otherwise vaguely known places around the world. Hats off to the adventure rider-slash-writer who packs up and sets out to challenge his or her skills and self-reliance. Their stories encourage the rest of us to take on new challenges, discover new cultures, and more fully appreciate the moment we're in.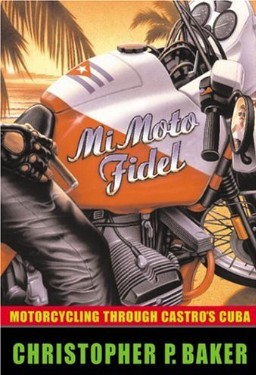 We picked a book that we believe best exemplifies a well written motorcycle adventure story. Mi Moto Fidel by Christopher Baker tells the story of an American travel writer who explores Cuba by motorcycle seeking to learn more about the truths of socialism. Over the course of a three-month ride, the author encounters a little of everything Cuban culture offers, painting an interesting dichotomy. On the one hand the people of Cuba are welcoming, warm, and infused with a fun and optimistic spirit. But on the other, they struggle with the daily reality of food shortages and other impositions on their freedoms. The story is about experiencing Cuba by motorcycle and there are plenty of words dedicated to the joys and challenges of riding an adventure bike (in this case a BMW GS). The stories are so well told that you'll feel a part of the adventure.
advertisement
Motorcycle Set-up
When it comes to setting up a motorcycle, for most riders that means adjusting the suspension to match their unique physical attributes and riding style. Learning the ins and outs of suspension engineering is a useful way to pick-up a new perspective on why things playout the way they do on the road. Sudden braking in a corner, too much power out of a turn, suspension preload, and more are important aspects of motorcycle dynamics that directly impact ride quality and safety in motion. There are plenty of books that go deep on overall motorcycle engineering and maintenance. For all but the most curious, understanding motorcycle suspensions is the best place to start learning how to make a motorcycle fit your unique riding style.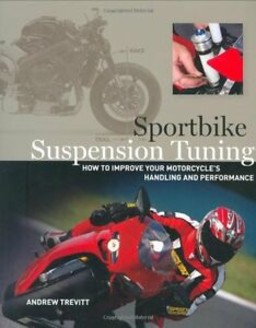 Andrew Trevitt wrote a very readable and authoritative book on motorcycle suspension set-up. In Sportbike Suspension Tuning, he explains every aspect of motorcycle suspension design and how design decisions affect rideability. Take as an example, suspension preload, a sometimes confusing concept but one of the most impactful settings on a motorcycle. Trevitt won't overwhelm with techno-babble but instead goes deep enough to provide a useful understanding. In addition to chapters dedicated to each important suspension concept, the book includes helpful troubleshooting guides. This book is both a good primer on suspensions, and a valuable reference.
Rider Skills
Motorcycles are on the one hand complicated and on the other straightforward all at the same time. It's easy to get started and pick-up the basics but riding well takes a lifetime to truly master. Skills development is absolutely the most popular book category sought out by motorcycle riders everywhere. The desire to get better often leads riders to test their limits on the road, but a good book on the subject will temper that with measured guidance that makes learning effective and safe.
Books on rider development fall into two broad groups – those that focus on basic motorcycle safety and those that aim to make the reader a better rider. Books in the latter category explain how to ride faster and do it safely. We're willing to bet sport touring riders want to improve in both areas.
For riders who want safety tips we suggest reading Proficient Motorcycling: The Ultimate Guide to Riding Well by David L. Hough. Hough's book suggests ways to handle virtually every situation a touring rider will face.
For riders seeking advice they can trust to improve their riding skills, meaning advice that helps them get the most from a bike in virtually any road situation, then take the time to read A Twist of The Wrist II by Keith Code. Keith comes at skills development with a former racer's perspective but always adapts the lesson for street riding as well. The book pretty much follows the curriculum offered at Code's California Superbike School, one of the top two riding schools in the country. That said, as you might expect professional riders sometimes disagree on techniques. If you want a second opinion, or just another perspective, take a read through Total Control by Lee Parker. Both books explain essential concepts including vision, braking, steering, and throttle plus lots of insight on the dynamics of motorcycle suspension and mechanics.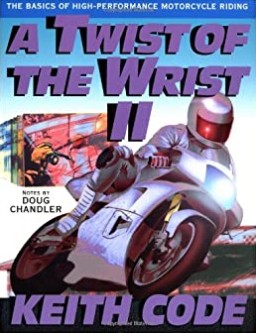 advertisement
Grab a Book!
To sum up, reading about riding is almost as fun as riding itself. Books covering motorcycle adventures, bike set-up, and rider skills are available for everyone with a passion for riding. There are plenty to choose from in each category, sure to provide hours of enjoyment and useful insights.
Major bookstores, and especially online sellers, offer huge selections. But motorcycle shows and local events offer another place to discover books. In fact, it's not unusual to find a book's author behind the table at these events sharing stories and making personal connections.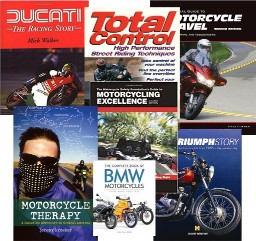 Let us know if you have a favorite book to share.
Click the Thumbs Up or Thumbs Down button to email your feedback.
Your questions and comments help improve American Sport Touring. Your email is not used for any other purpose. Please read our Privacy Policy.