Suzuki Announces 2023 GSX S1000GT
In March of 2022 we were excited to review what was then a brand new entry from Suzuki in the sport touring segment; (Meet the 2022 Suzuki GSX S1000GT Sport Tourer). Since its late-season introduction, the aggressively styled GSX S1000GT has gained a faithful following.
2023 GSX S1000GT+ In a Nutshell
With so much early success in a relatively short period, its not surprising that the only changes Suzuki announced for 2023 are a new color choice and a slightly higher base price. Here's a summary of the 2023 model compared to 2022:
A new color choice for 2023, Metallic Triton Blue, a brighter shade than the Metallic Reflective Blue offered in 2022, coats the angular body work; the Glass Sparkle Black color option carries over from 2022 as well.
The base price went up by $300, bringing the 2023 GT+, which includes color-matching side cases, to an MSRP of $14,099.
The powerful 999cc DOHC in-line 4 with electronic ignition and 12.2:1 compression is unchanged.
The same 6 speed constant mess transmission with chain drive reappears in 2023.
Confident ABS-backed braking remains the same compliments of 4-piston Brembo calipers on twin discs up front and a single disc Nissin 1-piston caliper at the rear.
Contact with the road is maintained by 120/70 rubber up front and a sure-grip 190/50 band at the back, same as last year.
Dimensions and weight are unchanged; still a 498 pound motorcycle (without side cases) riding on a 57.5 inch wheelbase.
The GT+ still comes with generously sized color matching side cases.
And finally, the warranty is as it was in 2022 – a 12 month unlimited mileage limited warranty.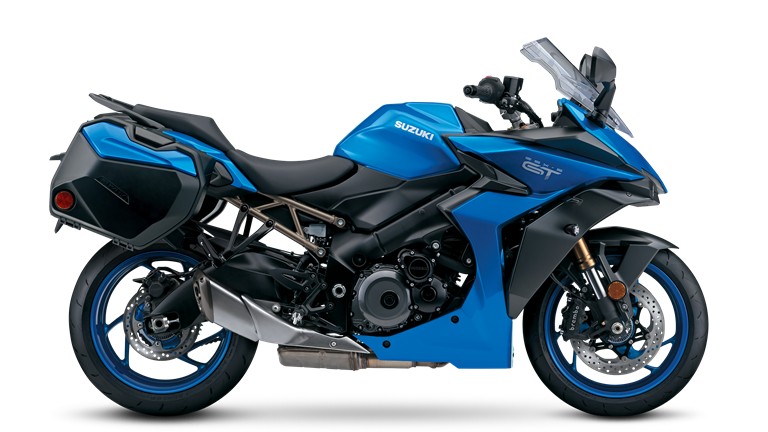 We're hoping to get our hands on a test bike soon and will follow-up with more details then. In the meantime, here's the full press release from Suzuki.
advertisement

Suzuki Press Release
Brea, CA (December 8, 2022) – Suzuki Motor USA proudly announces additional models to its 2023 product line with the award-winning high-performance sport-touring Suzuki GSX-S1000GT/GT+ models, plus iconic Boulevard models including the M109R B.O.S.S. muscle cruiser, and the classically styled C50T and C50 cruisers.
These popular motorcycles continue the momentum of exciting new 2023 models Suzuki launched over the last 12 months, including the sensational new V-STROM 1050DE and 800DE adventure tourers, as well as the dynamic new GSX-8S naked sportbike.
Highlighted by engineering excellence, impressive features, impeccable build quality, and attractive styling, these models continue Suzuki's commitment to offering motorcycles with unparalleled performance and value, regardless of the segment.
2023 GSX-S1000GT/GT+
Key Features:
Ready to split the wind, the GT's full fairing sets the standard for aerodynamics and rider wind protection in the sport-touring category. The dual mono-focus LED headlights and V-shaped LED position lights create a distinctive appearance and great illumination. With, or without the optional side cases (standard on the GT+) and optional touring windscreen in place, the GSX-S1000GT is the new grand touring performance standard in the sport touring category.
A large, 6.5 in TFT gauge panel that is easy to read in any light condition allows the rider to monitor and adjust many of the bike's Suzuki Intelligent Ride Systems (S.I.R.S.) features. The panel also communicates with Suzuki's mySPIN connectivity application that seamlessly links to a smartphone for easy access to contacts, maps, music, and phone communication.
Worldwide emissions-compliant, the 999cc, GSX-R-based long-stroke engine has impressive peak power, with strong, linear torque in the low- to mid-range all smoothly controlled by Ride-by-Wire electronic throttle bodies, for an extraordinary Grand Touring experience.
Upright ergonomics deliver superb control and comfort, while the twin-spar aluminum frame and fully adjustable KYB suspension deliver controlled handling. The ABS-equipped** Brembo Monobloc brake calipers with dual, floating brake rotors provide controlled stopping power.
The Suzuki Clutch Assist System (SCAS) smooths shifting and engine braking, while the standard Bi-directional Quick Shift system gives your clutch hand a rest. Right-hand comfort is increased with the hybrid throttle system and the precise electronic cruise control.
The Suzuki Intelligent Ride System (S.I.R.S.) includes the three-mode Suzuki Drive Mode Selector, the five-mode Advanced Traction Control* system, Bi-directional Quick Shift system, and the popular Easy Start and Low RPM Assist systems.
The GSX-S1000GT+ is adorned in a new Metallic Triton Blue or a Glass Sparkle Black that stands out of the crowd with its color matched side cases. The GSX-S1000GT continues for 2023 in Metallic Reflective Blue.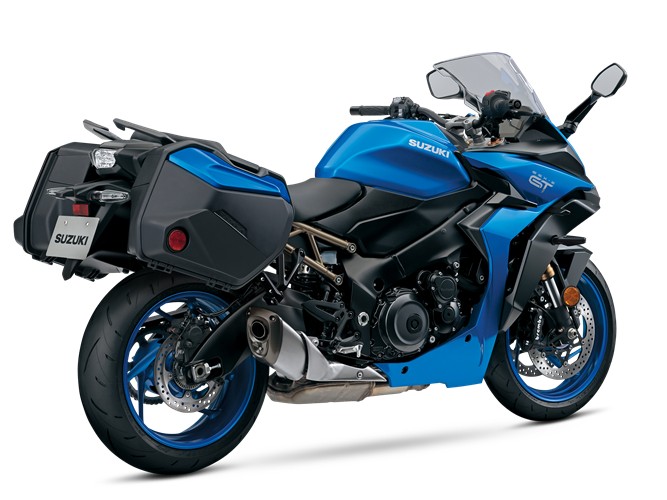 Look for a full review of the 2023 GSX S1000GT coming soon from American Sport Touring. In the meantime, refer to the Suzuki website (www.suzukicycles.com) for complete 2023 Suzuki GSX S1000GT specs.
Click the Thumbs Up or Thumbs Down button to email your feedback.
Your questions and comments help improve American Sport Touring. Your email is not used for any other purpose. Please read our Privacy Policy.