Meet the 2022 Suzuki GSX-S1000GT Sport Tourer
Refreshed on June 10, 2022
Recently we had the opportunity to talk with the folks at Suzuki about the new GSX-S1000GT. It was immediately clear to us that they are excited to get this new sport touring motorcycle in the hands of riders across the country. And for good reason.
The Suzuki GSX-S1000GT should come as welcome news for sport touring riders who want a more visceral experience on a bike designed to go the distance. Suzuki's new sport tourer has the canyon carving heart of a GSX-R1000 with better long-distance manners than the GSX-S1000F. All packaged in a modern angular design ethos. This is Suzuki's vision for the next generation of sport touring machines.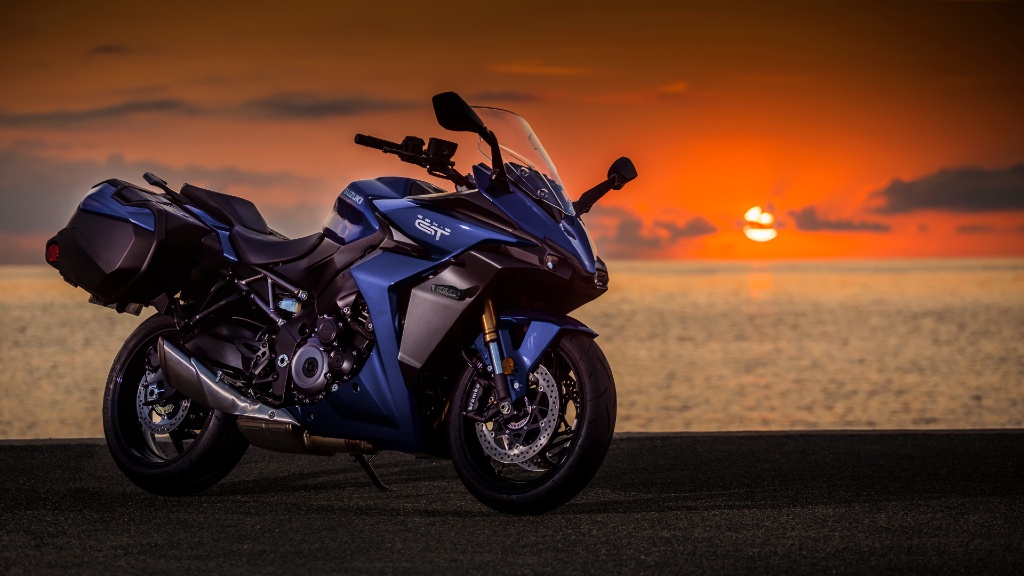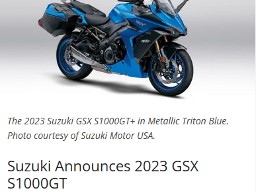 GSX-S1000GT Highlights
There's a lot to like about the new GT from Suzuki. The design is fresh, bold, and distinctly Suzuki. Anyone looking to update their ride for 2022 should take a close look at these GSX-S1000GT features.
We checked-in with Suzuki USA to confirm the GT and GT+ are now available in the US after being available for months in Europe. Suzuki is filling initial pre-orders (orders prior to May) and delivering dealer stock as fast as supply chains allow. Suzuki confirmed that while some dealers may ask for a deposit to reserve an incoming bike, that's up to the dealer and not mandated by Suzuki.
Well priced; the GT, which comes without side cases, has an MSRP of $13,149, while the GT+ includes side cases for an additional $650.
Modern avant-garde styling features distinctive sharp lines and wind-tunnel tested angles that maximize high-speed touring comfort while reducing front lift.
Two colors options: Metallic Reflective Blue and Glass Sparkle Black; both featuring distinctive GT side graphics.
A 999cc inline 4 matched to a clutchless bi-directional quick-shift 6 speed transmission and final chain drive.
Electronic aids include ABS, traction control, three engine power profiles, improved shift assist, and cruise control.
Full 6.5" TFT instrumentation and state-of-the-art Bluetooth device integration with easy access to maps, music, and phone using the new Suzuki MySpin smartphone application.
Worthwhile add-ons from the accessory catalog include a taller touring windscreen and heated grips.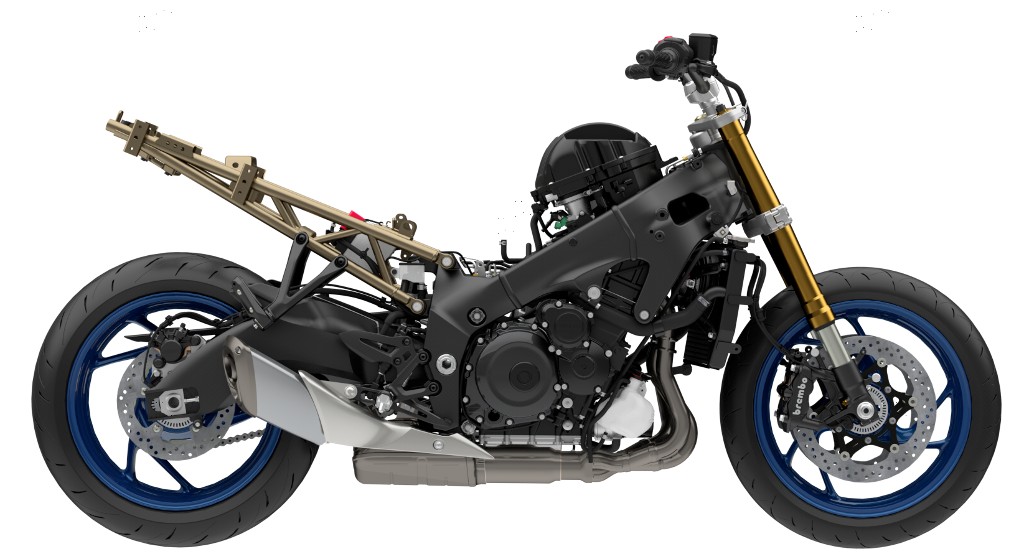 Read on for insights about this exciting new sport touring bike.
advertisement
Performance For The Sport-minded Tourer
Suzuki first offered sport touring riders the GSX-S1000F, but it lacked the essentials that most long-distance riders expect. For example, side cases and an all-day riding position. But hand it to Suzuki. Always in tune with customers, they went to work and introduced the GSX-S1000GT to fill the gap and raise the stakes for competitors at the same time.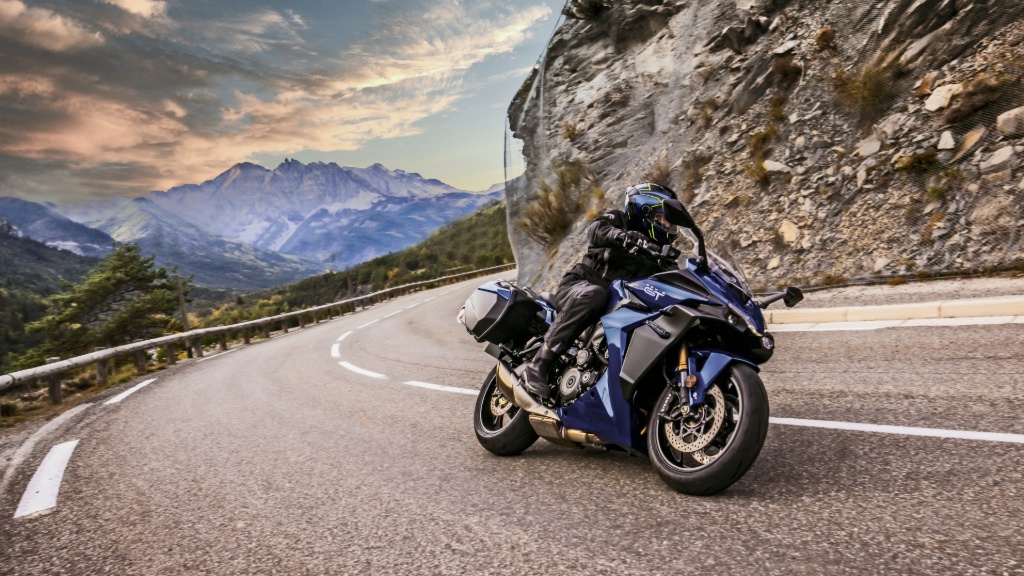 The GSX-S1000GT is aimed squarely at the touring rider who is not quite ready to give up their sportbike. Just look at the details. The GT weighs in at 498 pounds without luggage. Compare that to the relatively hefty 642-pound FJR1300, or the Kawasaki Concours14 at 690 pounds. With an estimated 150 horsepower, the S1000GT power-to-weight ratio approaches sport-bike levels at 3.3 pounds per unit of horsepower.
The clutchless bi-directional quick shifter adds to the excitement allowing the rider to shift up and down near instantly without squeezing a lever. The Suzuki Clutch Assist System (SCAS) and slipper clutch add extra confidence during downshifts as well, helping to avoid rear wheel hop.
The GT's appetite for performance can be dialed up or down to suit the rider's mood. Three engine profiles adjust throttle response from sporty to comfortable two-up touring.
Handling and Braking to Match
In terms of handling, the GSX-S1000GT chassis and suspension inherit aspects of the GSX-R1000 geometry that in principle endow the GT with similar agility.  Rake and trail are the most important front geometry settings when it comes to handling.  Trail is a function of rake and has the most pronounced effect on steering.  Longer trail increases ride stability but also increases steering effort.  Sportbikes typically sacrifice a little stability for improved steering.  Sport touring bikes on the other hand favor stability at the cost of steering agility.  That said, of the top sport touring bikes on the market, the GT certainly has the most aggressive suspension geometry.  Consider that the GT has only 3.9 inches of trail, a scant 0.2 inches less than the GSX-R1000.  The Kawasaki Concours and FJR by comparison have 4.4 inches and 4.3 inches respectively.  Suffice it to say, that the Suzuki, at least on paper, is the most agile sport tourer out there.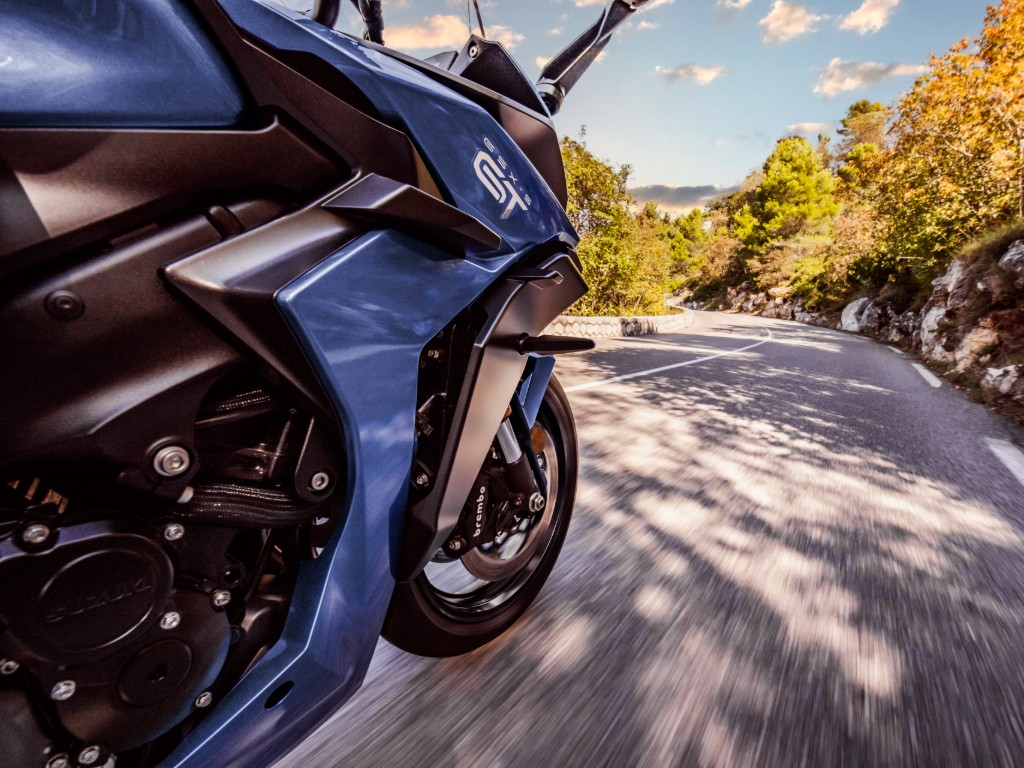 Fast motorcycles need big brakes. The GSX-S1000GT features twin 310mm discs up front each with Brembo dual piston calipers backed up by a 240mm rear disc gripped by a Nissin single piston caliper. The brakes are managed by a new Suzuki anti-lock braking system designed to match braking force to available traction. All that braking power is bound to tempt GT riders to carry a little more speed deeper into corners.
advertisement
All the Essentials for Touring
The GSX-S1000F was a toe in the water for Suzuki but never a full dip. The GSX-S1000GT jumps in headfirst. This bike gives sport touring riders everything they need to travel coast to coast and anywhere in between.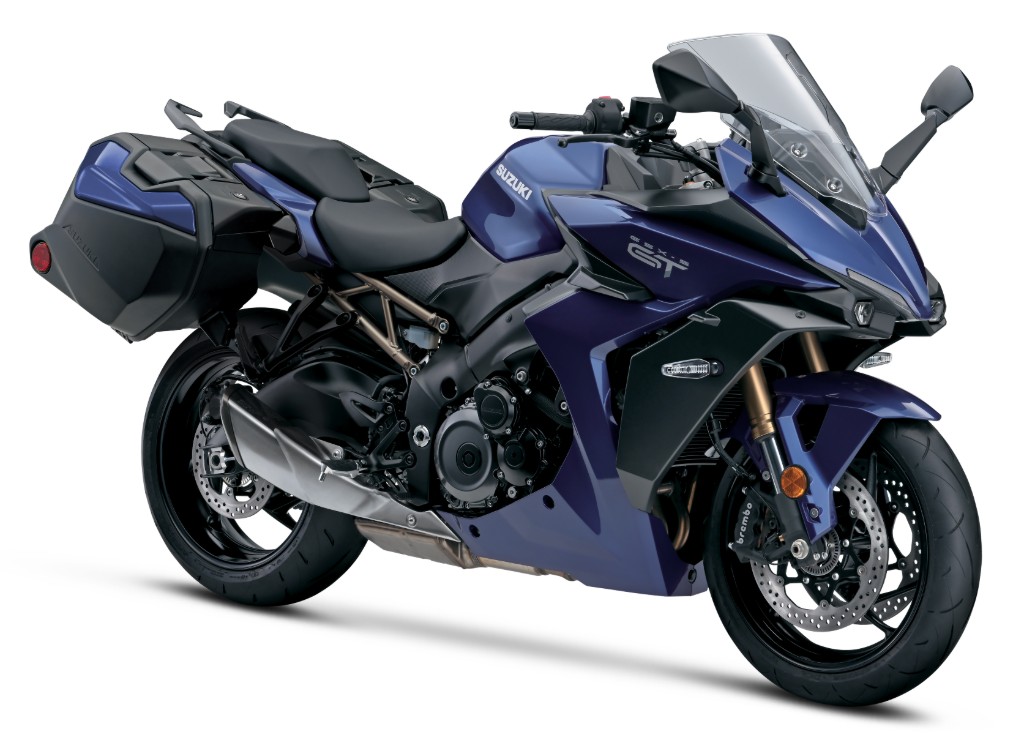 The GT+ comes with color matching side cases. Each case provides 36 liters of storage capacity and can fit most full-face helmets. The GT does not include cases, but they can be purchased separately. The ignition key opens the side cases and operates the quick release to remove them from the trellis subframe.
The GT was designed to balance performance with long-distance touring. With that goal in mind, Suzuki engineers extended the handlebars and angled them back for a more upright seating position and easier steering input. At the same time they lowered the foot pegs putting less strain on the rider's knees. The GT has a wider seat as well, adding to long-distance riding comfort. Vibration dampening material were used at the handlebar mounts and in the foot pegs to further reduce fatigue.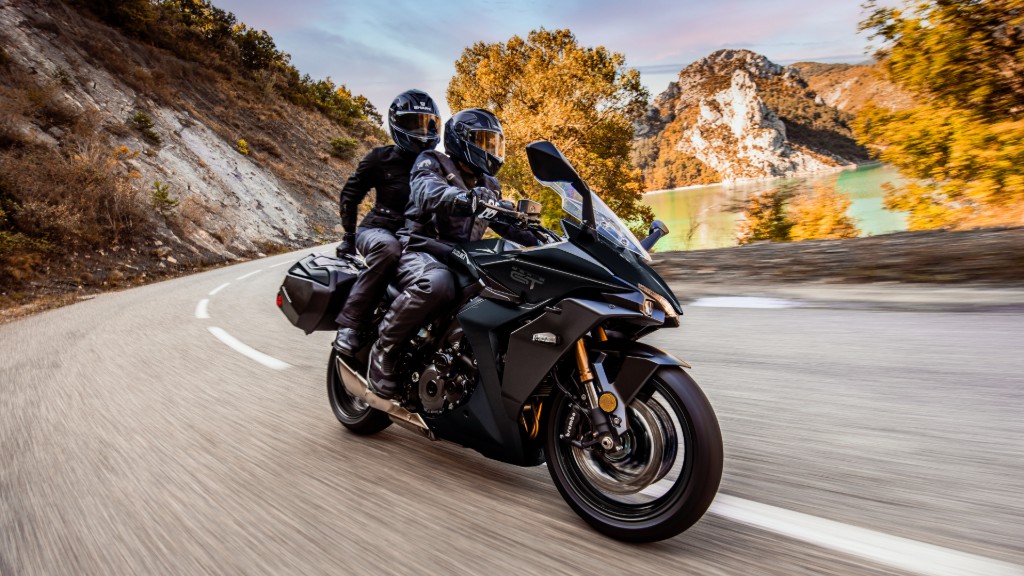 Touring typically features a mix of twisty canyon and mountain roads separated by long relaxing stretches through miles of scenic pastures and open spaces. The GT seat was designed to accommodate both kinds of riding, letting the rider change position easily for either situation.
Fuel capacity is on the low side at only 5 gallons. A conservative rider might get up to 225 miles between stops, but as always actual mileage will vary depending on riding style and terrain. Unfortunately the GT requires more frequent gas stops, something to keep in mind, say before setting out on the Loneliest Road in America (US-50 in Nevada).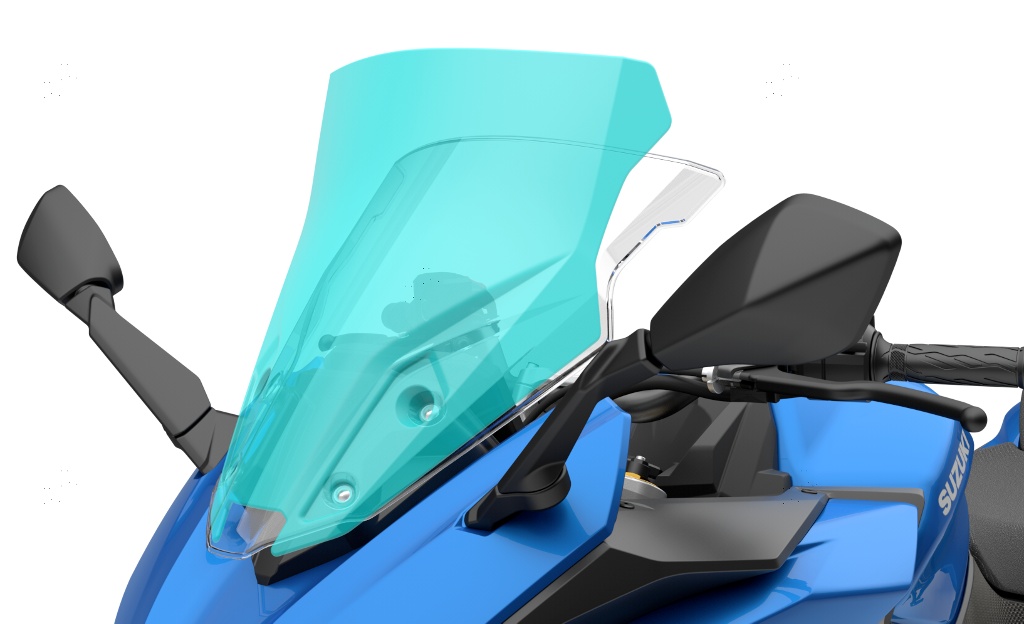 Of course, Suzuki offers dozens of accessories to further customize the GSX-S1000GT for any riding style. Some are designed for the GT, others for a range of models. Among the GT-specific accessories, only the touring screen is worth a closer look. Priced at $170, the touring screen is 70mm taller and a little wider than the stock unit. The extra wind and weather protection is worth the money for regular long distance riders. Keep in mind too that the windscreen on the GT is not adjustable. Look for a complete list of accessories and pricing on the Suzuki website.
advertisement
State of the Art Electronics
A bike this new demands nothing less than the latest in digital instrumentation and connectivity. The GT sports a large 6.5 inch TFT instrument panel that does an admirable job of displaying necessary rider information in highly glanceable fashion.
Start with the virtual analog RPM gauge and digital speedometer that take up the left half of the display. It looks sharp and instantly responds to the slightest twist of the throttle. The right side displays speed, gear position, and other good-to-know information like traction control and engine profile settings. The bezel area on either side of the TFT contains must-have indicator lights for turn signals, engine temp, check engine and oil, high beams, ABS, and traction control.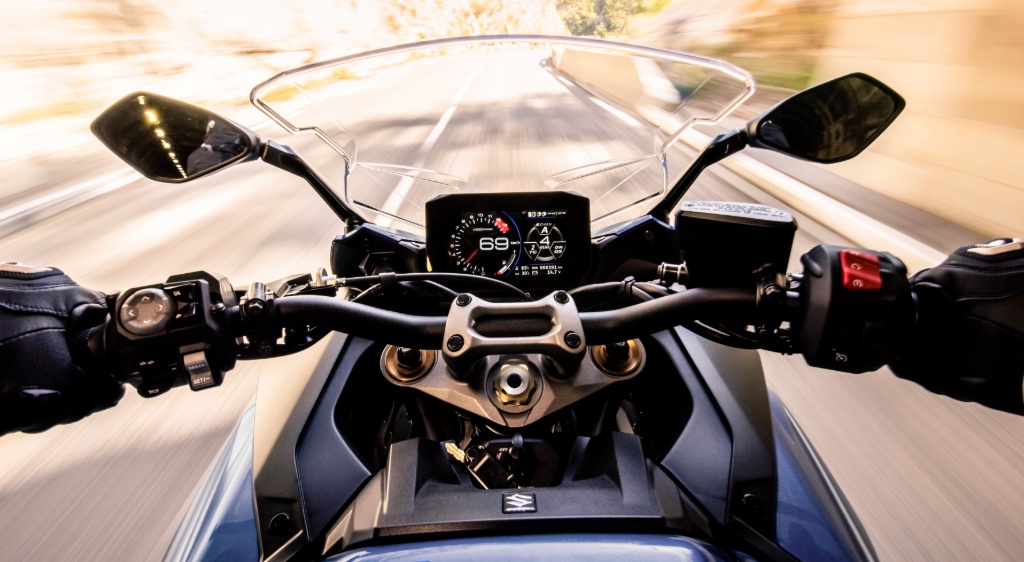 Digital information panels on many sport tourers can get complicated fast with layers of menus and settings controlled by non-intuitive toggle switches. Not the GT. Suzuki put a cleaver multifunction switch near the left grip giving the rider easy access to built-in settings and integrated mobile device functions like music, maps, phone, and even a personal calendar.
The Suzuki MySpin application, available for Android and Apple devices, enables riders to listen to music, access maps and turn-by-turn directions, receive and make phone calls, and view calendar appointments. While MySpin is a good app that integrates the most important smartphone functions it's still not as good as what Garmin delivers with the Zumo XT. Which leads to a conundrum about modern TFT instrumentation. Does one add a stand-alone GPS for these extra functions or live with the trade-off? Eventually manufacturers will sort it out.
Suzuki also took advantage of the electronic throttle controller to add cruise control as standard equipment. But beyond that electronic rider aids are limited – the GT does not offer electronically adjusted suspension, lean-angle sensing, or even an adjustable windscreen. But to be fair, for most riders these may fall into the nice-to-have category. And considering the bike's low price point they seem like reasonable deletes.
Sportbike Riders Take Note
Riders who are ready to move away from pure sportbikes but not sold on the size and handling qualities of larger touring models, will find the GT a good choice. It's lighter than most, promises greater agility, yet offers all the must-have conveniences for long touring rides.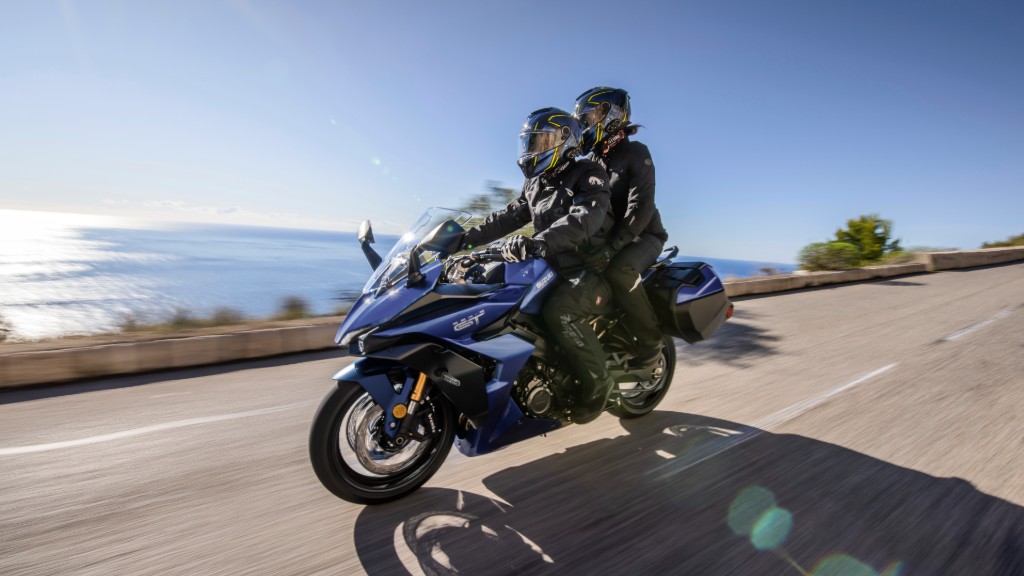 Compare the GT to the Kawasaki Ninja 1000SX outfitted with hard cases for touring; and even then the GT looks like the better sport touring choice given its purpose built for long ride comfort. On top of that, the GT is priced right in there with the 1000SX and can be had for thousands less than the Concours and FJR.
Dealers are experiencing strong demand for this new sport touring bike. We're not surprised to hear that. The Suzuki GSX-S1000GT encapsulates real value for the money making it an ideal bike for sportbike enthusiast interested in longer sport touring rides.
Suzuki is delivering new GSX-S1000GT's to dealer showrooms across the US, but expect very limited inventories. Find current GSX-S1000GT specs and pricing information on the Suzuki website.
Read more about comparable sport touring motorcycles in these articles from American Sport Touring.
All photos courtesy of Suzuki Media Relations.
Click the Thumbs Up or Thumbs Down button to email your feedback.
Your questions and comments help improve American Sport Touring. Your email is not used for any other purpose. Please read our Privacy Policy.