BMW 2022 K 1600 GT Feature Review
If everything good about a Sport Touring motorcycle were poured into a bottle, then the 2022 K 1600 GT would need a very large bottle. BMW Motorrad has always been synonymous with motorcycle touring. But in 2010, the company took sport touring to a whole new level with the introduction of the K 1600 GT. Since that time, BMW continues to add features that make one wonder if there are any limits to the creative genius at work in Bavaria. The 2022 GT is no exception, continuing to push the boundaries of rider comfort, safety, and most of all performance.
Riders looking for a top-notch sport touring motorcycle should not ignore the 2022 BMW K 1600 GT. Somehow, enlightened engineers at BMW keep finding ways to make what was already near-perfect just a little better – proving year after year the pursuit of perfection is endless. And we're glad that BMW has made this their mission.
Let's take a closer look at the 2022 K 1600 GT through the eyes of a Sport Touring rider and decide if this motorcycle is a must have. Engine revisions, improved electronic suspension, and a host of rider aids all make compelling arguments in the court of rider opinion to buy now.
Check the BMW Motorrad site for a detailed, accurate, and always up-to-date list of the 2022 K 1600 GT specs, options, and pricing.
Affordability – Admittedly Not for Everyone
The price of admission is not for the faint of heart. The MSRP for a 2022 K 1600 GT starts at $24,690, including $795 for destination & handling. The silver lining behind that cash cloud is that all the really important 2022 upgrades are included. Spending more on options is – well – optional.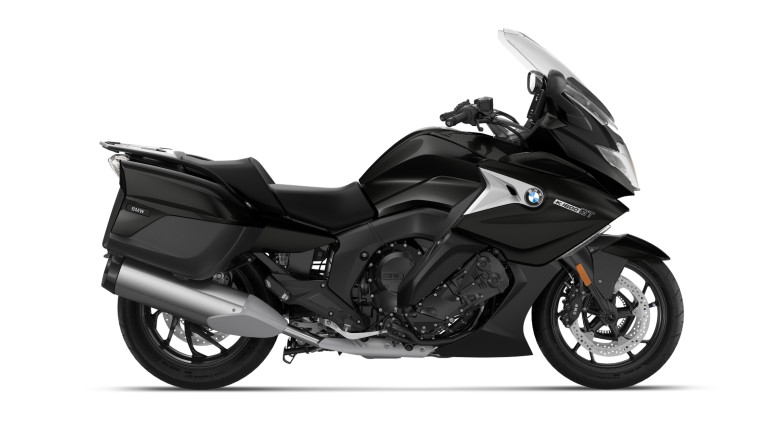 Still want to spend more? Throw in top-of-the-line options and the MSRP jumps up another $5100, bringing the total price (without tax and license) to $29,790.
advertisement
Options – There Are a Few
So what are those options? The 2022 K 1600 GT menu offers mostly cosmetic upgrades ranging from color to convenience. If Black Storm Metallic lacks enough pizazz, choose the nifty Style Sport color option with hints of S1000RR for an extra $595 or consider the even pricier Option 719 Mineral White for an extra $1900. BMW also offers an Option 719 seat (add $250) and forged wheels (for another $1750). These options are a pocketbook decision; either way the bike won't handle any better or go any faster.
Ok, but sport touring riders should carefully consider the Premium Package option. The Premium Package adds more cosmetic and convenience features like engine protectors, keyless ignition, and audio upgrades. But it also includes Gear Shift Assist Pro that makes speed-shifting magical; something sport-oriented riders can't seem to get enough of.
Unfortunately, and a bit maddening, the must-have quick-shift comes with a lot of unavoidable "nice to have" stuff and there's no way to break out the good parts. Bottom line, mentally prepare to accept spending an extra $3000 for the Premium Package to get Gear Shift Assist Pro.
What's new for the K 1600 GT in 2022?
Let's take a look at what the K 1600 GT brings to the Sport Touring experience for 2022. Our perspective pays special attention to the things sport touring riders appreciate most. The BMW Motorrad site makes the latest spec and data sheets available for reference and of course to configure, price, and order the bike of your choice.
Appearance
The 2022 model remains a class leader in sport touring design doing a masterful job of blending the best of sport and touring to deliver an exciting look that is largely unchanged for 2022.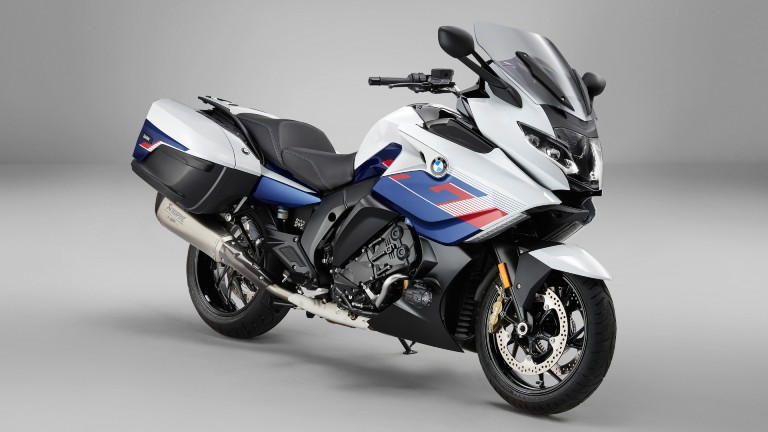 The overall appearance of the K 1600 GT has kept pace with ever-evolving design themes across the BMW Motorrad line. The contemporary look of the GT stands out among K 1600 models. By removing the top-box, using a slightly lower windscreen and raised exhaust, the K 1600 GT hides its touring heft in a sport package.
advertisement
Power and Performance
The K 1600 GT has the same highly regarded in-line six-cylinder engine configuration that has won industry praise since its introduction with the first models in 2010.
While still developing 160HP, the new 2022 engine gets there at a more approachable 6750 RPM rather than 7750 RPM in prior years. That 1000 RPM difference makes full power available in more riding situations.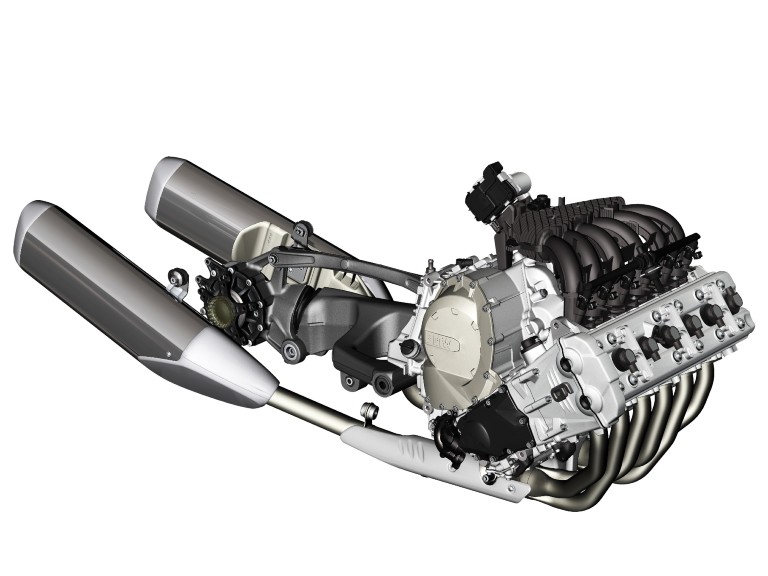 Engine torque, that mystical power to pull out of corners with authority, has been increased from 129 lbs-ft to nearly 133 lbs-ft at the same 5250rpm threshold. For a bike of this size and weight, more torque translating to improved acceleration across the entire speed range is always welcome.
The same well designed 6-speed transmission and shaft-drive deliver power to the rear wheel. The optional Gear Shift Assist Pro is a fun extra. Aside from starts and stops, use of the clutch is optional. The GT handles upshifts faster than humanly possible, and consistently matches engine speed when downshifting.
Suspension and Handling
Notable suspension improvements make a real difference when riding this big sport tourer. First, the next generation Electronic Suspension Adjustment ("next generation" ESA) uses signals from a 6-way sensor box combined with data from front and rear 2-way sensors, to near-instantly adapt to changing road conditions, lean angle, acceleration, and braking.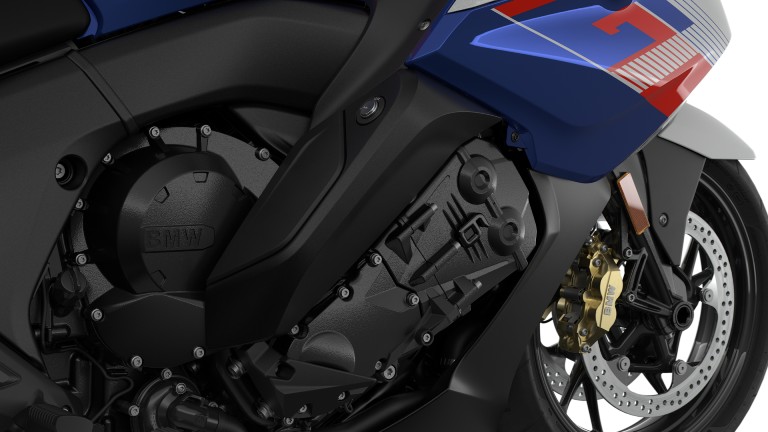 Data from the same sensors are used by the new Engine Drag Torque Control to help avoid rear wheel slip during downshifts.
Of course, BMW gives the rider some control over electronic aids by offering "road" and "rain" riding modes.
These suspension improvements significantly contribute to both better performance and greater safety.
advertisement
Rider Convenience and Comfort
The 2022 K 1600 GT comes with several new features that add to rider comfort and convenience during long touring rides. These are on top of an already impressive list of features from years past.
To start, BMW upgraded the headlights to full adaptive LED. These lights are significantly brighter than before making night riding more comfortable and safer. The adaptive element puts light into the turn ahead of the bike to better illuminate corners. They also adjust vertically to account for the bike's lean angle.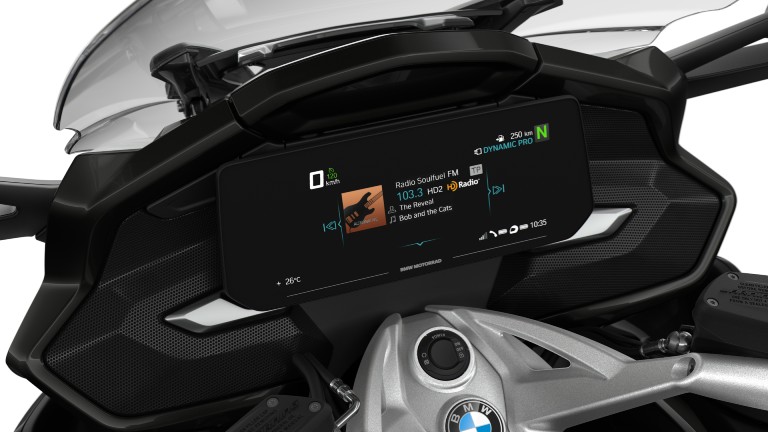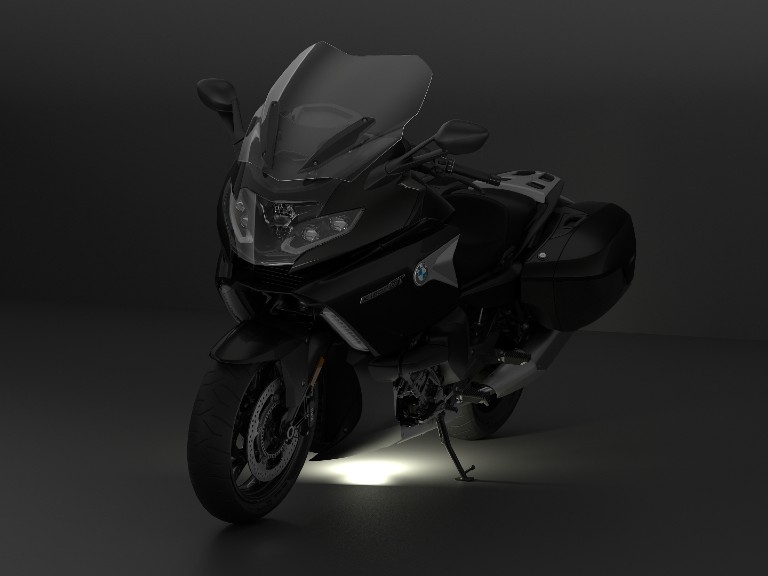 A new 10.25 inch TFT LCD panel completely replaces the few analog gauges found on earlier GTs. This single touch-screen panel provides access to all motorcycle settings when it's not otherwise busy being an instrument cluster. The TFT panel also integrates audio and telephone functions and works with the BMW smartphone app to provide real-time navigation.
The K 1600 now offers "favorite" buttons as standard equipment. This column of four buttons arranged on the left side fairing allow the rider to pre-configure quick access to common functions like audio controls or heated grip settings.
One last innovation that may seem like an over-indulgence is the addition of what appear to be landing lights. This lighting option, included with the Premium Package, illuminates the area directly under the bike making parking in unfamiliar areas a little easier. BMW also tweaked the headlight electronics so lights (front and rear) come on for a period when the ignition switches on, and then stay on for a period after the ignition is switched off. BMW refers to these as "welcome" and "good-bye" lights.
The K 1600 GT has always received high marks for rider comfort and convenience. All the good stuff from prior years plus new 2022 features keep this bike a step ahead of the competition.
When Money is No Object – Opt for the K 1600 GT
A sport touring motorcycle by definition (our definition) must approach sportbike-like power and handling, and yet include sufficient rider comforts to go the distance. This motorcycle checks all the boxes.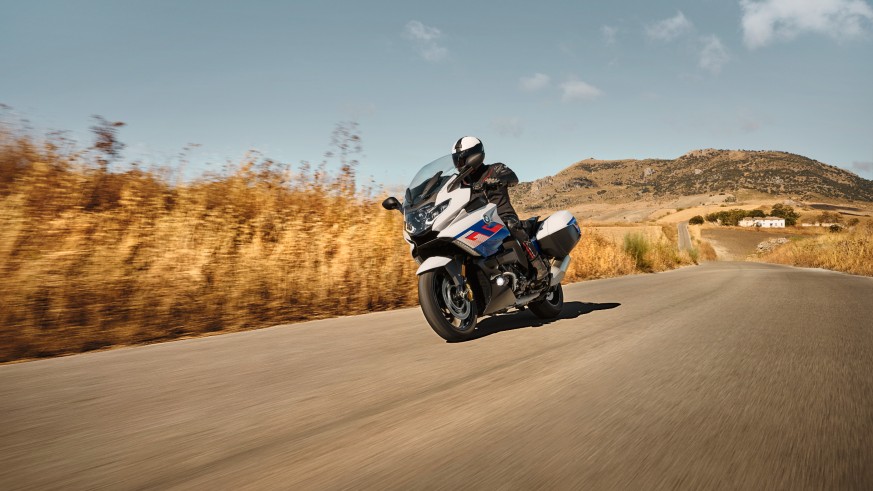 For the money, and that's a lot, there simply is no better sport touring motorcycle on the market today. The BMW Motorrad engineering and build quality found in the K 1600 GT are unrivaled in the industry and matched only by ride-ability and performance.
For everything else you may want to know about K 1600 GT features and specs visit the BMW Motorrad site. Tell them American Sport Touring sent you.
Read more about comparable sport touring motorcycles in these articles from American Sport Touring.
Photos courtesy of BMW Motorrad Media Relations.
Did we hit the mark?
Click the Thumbs Up or Thumbs Down button to email your feedback.
Feedback helps improve American Sport Touring and is never used for other purposes.
Please read our Privacy Policy.