Sport Touring Meets Motorcycle Club
Motorcyclists come in all shapes and sizes and arrive on all sorts of machines. They mostly flock to their own – birds of a feather and all. But what happens when a sport touring rider spends a day with a motorcycle club? Well, that's just what your intrepid author did.
Meet The Hawks
A mutual friend introduced me to the leader of a Harley Davidson motorcycle club based in Dubai of all places. The Hawks. They have chapters in Lebanon and Los Angeles. The group takes an annual ride in some part of the US, and this year they focused on Northern California where we met up in Oakhurst near the south entrance to Yosemite National Park.
All of the Hawks are experienced riders and each looks the part of a canonical Harley riding motorcycle club member right down to leather vests proudly decorated with the club logo. They come from a variety of backgrounds united in their love of riding. A summer trip to California offers relief from triple digit Middle East temperatures where riding is often an after dark affair.
My FJR, not to mention missing leather and patches on my gear, stuck out among the herd like a Palomino trotting alongside Clydesdales. But there I was, tucked in the middle of the pack doing my best to not upset the contented nature of my brothers. Okay then, let's get this ride started.
advertisement
Safety First
Motorcycle clubs are an excellent first step for new riders to learn basic skills and best practices for safe riding. Every riding day begins with a briefing that covers the upcoming roads and route as well as safety reminders for group riding.
The ride leader typically takes a few minutes to give everyone a preview of the roads they will encounter and any conditions that require special attention. For example, steep mountain roads or possible inclement weather. Then the ride marshal reminds the group about hand signals, riding formations, and the like. All important points that help keep a dozen or more motorcycles moving together safely and without bothering other motorists (too much).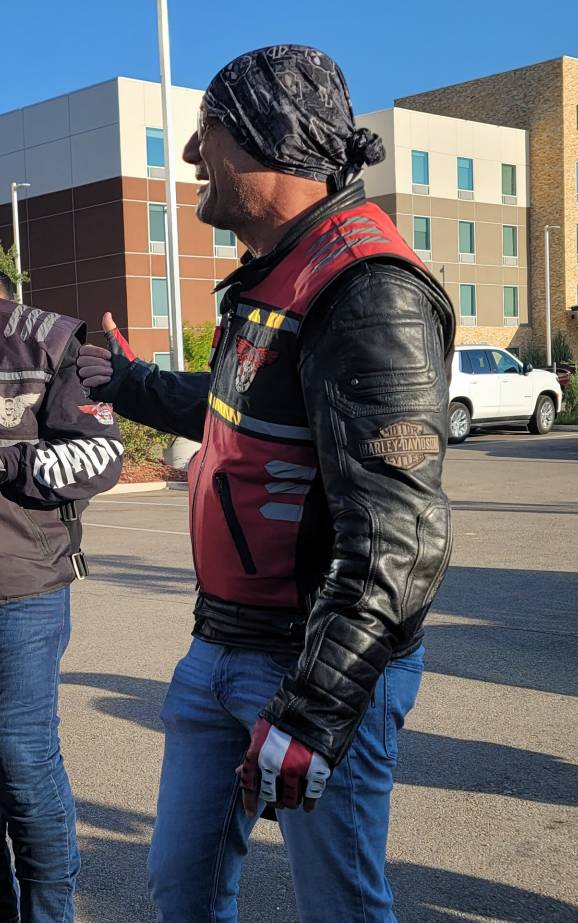 Riders are assigned a position in the group and they stay in their assigned slot for the entire ride. The ride leader tucked me into the middle of the pack, surrounded by experienced club riders, where I'm sure he hoped I would be least likely to muddle things up.
My takeaway – motorcycle clubs focus on enjoying the scenery and each other's company rather than chasing one another through winding mountain passes.
advertisement
Not Too Fast
We've all come up on a group of Harley riders participating in a club ride. They are easily spotted by their comfortable, albeit slow, pace and neatly arranged riding formation.
Speed and group formation, e.g. staggered or single file, are set by the ride leader. Our ride leader was responsible for navigating the route and ensuring an appropriate speed for the road and weather. A good ride leader is confident and not easily intimidated.
At the back of the group, our ride marshal rode with emergency flashers blinking to give approaching motorists a heads up.  To my surprise, approaching motorists waited patiently for a passing zone and none moved into the middle of the group.  Good job tail gunner!
Sometimes a slow pace, at or below the speed limit, is a welcome change for a hardcore sport tourer. The road no longer consumes all of one's attention, leaving time to appreciate passing sights and scenery. Turns out, slowing down can be a good thing.
advertisement
Patience, Patience, and More Patience
The bigger the group the more often the need for stops and the longer they take. That's a given whether riding with friends or with a motorcycle club. The frequency of stops and their duration increases linearly as the group grows. Motorcycle clubs on a touring ride test these limits – stops are both frequent and much longer.
Consider a gas stop in a typical small town with 2 or maybe 4 pumps. A group of 12 riders, each taking 3 to 4 minutes to fuel up means no less than a 15 minute fuel stop. And that's optimistic. Add more time for comfort stops and pictures along the way and a significant part of the day is spent off the bike.
Besides stops, another important thing to keep in mind about motorcycle clubs is that they don't ride fast. That's just seems to be the nature of club riding. Skill is not the issue, good riders can gracefully take a big Harley through the windiest roads. Instead, they just choose to take their time and enjoy the day.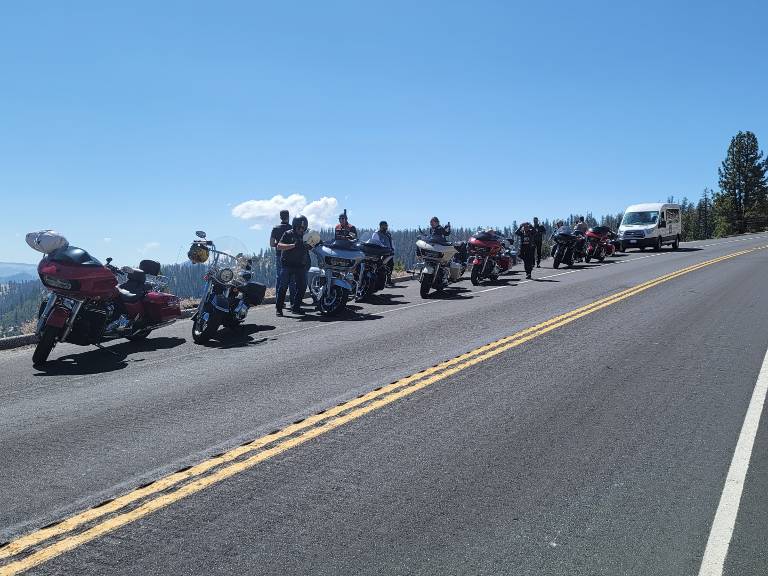 If your priority for the day is riding – and riding fast – a motorcycle club may not be your thing. That being said, sometimes packing extra patience and allowing time to fully admire the natural beauty that surrounds America's backroads is a welcome change.
Sport Tourers Can Get Along with Motorcycle Clubs
If you believe a day on a motorcycle beats a day doing just about anything else, then certainly it follows that riding with a club is better than not riding at all. Sport touring riders can get along with Harley riding motorcycle club members – they just need to slow down and relax more.
Click the Thumbs Up or Thumbs Down button to email your feedback.
Your questions and comments help improve American Sport Touring. Your email is not used for any other purpose. Please read our Privacy Policy.