A Closer Look at the 2022 Yamaha FJR
The Yamaha FJR has maintained its position among the most popular sport touring motorcycles virtually from the time it was introduced over 20 years ago in 2001. In the years since, improvements have been made but fundamental FJR design principles have remained the same. The FJR simply is a nearly perfect example of what a sport touring motorcycle should be – sport-oriented capability balanced with essential touring features. The 2022 FJR continues a long tradition, but that may change as Yamaha contends with more stringent European emission standards and competitors working to make sport touring safer and more accessible using state of the art technology.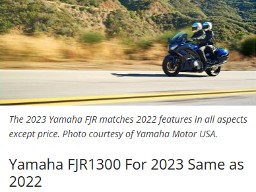 Will Twenty Years of FJR Evolution Come to an End?
This year, 2022, marks the 20th anniversary of the FJR. From its debut, the FJR earned a place as a top-choice for sport touring riders by combining super-sport performance with must-have touring conveniences wrapped in a stylish design that has grown better with age. But that might be about to end.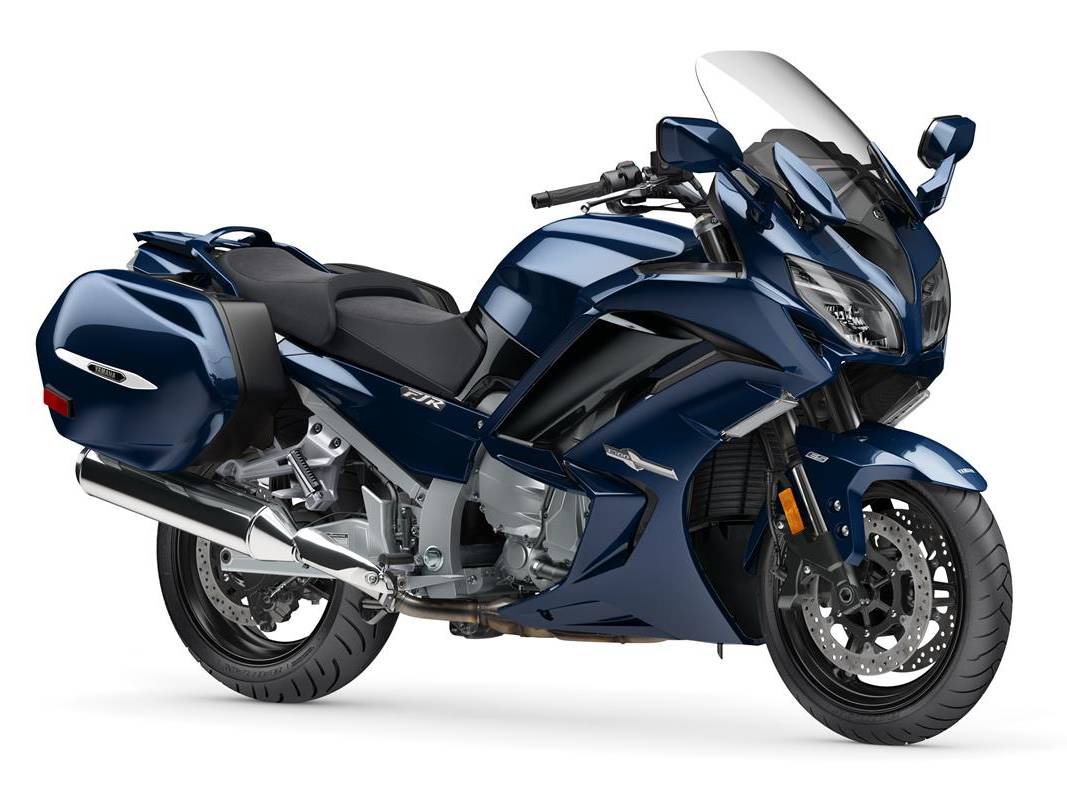 Stricter Euro5 emission standards and relentless innovation from competitors like Suzuki have brought the FJR to a crossroad. Sales in Europe were discontinued in 2020, marked by the FJR Ultimate Edition. This year Yamaha released the 20th Anniversary Edition in Japan, again to commemorate the end of FJR sales in that market. Dealers in the US are unsure where Yamaha will take the FJR after 2022, but the trend does not look promising for a 2023 model. At least not for the FJR as we know it today. We're more than curious and will follow the story.
advertisement
2022 FJR Highlights
A solid value at an MSRP of $18,199 plus destination and freight (together an additional $730), that's $200 higher than last year.
One color choice, Cobalt Blue, which was previously offered in 2016.
Smooth as silk 1298cc 16 valve inline 4 capable of generating an estimated 141HP and 100lb-ft of torque.
Six speed gearbox enables strong acceleration and excellent cruising gas mileage.
Shaft drive with long maintenance intervals is ideal for touring.
Adjustable electronic suspension with 4 preload settings and 3 primary dampening settings each with 7 sub-adjustments.
Big brakes feature dual 320mm up front and a single 282mm rear disc backed by ABS.
Same well-balanced chassis dimensions and set-up from prior years with a total vehicle weight of 642 pounds.
Essential touring features: heated grips, adjustable seat height, cruise control, and color-matched hard cases.
Modern Sport Touring Style
The long and low styling of the FJR has remained near constant through the years with modest refinements that only a hard-core FJR enthusiast would notice. The 2022 models are identical to recent years albeit dressed in bright Cobalt Blue paint.
Yamaha engineers designed the FJR fairing to move air around the rider. Venting above the instrument cluster helps to reduce buffeting and back-pressure. The lower side cowling can be opened to direct warm air from the engine toward the rider for cold-weather comfort.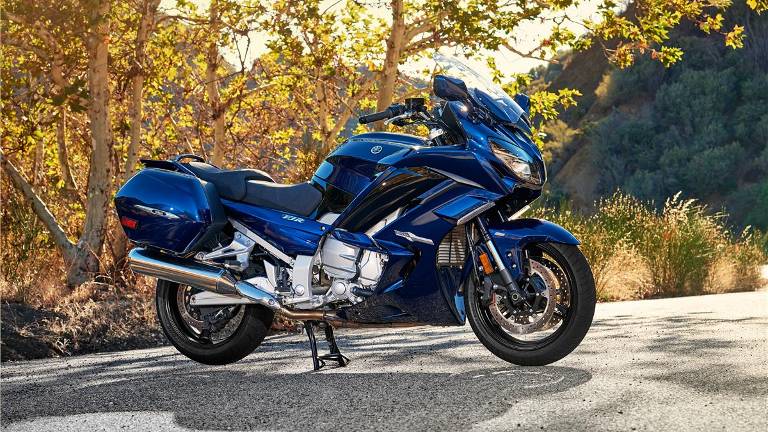 A pair of color-matched side-cases complement the overall design. Their lightweight appearance belies 30 liters of capacity; enough to hold a full face helmet. And when the day calls for more sport than touring, the luggage easily detaches revealing an ample 180/55ZR17 rear tire framed between a distinctive dual exhaust system. Aftermarket slip-on mufflers are available to further enhance the sport look.
In short, everything about the body work evokes sportbike inspiration. This bike looks at home on the track almost as much as on twisty mountain roads. The FJR evokes classic sport-touring design through and through.
advertisement
Sport Bike Performance
Perhaps the most important reason the FJR remains a premier sport tourer has to do with the 1298cc mill that gives life to the entire machine. From the beginning, Yamaha designed an engine that aspired to bring manageable superbike performance to touring riders. The very fact that horsepower and torque have needed only modest improvements over the years is a testament to how well engineered this bike was from the start.
Enough Horsepower and Torque for Any Road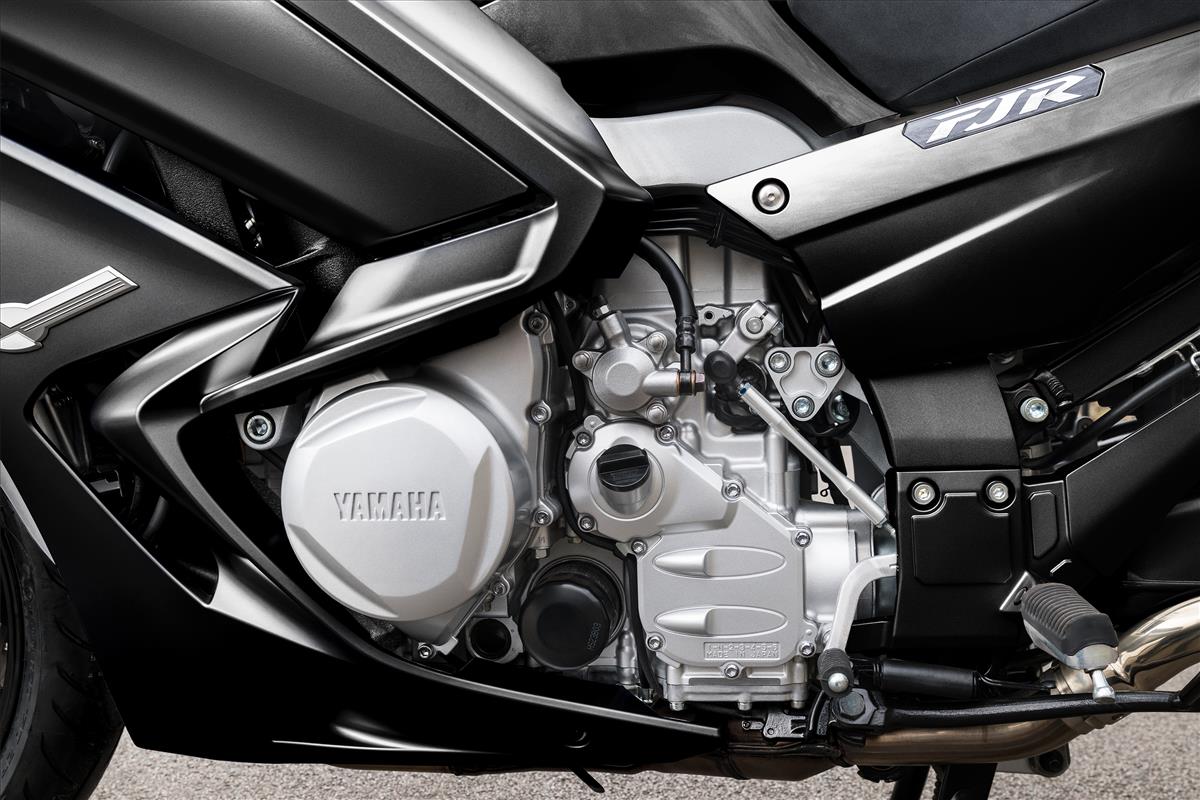 TThe 2022 FJR features the same 16 valve inline 4 pumping out an estimated 141HP and 100lb-ft of torque. That puts the FJR right in step with Suzuki's new GSX-S1000GT (estimated 144HP & 79lb-ft of torque) and the popular Concours 14 from Kawasaki (150hp, 101lb-ft of torque). While horsepower and torque specifications are the lingua franca for motorcycle bench racers, manufacturers are reluctant to share precise data. Consequently, the FJR specs reported here are best estimates based in part on dyno testing. That said, we are highly certain that experienced riders will find FJR performance to be more than enough whether sprinting up a mountain pass or taming a remote canyon road.
In the end, don't let horsepower estimates alone drive your decision, Ride the whole bike and then decide.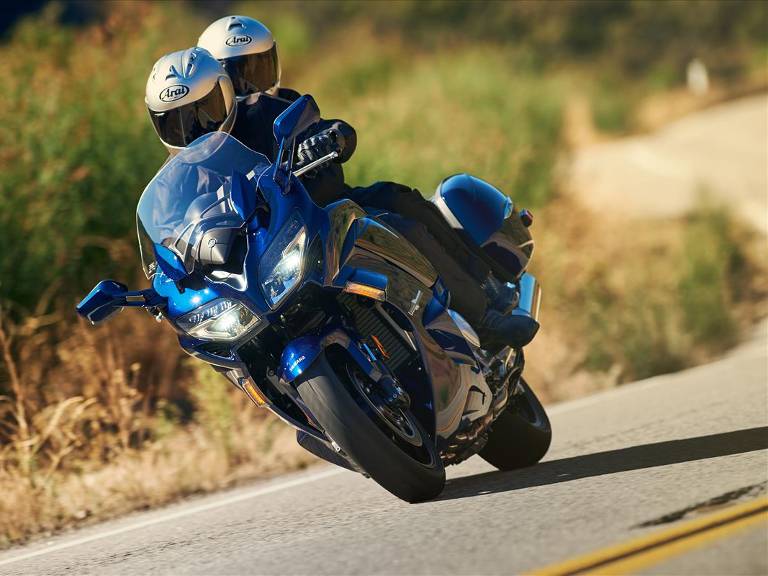 Six Speed Gearbox and Shaft Drive
Looking past the engine to the gearbox, one finds the same smooth shifting 6 speed transmission Yamaha introduced in 2016. As expected, 6th gear is a true overdrive suitable for eking out a little extra highway mileage between fill-ups. Third and fourth gear, occasionally fifth, unleash the real excitement when the engine revs above 5000 RPM toward peak power.
The FJR has always employed a shaft drive to connect power to wheel. For riders on long tours the maintenance-free nature of this set-up remains an advantage even while low-maintenance chains gain popularity.
Electronic Suspension Adjusts For the Load and Road
Don't overlook the 2022 FJR electronic suspension. Menu-driven settings let riders separately adjust rear preload and front and rear shock absorber dampening. Yamaha defined four preload settings: one each for a rider with luggage and without, and one each for a rider and pillion with and without luggage. Preload height adjustment spans three quarters of an inch between rider only and two-up with luggage.
Three dampening settings, each with 7 adjustments allow the rider to precisely dial-in ride quality and handling to suit road conditions. A convenient feature of the electronic suspension system is its ability to remember the last-used dampening setting for each preload setting. For example, if a rider sets preload for two-up riding with luggage and then sets dampening to "soft" with a "+2" adjustment, that same dampening setting automatically takes effect the next time the rider switches preload. In short, each preload setting is paired with the last used dampening setting.
Longest Wheelbase Among Comparable Sport Tourers
One last comment on handling; the FJR rides on a 60.8 inch wheelbase; one inch more than the Concours and 3.3 inches more than the Suzuki GSX-S1000GT. That difference leads to improved high-speed stability but has a knock-on effect of reduced cornering agility. Something to keep in mind if you lean more toward sport riding.
Essential Rider Aids
Every modern sport touring motorcycle features a raft of rider aids, so many that they no longer distinguish one bike from another. The 2022 FJR is falling behind, featuring essential rider aids but no more. Like the Kawasaki Concours, the FJR has not kept up with the latest innovations found on the new GSX-S1000GT from Suzuki. This is just another reason to think 2022 may be the last year for the FJR (and the Concours for that matter).
Essential rider aids on the FJR are traction control and ABS. Over and above that, the 2022 FJR electronic suspension is a plus for adjusting to road conditions. The new lean-angle sensitive lighting lets a rider see farther into corners on those occasions when caught on a twisty road late in the day.
The 2022 FJR includes D-mode (drive mode) which adjusts throttle mapping between sport and touring.  Touring mode increases the degree of throttle twist needed for a given change in RPM, making the bike feel a little less "jumpy" in the city.  Sport mode on the other hand is for everywhere else.  Less aggressive throttle response can help on wet pavement and loose gravel.  While helpful, the performance trade-off is not enough to justify the compromise when traffic conditions subside.  We preferred to keep the bike in sport mode 100% of the time.
advertisement
LCD Instrument Cluster
While other manufacturers are replacing traditional instrument clusters with large TFT panels, Yamaha continues to use a hybrid approach combining an analog tachometer with LCD displays for speed and operating information.
The first thing to catch the eye is the large analog tachometer occupying the left third of the instrument cluster. The dial is oriented to show the 9000 RPM redline at the top making readings easy with only a quick glance.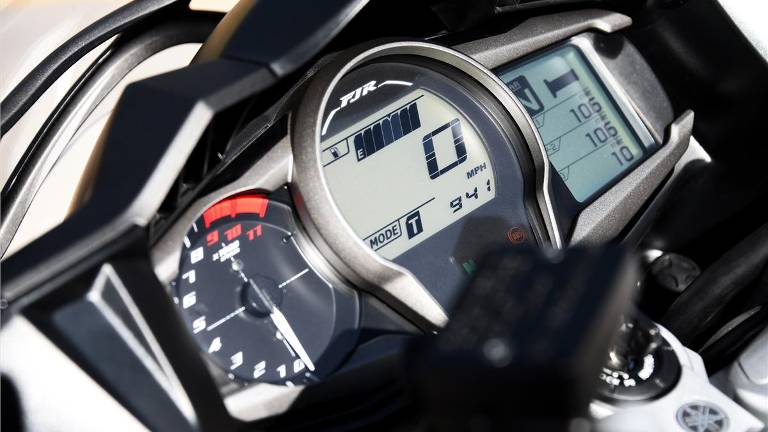 Speed, fuel level, ride mode, and time of day appear in the center-mounted monochrome LCD display. And on the right, Yamaha placed a second LCD panel to display everything else including gear selection and 4 selectable function displays for heated grips, windshield height, suspension preload and dampening. A fifth function display is actually three separate user-configurable displays used to show operating information or ride data such as engine temperature, ambient temperature, fuel range and mileage, and other trip data.
The whole system is mildly cumbersome to configure, but once learned, it is both easy to operate and convenient.
Touring Comfort & Convenience
The 2022 FJR continues to excel in all-day riding comfort. Aside from a new color, the bike remains unchanged from the prior year. A few features that make the FJR a leading choice for sport touring riders include:
A factory seat that stays plenty comfortable through the longest riding day and can adjust to a height of 31.7 inches or 32.5. There's no good reason to purchase the comfort saddle sold on the Yamaha accessory catalog or another custom seat for that matter.
Enough wind and weather protection to ride through most anything mother nature serves up. The fully adjustable windshield rises a full 5 inches from its lowest position to deflect wind and rain when needed. The fairings channel wind and water away from the rider. The grips however are not well protected, making waterproof gloves a necessary bit of gear.
Plenty of cargo space. The color and key matched hard cases have a 30 liter capacity, enough to hold a full face helmet. Yamaha includes interior liners at no extra cost, unlike their competitors. A small tail rack comes in handy for carrying extras such as a motorcycle cover.
A balanced riding position. The FJR can support whatever riding posture suits the mood. The bars are sufficiently high for mostly upright seating, but angle slightly downward to make a forward lean just as comfortable. In addition, the handlebars can be repositioned forward or back to further accommodate rider preference. The owner's manual describes the handlebar adjustment as a dealer service item, but in reality the procedure is straightforward enough for most do-it-yourselfers.
Heated grips for cold weather riding. And a convenient power outlet for heated gear in the left fairing storage compartment make long riding seasons possible. But the FJR has one more sometimes overlooked feature for those times when the temperature drops. The cowling has built-in vents that open three-quarters of an inch to direct warm air from the engine to the rider's legs. Unfortunately operating the vents is a bit cumbersome which for most makes this a one-time seasonal adjustment rather than something done in reaction to unexpected weather.
The FJR carries 6.6 gallons of standard grade fuel, giving it about 240 miles between stops (using Yamaha's 36MPG estimate).
And finally, the FJR comes standard with an accurate and simple to operate cruise control system for those long stretches of highway.
Useful Accessories
The 2022 base model FJR is a complete package as delivered. There really are no "must have" accessories or options; nevertheless, there are a few worth mentioning.
Custom Motorcycle Cover
To start, take a look at the custom Yamaha motorcycle cover specifically fitted for the FJR. As we've said before, a cover offers protection from weather and equally helps deter thieves. Riders who envision touring should investment in a cover. And while the Yamaha cover is custom fitted, there are other good choices. Before making a decision read How to Pick the Right Motorcycle Cover.
No-cut Frame Sliders
Yamaha also offers a no-cut frame slider kit for the FJR. Frame sliders help protect the motorcycle frame and bodywork in the event of a low-side crash. This no-cut kit from Yamaha is easy to install but not as strong as sliders mounted directly to the frame (and requiring minor fairing modification). To learn more read What You Need to Know About Frame Sliders.
Freer-flowing Mufflers
One other modification many FJR riders opt for is to replace the stock mufflers with an after-market system to create a deeper exhaust sound, reduce overall weight, and improve performance. Yamaha sells Yoshimura slip-on mufflers that feature a custom FJR logo. A wide variety of easy-to-install aftermarket slip-on mufflers, each with their own exhaust note, are available for the FJR from Akrapovic, Two Brothers, and of course Yoshimura to name a few.
The Bottom Line
This may be the last year for the FJR as we know it. Yamaha discontinued the FJR in Europe in December 2019. The 20th Anniversary Edition released in February 2022 was widely seen as marking the end of the line for the Japanese market. Which leaves us here in the US with the good fortune to make the most of what is likely to be the last year of FJR production.
Dealers are receiving new FJRs, but with irregular and unpredictable delivery. Those hoping to own a new 2022 are well advised to contact a dealer to secure a place in line.
Some might choose to wait for whatever comes next from Yamaha, but that shouldn't stop buyers from taking a close look now. Anyone ready to move up to sport touring or trade-up this year will find the 2022 FJR packed with performance and touring features wrapped in a modern design that will delight riders for years to come.
Find additional FJR specs and dealer information at Yamaha Motorsports online.
Read more about comparable sport touring motorcycles in these articles from American Sport Touring.
Photos courtesy of Yamaha Motor Corporation USA.
Click the Thumbs Up or Thumbs Down button to email your feedback.
Your questions and comments help improve American Sport Touring. Your email is not used for any other purpose. Please read our Privacy Policy.