What You Need to Know About Frame Sliders
Motorcycles by nature have a tendency to tip over, and pretty much always in a bad way. Frame sliders are a simple add-on that help reduce damage in drop situations and even in some crash scenarios. But how beneficial are they? Do they work better than crash bars? And how hard are sliders to install?
Let's take a look at these and other questions about frame sliders so you can decide if they are right for you. This article focuses on the needs of street riders, but may help those who do occasional track days as well. Adventure riders on the other hand should avoid frame sliders all together and instead consider crash bars.
What is a Frame Slider?
Frame sliders are a device designed to absorb impact and keep the motorcycle frame and engine parts off the ground in the event of a drop or slide. They consist of a protrusion, referred to as a bobbin or puck, extending outward from the motorcycle frame and attached by a single mounting bolt or in some cases a bracket.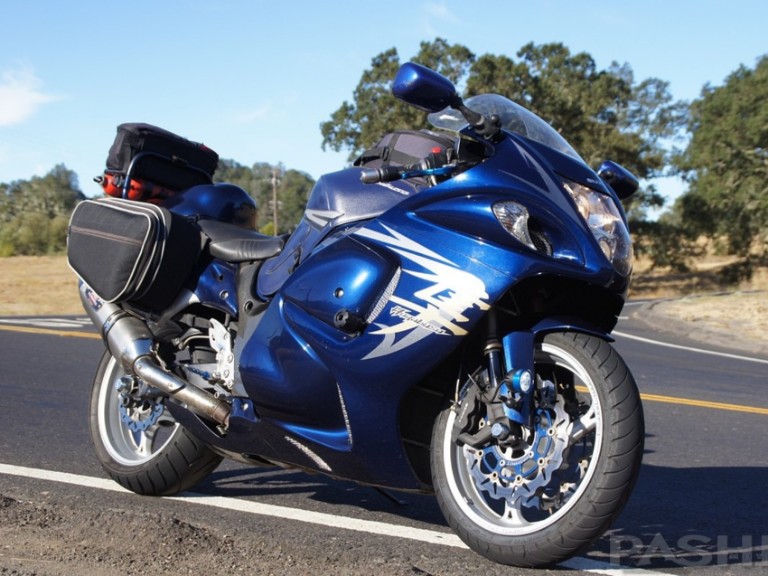 Manufacturers use a combination of aluminum, machined steel, and high-density nylon, polyethylene plastic, or Delrin for the bobbin or puck surface area. The material is intended to wear down in a slide and help slow the bike while avoiding snags that can cause the motorcycle to flip over. Replacement bobbins and pucks are available for most frame slider brands. The bolts that attach the slider to the frame are made with a de-embrittled steel that helps prevent them from snapping on impact.
Engine and frame configurations differ by motorcycle, consequently sliders are designed to fit specific motorcycle makes, models, and years. The Engine and frame configurations differ by motorcycle, consequently sliders are designed to fit specific motorcycle makes, models, and years. The length of the slider is also specific to the motorcycle as are the mounting brackets and bolts. Manufacturers look for a slider length that balances protection with the lowest risk of causing the motorcycle to summersault in a crash. Track riders choose shorter sliders to avoid sending the motorcycle cartwheeling in high-speed slides. Street riders however will optimize for fairing protection if the motorcycle is dropped and for protection in low speed slides.
advertisement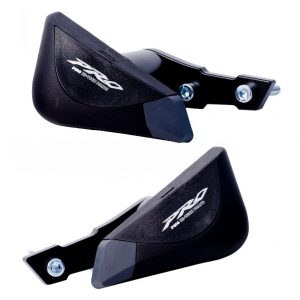 Frame sliders come in two types– cut kit and no-cut. Cut kits, as the name implies, require light fairing modification; basically a hole for the slider to mount to the frame. No-cut sliders by contrast use a bracket attached behind the fairing to create a mounting point for the slider at an existing opening.
How the slider mounts to the frame matters. In a crash situation, sliders that attach to the frame directly (cut kit sliders) provide maximum strength and distribute the force of an impact better than those mounted on brackets (no cut). Either approach provides adequate engine and fairing protection if the motorcycle is dropped.
One last design point. While not discussed in this article, and less commonly used, frame sliders that One last design point. While not discussed in this article, and less commonly used, frame sliders that mount under the fairing are also available. Once installed there's no change to the outward appearance of the motorcycle, but of course no fairing protection either. The frame however is protected. This style of slider may be a good choice for track riders who don't mind replacing a fairing or two now and then.
Do I Need Frame Sliders?
Whether one needs frame sliders or not is a question each rider has to answer himself or herself. The honest answer is it depends on riding style, aversion to risk, and design preferences.
In the final analysis, every crash is different – there are an infinite combination of variables at play – making outcomes impossible to predict. Frame sliders won't prevent a crash, but they can improve the odds of riding home.
Aggressive riders who do occasional track days should seriously consider adding sliders. The cost/benefit ratio is pretty good for this group. Aggressive riders who do occasional track days should seriously consider adding sliders. The cost/benefit is pretty good for this group. Everyday street riders should consider the likelihood that they may drop their bike sooner or later. Or imagine the probability of a low-side crash. Sliders not only protect the fairing, but also help avoid cracked engine casings.
advertisement
Here are a few considerations that may shape your decision.
Drop protection. If your first priority is to prevent fairing scrapes and scratches, then frame sliders offer good protection on those occasions when a bike gets knocked over or dropped. They are also beneficial in low-speed low-side crashes. Beyond that, and sometimes even then, the unique circumstances of any crash make it hard to predict the actual protection afforded.
Risk of flipping. A motorcycle will remain on its side in a slide unless a part snags the ground. Frame sliders by design raise the angle of the bike, which in turn increases the possibility of catching and flipping over. Shorter sliders reduce this risk.
Ankle injury. While not an advertised benefit, there are plenty of instances where having the bike supported by a frame slider saved a rider from serious ankle injury. In the nearby pictures notice the rider's ankle is caught between pavement and motorcycle frame as the bike begins to low-side. In the next frame the rider has pulled free and the motorcycle continues on the frame slider. Again, every crash is different, but at least in this situation the rider avoided an ankle injury.

Crash bars. Crash bars offer more complete fairing and engine protection given they are larger and wrap around the motorcycle extremities. However, crash bars are also very conspicuous and can make an aerodynamic sport tourer look like its ready for the Darfur Rally. Rugged crash protection looks great on adventure bikes but loses some of its appeal on sportier bikes.
Installing Frame Sliders
Almost anyone with basic mechanical skills can install frame sliders using common tools. Start by purchasing a quality set of frame sliders designed specifically for your motorcycle make, model, and year. Selecting a kit designed for your bike is critical for a successful install.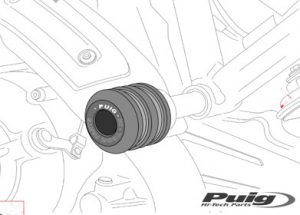 Installation generally goes as follows:
Remove the fairings from both sides of the motorcycle, and also any other body parts that may get in the way of the mounting points.
Sliders typically attach at the front or rear engine mounts and may use additional spacers to compensate for recessed bolts.
For no-cut sliders, attach the mounting bracket using the supplied bolts (do one slider at a time to avoid engine sag); for cut sliders, locate the correct mounting bolt and then use a high-speed step bit or fine-tooth hole saw to cut into the fairing allowing the slider to pass through.
Torque down all mounting bolts according to OEM specs.
Repeat on the opposite side.
Re-install the fairings and other body parts and you're ready to go.
These steps give an overview of the typical process. The instructions included with the slider kit for your motorcycle will have specific details. Take a look at the many Youtube how-to videos as well.
advertisement
What Brand To Buy?
A wide variety of frame sliders are available on the market today. Styles range from traditional round sliders to aero shapes, with prices running from a low of about $60 all the way up to $250 for a set. Be aware that some brands offer replaceable bobbins or pucks priced individually at a little less than half the cost of a full set.
Start with a brand that makes a slider kit designed for your specific motorcycle make, model, and year. Some manufacturers offer both cut kit and no-cut options for the same bike. Cut kit sliders are strongly recommended, even though installation requires small fairing modification.
Not surprisingly, there are fewer slider kits to choose from for sport touring bikes than for sportbikes. Choices are even more limited for larger sport tourers like the BMW K1600GT.
Check with major motorcycle accessory retailers like Revzilla, Sportbike Track Gear, and Cycle Gear. Look for products from quality manufacturers. Each of the recommended brands below are track proven and made with the highest quality material.

American Sport Touring makes product recommendations independently based solely on product quality and value. American Sport Touring does not accept compensation of any kind in exchange for product recommendations.
| | |
| --- | --- |
| | Located in Hampshire England, R&G Racing was named after its two founders Richard and Gene. The company started with aerospace and Formula One products before moving to motorcycle crash protection in 1999. Today R&G focuses entirely on design, manufacture, and distribution of motorcycle accessories. The company is deeply involved in racing both in Britain and in the US. |
| | SW-MOTECH is a leading supplier of motorcycle accessories, headquartered in Rauschenberg Germany with US offices in Portland Oregon. SW-MOTECH was formed in 1999 by a small group of motorcycle enthusiasts who focused on rugged accessories and crash protection. BMW, Kawasaki, Yamaha, Suzuki, and others also use SW-MOTECH for original parts. |
| | Puig Hi-Tech Parts is headquartered in Granollers Spain, and was organized in 1964 to manufacture industrial plastics starting with motorcycle fairings. Today the company designs and develops a range of products trusted by professional riders and motorcyclists worldwide. Puig is active in MotoGP and World Superbike racing. Puig maintains a US office and warehouse in Orlando Florida. |
| | T-Rex Racing is a family-owned company, formed in 2001, and located in Dallas Texas. The company's first products were frame sliders, but now include a substantial motorcycle accessory catalog. T-Rex does its own product design. Motorcycle owners are invited to lend their bikes to T-Rex Racing for product design and fitment in exchange for free gear. Check their Bikes Wanted page for details. |
While cheaper parts are out there, it's best to avoid inexpensive unknown brands. Do the research, check manufacturer websites, and read customer reviews. Product quality is difficult to assess in the best of circumstances, don't wait until the moment of truth to find out the sliders you counted on were not up to the task.
The Decision is Yours
Frame sliders offer inexpensive, easily installed protection against fairing damage caused by drops and minor crashes. They also help in more significant crashes; however, the more severe the circumstances the less certain the level of protection. As a side benefit, sliders might even prevent or reduce the severity of ankle injuries.
For additional motorcycle protection also consider installing axel sliders and bar end sliders.
Special thanks to…
Click the Thumbs Up or Thumbs Down button to email your feedback.
Your questions and comments help improve American Sport Touring. Your email is not used for any other purpose. Please read our Privacy Policy.