Cardo Packtalk Bold Motorcycle Comms System
Updated for the 2022 riding season.
Cardo Packtalk Bold in a Nutshell
Cardo Packtalk offers the best combination of useful and reliable features for solo riders and groups from 2 to 15. We first reviewed the Packtalk Bold in 2020, and today it still lands at the top of our list for motorcycle communication systems. Here's why in a nutshell…
Easy set-up and pairing with personal devices like a phone, music player, and GPS unit, and of course connecting with other riders as well.
JBL speakers are top notch; but riders can easily switch to earbuds using the included 3.5mm headphone jack.
Group riders can spread out up to 1.5 miles apart and still talk with one another, and should a rider go out of range the system seamlessly reconnects with the group when the rider returns.
Battery life is sufficient for a full day of riding (8 to 9 hours), but largely depends on the amount of group conversation; by contrast listening to music or the built-in FM radio draws less power.
The Packtalk comes in three models – Slim, Bold, and Black. Ignore the Slim. It's virtually the same as the Bold in every way including price, but with slightly less communication range. Instead chose between the Bold and Black.
If bigger speakers matter, choose the Packtalk Black which comes with 45mm JBLs, the Bold (and Slim) ship with a 40mm set-up.
All models are durable, glove-friendly, weatherproof, and highly reliable which means the 2 year warranty on the Bold and Slim and 3 years on the Black are more than enough to cover your investment.
Read the full story for an in-depth look at Packtalk features and capabilities.
Read about the new Packtalk Edge in the article Cardo Packtalk Edge Essentials.
Packtalk Leads in Motorcycle Communication Systems
Riders have often asked if bike-to-bike communication systems actually work. The real question might be "are motorcycle comm systems useful?" Our experience emphatically demonstrates they do in fact work and comms are essential for group rides and even when riding solo. There are a number of good systems on the market which may create confusion for anyone considering options. We'll spend a few minutes talking about motorcycle comm systems generally and then specifically look at the features and capabilities of the Cardo Packtalk.

Reviews published on American Sport Touring are conducted independently and without bias. American Sport Touring does not accept compensation of any kind in exchange for product reviews.
Three Features That Define Motorcycle Communication Systems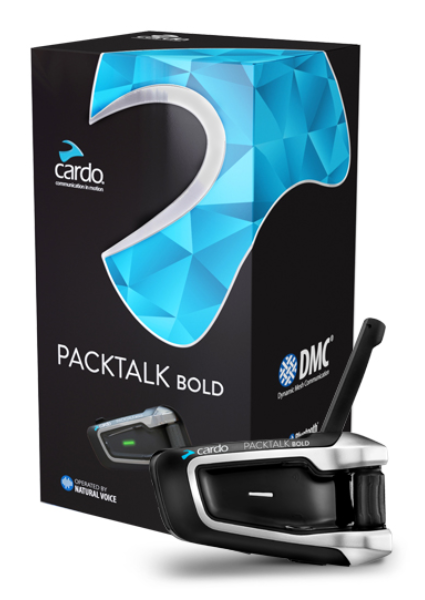 A motorcycle communication system performs three major tasks. First and most importantly, it enables riders to communicate with each other and with a pillion. In the early days communication systems used walkie-talkie radios connected to a hub device that in turn connected to a headset that relied on a push-to-talk button to manually open and close the voice channel. These units, from companies like StarCom1 and AutoCom, were effective and had good range depending on the walkie-talkie. And since walkie-talkies use radio signals to communicate, they don't need line-of-sight between riders – a feature that matters on twisty canyon and mountain roads. On the other hand, these systems were hard to install, required separate walkie-talkies, a common channel setting, and occasionally were interrupted by side chatter from RVs and other motorists using the same channel. Today, most communication systems use Bluetooth technology to connect over a private link that only invited group members can join.
Modern Bluetooth systems have limited rider-to-rider communication range so manufacturers integrated daisy-chaining technology to extend coverage for group riding. In effect, the system supports greater end-to-end distance between riders by using each as a relay between others in the group. This chain can extend up to the number of supported connections (15 riders in the case of Cardo Packtalk).
The second feature found in most motorcycle communication systems is the ability to play music when voice communications aren't active. Once paired the system allows the user to control music from a smartphone or other music player like the Garmin Zumo XT GPS. The Cardo system automatically pauses or lowers the music to a background volume during phone calls or group conversations.
The third important motorcycle communication system feature is the ability to make and receive phone calls hands-free using a paired smartphone. These systems typically let riders add contacts to speed dial, or perform voice searches in the smartphone contact list.
advertisement
Cardo Packtalk Includes Everything For Easy Installation
So let's take a look at the Cardo Packtalk BOLD. Packtalk BOLD offers all three important features expected in a motorcycle communication system and has the best user interface that we've tested. Everything one needs comes in the box including great sounding JBL speakers, a button mic and a boom mic to work with any helmet configuration, plus decent installation, configuration, and operating instructions.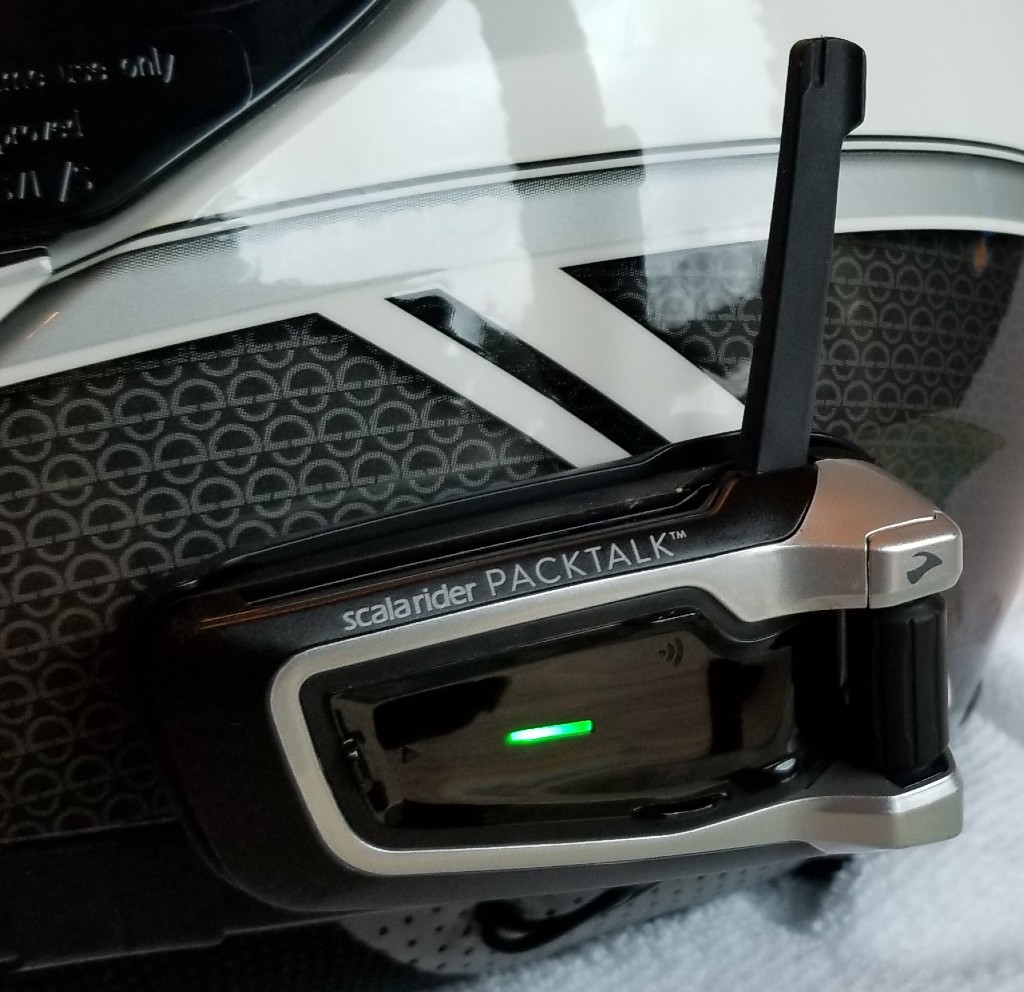 Installation is easy and straightforward – the entire system attaches to the helmet. Unlike older systems from StarCom, there's no wiring on the bike at all. The Packtalk either clips on between the helmet shell and neck roll, or can be glued on with the included adhesive pad. After installing Cardo on several helmets, full face and three-quarter styles, the adhesive pad seems to work best. The speakers fit nicely in the ear recesses without causing pressure (this is a helmet-specific thing of course). Cardo includes spacer pads to adjust speaker placement. Microphones attach with adhesive Velcro strips. All the wiring is easily routed under the helmet liner and through the neck roll to the Packtalk unit itself.
Instructions for pairing the Cardo with a smartphone and GPS are straightforward. We'll get to pairing with other riders in a minute.
The User Interface Takes Practice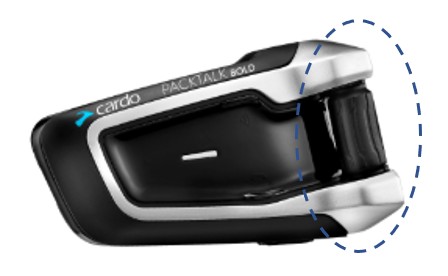 Working the Packtalk requires some mental and physical acuity. The buttons are small but with practice easy to find and operate. The roller wheel takes the most practice. This clever piece of engineering controls volume which seems intuitive, but the wheel also accepts gestures to perform other tasks. For example, a fast back-and-forth roll will mute the device, or a press and roll causes the FM radio to scan stations. Other buttons perform actions to skip music tracks, make or answer phone calls, and so on.
Expect to spend time learning how to use the controls, but soon enough recognizable patterns emerge, showing the logic behind Cardo's design.
Packtalk Has The Important Features And More
Group communication is Packtalk's lighthouse feature. Unfortunately, the instructions for selecting a group communication mode and pairing with other riders are a little confusing. Don't be discouraged if it takes a couple attempts. But once set-up the system reliably connects group members, even after months between rides.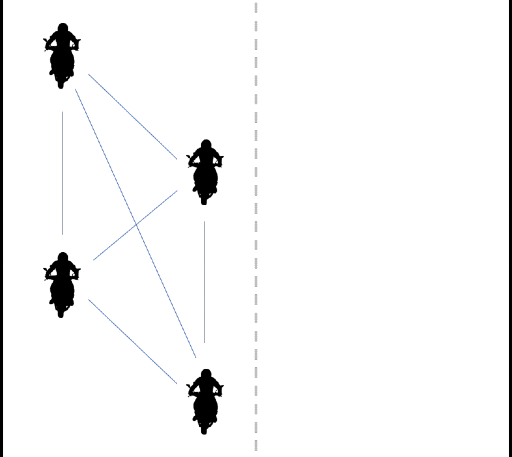 Packtalk delivers the highest fidelity bike-to-bike communication when riders are within line-of-sight of each other. Our testing found that even when separated by as much as a mile and stretched up to 5 miles front to back, communication remained consistent and clear.
Talking with other riders is completely natural – no need to press any buttons. In fact the experience is as if everyone is in a virtual room where they can share the ride in real time. Even when enjoying music, the system politely lowers the volume while others are talking and then brings the music back when the conversation has ended.
Music playback requires a paired smartphone, GPS, or other Bluetooth device. The music controls are all built into the Packtalk. After some practice they're pretty easy to manage. We found the built-in FM radio especially useful in urban areas for traffic updates, weather, and other news.
Phone calls are just as easy, but again require some practice with the Packtalk controls.
The Packtalk includes many other features to explore. For example, a top-notch rider-to-pillion intercom system. And the ability to work with communication systems from other manufacturers.
advertisement
A Few Suggested Improvements
We really like the Cardo Packtalk, but there are a few issues to be aware of. First, the clip-on bracket does not leave the unit flush with the helmet. The self-adhesive bracket provides a better fit. Regardless of mounting bracket and depending on helmet design, the unit may cause extra wind noise at higher speeds.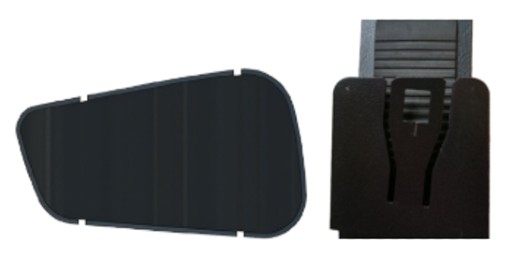 The wheel control takes getting used to. Jogging and pressing it just right takes practice. We like the dial interface on systems from Sena better.
The multiple communication modes between DMC (dynamic mesh communication) and non-DMC seem unnecessarily confusing. Cardo should improve their documentation to better explain why and when to use these modes.
And lastly, connecting a non-Cardo device works, but not very well. The non-Cardo rider does not have the same group conversation features. And we found that keeping the non-Cardo device connected to the group was unreliable. To be fair, that might be a problem with the non-Cardo device.
Cardo Packtalk is Ideal for Group Rides
On balance we highly recommend the Cardo Packtalk. We've tried multiple generations and brands of bike-to-bike and rider-to-pillion communication systems. Cardo has all the must-have features, and the few shortcomings we found don't seriously get in the way.
It's truly amazing how many innovations Cardo baked into this product. Aside from greater communication range, we're not sure how they make the product better. For now Packtalk is the motorcycle communication system to beat.
Click the Thumbs Up or Thumbs Down button to email your feedback.
Your questions and comments help improve American Sport Touring. Your email is not used for any other purpose. Please read our Privacy Policy.