Top 3 Qualities of a Sport Touring Motorcycle
How many times have you been asked to explain sport touring? And how many times have you found yourself stumbling for a clear answer? Probably a lot. That's because there may be no definitive answer to the question "what is sport touring". For sure sport touring happens when a rider takes a motorcycle off the highway and through America's lightly traveled backroads. A truly satisfying answer however has to account for the interplay of rider, motorcycle, and road choice.
The Evolution of Sport Touring Motorcycles
Sport touring is a relatively new motorcycle genre. Sometime back in the seventies motorcycle manufacturers recognized that riders were creating their own ways to bring along the stuff they need for rides that last days at a time. A clear emerging business opportunity.
And with that, manufacturers formally introduced models mixing the best of their sport bikes with the advantages of a touring bike. They could see riders were already crafting their own sport touring bikes using makeshift panniers and aftermarket products. It took a surprisingly long time for major manufacturers to jump in. First mover was BMW, and others pretty quickly followed. Today, most major makers offer a sport touring model although performance and comfort vary, sometimes a lot. No doubt riders have many choices.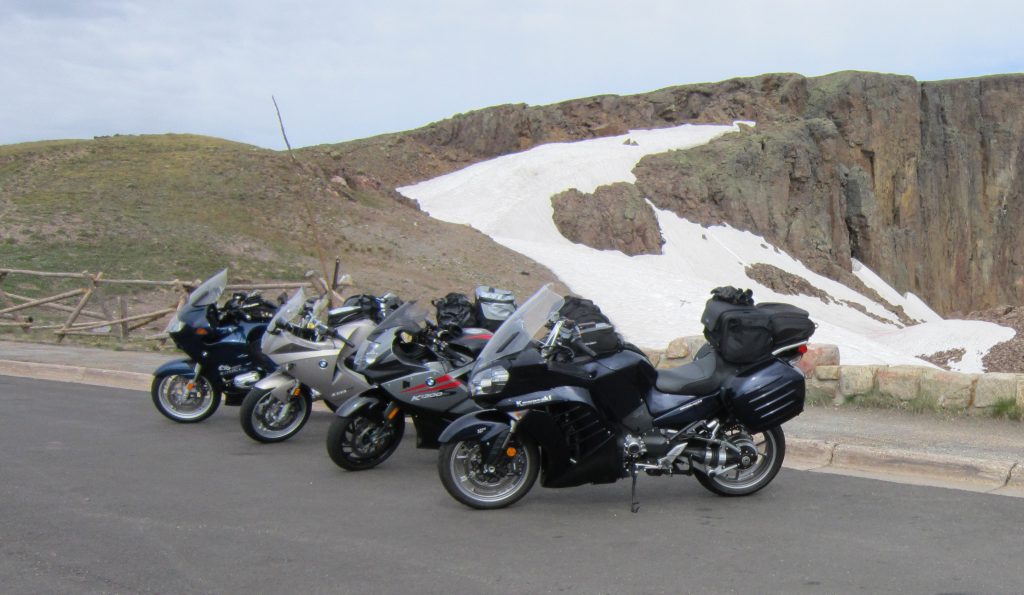 It Takes More Than Panniers to Make a Sport Tourer
People might think anyone riding a motorcycle with saddlebags or a bedroll is a sport tourer. But not so. Remember Michael Parks in "Then Came Bronson"? Even though he packed a bedroll, Bronson was more like a vagabond-traveling cowboy-like guy riding the west with an attitude (watch the Then Came Bronson opening). And even Wyatt (Peter Fonda) in Easy Rider was a more like a touring rider. They went the distance, but without an inner hooligan attitude to really attack corners. Sport touring riders know what happens when a rider takes a mostly comfortable, kinda big, sport bike off the highway and through America's lightly traveled backroads.
A truly satisfying description of sport touring has to address the interplay of rider, motorcycle, and road choice.
advertisement
The Sport Touring Rider
So what about the rider? To begin with, anyone can be a sport touring rider. It's a choice. Some riders put emphasis on sport riding. For them, sport touring means carving canyons all day, catching some rest, and doing it again the next day. If they see any scenery at all, it just fills the time between twisties. Otherwise there's only road ahead and setting up for the next corner.
And then some riders are all about touring but they don't need the cup holders that come on a big touring machine. These riders care about riding first, enjoying great scenery, and when the mood strikes attack particularly inviting corners. But generally it's all about the ride. These guys and gals ride all day too, they trade stories at night, and they do it again the next day and for days after that.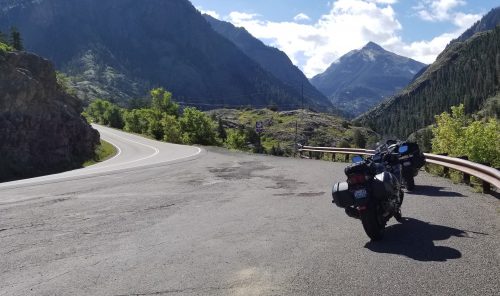 It seems reasonable to conclude that the answer to what is sport touring depends very little on rider or riding style. A sport touring ride likely has times when one style or another work best and is most comfortable. Sport touring is really defined by the choice of motorcycle and roads.
Three Defining Qualities of a Sport Touring Motorcycle
What makes a sport touring motorcycles? It comes down to three defining characteristics. Without all three you have either a sport bike or you have a touring machine. But you don't have a sport touring motorcycle.
Magic ingredient number one, the engine. The engine in a sport touring bike typically has a performance pedigree. For example, the amazing power band that the Kawasaki Concours 14 delivers comes from a Ninja ZX-14R derived engine. Even though Kawasaki re-tunes the engine for low-end torque and manageability, it's still a performance engine at heart. It gives the C14 great acceleration out of corners even with a week's worth of luggage in tow.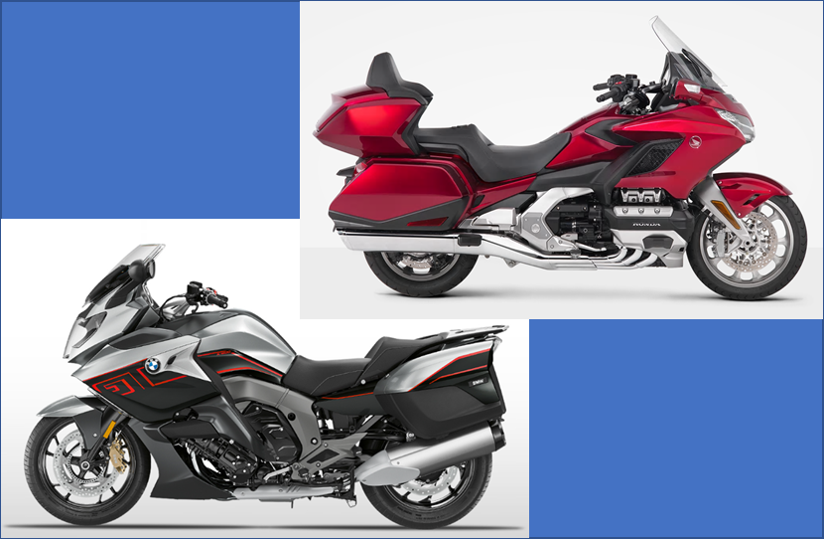 Next, take a look at the suspension. Sport touring motorcycle engineers incorporate less rake and trail, more like a sport bike, to give riders easier and faster turn ins. The Yamaha FJR 1300, a canonical sport tourer, has 26 degrees of rake and 4.3 inches of trail. That falls pretty close to the mid-point between a Suzuki GSX R1000 sport bike at 23.2 degrees of rake and 3.7 inches of trail and a Honda Goldwing tourer at 30.5 degrees rake and 4.3 inches of trail. This middle ground allows a sport touring bike to exhibit agility closer to a sport bike while still benefiting from the straight-line stability that longer rake affords. Cycle World put out a great article, Understanding a Motorcycle's Rake and Trail, that goes into much more detail on the topic.
The third important characteristic you find on sport touring bikes are full fairings. That's a must-have feature if you've ever traveled a few hundred miles without them. Battling wind, rain, and gusts from passing semis is exhausting. Before you know it you're cranky and not having the fun ride you looked forward to. We've all been there. But sport touring riders don't have this problem because their motorcycles are decked out with full fairings and an ample windscreen. Fairings not only create a signature sport touring "look", but they arguably make for a safer ride by helping stabilize the bike and minimize rider fatigue.
Sport touring bikes have other worthwhile features that further differentiate them such as shaft drive, relaxed rider position, and of course integrated luggage. All are important considerations but they aren't absolutely necessary to put a bike in the sport touring category.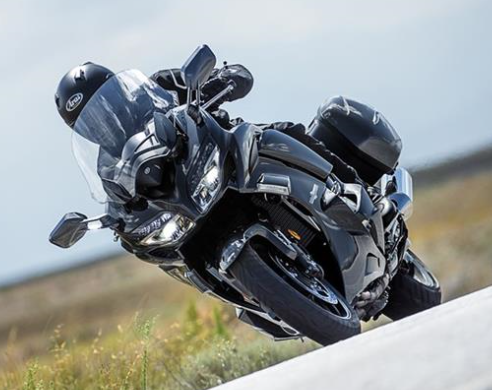 advertisement
Don't Forget the Roads
Let's wrap up with one more point. We haven't fully defined sport touring until we talk about roads and routes. After all sport touring is still touring right. It's easy to let Google or Bing maps plan your route. Just put in your destinations and click GO. Problem is, you will end up with the fastest route not the most interesting. Mapping apps can get you started, but you will quickly want to study the map and incorporate roads that fit your riding interests. Bing Maps will give you a route from Cody Wyoming to Red Lodge that takes a little more than an hour following major highways. But if you chose that route you would miss on the Chief Joseph Scenic Byway and an extra couple hours of great roads. That's why sport touring riders spend hours together to talk over destinations and spend many hours deciding on a route. Picking roads an working out the routing details can be as fun as the ride itself. It's a given that sport touring riders seek out technically challenging roads that show off the natural beauty of America that makes lasting impressions.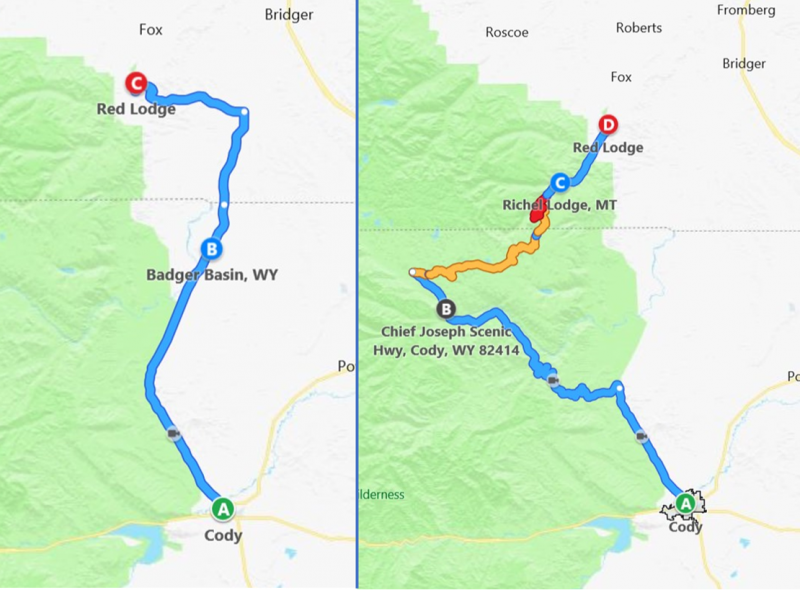 So there you are. Sport touring comes down to an enthusiastic long-distance rider on a bike tuned for performance enjoying the best backroads America has to offer.
Do you agree? Let us know.
Click the Thumbs Up or Thumbs Down button to email your feedback.
Your questions and comments help improve American Sport Touring. Your email is not used for any other purpose. Please read our Privacy Policy.