What's New For The 2022 Kawasaki Concours14
Sometimes good is so good there's no need for improvement. At least that's what the engineers and marketers at Kawasaki decided. The 2022 Concours14 has the exact same everything as the 2021 model, and for that matter models going all the way back to 2015. But even so anyone considering a fresh ride for the next season, or maybe just something different, would do well to take a look at the 2022 Concours14.
Dealers may say the future of the Concours is in question. That could be in part because Kawasaki no longer sells the Concours14 in Europe where meeting higher emission standards would require significant engine modifications. For the time being Kawasaki steers European sport touring customers to the more aggressive and pricier Kawasaki H2. Here in the US, the 2022 Concours may be the end of the line, at least for now.
It's important to recognize that Kawasaki remains a sport touring class-leader with decades of design and engineering experience. It's a good bet they have a major design refresh in the works for this iconic bike. First introduced in 1986, the Concours GTR1000 was completely redesigned and re-launched in 2007 as the Concours14 or C14 for short. During the 15 years since, Kawasaki has kept the fundamental design the same, investing in new models like the H2, and delivering only cosmetic and convenience updates here and there for the Concours.
The concern is that riders will look past the Concours to more technically advanced models from BMW and Yamaha. Both continue to raise the stakes with leading-edge features like cruise control, electronic suspension, and a host of rider aides that go well beyond ABS and traction control. No doubt, Kawasaki has some catching up to do.
Even knowing all that, the combination of competitive price, high-end performance, and touring comfort continue to make the 2022 Concours14 a highly recommend bike. Add it up. Over-the-top power, no-hassle shaft drive, and sport-oriented suspension geometry combined to earn this bike its place among the top three sport touring motorcycles for 2022.
Let's take a closer look through the eyes of a Sport Touring rider to see if this is a must-have bike for 2022.
For reference, check out detailed, accurate, and always up-to-date Concours14 technical specs, accessories, and pricing on the Kawasaki site.
An MSRP That's Hard to Resist
The 2022 Concours14 has an MSRP of only $15,999, plus $450 for destination and another $300 for freight. The base model includes all the essentials; there simply are no options to think about.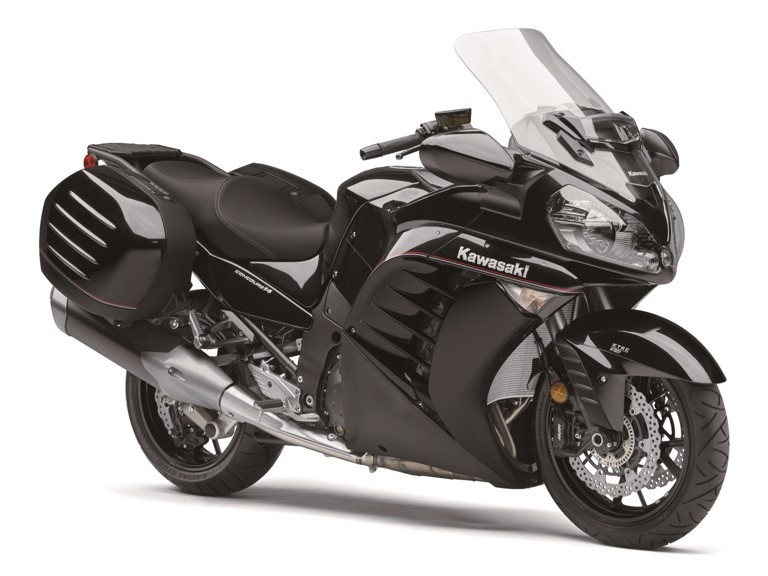 The base model arrives with a 1352cc, tetra-lever shaft-drive, 6-speed platform and ABS and traction control. Riders will appreciate the built-in Tire Pressure Monitoring System (TPMS) and Kawasaki keyless ignition system (KIPASS). On top of that, Kawasaki incudes matching hard luggage. Load up the luggage, top the tank, and the open road is yours.
No Options But a Few Accessories
The Concours14 is sold as an all-inclusive package with everything most riders need standard. Did we say there are no options? However, Kawasaki does offer a handful of accessories. All are useful but none are essential. Accessories for 2002 include a tank bag, a touring seat, a bike cover, and a top case.
Aftermarket suppliers offer a wide selection of parts and accessories to make the Concours14 uniquely yours. Browse through lists of quality parts and accessories ranging from touring seats to exhaust systems and more on Revzilla, Cycle Gear, or Corbin.
advertisement
What's New For The Concours14 in 2022?
In a word – nothing. The 2022 Concours is the same great bike, spec-for-spec, as in 2020 and 2021. Aside from color choice, Kawasaki has left a good thing alone.
Even though the bike is unchanged, it's still good to know how Concours14 features compare with the competition where it matter to sport touring riders.
Appearance
The distinct fairing design leaves no mistaking the modern Concours descended from the Ninja line. The bike takes an aggressive stance. The massive exhaust rises to the back while the front fairing dips down giving a sense of motion even while parked on the side stand. Large cooling vents on the front draw visual lines extending to the hard bags creating an end-to-end menacing sportbike appearance.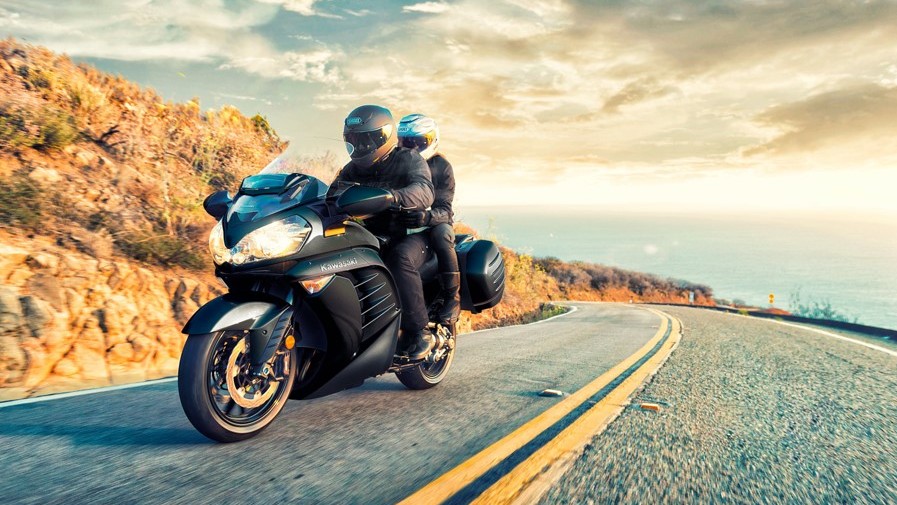 The familiar C14 profile is distinguished from prior years only by color. For 2022 Kawasaki offers exactly one color choice – Metallic Spark Black. There are no accent stripes or contrasting colors, just bright black metal-flake paint. A bit subdued for sure when compared with the Candy Lime Green color option offered on the 2015 model.
Power and Performance
The Concours does well when compared with top sport touring models from BMW and Yamaha. While Concours horsepower is not published, dealers and others have run dyno tests that show the Concours develops over 150 HP at the crank and over 140 at the rear wheel. Given the bike delivers 100.5 lbs-ft of factory declared torque and carries a tour-ready weight of 690 lbs, the Concours has a power-to-weight ratio of 4.6 lbs/HP. That's virtually identical to the FJR and K 1600 GT (although the K 1600 GT has more torque giving it an advantage in pure acceleration). But the Concours steps ahead of the competition with more torque per pound, coming in at 6.9lbs/lbs-ft of torque versus 5.7 and 6.4 for the K1600 and FJR respectively.
The take-away here is that even conservative non-factory estimates put the Concours at the front of the pack for power and performance. No doubt a demo ride will turn skeptics into believers.
Let's talk transmissions. The Concours was among the first sport touring bikes to offer a 6-speed gearbox. First gear is set low for smooth starts, while the sixth gear overdrive yields low engine RPM and better fuel milage on those long stretches of quiet road.
advertisement
Suspension and Handling
The Concours suspension design remains unchanged for 2022. The bike rides on an inverted telescopic front fork and a Kawasaki-branded Tetra-Lever rear suspension. Electronic suspension is not available.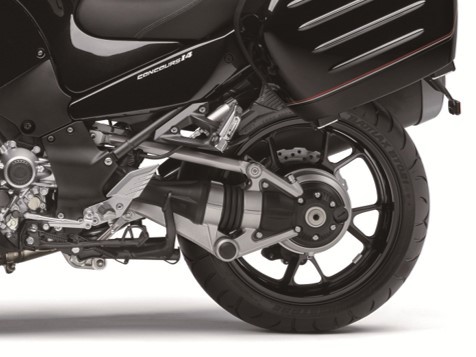 The Tetra-Lever suspension technology is a notable feature. Kawasaki, like BMW, incorporates an additional link between the rear drive and the transmission that allows the driveshaft to pivot under hard acceleration. As a result, the Concours experiences almost no shaft jacking, also known as bike lift.
Concours ABS, branded Advanced Coactive-braking Technology or K-ACT, and traction control are well proven but basic. The rider can switch one or both off and that's the extent of it. The K-ACT brake package works the same in all riding conditions, linking front and rear brakes based on lever and pedal force and vehicle speed. Stopping power comes from 320mm dual front discs and a single 270mm rear; more than enough to wrangle the power and weight of this big sport tourer.
Kawasaki traction control monitors front and rear wheel speed. When it detects rear wheel spin the system adjusts fuel, ignition, and air intake to smoothly reduce engine power allowing the tire to regain traction.
advertisement
Rider Convenience and Comfort
The 2022 Concours14 holds its own with other big sport tourers albeit with less technology and fewer rider aides. The dash is decidedly old school featuring a relatively small LCD panel cradled above a large speedometer and tachometer.
The LCD instrument panel compliments the speedometer and tachometer with indicators for gear position and engine temp, front and rear tire pressure, fuel remaining and estimated fuel milage, two trip meters and an odometer, and ambient air temperature. Oh, and a clock of course.
The Concours14 headlights are plenty bright. The system features dual primary lights and two always-on inboard mounted driving lights all packaged in a sleek integrated assembly. While perfectly good as delivered, some owners opt to upgrade the factory bulbs to brighter LED lights.
Other conveniences sport touring riders will appreciate include heated grips, a "mostly upright" riding position, and color matching hard bags with plenty of luggage capacity.
Sport Touring Value From Kawasaki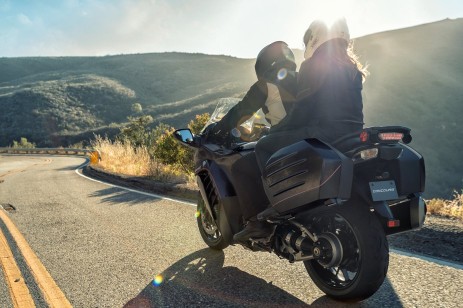 Every tour comes upon a road that demands something extra from rider and machine. And in those times, the Concours14 is more than ready to hold up its end of the challenge. With a strong engine, sport-tuned suspension, and sure brakes this motorcycle is a match for the most technical roads anywhere coast to coast. And then some.
Among top sport tourers, the Councours14 checks all the boxes. And at with affordable price below others in its class this bike should be on every rider's radar.
If "sport" comes first on your touring rides, then you won't go wrong riding a Concours14.
To learn more about the Concours, including detailed specs and pricing visit the Kawasaki Concours14 site.
Read more about comparable sport touring motorcycles in these articles from American Sport Touring.
All photos courtesy of Kawasaki Media Relations.


Did we hit the mark?
Click the Thumbs Up or Thumbs Down button to email your feedback.
Feedback helps improve American Sport Touring and is never used for other purposes.
Please read our Privacy Policy.