Viking Bags Axe Street/Sportbike Backpack Review
Luggage space on a motorcycle is always at a premium, no more so than on long touring rides. Side cases, a tail bag or top box, and a tank bag are all common options. But what about a backpack? Before shaking your head and clicking away, hear us out. On some rides – only on some rides – a sturdy backpack might provide just the right bit of extra storage capacity.
That thought brought a visit to Viking Bags where we picked up the Viking Axe Street/Sportbike Backpack for evaluation. We started with a lot of questions and after careful review, came to a clear conclusion and a few recommendations.
Why Use a Backpack?
The first question one might ask is why in the world would anyone ride with a backpack? To be sure, riding with a backpack is not for everyone, but at times a backpack is a useful accessory.
Sport touring riders are accustomed to packing most of what they need for a long ride in integrated side cases. Add a tail bag and perhaps a tank bag and they have all the luggage capacity they need. But even with all that, some might find value in a backpack:
To keep personal items in one place where they are easy to bring along at a scenic stop.
Leave the side bags in the garage for a spirited day ride or even an overnighter but still bring along the essentials.
Commuters can pack everything needed for a day at school or in the office.
And when all other options have been exhausted, a sport tourer can pack those last few items in a backpack for an extended touring ride.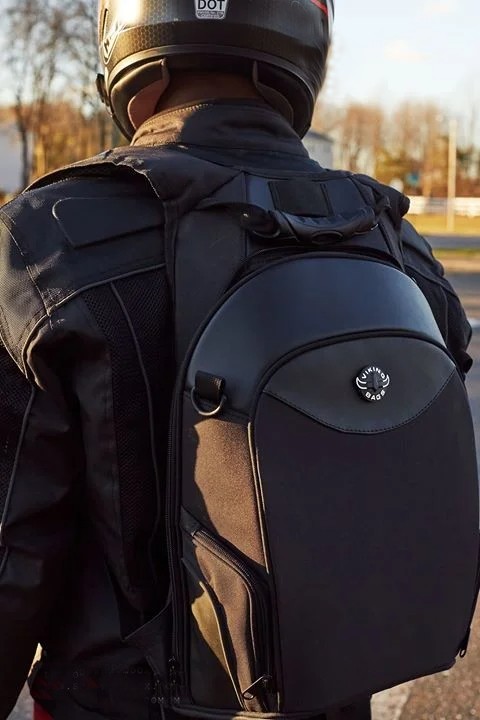 The disadvantages of riding with a backpack however may outweigh the benefits. Riders are apt to encounter the following challenges:
Extra weight on the back and shoulders causing increased fatigue.
Yet another thing to put on and take off, which can become frustratingly tedious over a day's worth of stops.
Less air flowing through riding jacket vents that are blocked or restricted by backpack straps or by the backpack itself.
Backpacks aren't for everyone, but in some situations they are a reasonable option for the sort of things one might want to have handy off the bike or be inclined to worry about leaving on the bike during a stop.
advertisement
About Viking Bags
Viking Bags, headquartered in Fullerton California, has been making motorcycle saddle bags since 2008. The company initially focused on saddlebags for the cruiser market and that remains their largest product category today. However, in recent years Viking began expanding their product line to include luggage for street and sport bike riders.
While the product range is limited, street riders will find an assortment of Viking universal-fit hard and soft shell side cases, as well as tank bags and tail bags. Viking products are characteristically inexpensive and offer good value for the money. On top of that, all of these products are backed by a customer support team based in the US and come with a 1 year warranty covering craftsmanship and mechanical parts.

Reviews published on American Sport Touring are conducted independently and without bias. American Sport Touring does not accept compensation of any kind in exchange for product reviews.
The Axe Street/Sportbike Backpack
The Axe backpack is designed to overcome most common concerns riders have with motorcycle backpacks at a price point that is virtually impossible to beat.
Solid Style
First things first, if one must wear a backpack it ought to look good right? The Axe Street/Sportbike Backpack is nicely finished in a combination of scuff-resistant black polyurethane and 600D Cordura fabric. Unlike traditional backpacks, zippers on this motorcycle backpack are kept to a minimum. A two-headed zipper keeps the main compartment securely closed while two smaller zippers manage pockets at the bottom of the backpack on either side. Branding is kept to an absolute minimum with one small logo placed near the top of the outer back panel further enhancing a clean look.
Minimal Wind Buffeting
Backpacks can cause excessive wind buffeting at speed. To avoid this, the Viking backpack is built around an aerodynamic ABS hard shell, the same material Viking uses for their saddlebags. The contoured profile both reduces drag and lowers crosswind buffeting. Dimensionally, the bottom of the backpack rises 7 inches above the rider's tailbone, tappers down to 5 and 3/4 inches at the midpoint and then 3 inches just below the shoulders.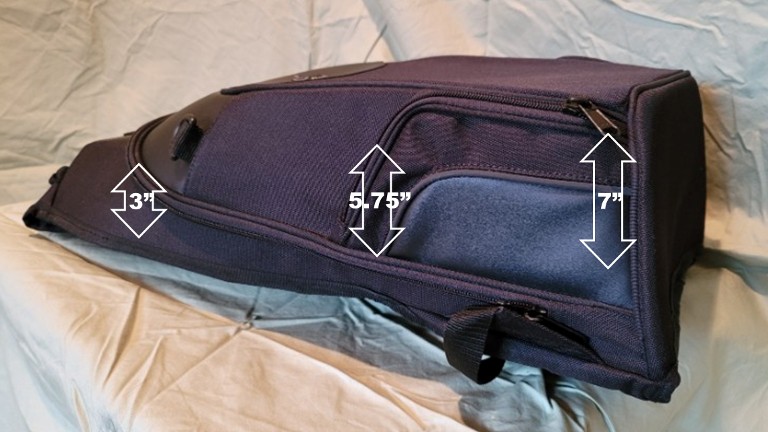 Ample Storage
Moving to the inside of the backpack, one finds ample space. On the backside a padded felt lined pocket with a security strap can comfortably hold a 15 inch laptop. The large center compartment features an elastic organizer pocket and two larger storage areas separated by a nylon curtain. Overall, this backpack can store up to 488 cubic inches (or 8 liters) of gear. As far as backpacks go, that's on the small side but then smaller is better for riding.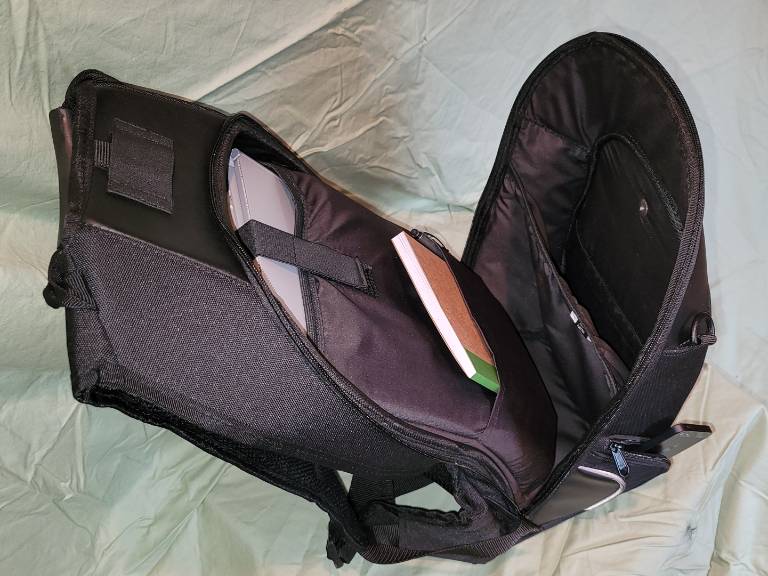 The two zippered pockets on the outside of either side are small and flat. They measure a scant 6 inches high by 4 inches wide with enough depth to handle a deck of cards. These pockets might be useful for a wallet or to keep some cash or a park pass in easy reach.
advertisement
Built-in Helmet Carrier
One feature that might go unnoticed is the attached helmet carrier stored in a hidden pocket at the bottom of the bag. The soft elastic nylon carrier stretches around a full face helmet holding it in place against the front of the backpack using three nylon straps, one on each side and one in the center. The center strap is adjustable, however the two side straps are not. Nevertheless, once strapped in its physically impossible for a helmet to fall out.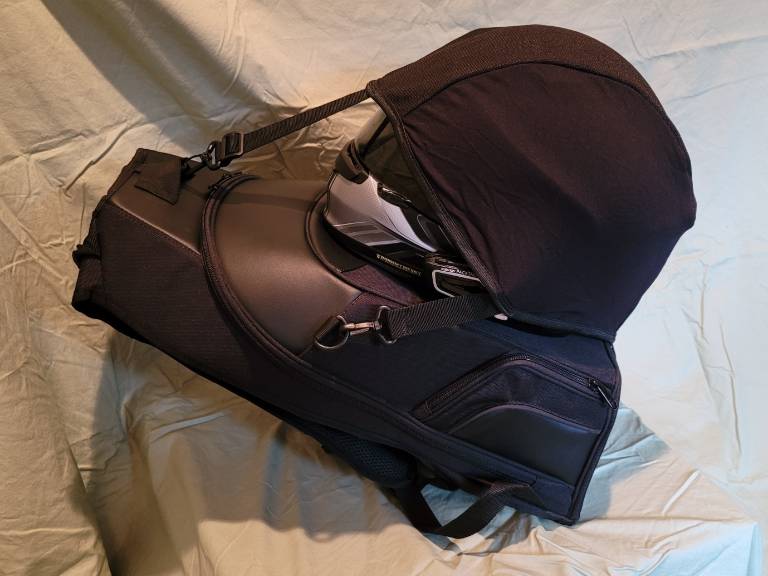 Comfortable Fit
When worn correctly, the Axe backpack does not hinder rider movement in any way. And if appropriately packed, many riders are likely to forget its even there. The front straps should be adjusted to keep the top of the backpack just below the rider's collar. In that position, the bottom of the 21 1/ 2 inch long bag will ride at the belt line for most riders. The chest and waist straps are essential when riding to keep the backpack from shifting and bobbing. Off the bike, the non-removable waist straps can be tucked out of the way using the pocket in the lower back padding area of the bag.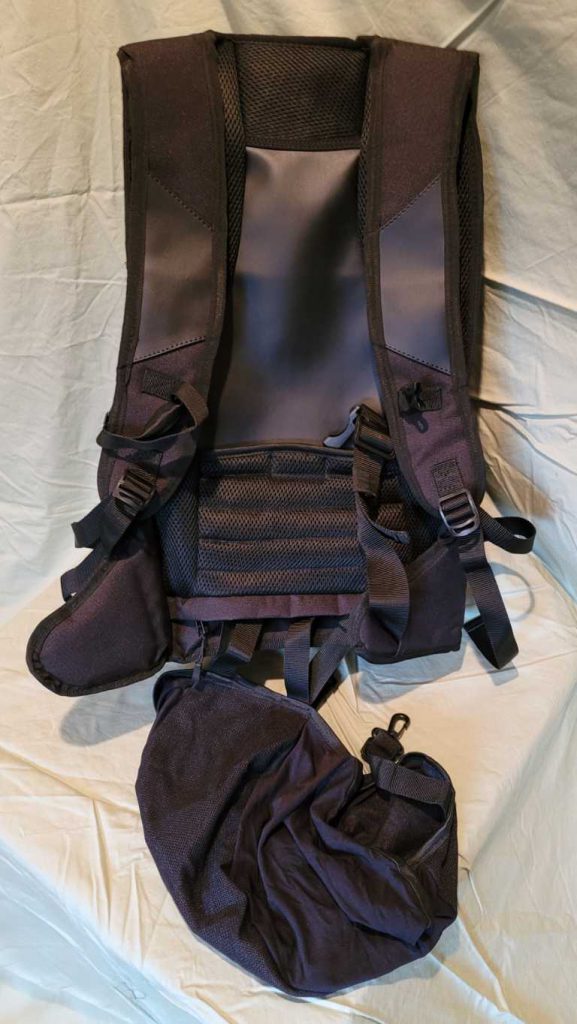 Ok In Light Rain
While the Viking Axe backpack is water resistant the company makes no claim that it is waterproof. On long rides in the rain, particularly heavy rain, water will eventually find its way inside the backpack, even when using the included rainfly. Rain gear, unless grossly oversized, won't fit over the backpack. Consequently, the back of the bag against the rider is unprotected. There's just no elegant way to cover that part of the bag.
Bottom line, contents stay perfectly dry on a short ride in light rain. But anything more and all bets are off.
A Word About Motorcycle Backpack Safety
Before we wrap-up it's important to comment on the ongoing concern about the relative safety of wearing a backpack while riding.
Some argue backpacks increase the risk of spinal injury or cause more severe injuries in a crash. The fact is there are no definitive studies concerning the effect backpacks have on motorcycle injuries. No studies of any kind.
There are however lots of anecdotes and shared stories that land on both sides of the issue. All of these point to a few reasonable safety suggestions for riding with a backpack:
Properly adjust the straps at the chest and wait for a snug and secure fit;
Don't overload the backpack – lighter and lower are always better;
Keep sharp objects out – it's less to worry about in a crash; and,
Pull the zippers to the bottom of one side or the other where wind and vibration can't cause them to open.
advertisement
Is The Axe Backpack Right for Sport Touring?
The Axe Street/Sportbike Backpack is well made and thoughtfully designed. It's small in size and profile, has enough capacity to carry all the weight most can comfortably ride with, and it won't hinder rider movement. Oh, and don't be fooled by the low price – the Axe backpack is inexpensive, not cheap.
Standout product features include:
Aerodynamic ABS hardshell construction holds its shape and reduces wind buffeting;
Durable Cordura and polyurethane exterior are scuff and tear resistant; and,
The built-in helmet carrier is a bonus off the bike.
Two concerns with the Viking backpack:
It's not waterproof leaving contents at risk in a heavy rain, even with the rainfly; and,
Could use more inside organizer pockets to keep smaller items from getting lost.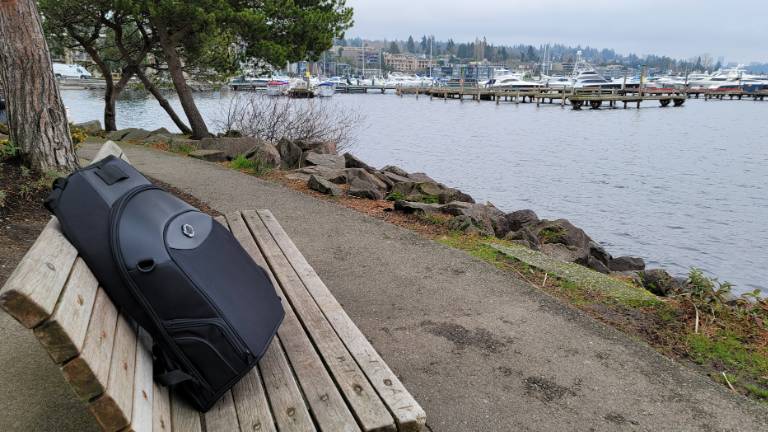 Bottom line – good looks, essential features, and a budget friendly price make this backpack a solid choice for commuters and day trippers. Sport touring riders setting off on a journey of more than a couple days should avoid backpacks altogether.
Learn more about the Viking Axe Backpack on the company website (www.vikingbags.com).
Click the Thumbs Up or Thumbs Down button to email your feedback.
Your questions and comments help improve American Sport Touring. Your email is not used for any other purpose. Please read our Privacy Policy.