Ride the Best of Texas Hill Country
Not everyone looks to Texas for world-class motorcycle roads. But as it turns out, Texas Hill Country is packed with miles of winding roads that twist and turn through some of the most stunning landscapes in the state. In the state of Texas, there's no place better for motorcycling than this.
This tour covers three days of riding on the very best roads in Hill Country. Daily ride plans seek out the most exciting roads while still ending the day in a town with respectable hotels and good restaurant options. Ride times allow opportunities for sightseeing and breaks along the way.
Riding In Texas
Before jumping into the tour route, it may be helpful to share some thoughts about what to expect while riding in Texas.
Culture and Landscape
The Hill Country was first settled by German, Spanish, and Eastern European immigrants who put the land to use raising cattle and grain farming. Their influence continues to resonate through the food, music, and architecture found in the region. Hill Country culture is distinct from other parts of the state.
The landscape itself is varied. Lakes abound fed by rivers and streams. Hills roll off into the horizon. Cattle graze on open pastures. Some of the oldest vineyards in the United States continue to grow in Texas Hill Country.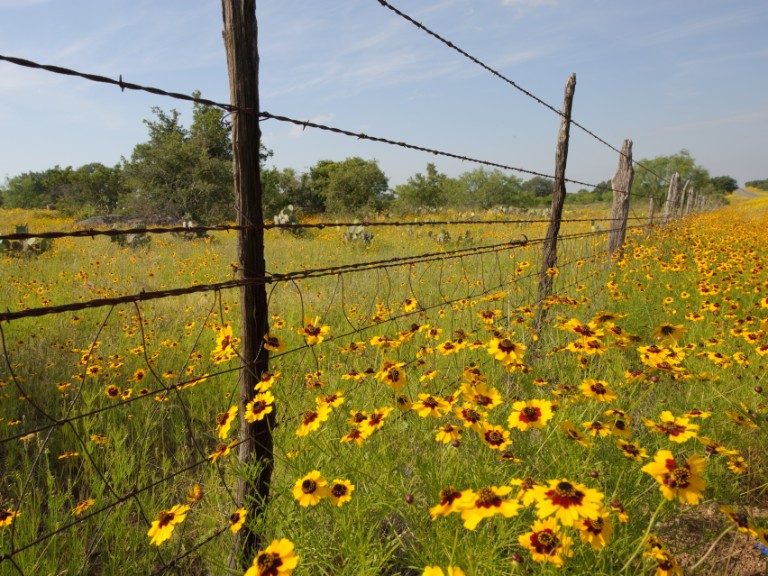 The Edwards Plateau on which Hill Country is located, like most plateaus, should promise high and flat terrain. But over millions of years what started as a plateau has eroded to rolling hills, canyons, and course soil. Vegetation in the region largely consists of grass and brush with a spread of juniper trees, oak trees, and various cacti.
Aquifers and caves run under the plateau providing drinking water to the surrounding area. Some of these caves, many home to large colonies of bats, are open for the public to explore.
advertisement
About farm and ranch roads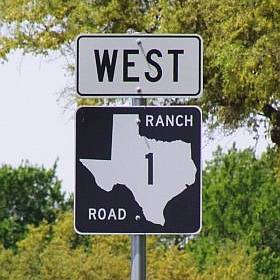 Texas secondary highways are designated as Farm Roads and Ranch Roads. Early on, state road systems were intended to help farmers and ranchers bring products to market. Consequently, the roads were labeled as either Farm to Market roads or Ranch to Market roads. As states grew and developed intrastate road systems these secondary roads were often re-labeled as state routes or county roads. Texas continues to be an exception, holding to the original designations. This tour plan identifies Farm to Market roads and Ranch to Market roads with the prefix "FM" and "RM" respectively.
Regardless designation, farm and ranch roads are paved and maintained much like county roads in other states. Some are quite narrow, with rough pavement in sections, but one shouldn't be concerned about the quality of these roads. Just assess the condition of each road and ride accordingly. Farm and Ranch roads are the best way to experience authentic Texas.
Another note about roads in Texas. Junctions on remote country roads are not always well marked and easy to ride past. Keep an eye out for upcoming roads on the route.
And one last point; this tour winds into remote areas of Texas Hill Country. Services are often few and far between. It's smart to carry drinking water and a tire patch kit. And equally wise to top-up the tank whenever the opportunity presents itself.
Weather in Texas
No surprise, temperatures in Texas are warm and in the peak of summer exceptionally hot and humid. The Hill Country offers some relief. Temperatures here are generally cooler, averaging in the mid-80's to the mid-90's in the summer months. The hottest period is from late July through August when temps can top 100° in places like Austin.
In the coldest months, December through February, temperatures range in the upper 50's to lower 60's. But be aware and prepared if planning a winter ride – winter temps can sometimes drop into the mid-30's causing ice on roadways.
As for rain, yes it rains in Texas. But not too much and not very often. The Hill Country gets about 17 rainy days annually with up to 38 inches of rainfall. Late spring and early fall are the wettest times. Otherwise, Texas Hill Country enjoys over 230 days of sunshine each year.
Avoid the Crowds
Hill Country is a popular tourist destination given its abundance of lakes, rivers and springs, hiking trails, state parks, and other points of interest. Visitors come from across Texas, the US, and beyond. Most of them arrive in late spring and early summer. Traffic peaks in mid-July. After that, the tourist population declines steadily through the fall months.
So, while it's helpful to be aware of potential crowds, it's also important to recognize that Hill Country encompasses a very large area covering over 31,000 square miles. So even during peak tourist season, there's plenty of room for everyone to enjoy the roads and everything the area has to offer.
advertisement
Three Days in Hill Country
This tour covers some of the top motorcycle roads in Texas, all in a triangular part of the Hill Country bounded on the north by Austin, San Antonio to the south, and on the west by Junction TX. Some riders, having made it as far as Junction, may want to keep going west to explore Big Bend National Park. An optional extended route is included for those with the time and inclination.

Refer to the resource tables at the end of this article for a route summary and other useful links.
Day 1 – Austin to San Antonio via the South Hill Country
This ride starts and ends in Austin Texas. Austin, the Texas state capital city, was founded on the banks of the Colorado River in the early 1800's. The city today thrives on its reputation as the Live Music Capital of the World.
Riders may want to arrive in Austin the day before starting this tour to see the sights in Austin. Enjoy the nightlife, take a river walk, and sample the impressively wide choice of Texas barbeque restaurants.
The first day of riding covers a modest 176 miles with an estimated ride time of just under 4 hours. Assuming an early start, that leaves plenty of time for stops along the way and time in San Antonio to visit sights like the Alamo.
The pl<div> anned route follows Ranch and Farm roads to the greatest extent possible, with some highway riding to between backroads. Roads are framed by scattered ranches and wide areas of grassland marked by oak trees and brush. Between towns expect widely spaced sweeping corners on lonely roads and an occasional rhythmic series of twisting turns.
Ride out of Austin west toward Bee Cave on Bee Cave Rd, also known FM-2244. The first miles are not particularly inspiring, consisting mostly of four lane highway. But rest assured the roads get better as the day goes on.
Take TX-71 past Bee Cave and turn onto Hamilton Pool Road which becomes FM-3238. This is about where Hill Country riding starts to take shape. The road narrows down to a lightly traveled two lane meandering ribbon of pavement.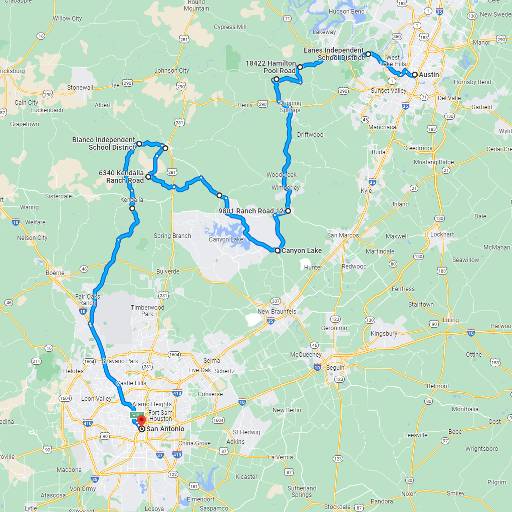 Bell Springs Road leading to Dripping Springs offers the first good twisty road. Sections are narrow and closed-in on both sides by a variety of trees and wire ranch fencing. The 20 MPH turns enliven what was earlier a relaxing ride.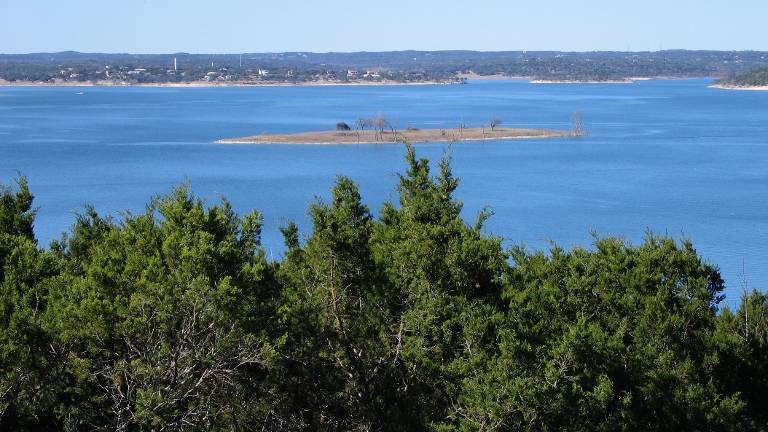 Approaching Canyon Lake on FM-306, the road crosses the Guadalupe River a couple times. The local coffee shops and restaurants that populate the riverbanks are worth a stop.
Nearby Canyon Lake was formed by the Canyon Dam on the Guadalupe River in 1964 to help control flooding in the area. For a closer look ride into Randolph Recreation Park which is easily accessed off FM-306 on the planned route. For a look at Canyon Dam, ride a little farther south to Overlook Park or North Park, each at opposite ends of the dam.
Little Blanco Road (County Road 101) and Blanco Kendella Road (County Road 102) between the junction with US-281 and Blanco may be the most challenging roads of the day. They are paved, but narrow and only moderately well maintained. Anyone not comfortable riding a road that feels more like a paved trail may want to circumvent this section by taking US-281 up to Blanco.
Take a coffee break in one of Blanco's many local coffee shops before heading on to San Antonio.
The ride from Blanco to San Antonio offers some of the day's best riding on rural roads with scattered cattle guards and warnings of loose livestock. This is Texas Hill Country.
Arrive in San Antonio early enough to visit the Alamo and other historic sites or take a walk on the San Antonio River. There's much more to see and do in San Antonio than an afternoon allows. Some may want to spend an extra day exploring.
Hotel and restaurant options seem endless in this city of 1.4 million, the second largest in Texas behind Houston. The downtown area centered on the river and bounded by US-10 and US-37 offers some of the best amenities, (plus proximity to the Alamo).
Day 2 – San Antonio to Junction via The Texas Twisted Sisters
This second day of riding begins in San Antonio and ends in Junction Texas. In between are some of the very best motorcycle roads Texas has to offer. Many would say these are simply the best roads in Texas. Ride them and decide for yourself.
The riding day covers a modest 290 miles, but will take nearly six hours to untangle all the twists in the road. Start out early enough to enjoy every mile and allow for breaks and picture stops.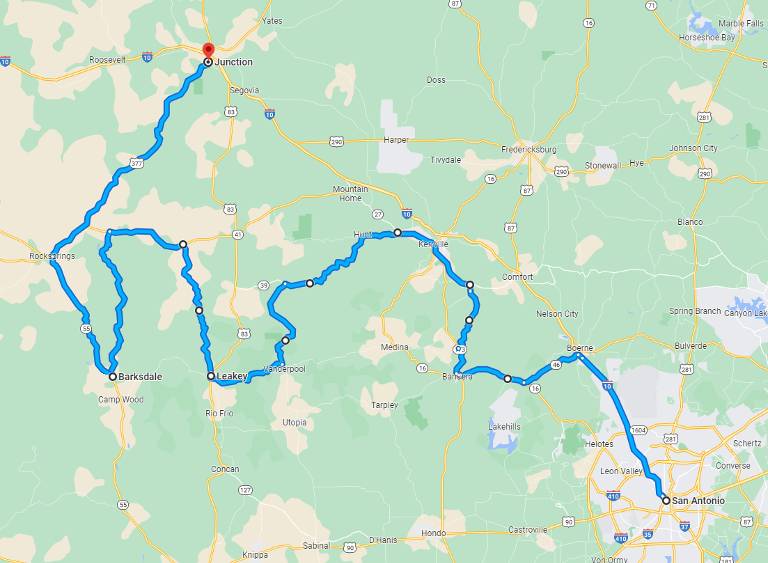 Ride out of San Antonio on US-10 toward Boerne and then turn west onto TX-46 to Bandera. TX-46 is scenic with plenty of curves, but also a good amount of traffic. Consider it a necessary path to better roads ahead.
Bandera describes itself as the Cowboy Capital of the World. A bold claim based on the town's history as the starting point for the Great Western Cattle Trail. Even today, many cowboys still call it home. Bandera cowboy culture is on display during rodeo weekends.
From Bandera, head north on TX-173 and then turn onto Elm Pass Road. Traffic lets up outside of town, as the landscape widens revealing open land on either side. Elm Pass Road north to Center Point is a tight country road with plenty of twists over sometimes rough Texas pavement. This stretch is good fun for experienced riders.
Ride through Center Point, over a not-always-raging section of the Guadalupe River and turn onto TX-27 which runs past Ingram and becomes TX-39. Make a stop in Ingram at Lions Park to see the Stonehenge reproduction and take in views of Lake Ingram along TX-39. Ingram is a good place for a lunch stop; restaurant choices from here are much more limited.
The roads west of Ingram are some of the best in Texas. Think of Texas Highway 39 and Ranch Road 187 as warm-ups for the Texas Twisted Sisters that follow.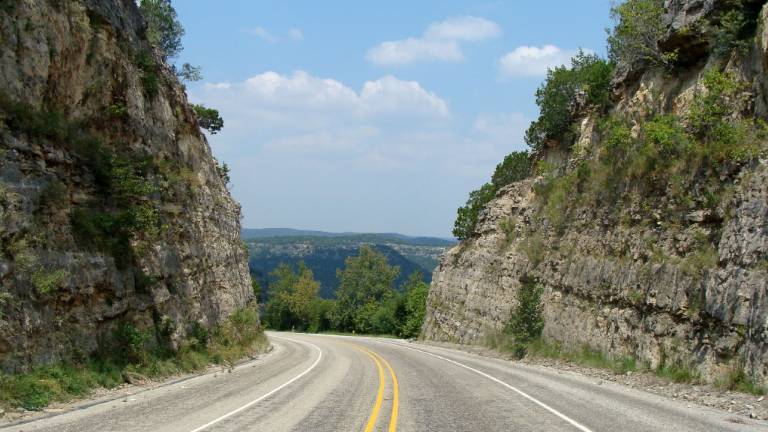 The approach on TX-39 is filled with fast-paced twists and turns that cross the Guadalupe River repeatedly. What RM-187 might lack in technical challenge it more than makes up for with scenery. This is one of the few places on the tour where one can see the tops of rolling hills stretching to the horizon. The view toward Lost Maples, framed by rock walls on either side, merits a picture stop. This is exceptionally green country for Texas. Even the Sabinal River shows itself from time to time.
For a break, consider a stop at The Lone Star Motorcycle Museum just south of Lost Maples State Park to view a collection of vintage motorcycles. The museum has limited operating hours so check their website for current times.
Just before Vanderpool, take the junction west on RM-337. This is the first of the three Texas Twisted Sisters. The tour purposely covers only the last miles of RM-337 into Leakey which are without a doubt the best part. By trading away the section from Medina to Vanderpool, the ride takes in much better roads that arc north through Ingram.
Ride RM-337 to Leakey and pick-up the second Twisted Sister, RM-336 heading north. Then take TX-41 west to connect with the third and final Sister, RM-335 going south. These roads promise ear-to-ear smiles. The turns are as good as any mountain or canyon road. They roll up and down through hillsides with non-stop views of valleys below. Caution signs at critical points remind motorcyclists to not let enthusiasm get ahead of their skills. That said even as the roads egg on riders.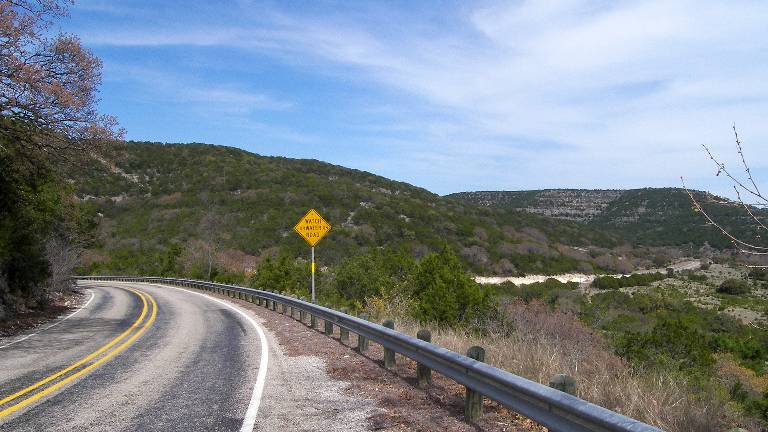 From Barksdale head north to Rocksprings and then on to Junction. The roads are less intense but still fun. For example, US-337 although a highway is actually a pretty good motorcycle road north of Rocksprings. A nice way to put a bow on the best roads in Texas Hill Country.
Enjoy an evening in Junction. Take a walk on Main Street and check out the historic 1929 Kimble County Courthouse. Local hotels are scattered around the center of town. The national brands are clustered around the interchange with US-10.
Day 3 – Junction Back to Austin via the North Hill Country
This last day of the tour is all about meandering back to Austin. The roads are good, scenic, and make a comfortable wind-down for a ride that conquered the best of Texas Hill Country. The route maximizes twisty ranch and farm roads, exploring still more of the roads that make this the motorcycling epicenter of Texas. Highway routes are faster, but then who would want to spoil the vibe on this last day in Hill Country?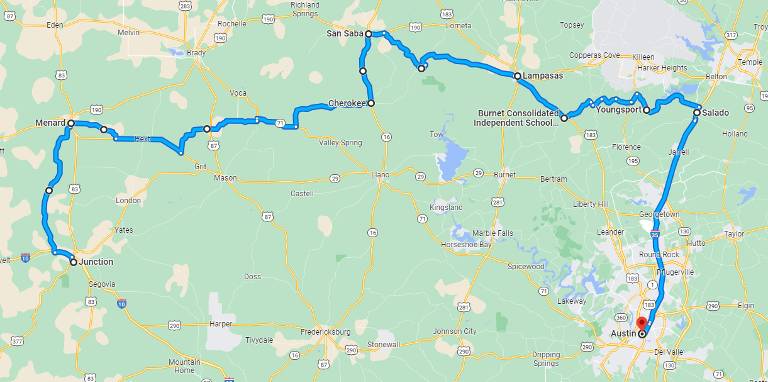 Ride out of Junction west on RM-1674 then take RM-2291 north to Menard. The road cuts through a wide savannah and green hills for an enjoyable start to the day. Take San Saba Ave east out of Menard, first on FM-2092 and then TX-29 and eventually FM-501 through Katemcy and Fredonia before reaching Cherokee.
From Cherokee follow the signs to San Saba, known in Texas Hill Country for growing pecans, roughly 20 miles north on TX-16. At the main intersection, turn east out of town on TX-190 and then follow FM-580 to Lampasas.
The stretch of road between San Saba and Bend is particularly good. Carving through ranchland, the road is a series of regular sweeping turns. As the town of Bend approaches, trees crowd the road and corners tighten with increasing frequency.
At Bend, consider a short side-trip to Colorado Bend State Park just a few miles to the south. Colorado Bend State Park is a popular stop offering views of the Colorado river and points of interest like Gorman Falls. The roads into and through the park are paved but expect gravel parking lots and a short hike to see the sights and the Colorado River itself. To learn more, visit the park's website.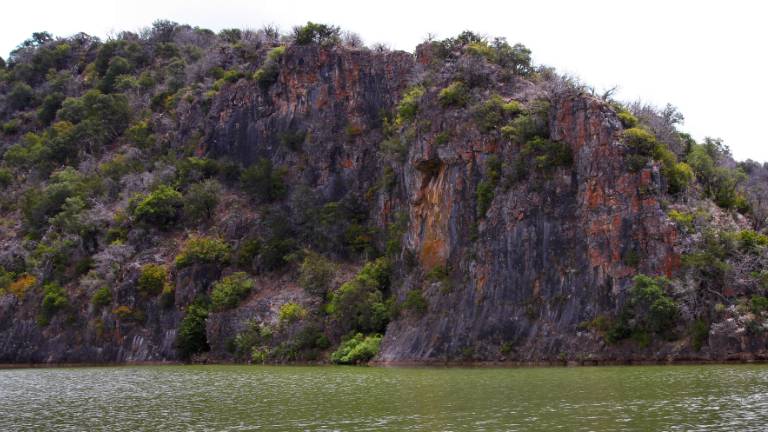 Continue past Bend on FM-580 to Lampasas. Then pick-up US-183 toward Briggs, but before Briggs turn onto RM-963 east to Oakalla; the junction is roughly 14 miles past Lampasas. This ranch road makes for a fun ride as it winds up and down through farm and ranch land and along hillsides. There are enough curves to keep it interesting the whole way.
Turn onto County Road 220 just past Oakalla going to Maxdale. These narrow county roads offer another up-close look at Texas Hill Country. The surface, while fully paved, can be a bit rough in places. Eventually the County Road gives way to a more diligently maintained Farm to Market Road, FM-2670. Riding on FM-2670 is scenic with wide corners, and the better pavement allows speeds to safely bump up.
Turn north at the junction with TX-195, and then in about 2 miles turn off to FM-2484 going southeast. This is the last farm-to-market road on the tour and the last in rural Hill Country. Ride across the Lampasas River at Youngsport and for a break pull into Riversbend Park on the shore of Stillhouse Hollow Lake.
Wrap-up the tour with a ride to Salado and then follow US-35 into Austin beyond that.
advertisement
Extended Route to Big Bend National Park
For those with extra time and who might think "well I'm this close, why not?", here's an optional route to add Big Bend National Park to the tour. Plan to spend at least two extra days on the ride, and maybe more if exploring the Park is a priority.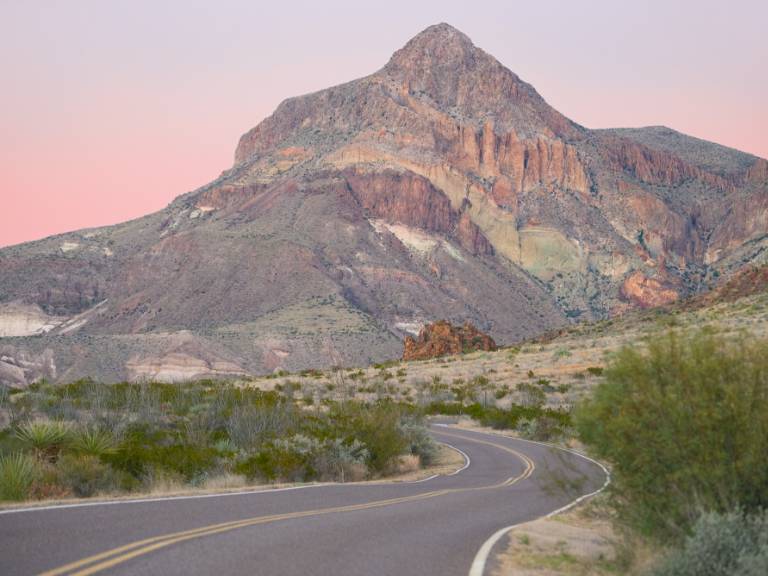 It takes the better part of a day to get to Big Bend and at least that much time riding back to Austin. Parts of the ride are on unavoidable highway, much of which runs through wide open arid and mostly flat brushland. Fortunately, there is a silver lining. The first miles out of Junction cover a few more roads in Hill Country.
The Long Ride to Big Bend National Park
Rather than follow the route back to Austin on Day 3, head to Sonora on US-10. from there drop down onto US-277 and turn westward onto the Juno Highway (RM-189). RM-189 is an excellent road on the west edge of Hill Country with all the by-now familiar qualities. At the junction, pick-up TX-163 continuing southwest toward Del Rio TX. At Comstock, where TX-163 meets US-90, turn left to follow US-90 westward toward Langtry. Langtry is as close to the Mexican border as the ride gets before reaching Big Bend National Park. Continue on US-90 to Marathon and then turn south on US-385 which leads directly into the park.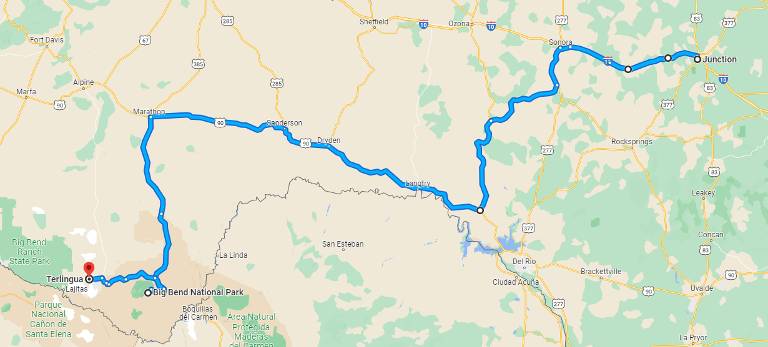 On To Terlingua for The Night
Enter Big Bend through the Persimmon Gap entrance; find current park fees on the Big Bend National Park website. At the Panther Junction Visitor Center, turn west on Gano Springs road toward Terlingua. A number of hotel and restaurant options are just outside the park in Terlingua. Other hotel options are also available in Marfa and Alpine but that's another 70+ miles north of Terlingua.
Explore Big Bend National Park
Use the next day to ride back into the park and explore. Or if the ride the afternoon before checks the box, then get an early start back to Austin. Big Bend may be one of the least visited National Parks owing to its remote location, but once here the natural beauty deserves a look.
To learn more about the natural terrain that makes up this part of the country stop in at one of the four visitor centers. The one at Panther Junction is conveniently located in the middle of the park. Visitor Centers offer park maps and lots of information that will help make the most of your visit.
Notable highlights include the Chisos Mountains with elevations as high as 8000 feet, the Chisos Basin canyon, endless trails through wildlife habitat, and of course the Rio Grande river.
Back to Austin
The route back to Austin from Big Bend National Park is purposely routed on highways given the distance. Ride out of Terlingua early heading to Alpine on TX-118. Then turn east on US-90 for 6 miles before taking US-67 north to US-10. Exit US-10 to follow US-290 to Fredericksburg. Continue on US-290 to Austin.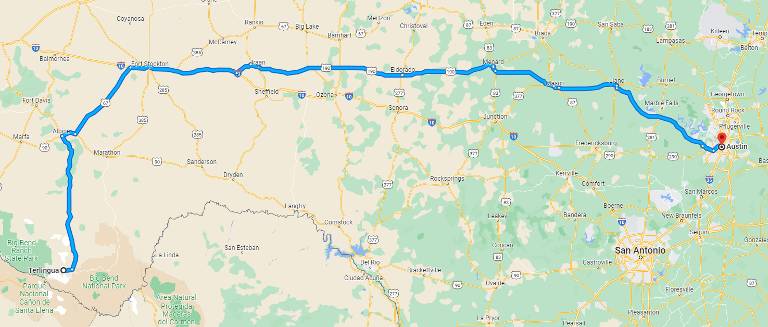 Experience Texas Hill Country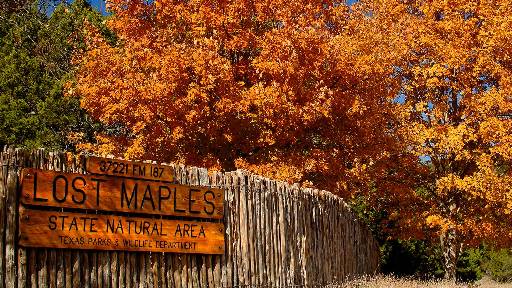 Motorcycle riders in Texas are fortunate to have a region like the Hill Country for weekend getaways and multi-day tours. Those just riding through are equally happy for the opportunity to take a close-up look at life in Texas and share a bit of authentic Hill Country firsthand.
This tour combines the best motorcycle roads in Texas and incredible southwest scenery with true local hospitality. Make plans for an adventure in Texas Hill Country.
Click the Thumbs Up or Thumbs Down button to email your feedback.
Your questions and comments help improve American Sport Touring. Your email is not used for any other purpose. Please read our Privacy Policy.
Resources
Tour Summary
Useful Links