Sport Touring Bliss on California Highway 49
The Sierra Nevada Mountains in northern California are a natural wonder, laced with hundreds of miles of sport touring roads that are among the best in the nation. California Highway 49 between Nevada City and Sattley is one such road.
This stretch of Highway 49 rises and falls as it follows the contour of the Sierra Nevada Mountains, passing through mid-1800s Gold Rush mining towns scattered across this rugged territory along the way. Today the road is known as the Golden Chain Highway recognizing its role to connect historic landmarks and towns from the Gold Rush era.
This wildly twisting road is a top destination for sport touring motorcyclists. Here's what to look forward to.
The Route
California Highway 49 extends from Oakhurst California, approximately 40 miles north of Fresno and then winds in a generally northerly direction for almost 300 miles to Vinton California. The 73 mile section of CA-49 talked about here is arguably the best stretch. We say arguably, because declaring any stretch of road best, particularly in California, always triggers an argument. Everyone is entitled to their own likes and dislikes about what makes one road better than another. We can't argue with that. But still, we strongly encourage riding this destination road.

Run this route east to west or vice versa. The scenery is amazing in both directions and the corners are equally challenging. On the west end, start in Nevada City, a once prominent mining town just 4 miles north of Grass Valley. From there enjoy twisting corners of varying intensity for the next 73 miles until arriving at Sattley California.
Sattley is a sparsely populated town that provides not much more than a convenient waypoint to mark the eastern end of the route. A more recognizable nearby town might be Truckee California, a little less than 30 miles to the south on California Highway 89.
advertisement
Along The Way
There's a lot to take in on this route. The highlights that follow should give a taste of the area and what to look for. Explore the route map linked earlier to find even more points of interest.
Grass Valley
Nestled in the scenic Sierra Nevada foothills, Grass Valley is a charming gold rush town with a vibrant population of approximately 12,000 residents.  The compact but quaint downtown area is filled with a variety of interesting shops, brew pubs, and restaurants tucked in Victorian-era buildings.  The updated town square offers plenty of choices for a midday break.  Check the official Grass Valley Downtown Association website for a list of current events.
Downieville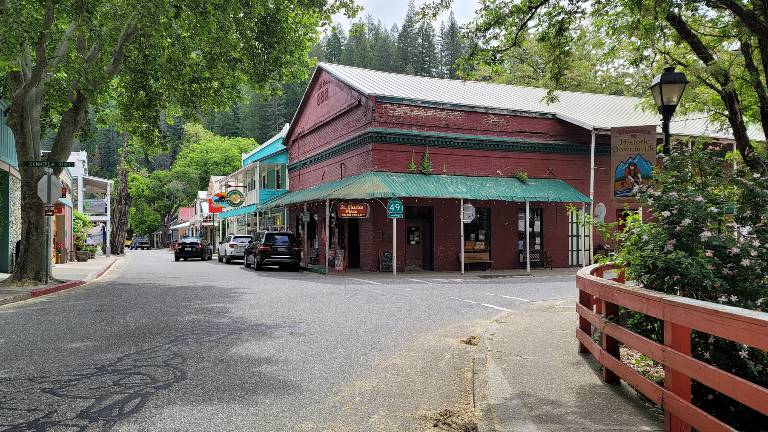 The small town of Downieville is situated in the heart of the Sierra Nevada Mountains.  With only 200 or so residents, Downieville retains much of its historic gold rush charm and character.  Highway 49 cuts through town over a one lane bridge that spans the Downie River, a tributary of the North Yuba River.  Take a moment to explore old Main Street to get a feel for a time long past.  Read more about Downieville on the Discover Downieville website.
Yuba Pass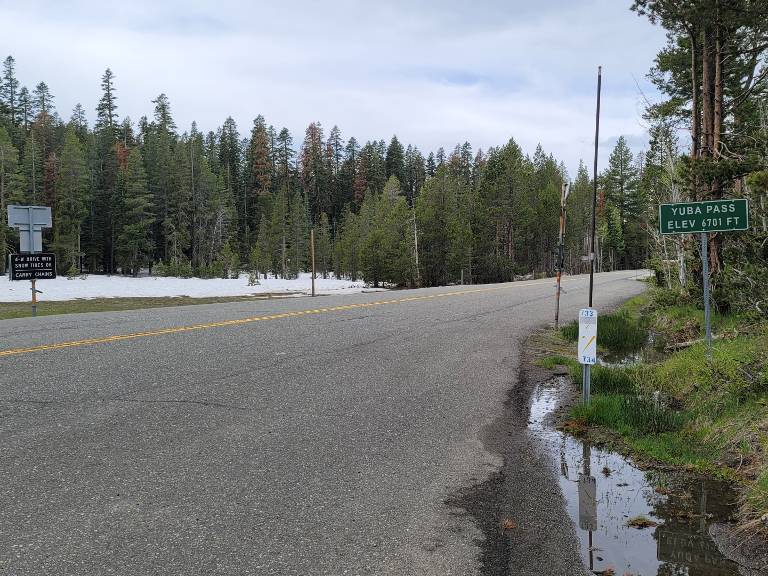 Yuba Pass marks a high point on this section of Highway 49, reaching an elevation of 6,701 feet. Riders will find a large parking area and vault toilets at the summit. An ideal place to take a brief rest before tackling the next set of twisties just inside in the Tahoe National Forest.
advertisement
North Yuba River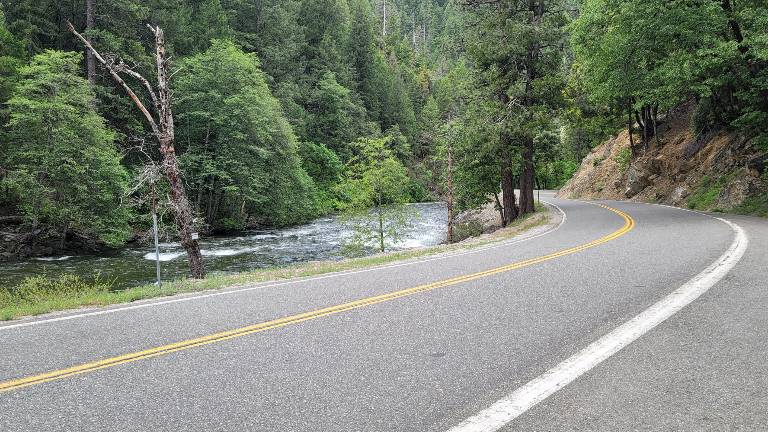 Highway 49 snakes along the North Yuba River through the Sierras for the eastern half of the ride roughly between Oak Valley and Sattley. This pristine river, powered by spring snowmelt, forced highway engineers to create a road for sport touring riders; one that is as scenic as it is challenging, hidden deep in the Tahoe National Forest.
Bridgeport Covered Bridge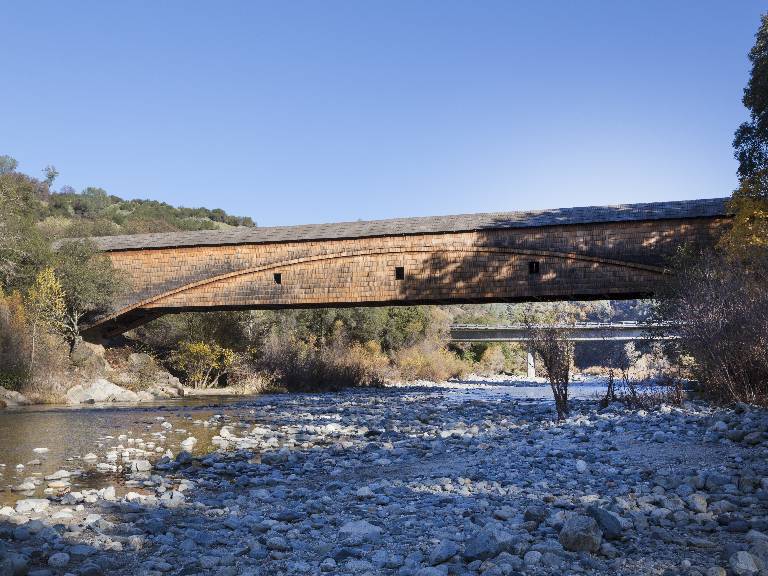 While not directly on Highway 49, the Bridgeport Covered Bridge is noteworthy enough to merit mention.  A stop at this historic bridge means a 15 minute, 7 mile, side trip down Pleasant Valley Road at Sweetland CA.  Built in 1862 and restored in 2021, its distinctive red wood trusses and weather planks span the South Yuba River.  The Bridgeport Covered Bridge at 229 feet in length has the distinction of being the longest single-span covered bridge in the world.  Read more on the South Yuba River State Park website.

Kentucky Mine Historic Museum
One more sight to note along this scenic section of Highway 49 is the Kentucky Mine Museum.  Located just off Highway 49 less than a mile east of Sierra City, this museum offers a glimpse into the rich mining history of the region.  The Kentucky Mine Museum is a must for old west history buffs.  Read more on the Sierra County Historical Society website.
advertisement
When to Ride
Typically, the roads through this part of the Sierras are cleared of snow by late May. Weather is typically cooler in the higher elevations but not cold, even when snow remains on the roadside. Mountain snow returns as early as late October. On the other hand, temperatures in the valleys jumps up considerably.
The roadway is well maintained and typically sand-free. But that said, pay attention to warning signs about falling rocks and use caution near intersections with unpaved forest roads.
Second Helpings
Some will argue the section of Highway 49 between Coulterville and Mariposa packs more fun in its relatively brief 26 mile stretch. We respectfully disagree. But only because that ride is so short.
The Coulterville section of 49 is known as The Little Dragon; a name inspired by its similarity with the actual Tail of the Dragon in North Carolina. To get there, keep riding Highway 49 heading south from Nevada City for another 157 miles to Coulterville.

A Destination Ride on Highway 49
California has no shortage of exceptional motorcycle roads. Highway 49 between Sattley and Nevada City is one of the most spectacular – scenic, twisty, secluded, and filled with historic sights. Every sport touring rider should put this one on their ride list.
Click the Thumbs Up or Thumbs Down button to email your feedback.
Your questions and comments help improve American Sport Touring. Your email is not used for any other purpose. Please read our Privacy Policy.