Motorcycle Confab Coming to Las Vegas
Your intrepid team at American Sport Touring is heading to Las Vegas in early February to bring you all the latest news from the American International Motorcycle Expo (or more briefly, AIMExpo). We can't wait to get our hands on the latest products from all corners of the motorcycling industry. Every manufacturer that matters will be there making announcements and showing off their latest offerings. This is going to be exciting. And packed with useful information to take into the 2024 riding season. Stay tuned for regular updates in the months ahead.
The Largest Motorcycle Tradeshow in North America
AIM Expo is a tradeshow, not your ordinary motorcycle show. Organized by the Motorcycle Industry Council, AIMExpo stands apart as North America's largest Motorcycle and Powersports Tradeshow, playing a pivotal role in uniting the industry, media, and dealers under one roof.
This annual event serves as a crucial catalyst for the North American Powersports Industry, fostering connections and accelerating opportunities among exhibiting brands, distributors, manufacturers, and dealers. With annual consumer spending topping $50 billion dollars, AIMExpo provides the single largest forum where influential industry leaders can connect to advance the powersports business. At the same time it serves as a grand stage for showcasing new products to media and retailers, with a focus on energizing the industry.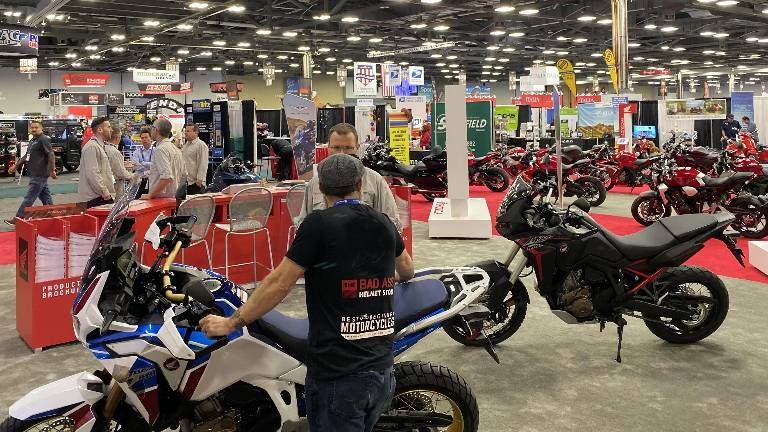 The expo also offers valuable dealer education programs, making it an essential gathering for powersports business dealers looking to stay informed and engaged in the industry. That's why American Sport Touring will be there – to share firsthand information so you too, the rider, can stay informed and engaged in the constantly evolving world of motorcycle sport touring.
advertisement
Stay Tuned for Regular Updates
The expo runs from February 6th through the 8th in Las Vegas. We'll be there every day – walking the show floor, talking with manufacturers, attending keynotes, and taking part in as many events as possible. All to bring you event updates with special attention on the needs of sport touring riders.
See the AIMExpo site for information on registration and other details.
Click the Thumbs Up or Thumbs Down button to email your feedback.
Your questions and comments help improve American Sport Touring. Your email is not used for any other purpose. Please read our Privacy Policy.