Ride Greater Yellowstone's Top Motorcycle Roads
Without question the greater Yellowstone area is rich with the kind of roads motorcyclists seek out. That's made abundantly clear by glancing at a map of the area, reading ride suggestions featured in popular motorcycle magazines, and by the endless enthusiastic conversations among friends. All of these signs point in one direction – motorcyclists love to explore southeast Montana and western Wyoming. If time allows only a once-in-a-lifetime ride in the greater Yellowstone area, then the tour described in the paragraphs below is the one.
Three Spectacular Roads in A Day to Remember
A search for popular motorcycle roads will surface lists calling attention to The Beartooth Highway but may overlook the Chief Joseph Scenic Byway and Highway 14 stretching from Cody WY to Yellowstone National Park. Seemingly the authors of these lists include something for everyone by naming roads found in every corner of the country. However, an impartial review based purely on objective motorcyclist criteria (if such a thing exists) would factor in the number and nature of corners, road condition, and scenery, and as a result surely Chief Joseph and Highway 14 would come into consideration.
This tour packs all three of these roads into one long day of riding that will satisfy any motorcyclist's appetite for fun.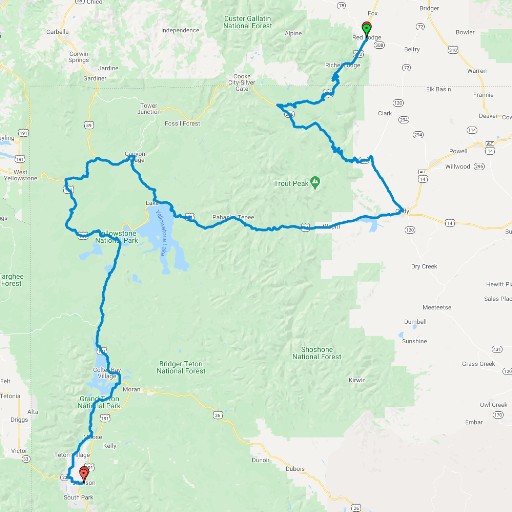 Beginning in Red Lodge Montana, the route contains three segments and an optional extended segment in Yellowstone National Park for anyone wanting to make this a two day tour. The first segment crosses Beartooth Pass and Chief Joseph Scenic Byway to Cody WY. The second includes Highway 14 into Yellowstone and travels past Lake Yellowstone through the interior of the park to West Thumb. The third and final segment passes through Grand Teton National Park on the way to Jackson for the evening.
Some may want to extend the tour by a day, taking more time to ride inside Yellowstone National Park, as well as to explore park trails and attractions like Old Faithful. The optional segment continues the ride in Yellowstone north past Canyon Village, riding all of Grand Loop Road around the park, eventually ending up in West Thumb to pick up segment 3.
advertisement
Red Lodge Montana
Start the tour in Red Lodge Montana, a small town tucked in the foothills of the Beartooth mountains and the self-proclaimed "base camp to the Beartooth". Like so many western towns, Red Lodge was founded as a mining town shortly after coal and gold deposits were discovered nearby. Today Red Lodge has a bit more than 2100 residents mostly catering to the thousands of tourists who come year-round to enjoy the abundant recreation in the area. Restaurants, hotels, and other essentials are readily available.
Getting to Red Lodge from any direction is a ride in itself considering how many great roads lie to the north, the east, and to the south. For example, consider a ride from Lewiston Idaho over Lolo Pass through Missoula and then down into Red Lodge. Or perhaps Steamboat Springs or Estes Park in Colorado to the east. For anyone coming in from the south, a ride through Park City Utah is worth a look. Regardless, make your way to Red Lodge to begin this tour.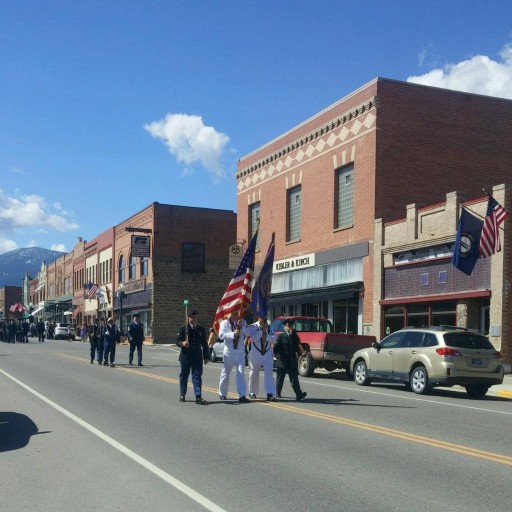 Beartooth Highway and Chief Joseph Scenic Byway
Crossing the Beartooth may not be the fastest route to Cody but it certainly is the best option for motorcycle riders. Gas up in Red Lodge and plan to head out early. Keep in mind that Red Lodge is a mountain town and the Beartooth is a high-mountain pass which means cold mornings, and depending on the time of year possibly icy roads in the higher sections. Beartooth is typically closed due to snow from late October to mid-May. Check the national weather service forecast before setting out to be sure about road conditions.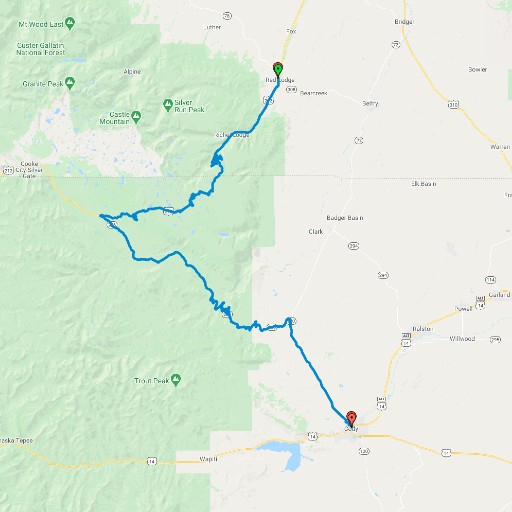 Beartooth starts out with a series of easy sweepers and relaxing stretches of relatively straight road surrounded by evergreens and the fresh smell of a mountain morning. As the pass approaches Beartooth comes to life demanding full attention. A series of tight turns and switchbacks come one after the other, leaving little time to take in the views. Soon the tree line falls away opening up to a rocky plateau at the summit of about 11,000 feet. Pull outs are placed at regular intervals for picture taking and well worth the time. Particularly on the lower side where the road drapes over the descending hillside.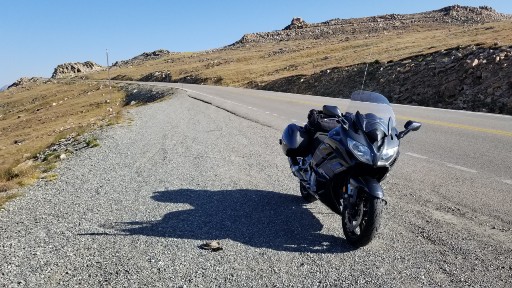 Keep an eye out for the junction with Chief Joseph Scenic Byway (WY-296) visible on the left during the descent from Beartooth Pass. Here, rather than continue on Beartooth, the ride turns left onto Chief Joseph Scenic Byway (also known as WY-296 or Crandall Road).
Chief Joseph Scenic Byway snakes through valleys surrounded by forested mountains. The road follows the route Chief Joseph took to lead the Nez Perce Indians out of Yellowstone into Montana toward Canada in the late 19th century, hence it's name. The highway reaches its highest point, a little more than 8,000 feet, at Dead Indian Pass. A large scenic overlook is available to take in views of the surrounding valley and features a striking monument to Chief Joseph and the Nez Perce Indians.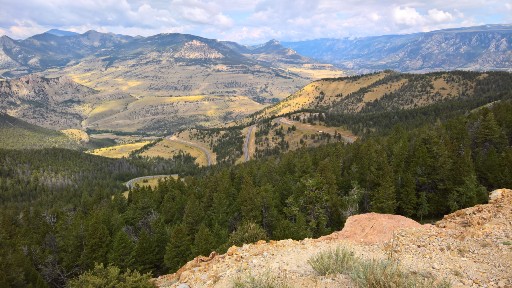 Eventually, the Chief Joseph Byway connects with Highway 120, where a right turn leads straight to Cody.
advertisement
Cody Wyoming
Cody Wyoming is a comparatively big town often described as the gateway to Yellowstone. The town's name comes from its founder Buffalo Bill Cody who, with others, settled the area in the late 19th century. Many of the streets in Cody bear the name of those early settlers. Riders will find a wide selection of restaurants and gas stations, as well as comfortable overnight accommodations.
The town has around 10,000 residents who largely make a living from tourism and supporting surrounding agricultural and mining industries. Weather in and around Cody at an elevation of 5,000 feet is moderate. Temperatures from late spring through early fall range between the mid 50's and mid 80's.
Continue the tour out of Cody on Highway 14 following the Shoshone River on the edge of town as it leads to Yellowstone.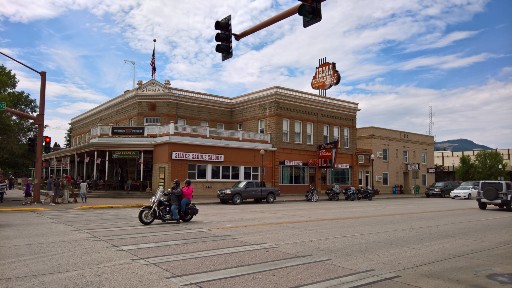 Yellowstone National Park
Yellowstone National Park needs no introduction. It's story as the first National Park established in 1872 by President Ulysses S. Grant is well known. The park encompasses some of the most spectacular scenery visible from the saddle of a motorcycle. Every accolade is rightfully earned and well justified. Refer to the resources linked at the end of this article for more history and detail about this must see park.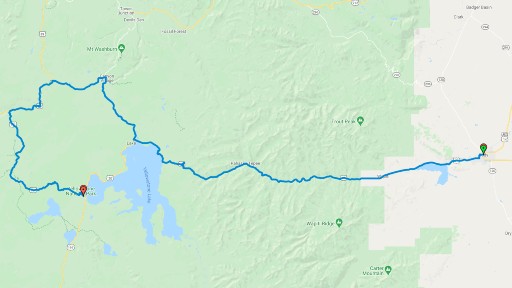 The tour enters the park on East Entrance Road where it follows the north eastern shore of Yellowstone Lake to meet up with Grand Loop Road northbound. In the interest of making this a one day tour, the ride bypasses the northern most section of Grand Loop Road skipping Tower Junction and other sights. Follow Grand Loop north to Canyon Junction, then turn left onto Norris Canyon Road to head west.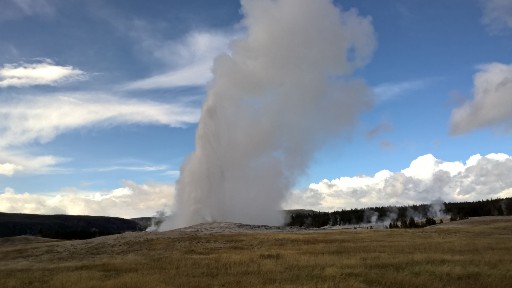 Norris Canyon Road connects with Grand Loop Road at Norris Junction where the ride turns to the south (left) heading toward West Thumb. This part of Grand Loop passes key landmarks like Old Faithful. A side trip to Old Faithful is entirely possible but keep track of the time to ensure plenty of daylight for the ride through the Tetons and into Jackson.
advertisement
Want More Time in Yellowstone?
For those who want more time in Yellowstone, or simply want a more relaxed ride with time to take in the sights and towns along the way, consider making this a two day tour with an overnight in Canyon Village.
Rather than cutting across the park at Canyon Junction, take a break in Canyon Village. Canyon Village features a relatively modern lodge and amenities for a comfortable overnight stay. Plus the area offers many hiking trails and other sightseeing opportunities.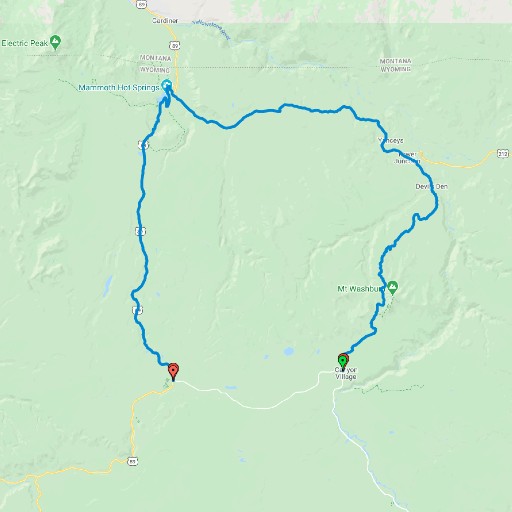 The next day, continue north on Grand Loop toward Tower Falls and Mammoth Hot Springs circling past the West Gate entrance. At West Thumb the ride continues to Grand Teton National Park.
Grand Teton National Park
Riding out of Yellowstone from West Thumb onto the John D. Rockefeller Jr Parkway routes directly to Grand Teton National Park a mere 10 or so miles down the road. This park, smaller by far than Yellowstone, features scenes of the rugged Teton Mountain Range, broad prairies, pristine lakes, and abundant wildlife.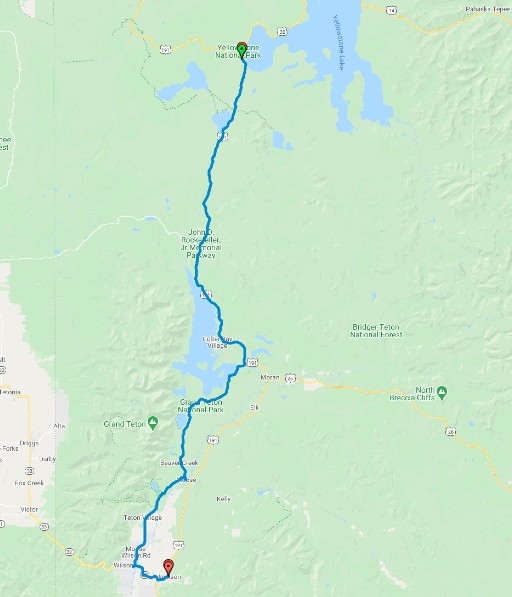 Take the Teton Park Road exit from the Parkway to enter the national park. While Teton Park Road is not a particularly exciting ride, it would be a shame to simply pass by without giving this national park a closer look. The road has frequent pull outs offering panoramic views and photo opportunities.
Grand Teton National Park was established in 1929 and named for Grand Teton, the tallest peak in the Teton range at 13,775 feet. The park adds over 310,000 acres to the Greater Yellowstone Ecosystem.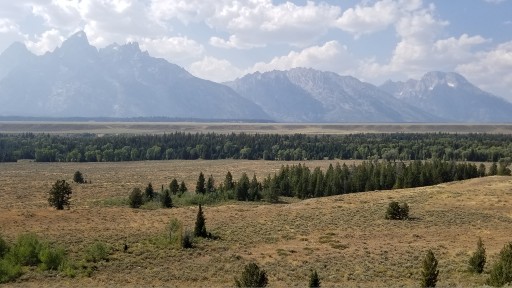 Teton Park Road passes by the south end of Jackson Lake and then along Jenny Lake. Make a stop at the Visitor Center near Jenny Lake and in Moose to load up on park history and better understand the Grand Teton range and surrounding ecosystem.
Teton Park Road connects with Moose Wilson Road at Moose WY. If time allows, continue riding south on Moose Wilson Road rather than reconnecting with Highway 191. Moose Wilson Road eventually intersects the Teton Pass Highway. At the highway take a left to reconnect with Highway 191 and continue on to Jackson.
If the remaining daylight precludes a ride through Grand Teton, then stay on Highway 197 which travels parallel to the park. There are several large vista points off the highway to catch a view of the Teton mountains. While not as up close, staying on the main road is the fastest ride to Jackson.
Wrap-up the Tour in Jackson Wyoming
The tour concludes in Jackson Wyoming. It may surprise some to know that Jackson Wyoming is actually a smaller town than Cody, but it's presence in the Jackson Hole Valley surrounded by natural attractions and recreation areas creates the illusion of a larger town.
Nevertheless, with about 9,000 residents, Jackson offers plenty of good restaurants, hotel accommodations, and all sorts of amenities that make a stay here comfortable any time of year. Jackson is after all primarily a tourist town.
Downtown Jackson is wrapped around the George Washington Memorial Park. The park is easily recognized by the unique elk antler arches at each corner. Built in the mid-1950's, the city keeps the popular landmark in good repair by regularly replacing pieces with recently shed male elk antlers collected in the surrounding area.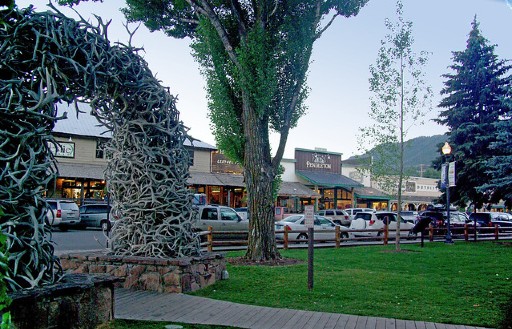 Where to Next?
Not ready to head home? Want to keep touring? Jackson need not be the end of the ride, but instead just a stop on a longer tour.
Utah is in reach with five national parks. The Grand Canyon is not much farther south than that. To the east, South Dakota offers great riding in the Black Hills and Badlands area. And of course, riding west through Nevada and into California won't disappoint.
Let us know what you think. Did this ride live up to your expectations?
Click the Thumbs Up or Thumbs Down button to email your feedback.
Your questions and comments help improve American Sport Touring. Your email is not used for any other purpose. Please read our Privacy Policy.
Resources
Tour Summary
| Tour Segment | Start At | Ride Miles | Ride Time | End At |
| --- | --- | --- | --- | --- |
| Beartooth | Red Lodge Mt | 159 | 2h 58m | Cody WY |
| Yellowstone | Cody WY | 152 | 3h 39m | West Thumb WY |
| Optional Yellowstone extension | Canyon Village WY | 57 | 1h 43m | West Thumb WY |
| Grand Teton | West Thumb WY | 110 | 2h 48m | Jackson WY |
Useful Links