Yamaha FJR1300 For 2023 Same as 2022
Are you thinking about a new Yamaha FJR for 2023? You're not alone. In the world of sport touring motorcycles, the Yamaha FJR earned its reputation as the quintessential example of what a true sport tourer should be. Yamaha engineers concocted a masterful mix of power and handling agility balanced with touring rider conveniences.
The FJR is the gold standard against which all others are compared. So of course curiosity is running high about new features and pricing for the 2023 model.
What's New For The FJR In 2023?
In a word, nothing. The 2023 FJR is in every way a continuation of the 2022 model right down to paint color. Every technical specification and feature mirrors the 2022 edition. Except one – price. The 2023 FJR MSRP is now $18,299, a $100 bump from the year before.
Sometimes sameness is a good thing. The FJR remains a fantastic sport touring choice in its current configuration. On the other hand, Yamaha may have waited too long to make important competitive improvements and now finds itself with a gap in the product line while they sort out how to address the sport touring market going forward.
advertisement
Get Them While You Can
Shop other manufacturers and one realizes that the number of big sport touring motorcycles is shrinking. Kawasaki discontinued the Concours this year. Honda stopped making the ST-1300 years ago. And now it looks like Yamaha will follow suit with the FJR. BMW may be the last manufacturer standing.
The shrinking number of comparables makes the decision to buy a new FJR a little easier. From its introduction 20 years ago, the FJR is a true sport tourer with enormous power and sufficient agility to be equally at home on twisty mountain roads and effortlessly soaking up highway miles.
So yes, both first time and long-time sport touring riders alike should snap-up the last of the current generation FJRs.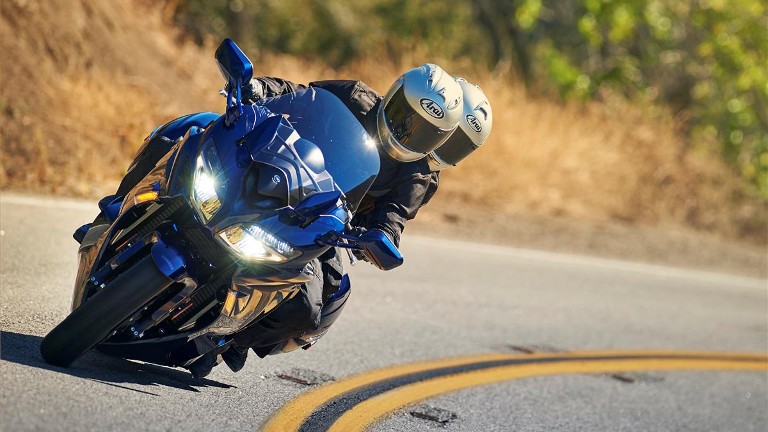 Here are feature highlights found on both the 2022 and 2023 FJR:
Striking Cobalt Blue paint.
Robust power from a 1298cc 16 valve fuel injected inline 4 producing an estimated 141 horsepower.
Smooth power-to-wheel delivery courtesy of six speed transmission and shaft drive.
Electronically adjustable suspension.
Essential rider aids including ABS, traction control, dynamic engine mapping, lean-angle-sensitive lighting, and cruise control.
And other sport touring conveniences not the least being roomy integrated color-matched side cases.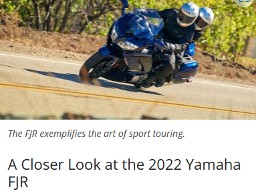 advertisement
What's Next for the FJR
It's hard to say where Yamaha goes next with the FJR. We've reached out to the company for comment but have not heard back. Instead, we spoke with dealers around the country hoping Yamaha had shared product plans with their dealer network.
It turns out dealers are no better informed. Yamaha has not given dealers any signals on the future of the FJR leaving them to draw their own conclusions based on product availability and customer trends.
First, dealers are having a hard time getting new FJRs in stock. Whether due to supply chain problems or not, Yamaha has likely ratcheted down production to avoid a surplus inventory of current generation bikes. The second telling observation dealers mentioned is that sport touring customers have shown increasing interest in adventure bikes. It appears a noticeable segment of the market wants the motorcycle equivalent of a jeep.
Other headwinds facing the industry as a whole may also play a role here. Stricter European emission standards are believed to have caused Yamaha and Kawasaki to discontinue FJR and Concours sales in Europe a few years ago. Yamaha also announced that 2022 is the last year for FJR sales in Japan. North America is now the only FJR market.
The conclusion from all this circumstantial evidence? Demand for the FJR may have tapered off, not so much because there are fewer sport touring riders but more likely because the FJR has fallen behind a wide choice of alternatives. Seeing that, Yamaha is pulling back on the FJR but not necessarily on the sport touring category.
We expect Yamaha to use up remaining FJR parts to build the last 2023 models for sale in North America. Meanwhile Yamaha engineering and design departments can take advantage of the interlude to develop a next generation FJR or its successor. How long before we see the fruits of their labor is hard to say. But given FJR owners tend to hold onto their bikes and are an exceedingly loyal group, Yamaha seems to have time to plot their next move.
Perhaps the Future Looks like a Tracer 9 GT
While Yamaha revamps the FJR, as we speculate they will, dealers are directing sport touring buyers to the Tracer 9 GT. Here again Yamaha is selling a 2022 model with no sign of a 2023 to come. But the Tracer, unlike the FJR, is not in urgent need of an update.
The Tracer 9 GT is priced at a budget-friendly $14,999 MSRP and includes the same sport touring features found on the FJR. In fact, several GT features are far more advanced. For example, the Tracer has twin (yes two) full color 3.5-inch TFT instrument panels, YZF-R1 derived electronic slide control, and a quick shifter. Unfortunately, the GT's 890cc in-line 3 drives power to the rear wheels through a chain drive, which means more frequent maintenance. The GT is a more nimble motorcycle than the FJR with a steeper rake and shorter wheelbase, and weighing 157 pounds less at 485lbs.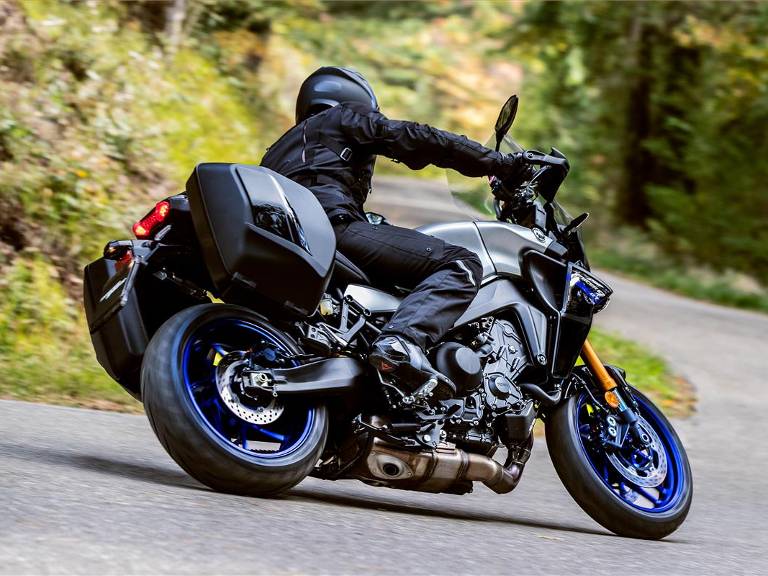 The Tracer is a versatile alternative to the FJR, but there are a few important trade-offs to consider, not the least being minimal fairings that leave riders exposed to the weather.
advertisement
Don't Give up on FJR Sport Touring
The FJR story isn't over yet. Yamaha is unlikely to make a hard turn away from a 20 year legacy of FJR production and legions of enthusiastic and loyal riders. We are confident saying a new sport touring model from Yamaha is in the offing.
While we wait, riders looking for a sport touring motorcycle should keep the 2023 FJR or a left over 2022 on their short list. New FJRs are hard to find, but worth the hunt. Now is the time to get in touch with a local dealer.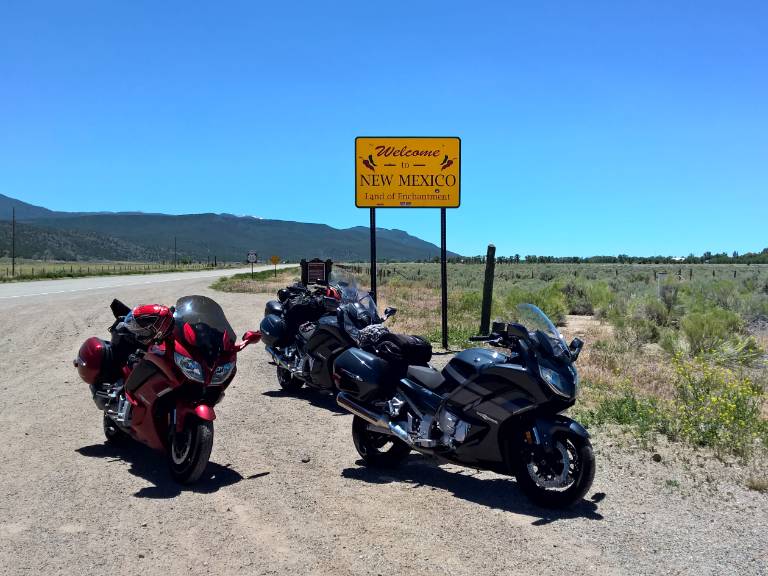 We will continue to follow this story as it unfolds. In the meantime, find more details about the 2023 FJR on the Yamaha website (www.yamahamotorsports.com)
Click the Thumbs Up or Thumbs Down button to email your feedback.
Your questions and comments help improve American Sport Touring. Your email is not used for any other purpose. Please read our Privacy Policy.