Best All Around Sport Tourer for 2023
A perennial favorite among sport touring riders, the BMW R 1250 RT is little changed for 2023. Building on the success of significant updates that arrived with the 2020 models, for 2023 BMW made only a few changes. Buyers get a new 719 Option paint choice, real-time gradient tire pressure monitoring, and the ability to configure self-cancelling turn signals. All prior innovations carry forward on this state of the art sport touring machine.
BMW motorcycles are respected for sophisticated engineering, the highest standards of build quality, and outstanding performance matched only by rider comfort. Here's why the BMW R 1250 RT is our pick for the top Sport Touring motorcycle of 2023.
Almost Nothing to Configure
Let's start with the buying process itself. It's not complicated. First, every R 1250 RT destined for the US market automatically includes the Premium Package. From there, buyers can choose a paint color; either Alpine White, Black Storm Metallic, or Meteoric II Dust Metallic. A fourth color selection, Racing Blue Metallic, is also available but requires adding the Style Sport Package. That option includes a choice of high or low windshield which are not available otherwise. Beyond that, the only remaining options to consider are Option 719 wheels, billet cylinder covers, control levers, and a distinctive brown colored RT bench seat.
BMW Motorrad will continue to offer different combinations of engines [and] styles to make sure there is something for every rider no matter what they are looking for.

Oleg Satanovsky, BMW Motorcycle & Motorsport Communications
The R 1250 RT MSRP base price is $19,695. To that add another $6,180 for the Premium Package, again included on every US copy, and you have an effective base MSRP of $25,875. For those who like blue paint, add another $695 for the Style Sport Package bringing the MSRP to $26,570. Putting aside any add-on Option 719 parts, that seems like a lot to spend on a motorcycle. And it is. But this is one of those rare cases when money actually can buy happiness and the best in sport touring.

Reviews published on American Sport Touring are conducted independently and without bias. American Sport Touring does not accept compensation of any kind in exchange for product reviews.
State of The Art Fundamentals
Engineering excellence has always made the difference between a rideable motorcycle and a true motorcycle riding experience. BMW engineering pays attention to even the smallest details to make the R 1250 RT a riding experience like no other.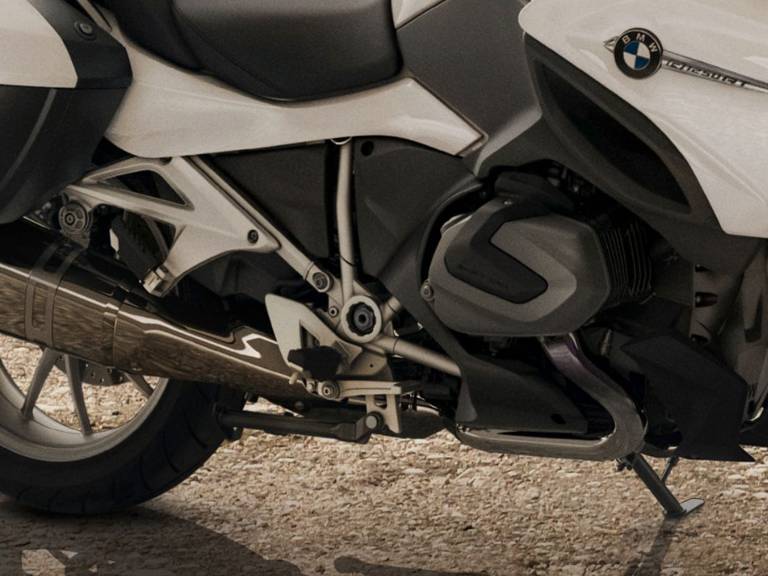 Don't look for platform changes this model year. The 2023 carries forward the same improvements that were first introduced in 2020.
A mighty 1254cc two-cylinder boxer engine featuring patented BMW ShiftCam variable input valve stroke and timing technology that enables this engine to develop 136hp and 105ft-lb of torque while still delivering excellent fuel milage.
A six speed transmission delivers power to the rear wheel through a shaft drive held in place by a single-side swing arm and Motorrad's Paralever suspension designed to prevent rear end lift common with shaft drive set-ups.
Big Brembo brakes front and rear wrapped around twin 12.6" discs up front and a generous 10.9" disc at the back.
Together with ground-up sport-bike inspired suspension geometry, these fundamentals keep the RT ahead of everything else in its class.
advertisement
Essential Electronics
Starting in model year 2020, BMW introduced a number of significant electronic rider aids that continue mostly unchanged into model year 2023. All of these are included in the Premium Package installed on every US delivery.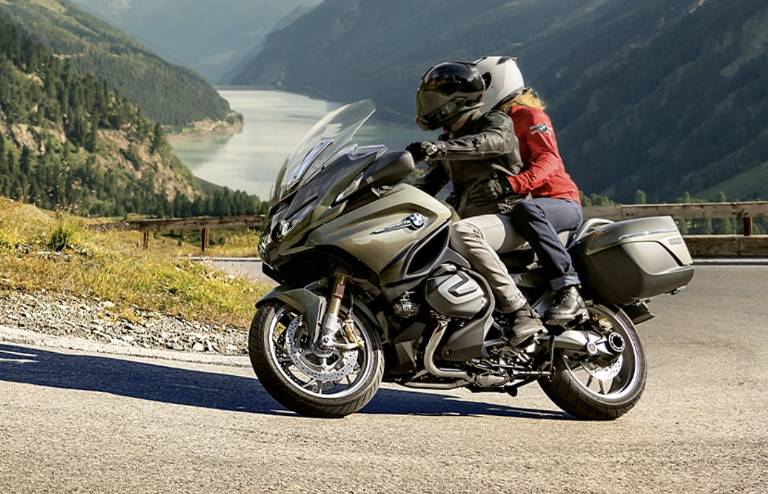 Here are the most exciting features, each designed to make motorcycling safer in any weather on any road no matter the rider skill level.
Dynamic Traction Control and Dynamic Engine Brake Control minimize rear wheel spin under acceleration and avoid skidding under deceleration. The RT will even cut the throttle if a rider inadvertently opens it under heavy braking.
Lean sensitive ABS Pro uses roll and yaw signals together with lateral acceleration force to fine-tune brake pressure in corners.
The RT comes with Dynamic Electronic Suspension, meaning the suspension self-adjusts ride height and dampening based on the degree of rear wheel compression. Load setting choices, common on other electronic suspension set-ups, are reduced to a choice of two: "minimum" and "auto" where in practice riders will always select the auto setting.
Technological advancements for BMW motorcycles provider a tremendous benefit not only in rider comfort but in year-round rider safety.

Oleg Satanovsky, BMW Motorcycle & Motorsport Communications
To make set-up even easier, BMW provides four ride modes, ECO, RAIN, ROAD, and DYNAMIC. When selected, even while riding, each mode makes paired adjustments to suspension, traction control, and engine brake control. Sport Touring riders may occasionally use ECO and RAIN modes, but ROAD is the best choice for a satisfying level of throttle response and torque. On those occasions when the road stirs things up, switch to DYNAMIC and the on-board computer steps aside letting the rider take control of every bit of the RT's throttle and torque.
advertisement
Rider Conveniences a Plenty
No doubt BMW engineered the RT for spirted riding, but they didn't do so at the expense of rider comfort and convenience. Everything a touring rider expects, and then some, are baked into the RT. Beyond low hanging fruit like heated seat and grips and adjustable windscreens, the RT includes the following notable features.
All Digital Instrumentation
A hefty 10.25" TFT display completely replaced the earlier analog gauges and LCD panel combination that characterized pre-2020 models. All instrumentation, navigation, radio, music, and communications are rolled into one bright full-color panel. The multi-controller wheel at the left grip lets riders scroll through motorcycle status information and select functions on integrated devices like mobile phones and in-helmet communication systems. Without question, this is the easiest function controller on any motorcycle today.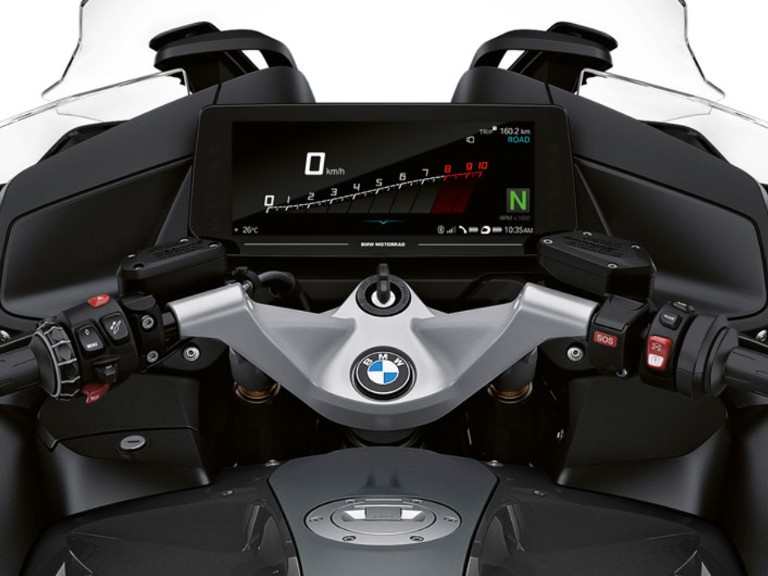 Speaking of integration, BMW set-up the RT to act as a hub for every electronic device one might use while riding. Load the BMW Motorrad Connected app on your mobile phone, then connect the phone and motorcycle via Bluetooth and WIFI (used to share mobile phone maps with the TFT display) and just like that full navigation features and mobile device features are visible and controlled from the on-board display. In actuality your mobile phone provides cellular and internet connectivity while the TFT panel provides the user interface.
More Than the Usual Rider Aids
Making riding a little more approachable, the RT includes Hill Start Control which alleviates the need to coordinate the brake and throttle while attempting to take off on a hill and without the risk of embarrassing oneself. When activated, the motorcycle manages the rear brake letting the rider ride off as if on level ground.
Another nice-to-have feature that comes with the RT is Gear Shift Assistant Pro. In effect, riders can simply hold the throttle open and click up the gears without the need for clutching. And going the other way is just as easy. Click down the gears and the RT blips the throttle and manages the clutch on your behalf. BMW delivered racing technology to the masses.
These types of advance systems make the BMW R 1250 RT popular not only with long distance touring and authority riders but also with everyday riders and commuters.

Oleg Satanovsky, BMW Motorcycle & Motorsport Communications
Cruise Control has become common on sport touring bikes, but BMW took the concept to the next level by adding Distance Control. The result is what BMW calls Active Cruise Control. This system incorporates forward looking radar to keep the RT at a rider configured distance behind the car or motorcycle in front. Not only that, the system automatically adjusts riding speed based on lean angle in corners. This is leading edge tech and like any implementation it comes with a few important caveats. For one, lane position and interference from adjacent lanes can cause the system to lose track of the object it's following. And corners can throw the system off too. No doubt the system will continue to get better as BMW improves the algorithms and releases periodic updates to the on-board software. In the meantime, don't get too relaxed.
Emergency SOS Built-in
One last innovation that we've only seen on BMW motorcycles is the Emergency SOS button. Located near the right grip, under a protective cover, this button lets riders send an SOS call to a responding BMW Call Center either manually or in the event of a serious crash automatically.
advertisement
The Sport Tourer You Are Looking For
We could go on and on about the RT, but there are too many features to mention. Everything anyone, even the most insatiable rider, could want in a sport touring motorcycle is conveniently and thoughtfully engineered into the 2023 R 1250 RT.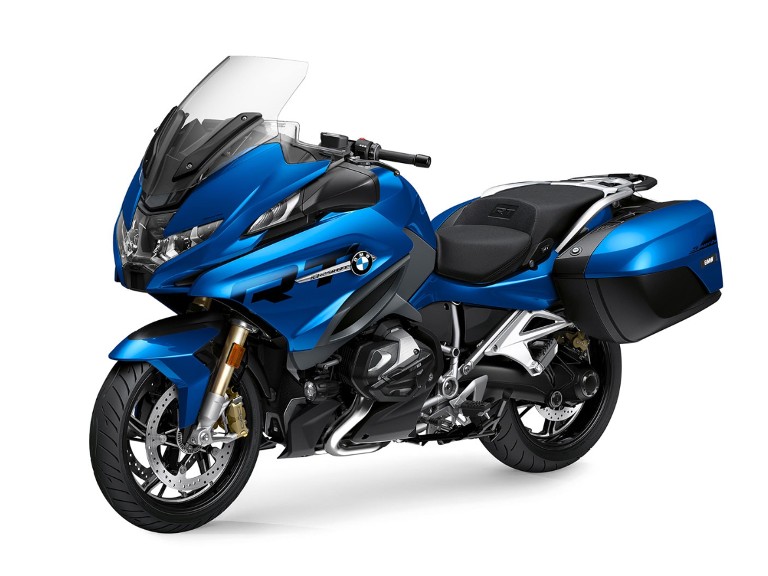 And best of all, the total package weighing in at 615 pounds is a deceptively agile performer on the twistiest of roads.
Want to know more? Contact your local BMW Motorrad Dealer or check out the BMW Motorrad site (www.bmwmotorcycles.com)
Click the Thumbs Up or Thumbs Down button to email your feedback.
Your questions and comments help improve American Sport Touring. Your email is not used for any other purpose. Please read our Privacy Policy.