Discover the Feather River Scenic Byway
A few things immediately come to mind when the conversation turns to California. Miles of sandy Pacific Ocean beaches among the best anywhere in the world. Movie stars, glitz, and glamour crowding swanky boulevards and boutiques. And of course, more than one iconic theme park. But for motorcyclists, California's breathtaking canyon roads are top of mind. The Feather River Scenic Byway, formally California State Route 70, is one such road.
Wave after Wave of Alluring Curves
Riding any canyon promises miles of corners, each seemingly designed to deliver the kind of excitement motorcyclists crave. On CA-70, the corners come in waves. Depending on direction, east to west or vice versa, their intensity and frequency either builds or wanes.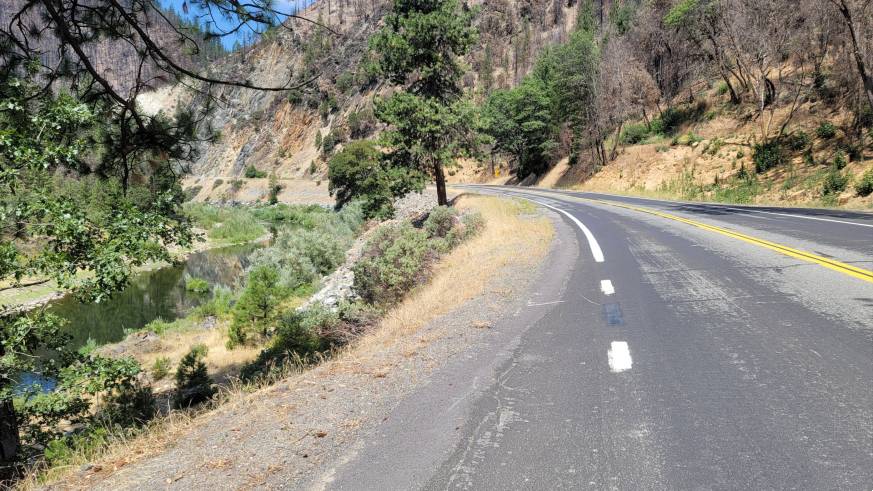 The best riding in either direction however comes along the Feather River Canyon. A stretch of road that begins in the east roughly where CA-89 meets CA-70 at Spanish Creek and continues west to the junction with CA-149 near Chico. No switch backs to speak of, but everything else from wide curves to tight peg clipping corners.
advertisement
A Railroad Museum, Bridges, and The Stairway of Power
CA-70 winds through miles of eastern California hay farms and cattle ranches as it climbs and drops through gaps in the Plumas National Forest on its way west to the Feather River Canyon. Like so many roads in California, history and scenery can get lost in the pavement, leading riders to ask, "what was that thing I just passed?" Here are a few scenic highlights in the Feather River Canyon.
Western Pacific Railroad Museum
Start with the Western Pacific Railroad Museum in Portola. This unusual museum, run by the Feather River Rail Society, offers a variety of "hands-on" experiences touching almost every part of railroad work. Hours are limited; check their website for current information. The town of Portola, with plenty of food and drink options, is itself worth a stop.
The Pulga & Tobin Bridges
The highway zig zags over several bridges across the Feather River. Two are particularly eye-catching; both being a pair of crisscrossing highway and railroad bridges built in the early 1900's.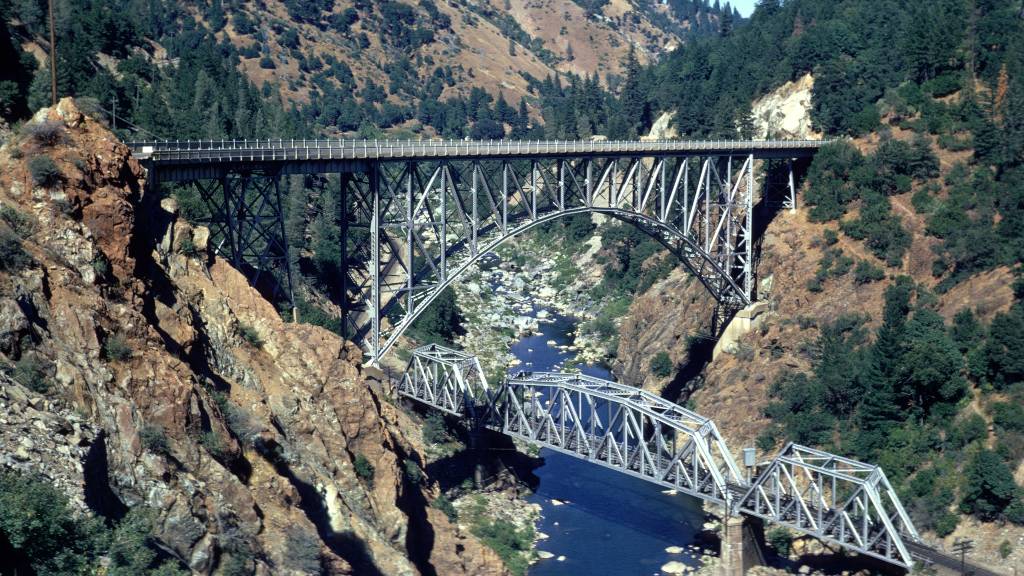 The Pulga Bridges are near Oroville California northeast of Lake Oroville. The lower railroad bridge was built in 1909 by the Western Pacific Railroad, which was bought out by Union Pacific in 1982, to reach more favorable terrain on the opposite side of the river. Later in 1932, a second bridge was completed as part of CA-70 highway construction. This second bridge, spanning 350 feet, crosses the canyon 170 feet above the railroad bridge, one of two points where railroad and highway swap riverbanks.
The Pulga highway bridge itself is narrow. West of the bridge, jersey barriers run along the downslope side of the road opposite a canyon wall that leaves just enough room for a fog stripe. As a result, aside from a small gravel pullout on the east end of the bridge and a service road on the other, there are no vista points or pullouts for pictures.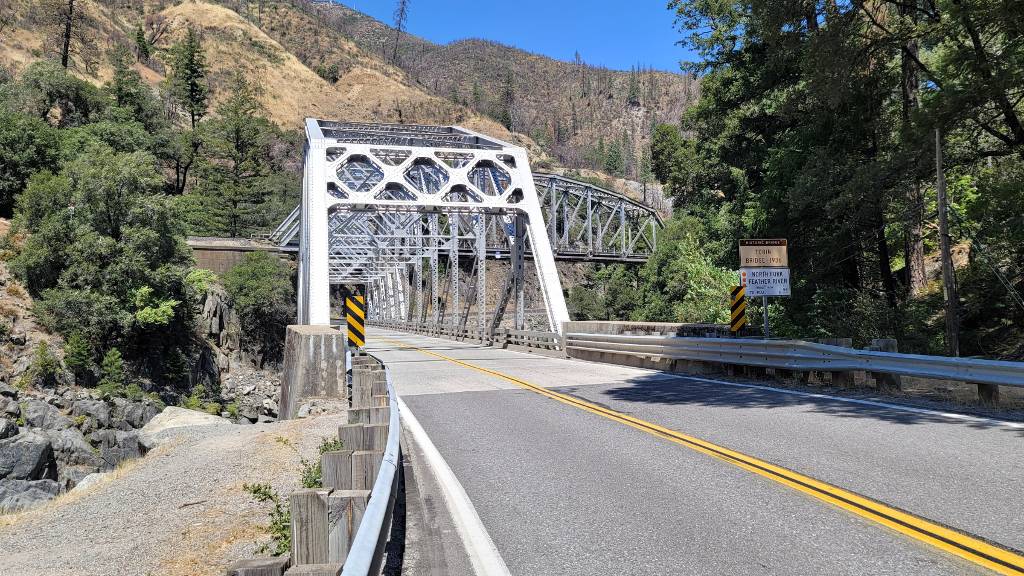 The Tobin Bridges are 16 miles east of the Pulga Bridges and once more the highway and railroad trade sides. The railroad and highway bridge were completed in 1910 and 1936 respectively. Unlike Pulga, these bridges were both built much lower to the river and this time with the railroad crossing over the highway. A paved pullout on the west side of the bridge provides an ideal spot for pictures.
advertisement
Arch Rock, Grizzly Dome, and Elephant Butte Tunnels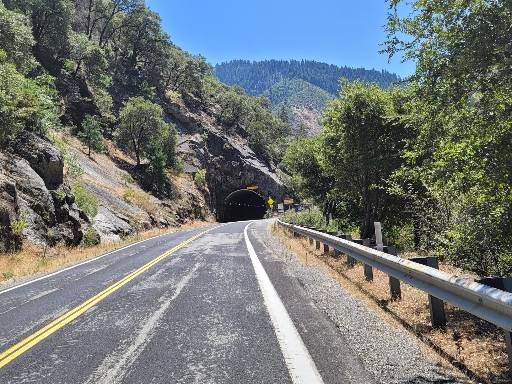 Efficient highway construction in the Sierra Nevada mountains often requires a bit of tunnel work and CA-70 is no exception. Between the Tobin Bridges and Pulga Bridges granite formations spill down the canyon walls to the river's edge forcing construction crews to blast through the rock.
Travelling east to west, riders first come upon the 261 feet long Arch Rock tunnel. That's followed by Grizzly Dome at 390 feet. And finally, the longest tunnel of the three at 1187 feet, Elephant Butte. All are tight two-lane tunnels with only 14 feet of ceiling clearance.
The Stairway of Power
Other hard to miss features of the Feather River Canyon are the dams and power stations that appear along the roadside. They are part of the Stairway of Power, a hydroelectric power generating project that extends from Oroville eastward into the hills north of Paxton.
The system consists of a series of dams, powerhouses, and other elements designed to efficiently turn 74 miles of cascading mountain water into electricity serving customers across north and central California. Construction started in 1908 and the last powerhouse, Belden Powerhouse, was commissioned in 1969.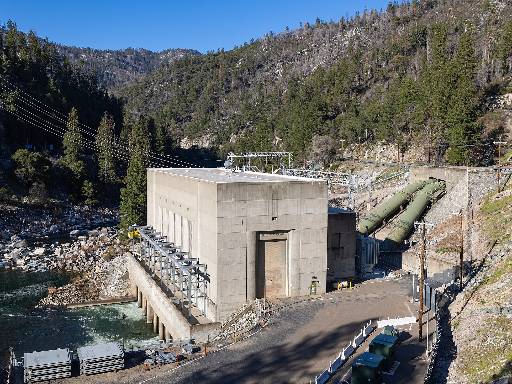 Four of the powerhouses and two dams are visible from the road. Traveling east to west look for the following: Belden Powerhouse, Rock Creek Dam, Bucks Creek Powerhouse, Rock Creek Powerhouse, the Cresta Dam, and finally the Cresta Powerhouse supplied by two impressive penstocks crossing under the road to deliver water into its turbines.
For more details read Feather River Canyon "Stairway of Power" by Western Pacific Railroad History Online.
advertisement
Build a Ride Around CA-70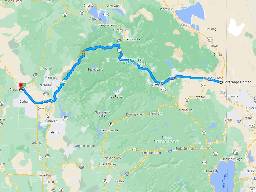 A ride on CA-70 and the Feather River Canyon Scenic Byway runs 140 miles east-west between Reno and Chico. That's a little less than 3 hours of saddle time with plenty of unhurried moments in between for picture stops along the way. The route along CA-70 works well as one leg of a multi-day tour.
Chico-Scenic Byway Loop
Some riders may want to take a day ride through the Feather River Canyon. They might consider a 175 mile clockwise loop starting in Chico heading north on CA-32, then east on CA-36, and back to Chico on CA-70 along what is arguably the most scenic (and twisty) section of the byway. Still a relatively short three and a half hour ride (without stops), but one that includes a second classic Sierra Nevada mountain road.
Learn more about riding CA-32, also known as the Deer Creek Highway, in the article Ride Deer Creek Highway to Lassen.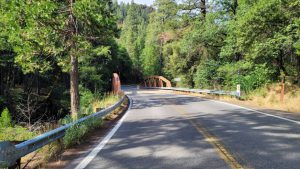 Chico-Lassen Loop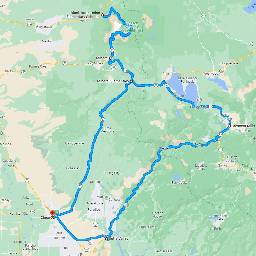 Still want more miles? Add Lassen Volcanic National Park to the Chico loop. Instead of turning east on CA-36, turn west toward Mineral. Ride through Lassen, turn around before Old Station, and ride back through the park and continue the clockwise Chico-Scenic Byway loop on CA-36 and CA-70. All of that adds up to about 270 miles and 6 hours of riding time. A full day for sure.
Make Feather River Canyon A Ride to Remember
A few thoughts to help prepare for a ride on the Feather River Scenic Byway.
Start out early to allow plenty of time for stop at points of interest. Vista points are scarce, but packed gravel pullouts are well spaced along the highway.
The highway itself is well maintained with typically light traffic, leaving plenty of freedom to choose a comfortable pace. That said, check CA-70 road construction on the Caltrans website before starting out. Roadwork and roadside improvements are sporadic throughout the summer but can each cause a 20 or 30 minute delay.
Expect to share the road with large trucks driven by experienced drivers who have the confidence to move at a pretty good clip even around corners.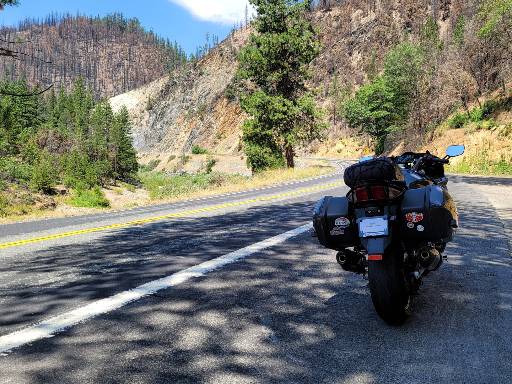 California is highly regarded by sport touring riders for its diversity of landscape and road choice. Like the Appalachians on the east, the Sierra Nevada mountains contain a wealth of motorcycle roads deep in canyons, over passes, and winding through forest groves. The Feather River Canyon Scenic Byway is one such road well worth a ride.
Click the Thumbs Up or Thumbs Down button to email your feedback.
Your questions and comments help improve American Sport Touring. Your email is not used for any other purpose. Please read our Privacy Policy.