Ride the Badlands National Park
Motorcycle riders may experience a near spiritual state of mind while crossing miles of striking geologic deposits, ridges, spires, and buttes containing yet-to-be-discovered fossil remains of prehistoric life. Located in South Dakota, Badlands National Park offers 244,000 acres of scenic terrain that archeologists continue to mine for insight on the evolution of climate and life over tens of millions of years. The terrain is semi-arid featuring a 50/50 mix of grass covered prairies and rock formations.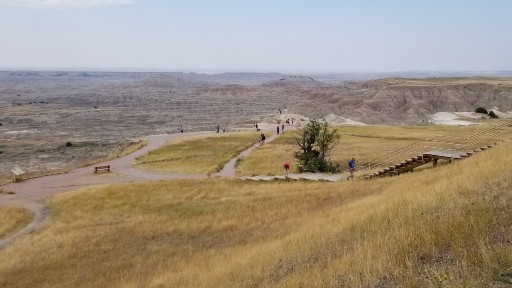 Like other National Parks the National Park Service looks after Badlands National Park. However American Indians from the Lakota Nation co-manage the Stronghold District on the south side of the park. The Lakota also offer presentations on Indian heritage and culture. Interestingly, the park name itself comes from a Lakota phrase describing a difficult-to-cross section of terrain which was roughly translated as "land bad".
The park is open 24 hours a day 365 days a year (with the exception of weather related closures). An entrance fee is required. You can pay at the gate or purchase an America the Beautiful Pass. If you plan to visit several parks in a season an annual pass is a money saver and convenient too since you don't have to fumble for money. Entrance fees vary by park. Badlands is a bargain at only $15 per motorcycle; for comparison the fee at Yosemite is $30 per motorcycle.
Focus on the scenery, the roads don't require extra attention.
Badlands National Park should be a detour for anyone traveling east or west along Interstate 90. While the surrounding roads offer only a limited riding experience, the road through the Park provides a little more than 40 miles of gentle curves and can't-miss scenery. A highly recommended break from the monotony of interstate riding.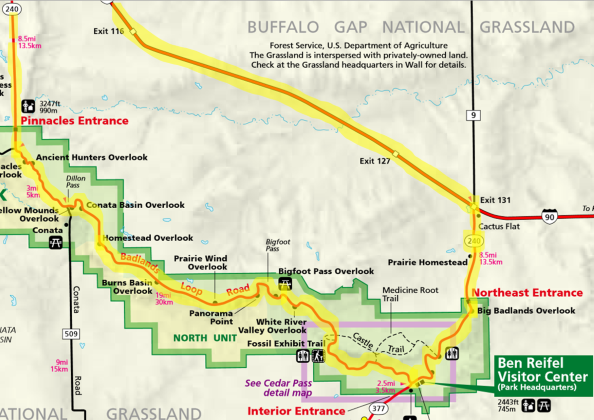 The park has three entrances all leading to Highway 240, also known as the Badlands Loop Road. This is the main road through the park. Whether you enter from the east, the west, or the south, all entrances lead to the Badlands Loop Road. If you want to cover the entire park, from the east start at the Northeast Entrance or from the west at the Pinnacles Entrance. The south Interior Entrance is in the in the middle of the park forcing a choice to ride the west half or east half. Keep in mind too that since the east and west entrances are effectively connected by I-90, it's possible to enter the park from the Interior Entrance on the south, follow the Badlands Loop Road east or west, and then take I-90 to rejoin the road at the opposite entrance ultimately looping right back to the Interior Entrance.
One more routing option to consider particularly if you are traveling east and want to cutout a chunk of Interstate Highway riding. Roll into Rapid City South Dakota and take SD Highway 44 east to Interior South Dakota and follow SD Highway 377 to the park's Interior Entrance. You can follow the Badlands Loop to ride the entire park or reconnect with the interstate at the Northeast Entrance and continue on I-90 east.
advertisement
Badlands National Park is for hikers.
The Badlands Loop Road is not all that long but features many scenic overlooks and trailheads. If time allows and stretching legs is in order, consider hiking the Cliff Shelf trail. It's only a half-mile long and just a mile or so north of the Ben Reifel Visitor Center. The trail features a boardwalk and a stair climb along the Badlands Wall. Ask for a map at the visitor center to find other interesting trails.

Let's take a minute to talk about the Badlands Loop Road itself. To begin with, the road is paved. But narrow with many twists and turns as well as up hill climbs and down hills. Traffic is heaviest in mid-day not surprisingly and motor traffic shares the narrow road with bicycles. Thinking positively, taking it easy affords the opportunity to soak in the beauty of the Badlands. The speed limit throughout the park is 45mph.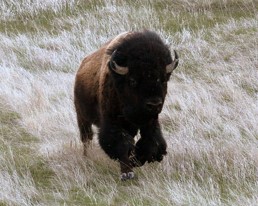 If adventuring on unpaved roads is of interest, consider riding Sagecreek Rim Road which is on the west side of the park off Badlands Loop Road a few miles past Pinnacles Entrance. Wildlife is more abundant in this less traveled section of the park. Be aware that conditions are unpredictable, and the road may be closed entirely in winter and after heavy rains.
Watch for animals on the road. The nature of the terrain may lead you to be complacent about wildlife. But in fact Badlands is home to a surprisingly large wildlife population including bison, bighorn sheep, and lots of deer. The most likely time for wildlife to be out is at dawn and dusk. Visitors are encouraged to share wildlife sightings with rangers at the Ben Reifel Visitor Center who will in turn share information with other visitors. And keep in mind that wildlife freely cross roads anywhere in the park – be watchful.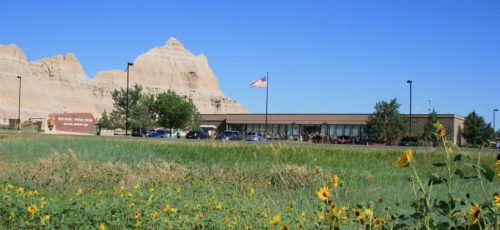 The Ben Reifel Visitor Center near the Interior Entrance to the park is open year-round offering a bookstore, exhibits, and special programs. A quick stop here will provide insights that will enrich the scenery you encounter along Badlands Loop Road. By the way, a second visitor center, the White River Visitor Center, is located on the west side of the park about 20 miles south of Scenic South Dakota on SD-27. This one is smaller and open only during summer months.
Some things to know before you gear-up and go.
Weather can be unpredictable – Temperatures in the coldest months, November through January, average near or below freezing, while the warmest months, July and August, are typically in the low 90's. But those are averages and any given day may be much warmer or colder. Be prepared.
Water is hard to come by in this arid land – Carry what you need for the time you plan to spend in the park. Water is available in the visitor center and at the Cedar Pass Lodge.
Gas-up before entering – There are no gas stations inside the park, but gas is available at locations near the entrances including a small station in Interior South Dakota and more in Wall South Dakota. While a drive through the park is only about 40 miles end-to-end, it's still a long walk if you fail to mind the fuel gauge.
Only one choice for lodging in the park – The Cedar Pass Lodge located near the Interior Entrance is it. If you would rather camp, there are many campsites available on a first-come first-serve basis. Check at the visitor center for locations.
Lawrence Welk played Cedar Pass Lodge – Just a fun fact that in the early 1930's a dance hall was located near Cedar Pass Lodge that attracted people from hundreds of miles around to hear big-time bands like Lawrence Welk. Today Cedar Pass Lodge provides the only restaurant, gift shop, and lodging inside the park.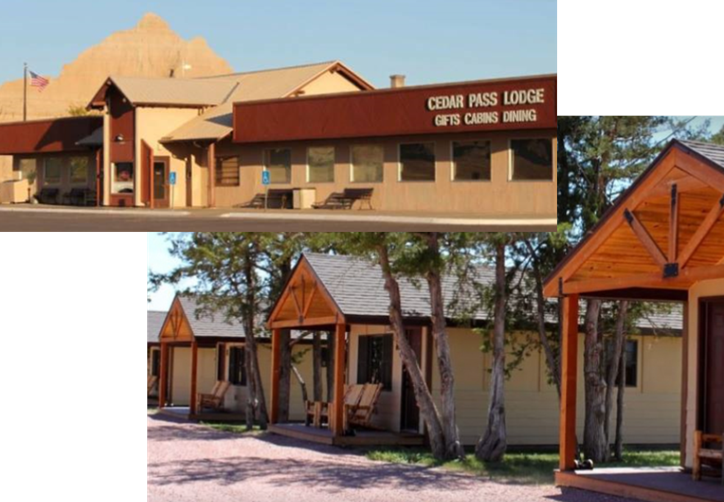 advertisement
While you're in the area, check out these nearby destinations.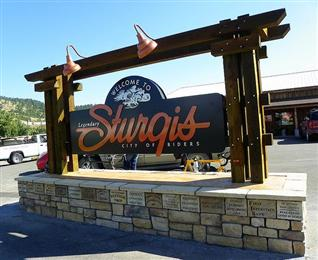 Visit Sturgis. Sturgis is a fun little two and a half hour, 115 mile ride from Badlands National Park. Exit the park at the Pinnacles Entrance heading toward Wall South Dakota and then onto I-90 to Rapid City. At Rapid City, connect with Nemo Road westbound toward Brownsville South Dakota. At Brownsville, take US-385 north toward Deadwood SD. From there you can jump on US-14A to Sturgis.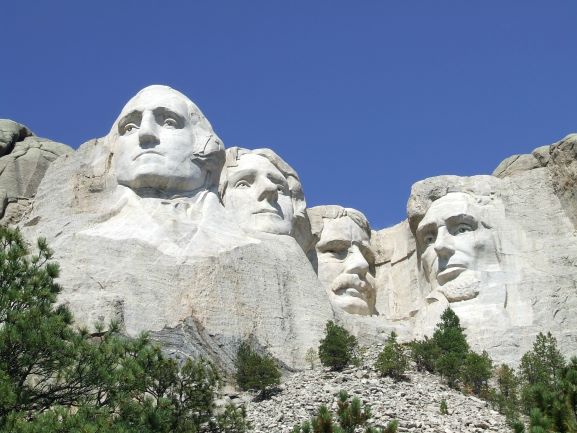 Mount Rushmore is less than 100 miles away. The carvings at Mount Rushmore are world famous and entirely worth a visit. Leave Badlands from the Pinnacles Entrance toward Wall SD and onto I-90 toward Rapid City. Take the Mount Rushmore exit off I-90 and follow US-16 to the monument. If time allows, and riding a couple miles on unpaved road is not a problem, then consider continuing on to Crazy Horse Memorial which is only another 18 miles or so south on US-385.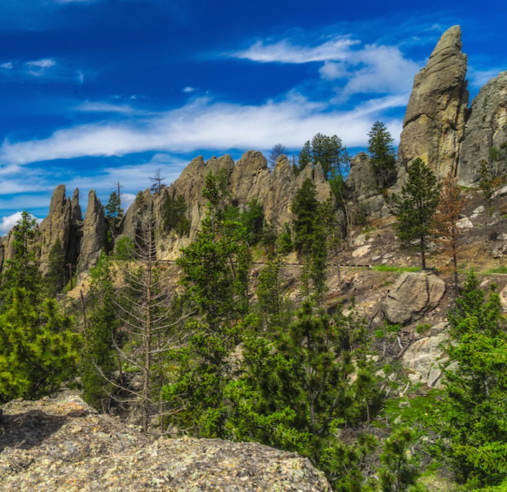 Enjoy Needles Highway. This 14 mile stretch of road sits inside Custer State Park in the Black Hills of South Dakota and is only about 110 miles from Badlands National Park. Needles Highway was completed in 1922 and at the time considered impossible to build. Today, the twisty roadway marked by granite peaks and many tunnels is popular with tourists. Quick tip, tell the Park Ranger when you enter Custer State Park that you are riding straight through on US-16A and they may waive the $10 entrance fee per motorcycle. To get to Needles Highway, first aim for Mount Rushmore and continue on toward Crazy Horse Memorial, but about halfway to Crazy Horse turn southeast off SD-244 onto SD-87. You are now on what becomes Needles Highway. An alternative route to Needles Highway is to ride from east to west. Instead of taking US-16, take SD-79 South to SD-36 West and then connect with SD-87 (Needles Highway).
Badlands but a good ride.
Badlands National Park may not evoke the same spirit of adventure that major parks like Yellowstone conjure up, but it's well worth the time. Particularly after riding I-90 through South Dakota for what feels like endless hours. The curvy road, incredible scenery, and opportunity to stretch and take pictures will leave you with a refreshed outlook on the day.
Click the Thumbs Up or Thumbs Down button to email your feedback.
Your questions and comments help improve American Sport Touring. Your email is not used for any other purpose. Please read our Privacy Policy.