Top Motorcycle Road in Each Western State
Hidden somewhere in every State, perhaps around a mountain, along a river, or in a canyon, lies a top motorcycle road.  The one road locals rave about, and touring riders seek out.  We have embarked on a mission to call out the top motorcycle roads in the United States, region-by-region, state-by-state, starting with the western states.  
We're on a mission to point motorcyclists everywhere to the best roads in each of the 50 states.  Earlier we wrote about top roads in the midwest states and northeast states. 
What Defines a Top Motorcycle Road?
Motorcycle roads share common characteristics while top roads amplify those to a degree and in a combination that rises above all others. Exactly what characteristics matter most will always lead to a spirited debate. Nevertheless, one needs some reasonable criteria on which to make a judgement. So we used these five qualities to select a top road in each state.
No less than 25 miles – A good motorcycle road can't tease; it has to run at least 25 miles to let riders connect with its rhythm and temperament.
Sufficiently well paved – Spirited riding happens on good motorcycle roads, so it follows that the road itself must have decent pavement.
Uncrowded – Riding, particularly sport touring, is about getting away from traffic to enjoy a lively combination of nature and machine. Traffic on a good motorcycle road allows plenty of room to ride.
Curves a plenty – Bring on sweepers, wide corners, and technical sections in a frothy mix. After all, isn't that the point?
Scenic and historic – The scenery that surrounds a good motorcycle road adds character much like artwork in a favorite restaurant. It's something to look at between bites.
advertisement
Top Motorcycle Road in Each Western State
Getting a diverse group to agree on a favorite road is rare. But with criteria in hand, we set out to attempt just that. The roads named here are tops in each western state and come highly recommended.
States are listed in approximate geographical order, from north to south, east to west, within the western region of the United States as defined by the US Census Bureau.
Washington – North Cascades Highway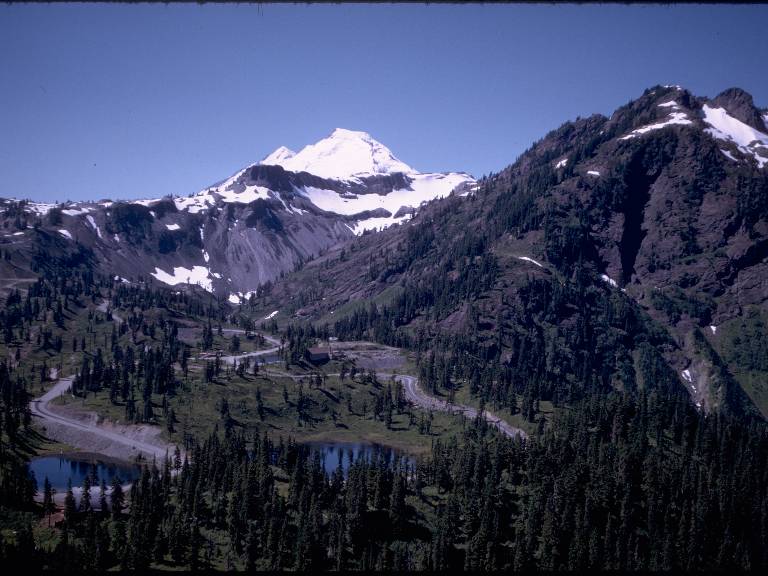 Riding the North Cascades Highway offers 104 miles of mountain road riding experience through North Cascades National Park. Enjoy Cascade forests, views of the Skagit River, hydroelectric dams, Diablo Lake and Ross Lake, all while navigating miles of twisty mountain road.
Start in the small town of Concrete Washington, only 90 miles from Seattle, and ride east on WA-20 through the National Park to the town of Winthrop Washington famous for it's western-themed shops and restaurants.

Oregon – Crooked River Highway Scenic Drive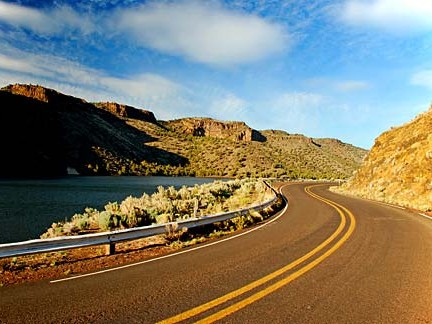 Central and eastern Oregon are home to some of the best riding in the west. Not far from the Ochoco National Forest, off US-26, lies the Crooked River Highway Scenic Drive, one of Oregon's best, but lesser known, roads. This road winds through the Crooked River Caldera, the remnants of a once active volcano, tracing the path of the Crooked River. Watch for Bowman Dam and the Prineville Reservoir along the way.
Leave Prineville toward Highway 27 heading southbound. The Scenic Drive ends after 52 miles where the highway intersects US-20 not far from the town of Brothers Oregon.

California – Highway 36 to the Pacific Coast Highway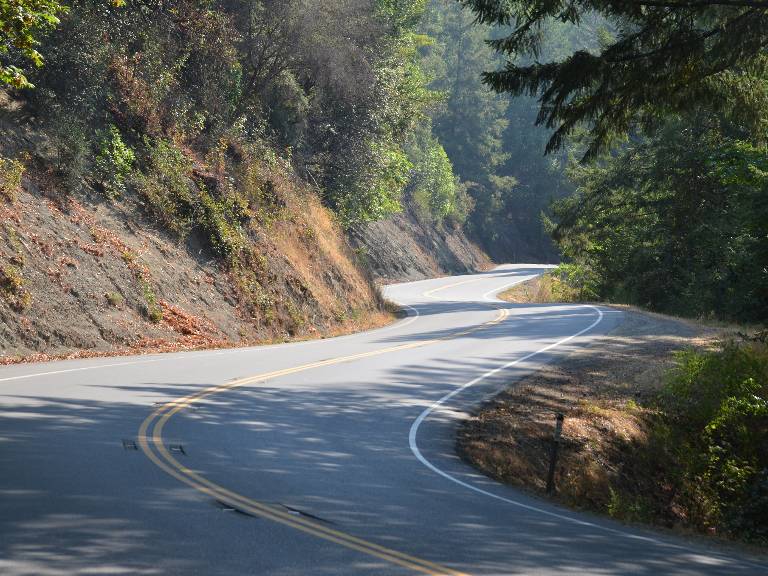 Let's face it, California has a wealth of great riding roads to pick from. But with selection criteria in hand, and putting an emphasis on curvey-ness, there's no match for Highway 36 from Red Bluff to the coast. This road is simply magical. It not only winds left and right but tosses in unexpected dips and rises that add an exhilarating rollercoaster-like effect. Scenery along this 96 mile route through the Mendocino National Forest showcases the mighty redwoods that make up the soul of central California.
The route is simple. Pick-up Highway 36 outside Red Bluff and ride west to the Pacific.

advertisement
Idaho – US-12 to Lolo Pass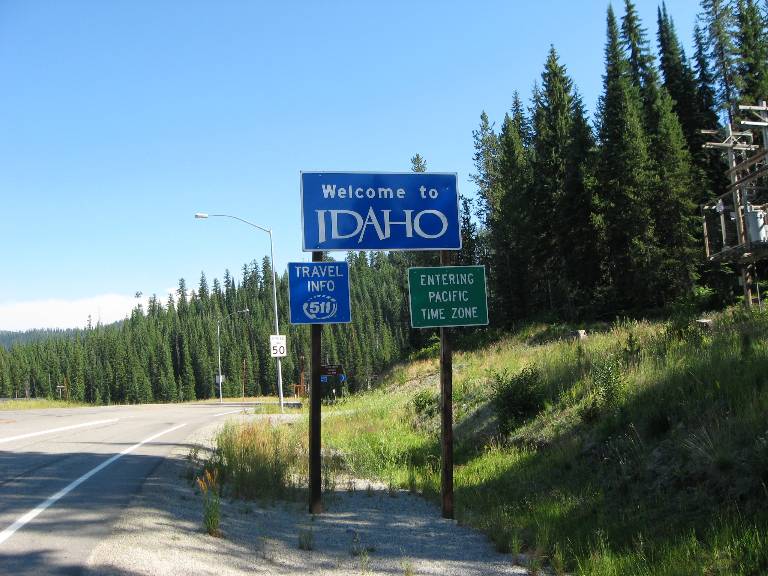 A popular road sign at the west end of US-12 admonishes riders "Winding Road Next 99 Miles". Caution yields to excitement as the road whips and twists along the Clearwater River and then the Lochsa through the Nez Perce-Clearwater National Forest. Eventually the few ranches at the outset give way to the forest and this soul-quenching journey becomes filled with only river, rider, and road.
From Kooskia Idaho, head east on US-12 toward Missoula Montana. This top Idaho road ends 99 miles later at the Lolo Pass Visitor Center. But don't stop. Keep riding into Montana's Bitterroot Mountains to the town of Lolo 32 miles further up the road and from there on to the college town of Missoula.

Montana – Going to the Sun Road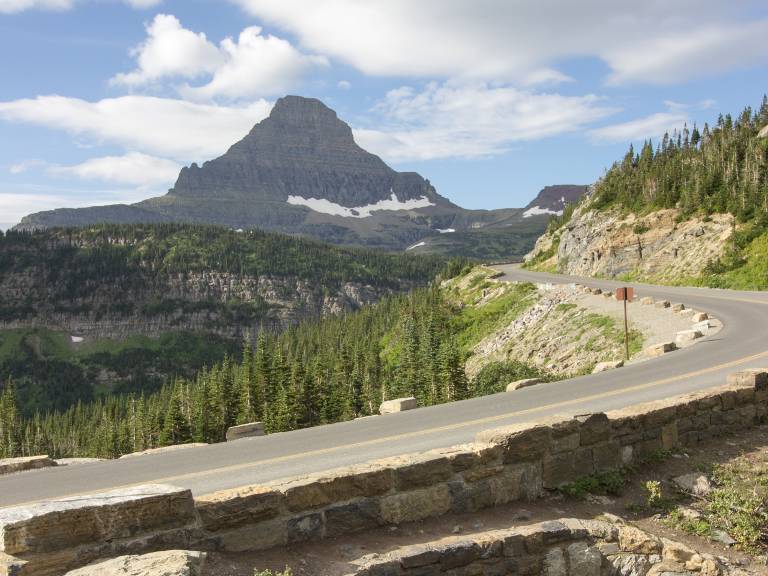 This historic 50 mile route through Glacier National Park, also known as Glacier Route 1, was completed in 1932. Today it is a registered National Historic Landmark and also a registered Historic Place and Civil Engineering Landmark. Named after Going to the Sun Mountain, the road is an engineering masterpiece carved into the Rocky Mountains of Western Montana. The ride reaches an elevation of 6,646 feet at Logan Pass where Going to the Sun Road crosses the Continental Divide.
Start from the park entrance at West Glacier or at Saint Mary on the east side. This route wins on scenery and historic significance. Take time to enjoy the many overlooks along the way.

Wyoming – Chief Joseph Scenic Byway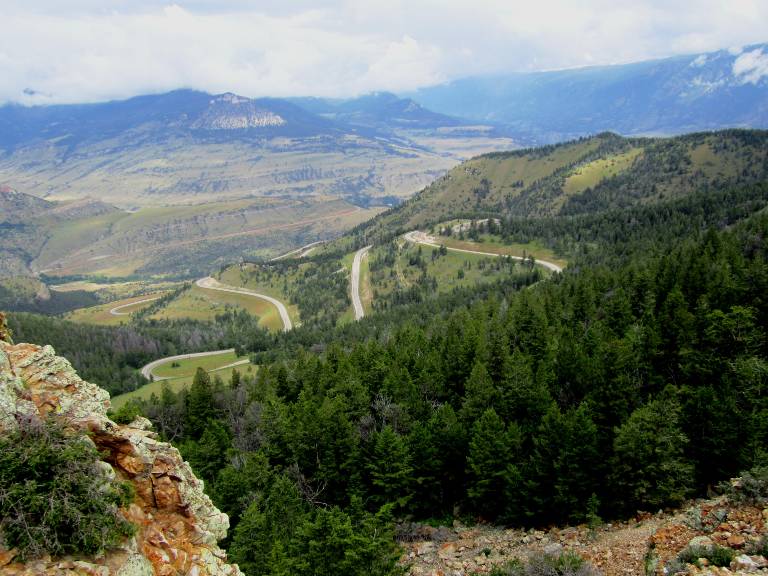 Chief Joseph Scenic Byway cuts through the Absaroka Mountains in the Shoshone National Forest between Cody Wyoming and the Beartooth Highway. This 46 mile stretch approximates the path of the Nez Perce Indians led by Chief Joseph as they tried to escape the US Calvary and make their way into Canada. Beartooth (US-212) may be better known, but the twisty nature of this road, lesser traffic, and historic significance make it the clear winner. The monument at Dead Indian Summit Overlook is thought provoking and poses a striking image above the pastel colored valley and Absaroka Mountains in the distance.
Ride this one in either direction. Coming over the Beartooth, watch for Crandel Road (WY-296) to Cody. Otherwise, ride out of Cody on WY-120 to the junction with Chief Joseph.

advertisement
Nevada – Geiger Grade Road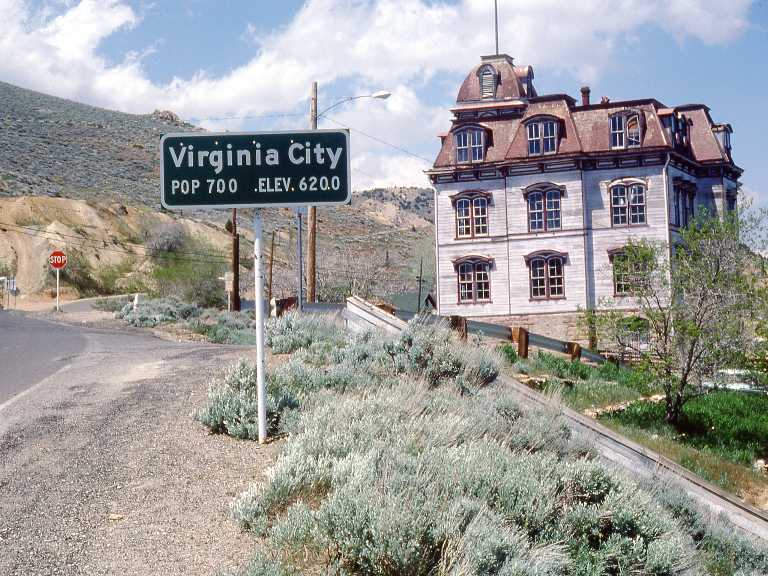 The best riding in Nevada has to be in and around Reno in the northern part of the state. While the hill climb over Mt Rose to Lake Tahoe can be fun, the number of trucks lumbering over the twisty pass promise to leave riders unsatisfied. So instead, try Geiger Grade Road off US-580 south of Reno. This route is not quite 25 miles long, but with great views of the Virginia Range mountains and a stop in historic Virginia City it's our pick for the top road in Nevada. Geiger Grade Road dates back to the 1860's when silver mining was booming in Nevada. The road served to carry ore from the Comstock Lode at Mt. Davidson over Geiger Summit to Reno. Today, it mostly carries tourists heading to the historic silver mining town of Virginia City, a National Historic Landmark district. Riders can get a taste of what life was like in a booming western mining town wandering among old buildings, landmarks, and museums.
From US-580 south of Reno take Virginia St South and follow the signs to Virginia City on Geiger Grade Road (NV-341). Leave Virginia City on NV-341 (the truck route) rather than NV-342 for a more scenic descent to Silver City filled with extra miles of twisty road.

Utah – La Verkin to Mount Carmel Junction via Zion National Park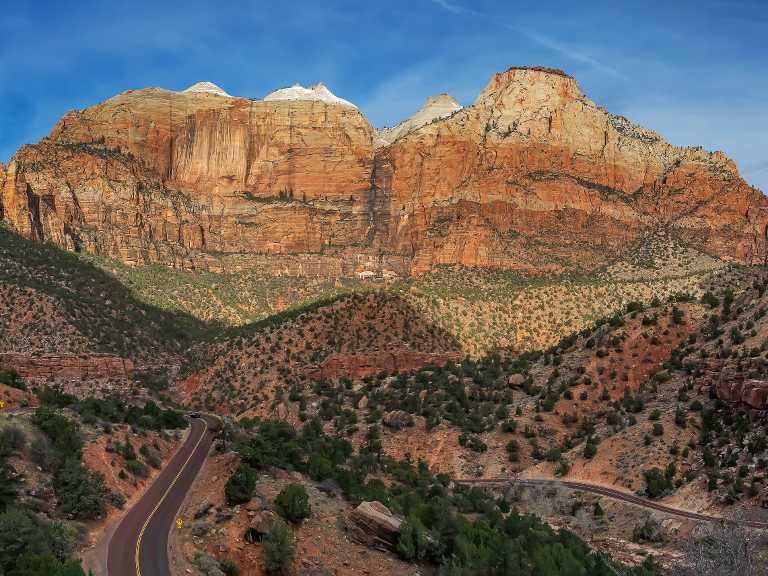 Two things Utah has an abundance of – National Parks, 5, third most behind California and Alaska; and, great motorcycle roads, too many to count. So once again with criteria in hand, we chose UT-9 between La Verkin and Mount Carmel Junction in Southern Utah. This 45 mile route travels east-west in southern Utah. From the Pine Valley Mountains on the west, winding through Zion National Park, to Mount Carmel Junction on the east side. Making use of sharp switch backs, the road climbs Pine Creek canyon before passing through the historic Zion-Mount Carmel Tunnel, and then along Clear Creek where it exits the east end of the park. Scenery on this route won't disappoint – take advantage of the many pullouts for views of geological formations that characterize Utah's first National Park. \
Pick-up UT-9 from La Verkin on the west, or from the east at Mount Carmel Junction just south of Mount Carmel.

Colorado – Trail Ridge Road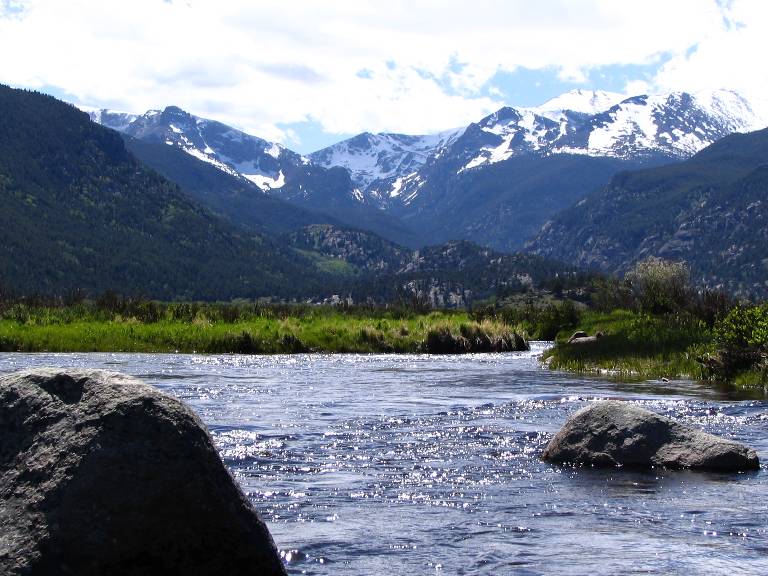 Colorado is yet another state with an abundance of great motorcycle roads making it unusual for any two riders to agree on which is best. Nevertheless, we concluded that Trail Ridge Road through Rocky Mountain National Park best meets our criteria for top motorcycle road in Colorado. Also known as US-34, Trail Ridge Road built under the 1930's Civilian Conservation Corps work relief program stretches 47 miles through Rocky Mountain National Park. All the best of Colorado are here in one go. An historic National Park, high mountain passes hiding pockets of snow late into the summer months, jaw dropping views of the Rocky Mountains, and the Continental Divide.
Start from either Estes Park on the east side of the park, or from Grand Lake on the west. Both towns are filled with cozy restaurants and shops.

advertisement
Arizona – The Coronado Trail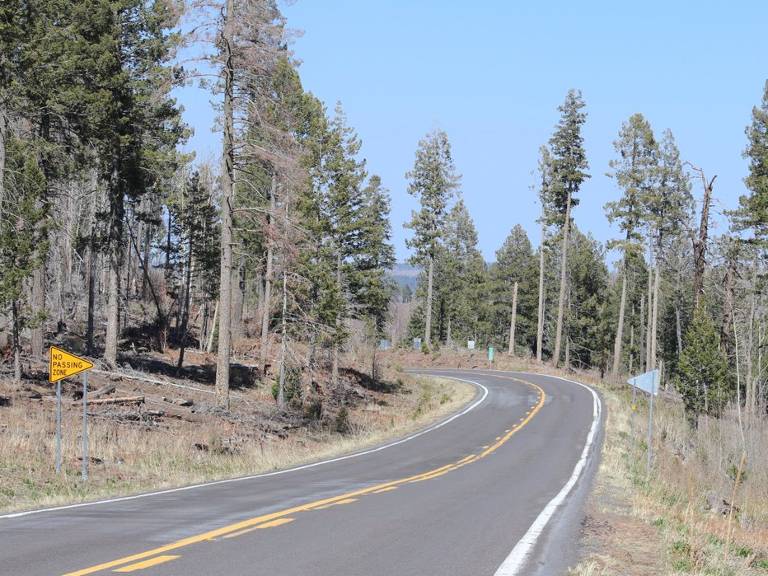 There's a lesser known road in Arizona stretching from Alpine to Morenci called the Coronado Trail, officially designated US-191. This 90 mile route, named after Spanish explorer Francisco Vazquez de Coronado, snakes through the Apache National Forest. The highway rises to elevations over 9,300 feet in places as it makes its way north to south near the state line with New Mexico. From the small town of Alpine in the White Mountains, the road makes dramatic turns as it traverses sparse forests and grass land more characteristic Oregon's high desert. There are a number of overlooks along the way. The Blue Vista overlook at 9200 feet elevation is worth noting. From there one can see the Mogollon Rim and parts of the Blue Range. Also worth noting that from this vista point heading south the Coronado Trail gets decidedly more technical.
For ride planning, the town of Alpine is a few hours south of Flagstaff Arizona. Likewise, Morenci is a few hours northeast of Tucson.

New Mexico – Emory Pass on NM-152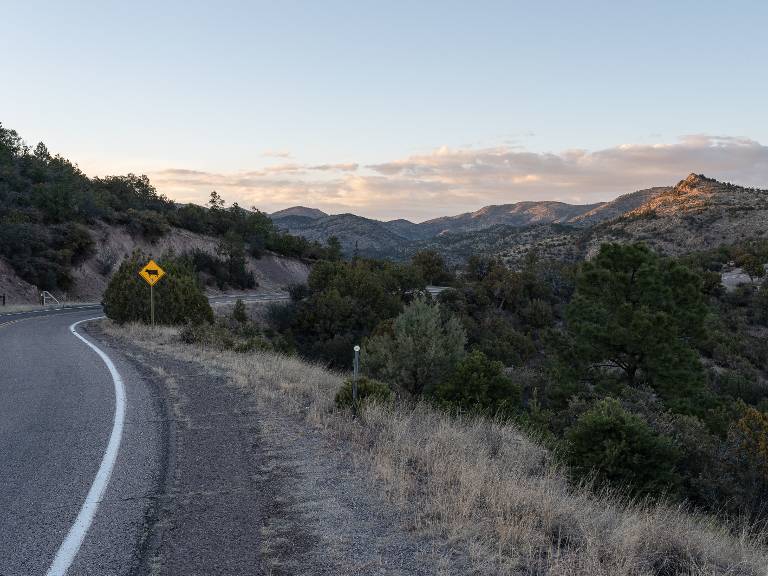 New Mexico has a number of great roads, unfortunately many are either completely unpaved or hide stretches without pavement (NM-126 through the Valles Caldera National Preserve is a good example). Sticking with our top road selection criteria, we picked the 34 mile stretch of New Mexico Highway 152 between San Lorenzo and Hillsboro through the Gila National Forest. This twisty route with steep grades and tight turns curls through canyons as it makes its way over Emory Pass (at an elevation of 8166 feet) in the Black Range.
The easiest way to get to this part of NM-152 is by heading south on US-75 from Albuquerque and then taking the exit westbound to Hillsboro.

Alaska – The Alaska Highway to Valdez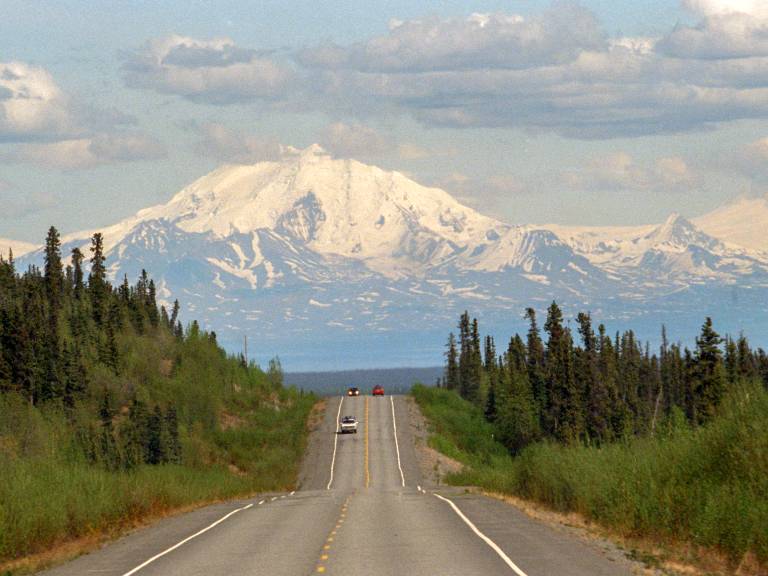 For our top pick in the great state of Alaska we chose the route along Alaska State Routes between Valdez and the Canadian border. This route more than satisfies our selection criteria, but the ease of working it into a tour plan pushed it over the top. Other roads in Alaska, including from Anchorage, are far more remote and require a serious time commitment. That being said, this route makes no apologies. The riding is exciting, and the scenery is simply spectacular. Ride through deep canyons, open ranges, and along fast moving rivers, past serene lakes, and always with enormous snowcapped mountains peaking over the horizon. This short 336 mile ride delivers a complete Alaska experience for sport tourers.
Riders can choose from two approaches. Enter Alaska from the east out of the Canadian Yukon on Trans-Canada Highway 1. Or take a ferry from Bellingham Washington to Valdez Alaska, (there are no ferries to Alaska from Seattle), and then ride Alaska Highway 4 to Glennallen and from there AK-1 toward the Canadian border.

advertisement
Hawaii – Kohala Mountain Road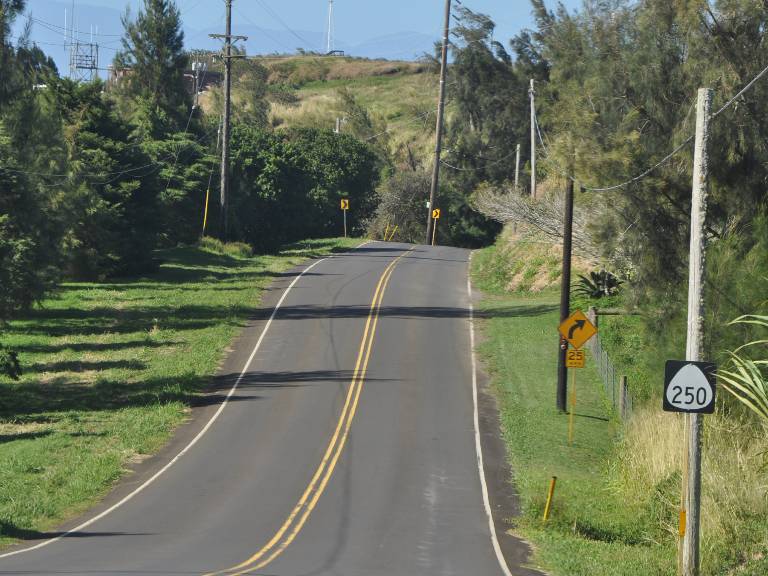 Anyone who lives in Hawaii and rides a motorcycle already knows the good roads and routes. As for the rest of us, our best bet is to rent a motorcycle and ask for route suggestions that match our sight-seeing interests and riding style. Unsurprisingly, the longest routes are found on the island of Hawaii (the Big Island), Maui is next. Beyond that, the islands are small and the roads much more limited, sometimes only partially paved or not paved at all.
With all of that in mind, our pick for top road in Hawaii is Kohala Mountain Road, officially designated Hawaii Route 250. This one road, full measure of tropical Hawaii with views out to the Pacific Ocean over ranch and grass land high on the west ridge of the Kohala Mountain. With elevations over 3400 feet at points along the 27 mile route, the views on this ride are unforgettable.
The route starts in Honoka'a at the junction of Highway Route 19 and Route 270. It then travels east to the junction with the Kohala Mountain Road (HI-250) and from there continues to Hawi in North Kohala. Take Hawaii Route 270 along the west side of the island back to Honoka'a.

Start Planning
It can be said that any road is a good motorcycle road if it's fun to ride. Certainly every rider has a favorite. These top roads in the western states are more fun than most and worth working into your summer ride plans. Who knows, one of them just might become your new personal favorite.
Click the Thumbs Up or Thumbs Down button to email your feedback.
Your questions and comments help improve American Sport Touring. Your email is not used for any other purpose. Please read our Privacy Policy.