Kawasaki Discontinues the Concours
Among sport touring riders, the Kawasaki Concours has long been a favorite. The combination of sport bike agility and style combined with long-range comfort and capacity made this bike a benchmark against which to judge all others. But as we step into the 2023 model year, it appears Kawasaki has discontinued the C14.
Absent From the 2023 Line-up
How do we know Kawasaki discontinued the Concours? Well to begin with, when we asked Ken Essex, Senior Public Relations Manager at Kawasaki, he confirmed our suspicion.
2022 will be the last model year of the Kawasaki Concours 14 following decades of dedicated customers and clubs with countless adventures shared around the globe.

Ken Essex; Sr Public Relations Manager, Kawasaki Motors Corp USA
Even before that all the signs were there:
Kawasaki has not announced a new Concours, although we were hopeful when their final 2023 line-up came out earlier this month.
The Kawasaki website only lists the 2022 Concours, while showing 2023 models for other bikes including the Ninja H2 SX SE sport tourer.
Dealers are actively steering Concours customers to the H2 SX and to the Versys 1000 LT.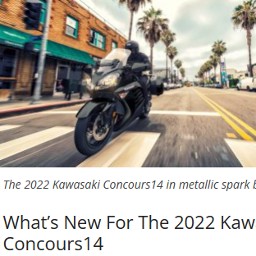 advertisement
What Were They Thinking!
The unanswered question is why would they do this? And the answer seems to involve a combination of factors. First, significant engine updates are needed to meet evolving global emission standards. To continue selling the Concours in Europe Kawasaki would have make significant updates. Instead, they took it off the market. Yamaha made the same decision for the FJR.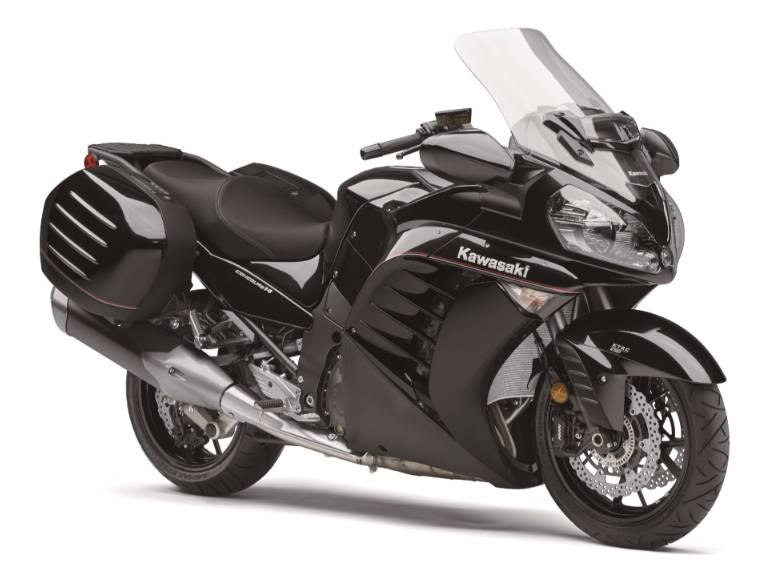 Secondly, the current edition of the Concours has not had significant updates since the 2015 model was introduced. In the meantime, manufacturers, and that includes Kawasaki, have pushed the technology envelope with state of the art rider aids and conveniences. The Concours is increasingly at a competitive disadvantage.
And finally, sport touring riders seem to be drifting toward adventure touring bikes enticed by new models that combine the ruggedness of an adventure bike with long-distance touring comfort and handling characteristics that stand-up in the twisties.
advertisement
Where to Now Kawasaki?
Hardcore Concours fans in need of a new bike, will have to settle on a 2022 model – if one can be found. Dealers tell us new inventory sells almost as soon as it arrives. Nevertheless, they are happy to search the dealer network for new bikes that may be hiding in smaller markets. The 2022 C14 remains a good value at an MSRP of $15,999 and well worth the hunt.
The Ninja 1000SX provides the versatility to enjoy pure sporting thrill with superior power, two-up touring capability, and advanced rider support electronics. While the new 2023 Ninja H2 SX SE is Kawasaki's most advanced sport tourer ever, representing the ultimate integration of the highest standards of technology, performance, and riding comfort.

Ken Essex; Sr Public Relations Manager, Kawasaki Motors Corp USA
The next best option from Kawasaki is the Versys 1000 SE LT+. This liter-bike includes the latest rider aids and electronics that the aging Concours lacks, and it comes complete with color-matched side cases. Styling and riding position are less sport oriented but still attractive and well suited for touring. However, these state-of-the-art features come at a price; the Versys lists for $18,899 MSRP.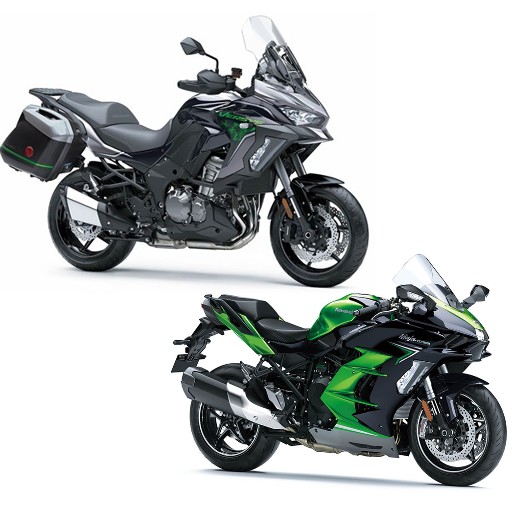 Kawasaki offers the Ninja H2 SX SE for those who want a sport tourer that leans more toward sport than tour. This supercharged 998cc sport bike doubles as a touring machine thanks to available (read extra dollars) integrated side cases. The H2 truly targets the high-performance rider capable of testing the limits on every corner in the canyon. At an MSRP of $28,000, the H2 also aims for riders with deep pockets.
Of course, one can always explore options from other manufacturers. BMW continues to offer the R1250RT a classic boxer-powered sport tourer, and the big K1600GT (read BMW 2022 K1600 GT Feature Review). Both are excellent motorcycles with premium features and of course a premium BMW price.
Yamaha is still selling 2023 FJRs (that are in effect 2022 models). While lacking modern technology, Yamaha has made small improvements to the FJR that keep it ahead of the Concours at a competitive price.
And one last suggestion is the Suzuki GSX-S1000GT (read Meet the 2022 Suzuki GSX-S1000GT Sport Tourer). A low-cost alternative to the Ninja H2, this new entry in the Sport Touring segment is high on sport-mindedness but packed with features to keep riders comfortable and connected.
advertisement
A Next-Gen Concours?
Kawasaki won't say, and they are not sharing long-term plans with their dealer network either. The future of the Concours is unknown. Which means we are free to reason.
Put simply, to compete in the Sport Touring segment Kawasaki has to step up their game. They need a motorcycle that marries the best qualities of the C14 with current technical innovations. As Kawasaki has for generations, there's every reason to believe they will meet this new challenge.
Kawasaki's commitment to sport touring motorcycles remains strong with the Ninja 1000SX and Ninja H2 SX SE.

Ken Essex; Sr Public Relations Manager, Kawasaki Motors Corp USA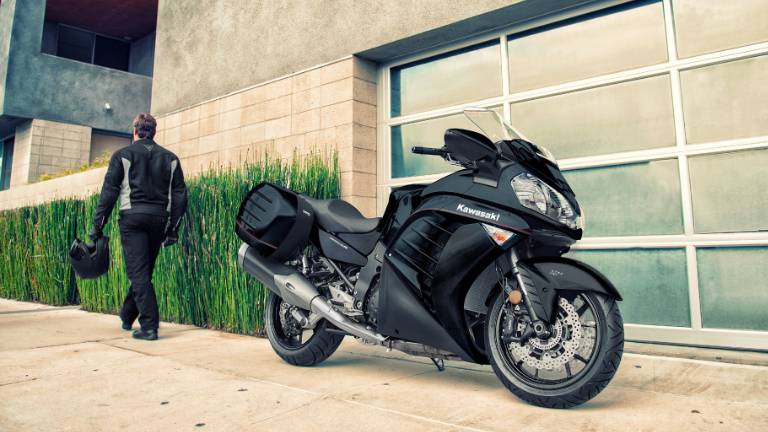 The information we have leads us to believe Kawasaki will produce a next generation sport touring machine that features TFT panel instrumentation on top of the latest technology, loads of rider aids, and all the sport touring goodness that riders have come to expect from the venerable Concours.
The world of sport touring motorcycles is evolving toward greater efficiency, safety, and most of all fun. Kawasaki isn't likely to walk away from this important segment of the motorcycling community.
Read more from Kawasaki online at Kawasaki.com (www.kawasaki.com).
Click the Thumbs Up or Thumbs Down button to email your feedback.
Your questions and comments help improve American Sport Touring. Your email is not used for any other purpose. Please read our Privacy Policy.