Riding The Black Hills and Badlands Near Deadwood
Some of the top sport touring roads in the Black Hills and Badlands of South Dakota are just outside Deadwood. That's why Deadwood remains an ever-popular destination for riders from all over the world. Just the name Deadwood South Dakota stirs the imagination and conjures images of a time when the west was wild and untamed. Toss out a mention of the Badlands and you can almost hear Sherriff Seth Bullock ride up. If that's not enough how about the Black Hills? Filled with bighorn sheep roaming through ponderosa pines covering incredible mountainous terrain. We're willing to bet a day or two riding this unique area will leave you with stories to share for years to come. Two days in Deadwood are two days well spent.
Ride To Deadwood
Head into Deadwood from any direction. Coming from the west or north, connect with Interstate 90 and head toward Spearfish a former South Dakota mining town and today home of Black Hills State University. A few miles before Spearfish, exit I90 onto southbound US Highway 85 toward Deadwood. US 85 offers scenes of the Black Hills and leads straight into Deadwood. From the east, set a course for Sturgis again taking Interstate 90. At Sturgis, exit I90 onto US Highway 14A westbound toward Deadwood. US 14A provides equally good views of the Black Hills. But the very best way to ride into Deadwood is from the south. Check your map for route options, but for our money US Highway 385/US16 through Custer State Park past Mount Rushmore and into Deadwood is far and away the one to pick. More about this route in a minute.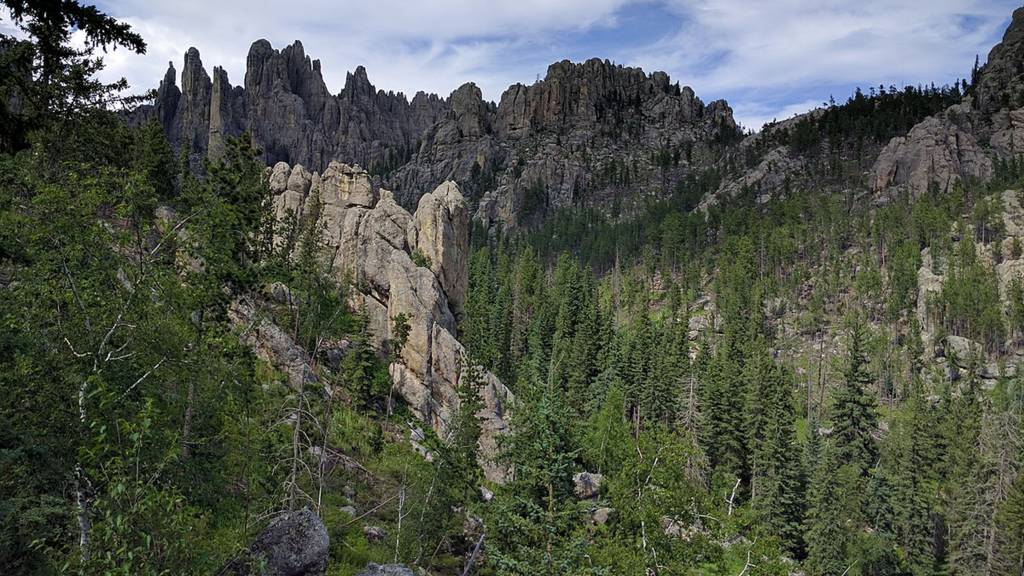 Exploring the Black Hills and Badlands can take a while. The Black Hills National Forest covers nearly 2000 square miles and Badlands National Park adds almost 400 more. That's enough territory to take you in a new direction every day for days on end. Exactly why we recommend picking a base camp. Deadwood is an ideal choice. This small town, steeped in western tradition, offers many hotel choices, great restaurants, nightlife, and most importantly a convenient place to start and end a day of riding.
advertisement
Deadwood Claims a Rich Western Mining Heritage
Deadwood South Dakota started out as a mining town after gold was discovered in the Black Hills. Eventually the railroad arrived. With that the town grew into a trading center. Growth brought local establishments ranging from hospitality to gambling to everything in between. Notable legends of the west could be found in Deadwood. Wild Bill Hickock met his end there.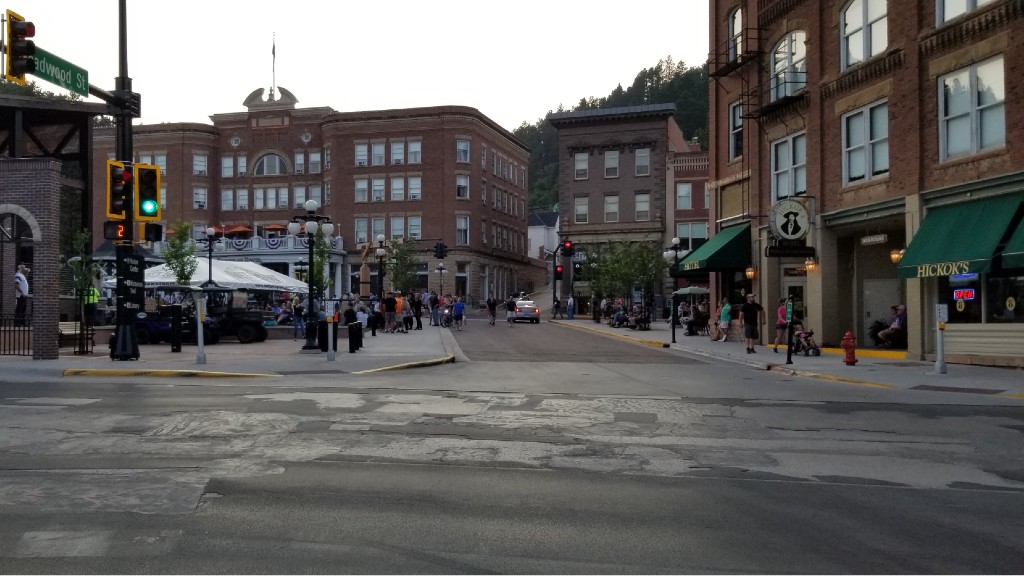 Calamity Jane made Deadwood her home. And Seth Bullock, legendary western sheriff, provided law and order. All are resting in the local cemetery at Mount Moriah Cemetery. When not riding, there's plenty to see and do in Deadwood.
We put together two rides that begin and end in Deadwood. Each takes you through a part of the sprawling forests and prairies that make up the Black Hills and Badlands. Start early in the morning, take time to enjoy the many scenic stops along the way, and return to Deadwood at the end of the day to talk about the ride over dinner in one of the many restaurants in town.
Ride the Badlands National Park
National Parks are always worth a visit for their natural beauty and historic significance. You can read more about Badlands National Park in the article Ride the Badlands National Park. The expansive grassland vistas are inspiring and humbling at the same time. Among national parks, Badlands is known for great hikes and abundant wildlife. The visitor center is modest, but offers cold drinks and other welcome essentials. The first ride we suggest takes you from Deadwood through Badlands National Park and back in a comfortable day of riding.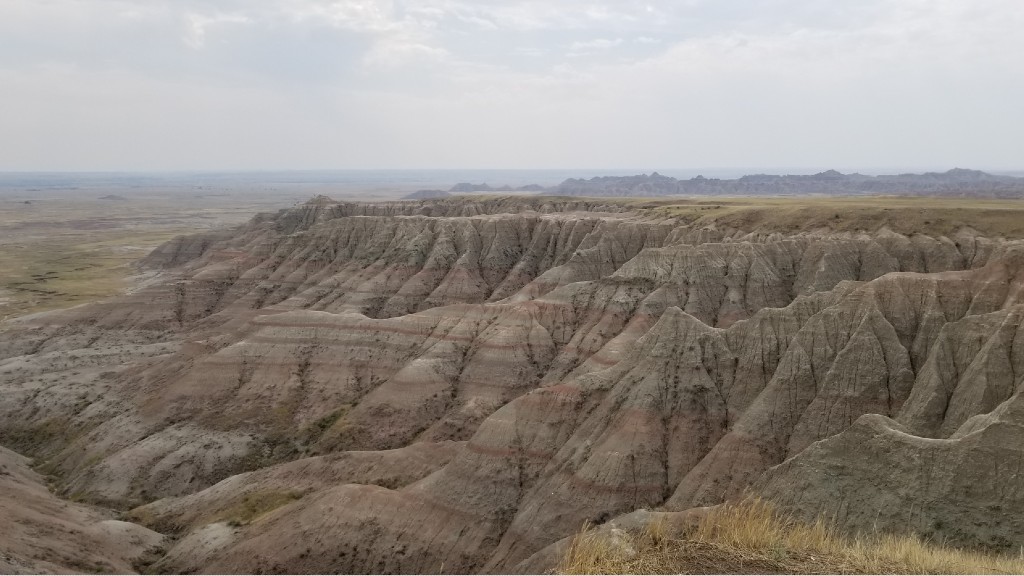 Like other American Sport Touring rides, this one minimizes interstate travel to the greatest extent possible without needlessly re-riding any particular road. The ride covers 266 miles and should take about five and a half hours, longer with stops. Of course, you'll want to stop along the way to enjoy viewpoints and refuel both yourself and your bike. Plan your start time accordingly.
Take a look at this recommended Badlands route on Bing Maps. From Deadwood head out through the eastern side of the Black Hills National Forest past Rapid City and onto Wall South Dakota. The many signs leading to the Wall Drug Store are hard to miss. Drop in for lunch or a late breakfast. Or try one of the many local restaurants on Main Street. From Wall, take the Badlands Scenic Loop Byway into and through Badlands National Park. Be aware the park requires a $25 entrance fee per motorcycle. About three quarters of the way through the park, we suggest exiting at the junction with SD Highway 377. For those who want to experience the last 25% of Badlands Loop, just make a U-turn back to the SD-377 junction. SD-377 leads back to the Black Hills National Forest through what seem like endless grasslands. The day wraps-up with a scenic ride through the Black Hills and returns to Deadwood just in time for dinner.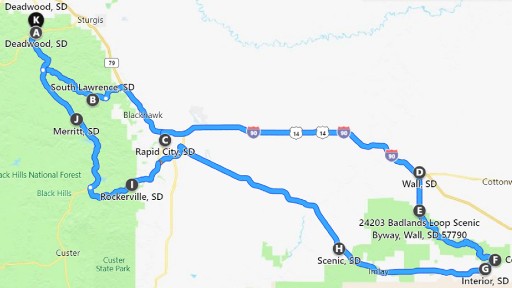 advertisement
Mount Rushmore via Needles Highway & Iron Mountain Road
Riders all over the world talk about the Black Hills of South Dakota. Without a doubt, Needles Highway and Iron Mountain Road are two reasons why. Each is highly technical featuring switchbacks, one lane blind tunnels, and some surprising 360 degree looping turns. In fact, these roads deliver a master class in cornering technique. It's easy to think that any rider after experiencing these roads rides a little better.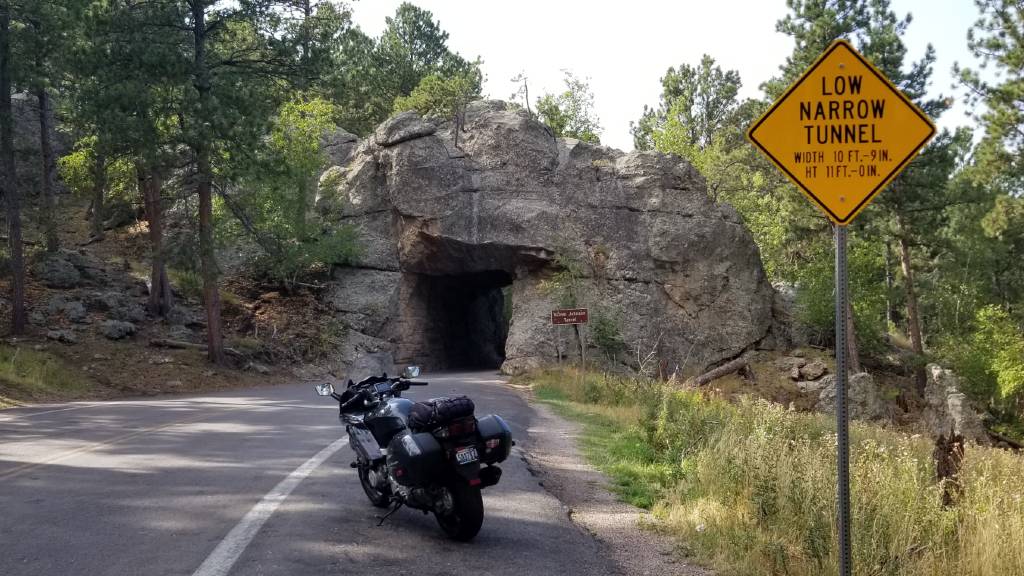 The cornerstone of this day ride is Mount Rushmore National Memorial. A national monument every bit as breath taking as one might imagine. But rather than a direct route, we propose a loop that heads toward Hill City South Dakota, cuts through Custer State Park along Needles Highway and then up Iron Mountain Road on the other side.
Definitely not the shortest route by any means but certainly delivers the most smiles per mile. All told plan to ride roughly 150 miles and allow about four and a half hours of riding time. Add more time to enjoy Mount Rushmore and the many vistas along the way.
Check out the suggested Rushmore route on Bing Maps. It travels south on US-85 & US-385 to Hill City SD, and from there into Custer National Park and eventually turns onto Needles Highway (SD-87). Needles is the first of two technical roads on this ride. Although less technical than Iron Mountain Road, it doesn't disappoint. Be aware that this route runs through Custer State Park so a fee of $20 is required at the Sylvan Lake park entrance. It's worth it. You'll ride through mountain forests, pass striking rock formations and in some cases take one-lane tunnels right through them. And end to end the tight turns are seemingly endless.
Exit Custer State Park at the East Entrance and turn onto Iron Mountain Road to head northward toward Mount Rushmore. Iron Mountain Road is much more technical than Needles, perhaps a little less scenic, and a lot of fun to ride. There are fewer scenic rock formations, but still plenty of one-lane tunnels and twisting turns including a couple full 360-degree loops to focus your attention.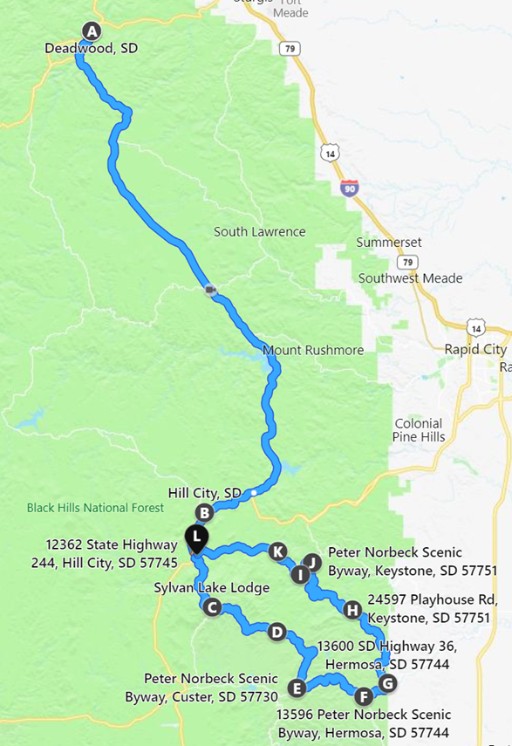 Iron Mountain Road leads right to Mount Rushmore. In fact, there are a couple points along the way that offer stunning views of Mount Rushmore framed by roadside trees. There's no fee to visit Mount Rushmore, but parking costs $10 per motorcycle.
Rides in The Black Hills and Badlands Start in Deadwood
Deadwood is an intriguing town spilling over with history and character from a time when America was not yet settled. Today, Deadwood offers a collection of first rate restaurants, shops, and hotels. During the summer months, Deadwood Alive stages historically accurate re-enactments of events from Deadwood's past. Check out Deadwood Alive for details. Riding the top motorcycle roads in the the Black Hills and Badlands of South Dakota is an unforgettable experience. Deadwood is an ideal destination to begin the journey.


Did this article hit the mark?
Click the Thumbs Up or Thumbs Down button to email your feedback.
Feedback helps improve American Sport Touring and is never used for other purposes.
Please read our Privacy Policy.