Reno Nevada, the self-proclaimed "Biggest Little City in the World," offers an ideal destination for motorcycle sport touring riders.  Located in the northwest corner of the state under the shadow of the Sierra Nevada Mountains, this small but diverse town makes a perfect basecamp for top-shelf motorcycle sport touring rides.  Each ride described in this article begins and ends in Reno.  And all are steeped in Nevada and California history, not to mention breathtaking scenery.
Finding Reno
Two major highways make getting to Reno convenient no matter what direction one rides from. US Highway 80 crosses Reno in an east-west direction, while US-580/US-395 intersects the city from the north-south. These highways make it easy to ride in from as far south as Las Vegas or San Jose in a day. Even Los Angeles is a day ride away, albeit a long one. The story is the same for those riding from the north. Starting points such as Bend Oregon or Boise Idaho are equally convenient. If a long tour is in your future, consider spending a day or two riding in the greater Reno area.
The weather in Reno is mild in the fall and spring and warm, if not hot, in the summer. Winters are often cold and icy. The roads around Reno are best explored sometime between late spring and early fall.
Geiger Grade Road to Virginia City
Geiger Grade Road is an exhilarating stretch of pavement that spirals up the mountainside from Reno to Virginia City. This road was originally a trail mapped out to transport silver ore from the Comstock Lode to processing plants in the Washoe Valley south of Reno. Riding through the hills gives one an appreciation for the challenges early miners had to overcome.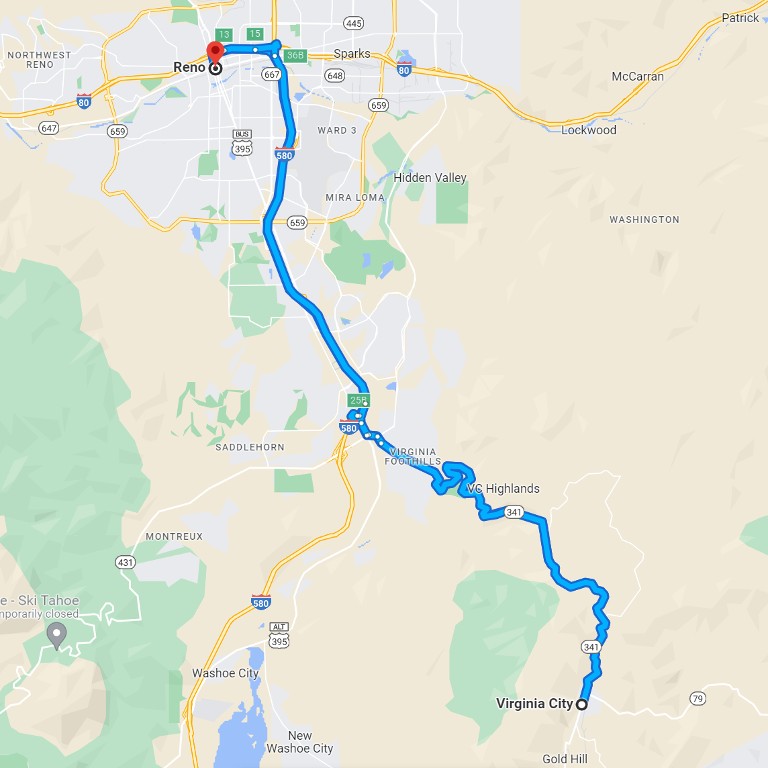 The Comstock Lode, one of the richest silver and gold deposits in the United States during the mid-1800s, brought a massive influx of miners, speculators, and entrepreneurs to Virginia City in the mid-1800s, and the town quickly grew in economic significance. During its peak, Virginia City was considered one of the richest cities in the United States.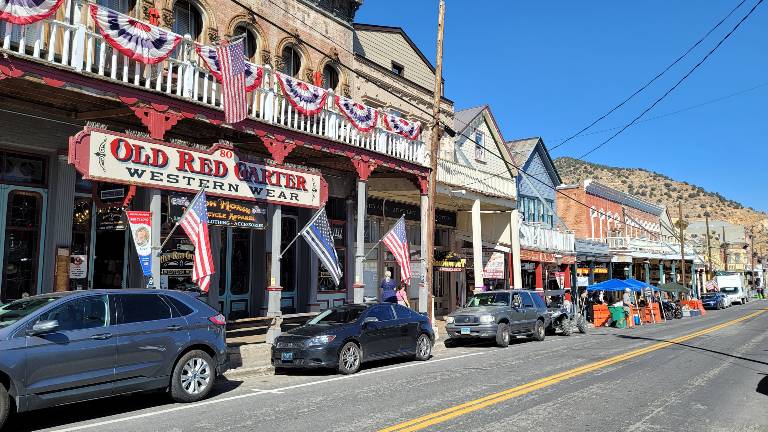 Take a ride back in time. Much of 19th century Virginia City remains intact thanks in large part to the town's designation as a National Historic Landmark. Read about the latest events in Virginia City here.
advertisement
Crossing Donner Pass
Donner Pass, named after an ill-fated group of pioneers traveling under the leadership of George Donner, became stranded during the winter of 1846-47. This challenging and historic ride is not for the faint-hearted. While the history is dark, the twisting road and rugged views in the Sierra Mountains are both spectacular and inspiring.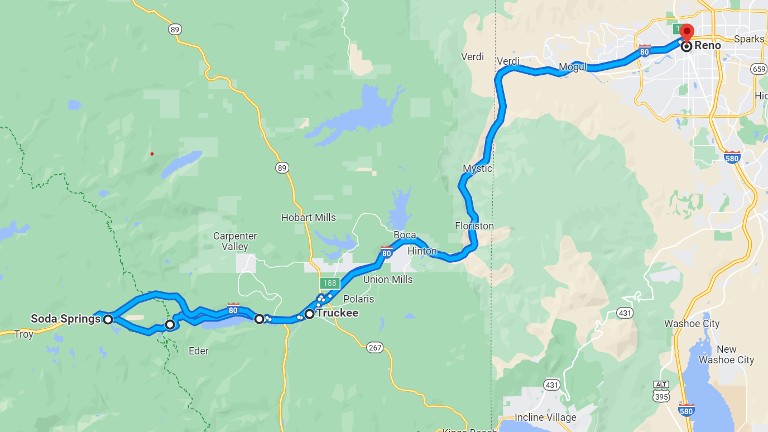 Rising over 1,100 feet from Donner Lake to an elevation of 7,135 feet, Donner Pass Road packs an array of tight turns and wide sweepers as it cuts through granite hillsides passing glacial features that date back to the end of the Pleistocene period some 11,700 years ago. Don't miss the vista point at the historic Donner Summit Bridge where incredible views of Donner Lake below await.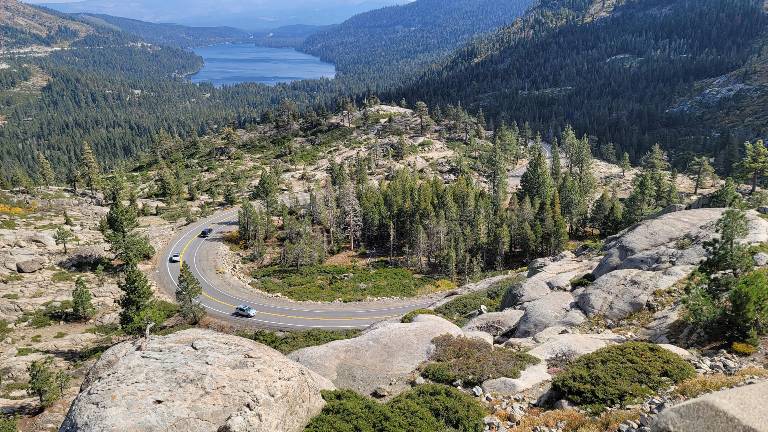 The story of Donner Pass continues to capture our imagination with its poignant tale of doomed pioneers seeking a new life in California. Tempted to save time by taking an unproven route, the pioneers become stranded by early snow. They struggled to survive for over 4 months until help finally arrived in February 1847. But by then 41 of the estimated 87 members of the Donner Party had perished. Make a stop at Donner Memorial State Park off Donner Pass Road on the east end of Donner Lake to visit the memorial and museum.
advertisement
Mt. Rose Highway to Lake Tahoe
One of the under-appreciated things about Reno is the diversity of landscapes found within less than an hour's ride from town. Mt. Rose is one of those. A welcome escape from the casinos and crowds of downtown Reno, the Mt. Rose Highway winds steeply into the Sierras offering challenging hairpins together with steep ascents (and descents).
The Mt. Rose Highway is a main conduit for travelers coming or going to Incline Village on the shores of Lake Tahoe. Traffic can sometimes slow things down. Nevertheless, even at a slow pace, the magnificent scenery is enough to make this a worthwhile ride.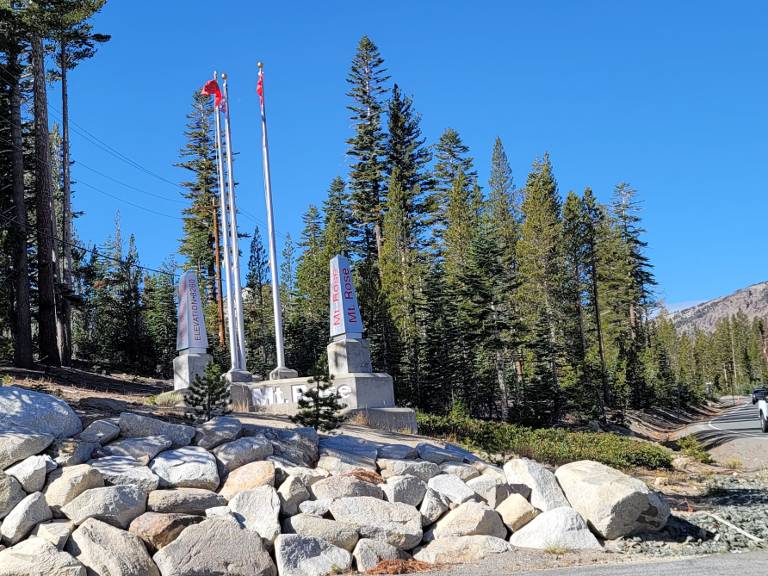 Nearby Mount Rose, one of the highest peaks in the Lake Tahoe Basin, lends its name to the Mt. Rose Highway. Take this route to visit Incline Village on beautiful Lake Tahoe where an assortment of shops, restaurants, and other attractions await.
advertisement
Ride Reno Ride
These lively sport touring rides, whether from Reno to Virginia City, ascending Donner Pass, or visiting scenic Lake Tahoe via the Mt. Rose Highway, offer an intoxicating experience and a rich opportunity to explore the history and culture of this beautiful region.
From the silver mining boom town of Virginia City to the tragic history of the Donner Party and the natural splendor of the Sierras that surround Lake Tahoe, these routes provide a mix of excitement and education that every motorcycle sport touring rider will rave about for years to come.  Each a short story illustrating simpler times in and around the stunning Sierra Nevada Mountains. 
Make a note of these three rides from Reno on your sport touring destinations list.
Click the Thumbs Up or Thumbs Down button to email your feedback.
Your questions and comments help improve American Sport Touring. Your email is not used for any other purpose. Please read our Privacy Policy.