Ride Pikes Peak to the Clouds
Each year, hundreds of thousands visit the Colorado Rocky Mountains to take in their imposing beauty and enjoy resorts such as Steamboat and Telluride. There are more than 50 mountains in Colorado that stretch above 14,000 feet. Of those 14ers, only two can be summited on a motorcycle – Pikes Peak and Mount Evans. Mount Evans (Mount Evans by Motorcycle) may have the highest paved road in North America, besting Pikes Peak by 15 feet, but Pikes Peak is the more popular destination.
Few motorcycle rides leave a lasting feeling of real accomplishment. Conquering the twists and turns of Pikes Peak Highway to the breathtaking Summit at 14,115 feet is one of them. Here's what to expect on a ride to the summit.
An Accomplishment for Any Rider
Skilled riders may have no trouble with Pikes Peak Highway itself, but what about thin air at high altitude? Or maybe vertigo staring down steep slopes mere inches off narrow shoulders? Or perhaps the exceptionally tight hairpins crowded by oncoming RVs? For all those reasons, it's easy to appreciate that summitting Pikes Peak on a motorcycle is indeed an accomplishment to talk about – even for the most experienced rider.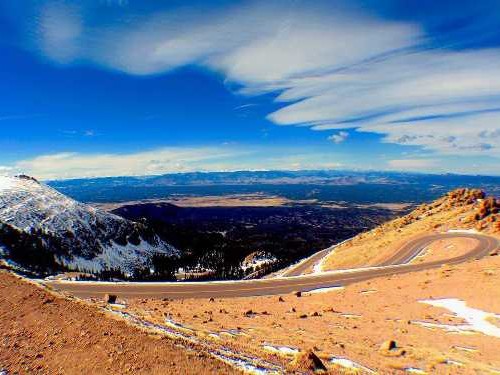 Pikes Peak Highway is well paved, particularly for a high mountain road; one certainly in better condition than the Mount Evans Scenic Byway. Nevertheless, the road demands respect. The switchbacks on the last few miles to the summit are intense. The road is wide enough for side-by-side passing, but with minimal shoulders and steep drop-offs it feels claustrophobic. That's especially true in the steeply cambered hairpins; even more so with on-coming traffic. Motorcycle control is vital.
advertisement
Getting to Pikes Peak
Cascade Colorado is the gateway to Pikes Peak. This small mountain community of 1400 people is situated about 10 miles west of Colorado Springs on US-24. Cascade is the stepping off point to Pikes Peak Highway, but aside from that there are few services here.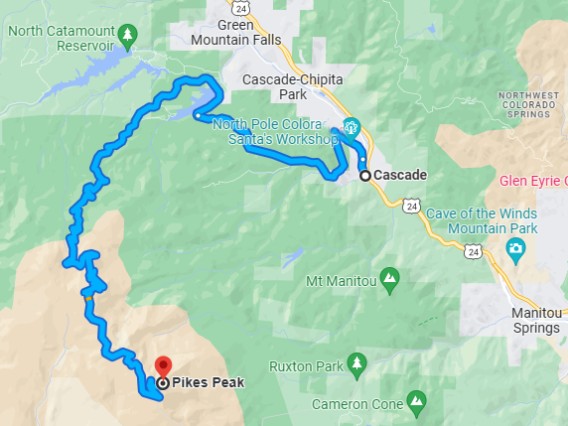 Riders should fuel-up in Manitou Springs or Colorado Springs, both on US-24 east of Cascade. Those coming down US-24 from the north should stop in Woodland Park, 7 mils before Cascade, to gas up. There are no other gas stations closer to Pikes Peak.
Nearby accommodations can be found in Woodland Park and Manitou Springs. Each has traditional mountain style hotels and local restaurants. Colorado Springs, a few miles east on US-24, offers the widest choice of both. With over 475,000 residents, Colorado Springs is the second largest city in Colorado. The variety of restaurants, entertainment, and hotels will match any budget and taste.
For more ideas about including Pikes Peak in a longer tour, take a look at The Ultimate Colorado Motorcycle Tour.
Ride to the Clouds
Ride out of Cascade Colorado on Fountain Ave which soon becomes Pikes Peak Highway. Two lanes separated by double yellow lines make wide turns through Colorado fir trees and past Santa's Workshop, a year-round North Pole styled amusement park, before arriving at the Pikes Peak Highway tollgate.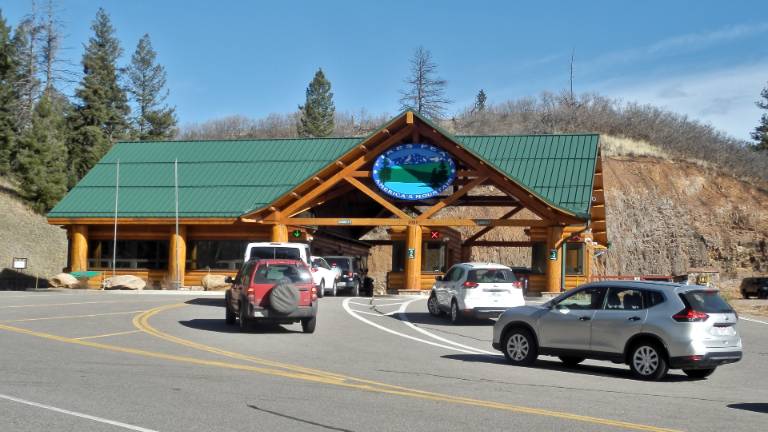 Pikes Peak is not a National Park nor a State Park, so an America the Beautiful pass won't work here. The National Forest Service looks after the mountain and the Pike National Forest, but Colorado Springs is responsible for the highway and the amenities at the summit. Visitors are required to pay a highway toll that more accurately might be described as an admission fee.
The highway is open year-round, subject to weather conditions. To help moderate peak season traffic between Memorial Day and the end of September, visitors must purchase a timed entry reservation to ride to the summit. Without a reservation riders can only go as far as Devil's Playground at Mile Post 16.
Pikes Peak Reservations…
Are required to drive past Mile Post 16 to the summit;
Can be made up to 1 month in advance;
Cost $2 and are non-refundable (but may be rescheduled);
Provide a two-hour arrival window; and,
Do not cover the Pikes Peak Highway toll which is paid on entry.
The Pikes Peak Highway toll is $15 per person and required to continue on Pikes Peak Highway. The toll is over and above the $2 timed entry reservation fee. Riders without a timed entry reservation can enjoy a ride up the mountain to Mile Marker 7 near Crystal Reservoir or go on to Devil's Playground at Mile Marker 16, 3 miles below the summit. A free shuttle will take visitors to the summit from either point.
Find more details about tickets and reservations on the Pikes Peak website.
advertisement
Riding past the toll gate, the road winds through the Pike National Forest climbing higher and higher. Nothing too remarkable at first, except that the climb is steep. The shoulders are sometimes narrow, but vista points and pullouts here and there are convenient for picture taking.
The highway runs parallel to the Crystal Reservoir for a stretch before crossing the dam and past the Crystal Reservoir Visitor Center. A mile or two later, Mile Post 7 marks the starting line for the famous Pikes Peak International Hill Climb and the first stop for the free summit shuttle.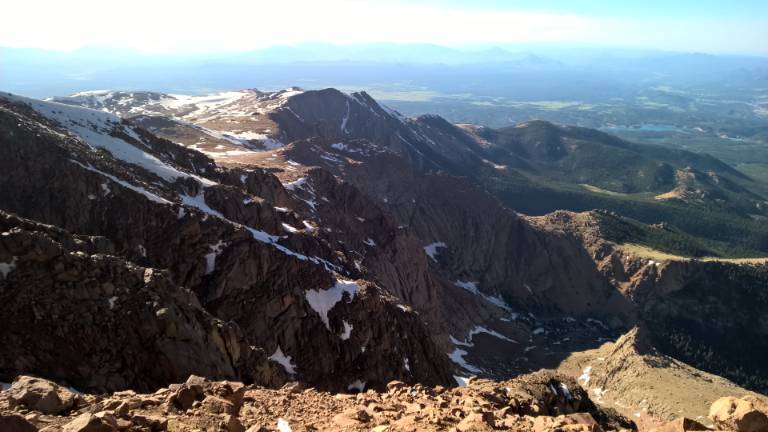 Soon trees become sparse, replaced by boulders scattered on grassy slopes. The easy miles have passed. From here Pikes Peak Highway becomes decidedly more challenging and intimidating. Approaching the last two hairpin corners can be unnerving with nothing but sky on the horizon and mountains below. But then the newly built Visitor Center appears and riders need only contend with limited oxygen in the air at 14,115 feet.
40 minutes at the top is about the threshold for most sea level guests

Krista Heinicke; Director of Public Relations, The Broadmoor
Parking at the summit is limited but shouldn't be a problem for motorcyclists, particularly when timed entry reservations are in use. Parking lots are paved or chip sealed.
The new Summit Visitor Center, completed in September 2022, offers viewing areas out of the weather. Indoor exhibits give visitors a historical perspective on the mountain and information about the surrounding geology and wildlife. Exhibits along outdoor walking paths give additional background.
The Summit restaurant, with indoor and outdoor eating areas, offers a breakfast and lunch menu, including ever popular Summit House donuts sprinkled with cocoa, cinnamon, or sugar. And of course, the Summit Gift Shop has any number of ways for visitors to take home a reminder of their time at Pikes Peak.
Cog Railway to The Summit
For riders who may not have a timed entry reservation, or aren't prepared to ride to the summit, the Cog Railway offers another option. Departing from a depot outside Manitou Springs, the historic railway takes passengers on a backcountry round-trip ride to the summit. Aside from hiking, there's no better way get a glimpse of the Pike National Forest backcountry, Englemann Canyon, and Deer Park.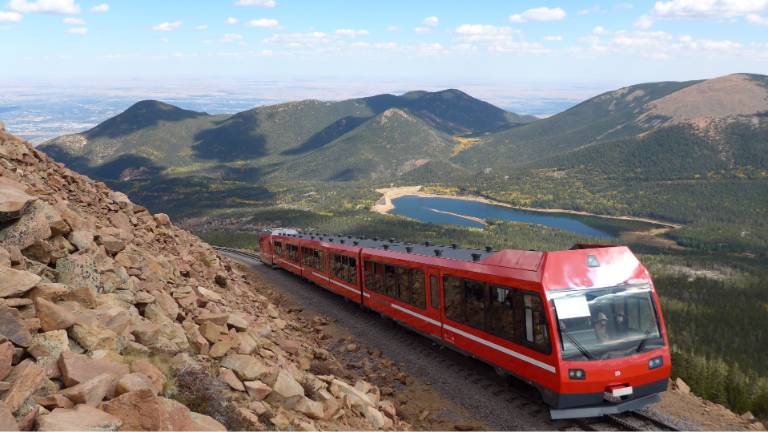 The recently refurbished railcars, powered by a cog system, ascend the steep mountainside on a 9 mile climb to the summit. There, passengers spend 40 minutes taking pictures, viewing exhibits, shopping the gift shop, or snacking in the summit restaurant. And then back on the train for the return ride. A complete round trip takes about 3 hours.
Trains are scheduled to run year-round from 8am to 5:30pm daily, but times can vary depending on conditions. Tickets are available online and at the depot ticket counter. Park at the depot for $15 or take advantage of free parking and a depot shuttle service offered by the City of Manitou Springs. Rail riders don't pay the $15 Pikes Peak Highway toll or any other access fees.
Find current ticket prices and schedule information on the Cog Railway website (www.cograilway.com).
A Few More Things to Know
Here are a few more things to keep in mind when planning a ride to Pikes Peak.
Hours of Operation
As of this writing, during the summer months (Memorial Day through Labor Day), gates open to traffic at 7:30am. Riders must leave the summit by 7pm and exit the downhill gate by 8pm. A complete table of operating hours and admission rates is published on the Colorado Springs website (coloradosprings.gov).
Best Time to Visit
For the best motorcycle weather, plan your ride between June and mid-September when summit temperatures average in the mid-50's. April typically sees temperatures in the low 40's and the rest of the year is just plain cold. Piles of snow will linger on the roadside deep into summer.
Avoiding the Crowd
Pikes Peak is a popular summer destination, crowds are unavoidable. Weekdays are somewhat less busy than weekends. However, no matter the day timed entry reservations help ensure visitors don't encounter long waits or delays on their drive to the summit.
advertisement
Rapid Weather Changes
Weather on Pikes Peak can change rapidly, particularly as one ascends above the tree line. Be prepared for rapid weather changes, mostly in the colder direction.
No Services
There are no services on the Pikes Peak Highway. Getting help for an emergency, a flat tire, or even running out of gas can take hours. Be sure to top up the tank before setting out. And carry a patch kit and air pump just in case (read How to Repair a Motorcycle Flat Tire for information on repair kits).
Look Across State Lines
On a clear day, five states are visible from the summit. Sure, it's hard to miss Colorado, but then New Mexico, Arizona, Utah and Kansas can be seen from the south around the peak in a clockwise direction.
Pikes Peak International Hill Climb (PPIHC)
The world renowned Pikes Peak International Hillclimb is held each year on the last Sunday in June. The racecourse runs 12.5 miles from Mile Post 7 all the way to the summit. During race week, the highway closes to visitors for morning practice sessions and for the entire day of the race. Practice sessions are held Tuesday through Friday from 5:30am to 8:30am. There is no practice on the Saturday before race day giving visitors full access to the mountain. Race day visitors are required to purchase a hill climb ticket rather paying the highway toll.
A visit during race week is bound to be crowded and riding beyond Mile Post 7 is not an option on the day of the race. Find the latest information on the PPIHC website.
Forest Service Summit Monument Confusion
The National Forest Service is responsible for the iconic monument at the summit of Pikes Peak which declares an elevation of 14,110 feet. That was the officially recognized height at the time. However, more recently the mountain's elevation was recalculated to 14,115 feet by Congressional action. The Forest Service may update the signage one day, but until then it will continue to stir confusion.
Touch the Sky
Thousands of motorcyclists pass through Colorado Springs each year to make a run up Pikes Peak. Self-described as America's Mountain, Pikes Peak gives riders a singular experience encompassing twisty forested roads, zig-zagging hairpins, and breathtaking views of the Rocky Mountains below a 14,115 foot summit – all on a 20 mile ribbon of asphalt.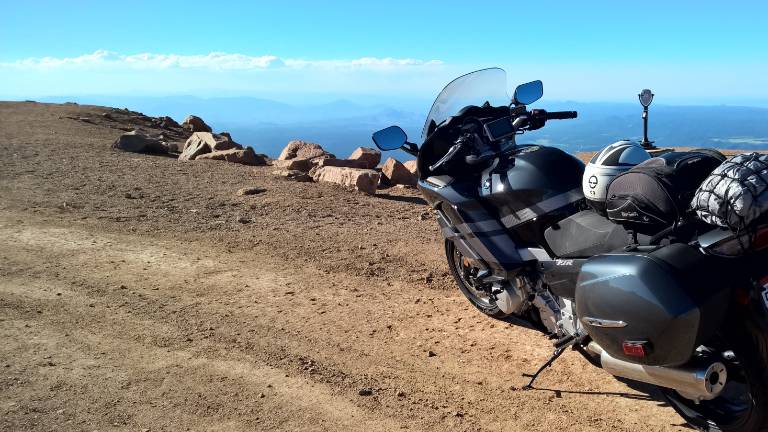 Pikes Peak delivers a summer's worth of riding experiences in one thrilling afternoon. For up-to-date information on road conditions and services refer to the Pikes Peak web site (Pikes Peak America's Mountain).
Click the Thumbs Up or Thumbs Down button to email your feedback.
Your questions and comments help improve American Sport Touring. Your email is not used for any other purpose. Please read our Privacy Policy.