What To Pack For a Sport Touring Ride
Preparing for a days-long motorcycle ride is almost as much fun as the ride itself. There's genuine excitement in anticipating and planning everything that comes with a ride. But packing for a long ride can make all of us a little anxious. After all, you have to get by with the stuff you bring along right? And with limited cargo space on a Sport Touring bike you have to make smart trade-offs. So we thought it might be useful to talk about what to pack for a touring ride.
Heading out for a day doesn't take a lot of packing. Check the weather forecast, suit-up accordingly, maybe toss rain gear and an extra layer in a side bag and off you go. Not much to it. And that's just the way a day ride should be. Easy. Not so when you plan to ride for many days, weeks, or for a lucky few even longer.
What you might pack for those long rides falls into three categories – personal stuff like clothes, must-have gear, and "everything else". Personal stuff is pretty obvious but we mention a couple useful tips to think about here. The must-haves list includes only a few things because we wanted to focus attention on the most important safety and survival gear. And finally our nice-to-have list gives you a simple stack ranked list of optional gear to consider depending on your personal preferences. So let's talk about each in turn.
Editor's Note – American Sport Touring has no commercial relationship with manufacturers of products described in this article and receives no financial compensation whatsoever for product endorsements.
Clothes First. For the most part, pack for the weather you expect in the part of the country you plan to ride and the time of year. But be ready for unexpected conditions.
Bring along an extra layer for cold mornings and cool evenings. Nothing takes the joy out of a perfect morning ride like even a little shivering. And the nice thing about wearing layers is that as the day warms up, it's easy to peel them off. Zip-up fleece liners (rather than pull-overs) are especially good because you don't have to remove your helmet to put them on and take them off, helping to keep those roadside stops short and safe.
advertisement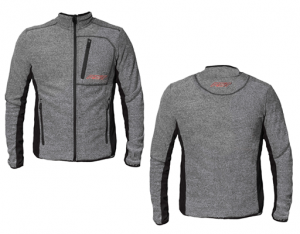 Essential Gear. When it comes to must-have gear, there are only a few essential things every sport touring rider should have on a long ride. As a matter of personal safety everyone should, in our opinion, work these into their pre-tour prep routine. Here's our essentials list.
Share your travel plan. The first essential isn't really something to pack. It's something to do. Ask yourself, what if you get a flat tire or run out of gas in the middle of no-where? Or worse what if you go down and no one's around to call for help? You can give yourself some assurance and hope that someone will eventually find you if you share your travel plan with your spouse or a good friend. Pick a person who will notice (and care) if you don't check in and can point help in the right general direction. Make sure to keep these contacts updated if your planned route changes. Then check-in at least once a day. Social media can make it fun to check in all day long.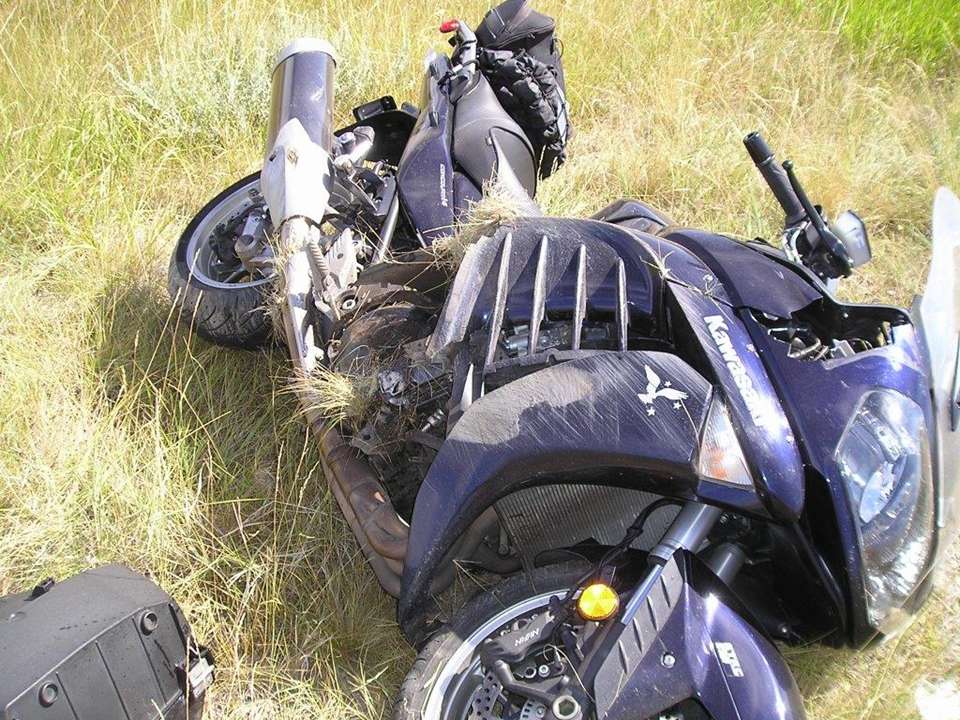 You probably already post amazing pictures to share the journey with friends anyway. So this is good, if something goes wrong at least there's one person out there who will send help. For anyone going well off the main road into real backcountry and who want to be extra specific about their location consider satellite personal location device such as the SPOT Gen3 personal tracker. This relatively inexpensive device can send your location to emergency responders, send text message check-ins to contacts, and even track your route. You need a subscription to use the messaging features and that might be a deal breaker for all but the most risk averse who want a little more peace of mind.
Be ready for a flat tire. Now that you've filed a flight plan, what about the most likely disaster scenario? A flat tire. Or how about a bent rim? Anything that causes a tire to go down. Flat tires are unpredictable, but by packing just two small items in your kit you can be ready. If you catch the problem early, while there's still a good amount of air in the tire, you might be able to plug the leak, top up the air, and limp into a repair shop. There are a number of tubeless tire repair kits on the market. As an example, consider the Dynaplug Tubeless Tire Repair Kit Pro. Tools like this are simple to use, even on the side of the road to patch the hole. But then you also need a can of air like Fix-a-Flat or a small compressor to get the tire back to rideable pressure. There are a number of good compressors on the market that are small enough to easily pack. Think of this like a spare tire. Oh and always a good idea to carry a tire pressure gauge if your bike doesn't have electronic pressure sensors.
Carry tools. Most bikes come with a small toolkit under the saddle. That should be enough for roadside repairs. But you should add a few zip ties, a good pair of pliers with wire cutter, and a pocket knife. In fact a multi-tool is the easiest way to get it all in one small package. Another useful trick is to bring A few feet of duct tape rolled around the shaft of a screw driver. And one last suggestion, consider keeping a small flashlight in your kit as well.
First aid kit – For the small things like bee stings, cuts and scrapes. Much more than that and you might be better off calling for help. Pack a few Band-Aids, some Neosporin, an aspirin maybe, that sort of thing.
Everything Else. If you only pack just the essentials you have enough to stay safe but maybe not enough to make the ride epic. A handful of well-considered nice-to-have items will lower stress in ways only noticed when they aren't there. Think of them as things that make for a more enjoyable ride. We listed recommendations in stack rank order from most important to less important, but each will add enjoyment to any ride.
Weatherproof GPS – A paper map in a sleeve under the cover of your tank bag is one way to navigate, and puts you in good company with the early explorers who carved the very roads you ride. But in today's world it's hard to rationalize not using a bike-mounted GPS system. There's no better way to make your way through big cities, scout out diners and gas stations, or find a place to stay for the night. Honestly, I'd rather ride in the rain without rain gear at night then ride at all without GPS. Read our review of the Garmin 595LM.
Rain gear – Yes, we ranked GPS ahead of rain gear. Still we put it second on the list because it's cheap insurance that will make you feel a lot better about heading out on a rainy day. Rain gear is relatively inexpensive, lightweight, and easy to compress and pack. For most riders, rain gear is an easy call. Our advice is to choose lightweight rain gear that's easy to stow in a side case or tail bag and really easy to put on and take off. Look for a wide range of rain gear options on RevZilla.
advertisement
Music and comm system – At times being alone in thought on a long ride can become meditative. The rest of the time, something to listen to puts rhythm in the curves and helps long straights roll by. Systems from Sena and Cardo easily connect with your Bluetooth enabled phone and both play music and make or take hands-free calls. Read our review of the Cardo PALKTAK. One more important trick, these comm systems can connect with most GPS devices for turn-by-turn voice instructions. It can sometimes seem a little lonely on the open road, but with good music and comms you have company where ever you happen to be.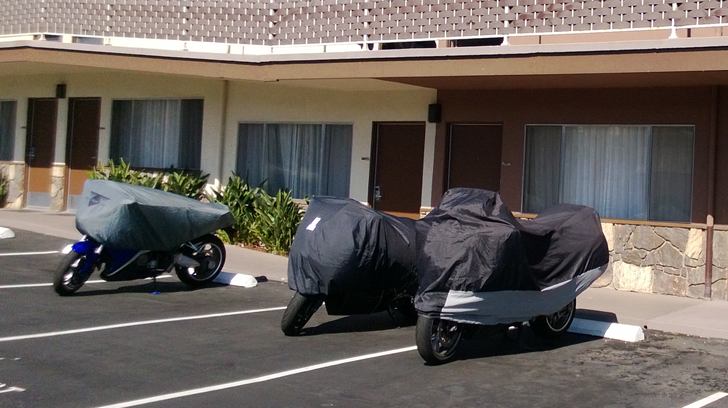 Bike cover – We'll give you two good reasons to bring along a motorcycle cover. First, your bike stays clean and dry overnight. And second, a cover keeps curious hands off. A cover is just like having your own garage wherever you go. We've found covers from Nelson-Rigg are among the best.
Owner's manual – And finally, if you haven't already it's not a bad idea to put the owner's manual in a zip lock and tuck it under the saddle or in a bag within easy reach. Alternatively, you might find a PDF version on the manufacturer's web site or a site that specializes in distributing user manuals that you can save to your smartphone. Fair warning – a lot of free download sites are actually fronts for malicious software downloads, use extreme caution!
So there you have it. Pack wisely and enjoy the ride! And feel free to share your experience and tips with us.
Click the Thumbs Up or Thumbs Down button to email your feedback.
Your questions and comments help improve American Sport Touring. Your email is not used for any other purpose. Please read our Privacy Policy.